This easy blackened chicken skillet meal is quick and made in one pan! The salty bits of feta and fresh herbs lighten up this deeply seasoned dish. Fresh corn and zucchini are sauteed in that spiced cooking oil, but you can swap out for whatever fresh veg you like.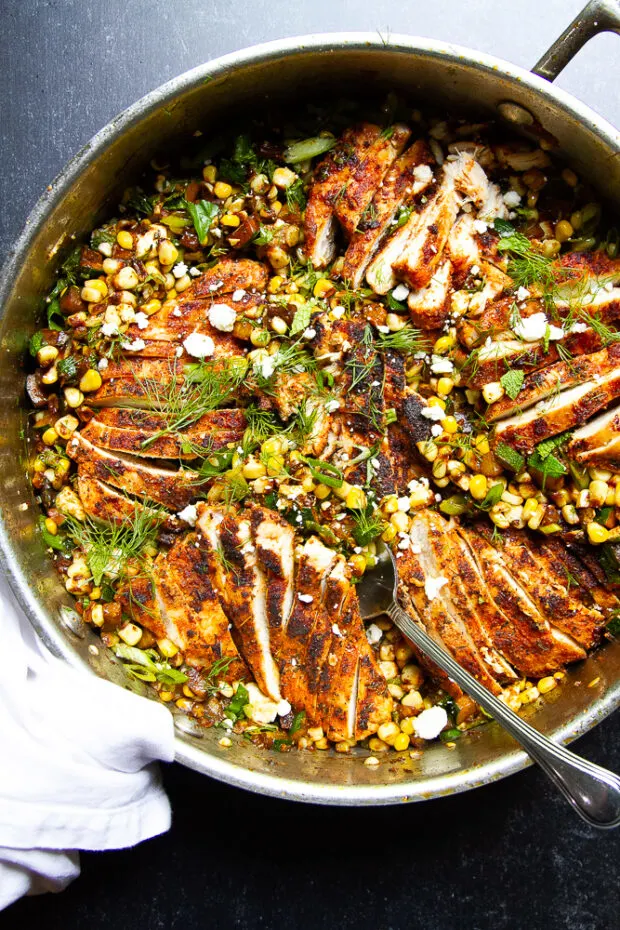 Steve says my super power is looking at a list of ingredients or something on a menu and knowing how it will taste before I try it. Usually I have good judgment. Occasionally I'm way off.
Similarly, when I'm tinkering around with a recipe idea I have a general idea of how it's going to turn out. Sometimes it ends up being WAY better than I anticipated — this blackened chicken recipe is one of those recipes!
I loved these Blackened Fish Tacos so much I wanted to make something with that same seasoning blend on chicken.
Admittedly, I thought "blackened" chicken or fish meant that it was sorta burned.
I'm sure I'm not the only one.
What does it mean to blacken chicken?
Blackened chicken isn't "burnt", just chicken cutlets that have been coated in a seasoning blend and cooked at a high temperature so the spices form a "crust" on the chicken.
That searing helps to deepen the flavor of the spices, too.
What is blackened chicken made of?
Blackening seasoning is made from things you probably already have in your spice cabinet! Here's what you need:
Smoked paprika
Sea salt
Black pepper
Onion powder
Garlic powder
Dried thyme
Dried oregano
TIP: Make a double or triple batch of this seasoning blend to use it again later! You'll need about 4 1/2 Tablespoons for this recipe and 3 Tablespoons for my Blackened Fish Taco recipe.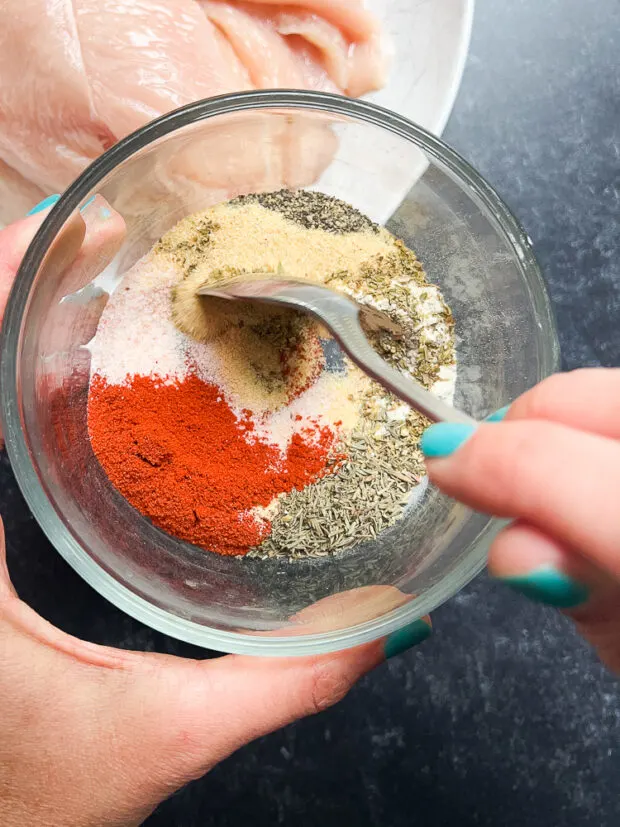 Is Cajun seasoning the same as blackened?
They're similar and you could probably use them interchangeably. Cajun seasoning is often spicier, but you could also make blackening seasoning spicy by adding some cayenne pepper.
Why is it called blackened?
When the spice blend coats the food (usually chicken or seafood) it creates a dark crust when cooked in hot oil, thus "blackened".
Is blackened chicken spicy?
Blackened chicken isn't spicy unless you add something spicy to that spice blend like cayenne or crushed red pepper flakes. I'd totally add 1/4 teaspoon cayenne pepper but my kids are a bunch of pansies when it comes to spicy food. I'm working on them.
Is blackened chicken fried?
It's pan-fried in a little oil to cover the bottom of your skillet, but not deep fried.
I don't recommend using an air fryer or doing this in the oven. You'll need that extra oil to help create a crust!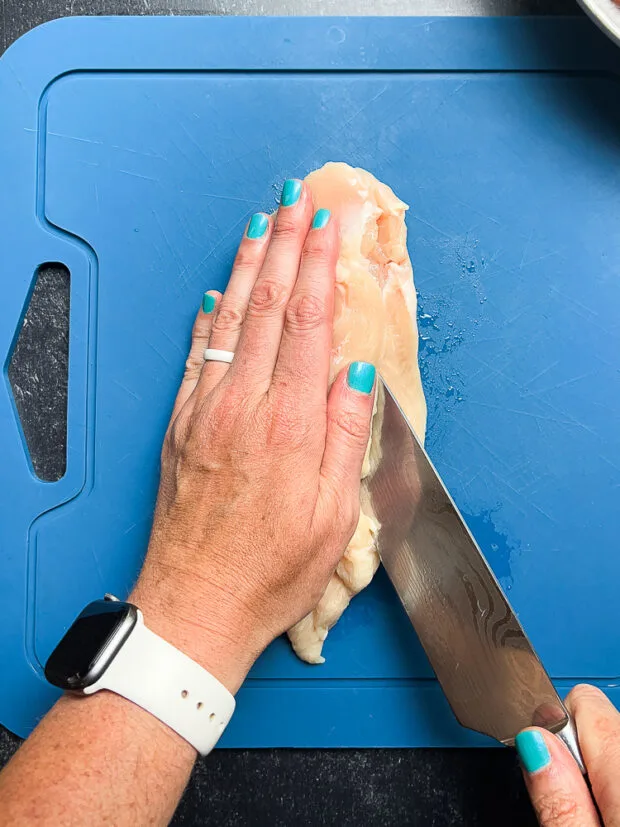 How to make blackened chicken
Start with the chicken
I like using boneless skinless chicken breasts and cutting them into cutlets myself. It's usually cheaper this way, but you can buy pre-made cutlets or use chicken tenders for this recipe.
To make your own chicken cutlets, place the chicken on the cutting board and slice into the chicken horizontally into a thick portion of the breast while pressing down on the top with the other hand.
When you get about 1/3 or 1/2 way through the meat, open it up like a book and continue to slice through until you have two thinner pieces of breast meat. Easy, right?
Coat the chicken in the blackening spices
I like to use a plate for the blackened chicken seasoning so it's nice and flat and easy to work with.
Lay the chicken on the spices to coat both sides, then set them aside while your oil preheats.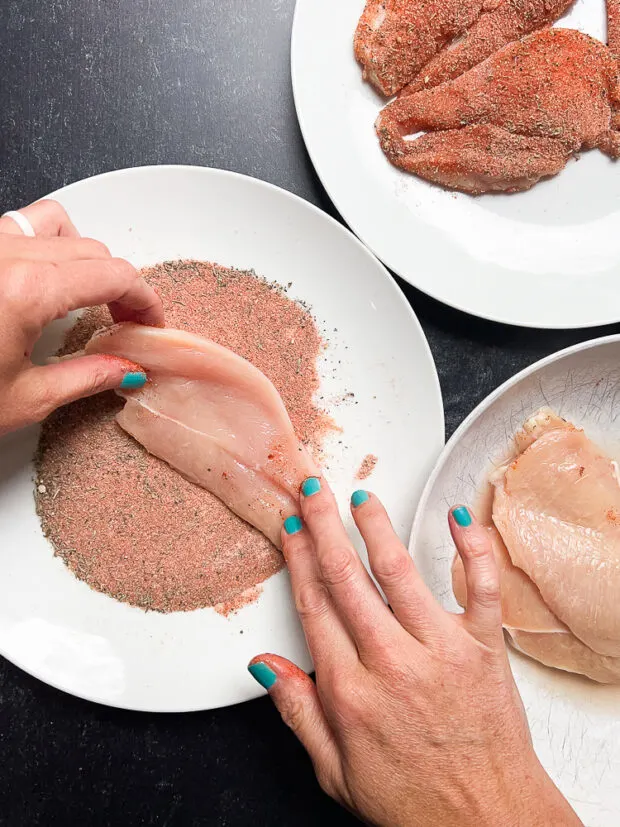 Preheat the cooking oil
You can use a cast iron skillet or a nonstick stkillet for this. I like to use avocado oil or coconut oil since they have high smoke points and they aren't inflammatory seed oils.
TIP: Make sure the oil is very hot before adding the chicken. If you flick a little water into the oil it should sizzle and pop like crazy, but you don't want the oil to be smoking.
Sear the chicken on both sides
Since the cutlets are thin the cooking time will be quick! You just need 2-4 minutes on each side, depending on how thick your chicken pieces are.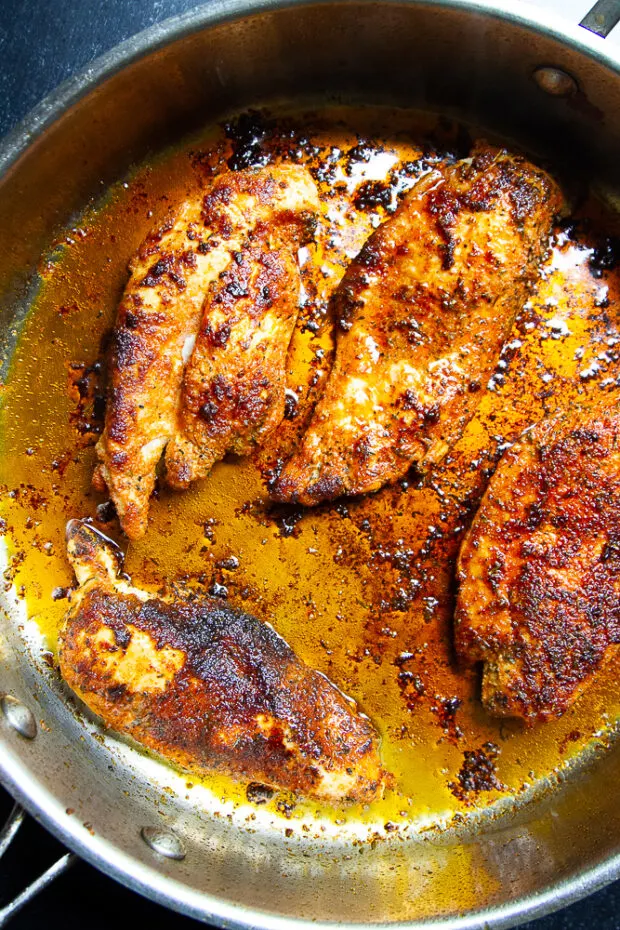 Cooking the vegetables
Now that your blackened chicken breast are done, you could do what you want with it — slice it and add it to a salad or serve it with whatever side dishes you like!
For this recipe, I wanted to take advantage of that yummy seasoned oil in the pan, so I tossed in some fresh corn I removed from a few cobs and diced a couple of zucchini.
After they're done I added some feta cheese and fresh herbs — I love the way they lighten and freshen up this heavily seasoned meal.
You can slice the chicken and add it back to the vegetables if you like and serve it right out of the skillet!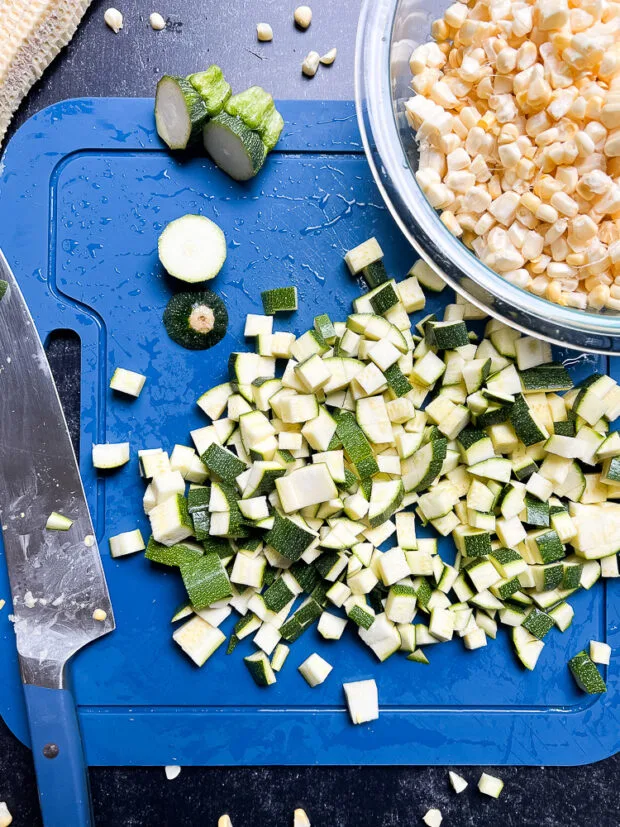 Can I use other vegetables?
Sure! Honestly, you can use any vegetables you like in this as long as they have a similar cooking time. Here are a few suggestions:
chopped bell pepper
small chopped broccoli & cauliflower
small diced sweet potatoes
small diced carrots & celery
mix of dark leafy greens (kale, swiss chard, collard greens)
quartered Brussels sprouts
chopped mushrooms
cut fresh green beans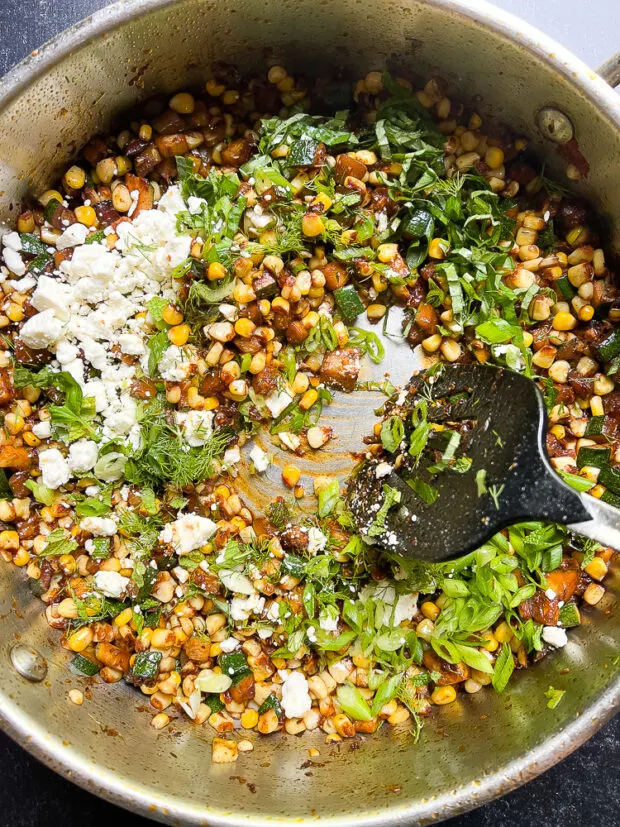 What to serve with blackened chicken?
if you didn't want to throw vegetables in with the chicken, you could simply cook the chicken and serve it a different way.
Making a big batch of blackened chicken would be a great option for meal prep!
Here are a few ideas:
With (or on) a green salad
Sliced blackened chicken on a bed of lettuce greens is a good jumping off point for a great salad! Just add your favorite toppings and dressing.
I'd recommend a creamy dressing to compliment the intensely seasoned chicken. My Cabbage Slaw with Cucumber Yogurt Dressing would be especially good!
With a side dish (or two!)
Any of these grain or veggie sides would go well with blackenend chicken breasts!
The Most Magical Sauteed Green Beans
Roasted Crispy Shredded Brussels Sprouts
Instant Pot Coconut Rice or Instant Pot Lemon-Herb Rice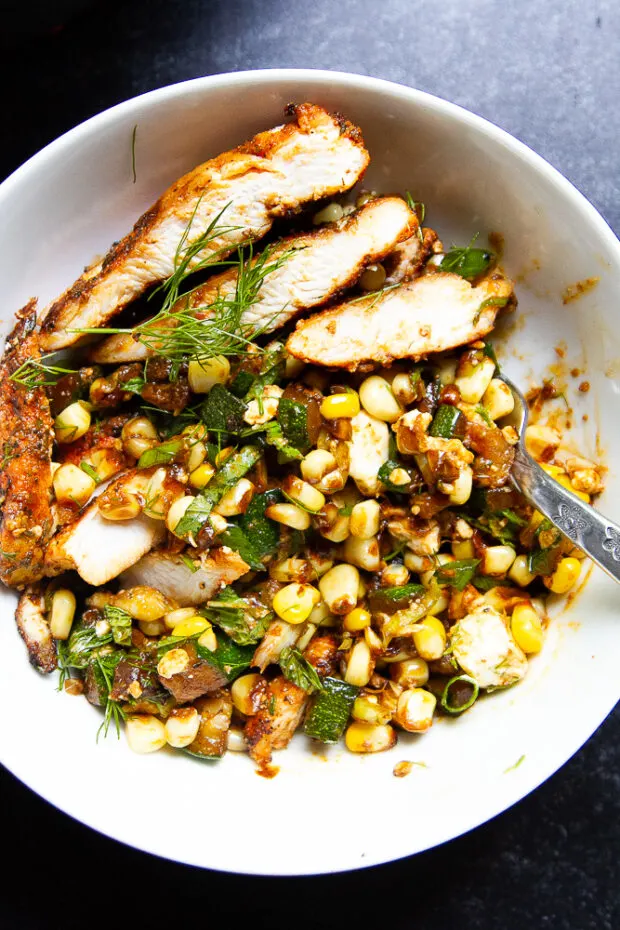 More one-pan chicken recipes on Perry's Plate
If you like this recipe, try another one of my easy one skillet recipes!
One Pan Coconut Chicken Thighs and Rice
Chicken Rice & Mushroom Skillet
One Pan Greek Marinated Chicken and Potatoes
---
If you make one of my recipes, be sure to post it on social media and tag me at @perrysplate or #perrysplate so I can send you some love!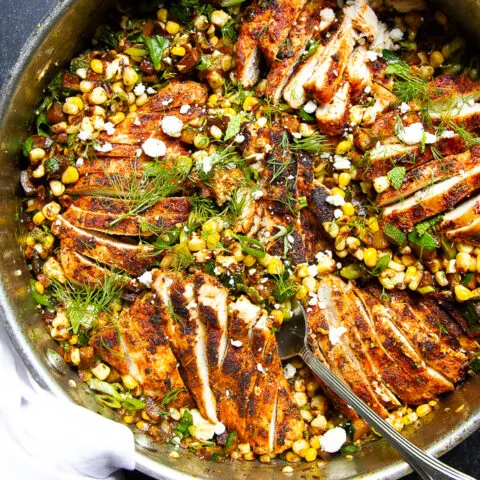 Blackened Chicken with Sautéed Corn and Zucchini
This easy blackened chicken skillet meal is quick and made in one pan! The salty bits of feta and fresh herbs lighten up this deeply seasoned dish. Fresh corn and zucchini are sauteed in that spiced cooking oil, but you can swap out for whatever fresh veg you like.
Ingredients
For the blackening seasoning:
1 1/2 Tablespoons smoked paprika
2 1/4 teaspoon coarse ground black pepper
2 1/4 teaspoon onion powder
2 1/4 teaspoon garlic powder or granulated garlic
1 1/2 teaspoon sea salt
1 teaspoon dried thyme
1/4 teaspoon dried oregano
For the chicken and vegetables:
6 thin chicken cutlets
1/4 cup coconut oil
2 medium zucchini, diced
3 corn cobs, kernels removed (or 2 1/2 cups frozen corn)
2 cloves garlic, minced or microplaned
sea salt
1/2 cup chopped fresh herbs (dill, parsley, basil, mint, cilantro)
2 green onions, thinly sliced
1/2 cup feta crumbles
Instructions
Combine the blackening seasoning blend in a small bowl, then pour it onto a large plate. Shake the plate back and forth gently to spread the seasoning evenly. Set a wire cooling rack inside of a sheet pan.
Lay each chicken cutlet in the spice blend on both sides to coat them well. Transfer them to another large plate until you're ready to cook them.
Preheat a large skillet over high heat and add the coconut oil. When the oil is hot (water flicked into the oil should splatter loudly), add 3-4 of the coated chicken cutlets, depending on the size of your pan.
Reduce the heat to medium and cook them for 2-4 minutes on each side until cooked through. If the spice coating is getting too dark too quickly, then reduce the heat further. Turn heat back up between batches of chicken to preheat the oil again. Add additional oil if the chicken starts to stick. Transfer the chicken to the wire rack to cool.
Add 1/2 cup of water to the skillet and use a spatula to loosen any stuck bits.
Add the zucchini, corn, and garlic to the skillet. Cook for 15-20 minutes, stirring occasionally, until vegetables are cooked through and have toasty brown spots.
Remove the skillet from the heat. Add a few pinches of salt, then stir in the fresh herbs, green onion, and feta.
Slice the chicken and serve it with the sauteed vegetables.
Notes
Try making a double or triple batch of the blackening seasoning and use roughly 4 1/2 Tablespoons of seasoning to coat 6 chicken cutlets. Save the rest for another day or use about 3 Tablespoons to make a batch of my Blackened Fish Tacos.
This post may contain affiliate links. Any purchases made by using these links won't cost you any extra and helps keep my content free. These links may be Amazon links as I am part of the Amazon Associate Program.