When we first started participating in a CSA program in California, the biggest adjustment I had to make was cooking with greens.
I distinctly remember pulling a bundle of rainbow chard from the box, almost the length of my arm, wondering what the heck I was going to do with it. And wondering what it was, even.
I was used to spinach, but getting a big bunch of chard or kale (and sometimes both!) every week was a challenge. Up until that point I had never purchased, much less touched kale or chard. Gradually it became like second nature. Like anything you do multiple times, cooking with greens will become easy and comfortable.
Tips on using leafy greens
1. Most greens are fairly interchangeable in recipes. If a recipe calls for kale, and your grocery store doesn't have it, use a different type of greens! Just avoid using salad greens like iceberg, Romaine, and butter lettuces. Spinach is OK, but it will cook and wilt faster, so keep that in mind.
2. For most sturdy greens, the spines are removed and discarded, leaving the leaves to cook with. You don't need to worry about this with spinach unless you're getting a fresh bunch from a farm with long stems. If you're using Swiss chard, you can certainly cook up the stems as well. The stems take longer to cook, so add them earlier in the recipe. (I treat the stems like celery.) Kale, mustard, and collard greens need to have the stems removed. And they also take longer to cook to get rid of a slightly bitter flavor they have.
3. Greens wilt pretty easily when not stored well. It would be best to wrap them in a wet paper towel and stick them in the vegetable drawer of your fridge. To perk them up, just give them a bath in some ice, cold water.
4. Speaking of baths. . . Greens have been in the news for health reasons, and not the positive kind. Contamination and illness caused by eating greens is NOT from the greens themselves, but from the commercialized processes used to grow them (if they aren't organic). Rinsing with water is not enough to remove chemicals and bacterial contaminants. I use a vegetable/fruit rinse from Trader Joe's, but I'm sure most grocery stores carry something similar. There are also recipes online for homemade vegetable rinses. Just google it. Or buy organic greens from a local farmers market or CSA program.
5. Have way to many greens to eat in a week? They freeze very well! For best results, remove stems (if needed) and cook them down in a bit of oil in a skillet. Let them cool, drain any excess liquid and store in a freezer-safe container until you get a hankering for greens in the dead of winter.
This recipe is an adaptation of a recipe that came with our very first CSA box. Not only does it use greens, but spring onions and fresh dill, which have also been in our box every week so far.
I have made this about four times in the last month. Aside from our usual breakfast fare, that's very rare around here. I suppose getting most of the ingredients in our CSA box every week lends itself to that. Plus, it's easy to make. Our kids are lukewarm about it, but Steve and I and about 3 other adults we've fed it to have loved it.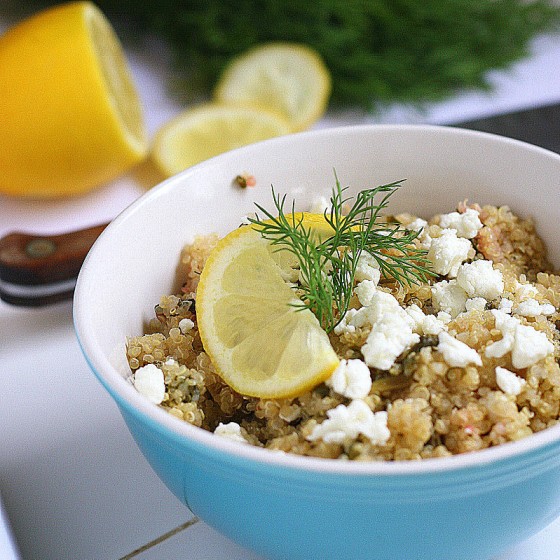 SaveSave
SaveSave
SaveSave
---
If you make this recipe, be sure to post it to social media and tag me at @perrysplate or #perrysplate so I can send you some love!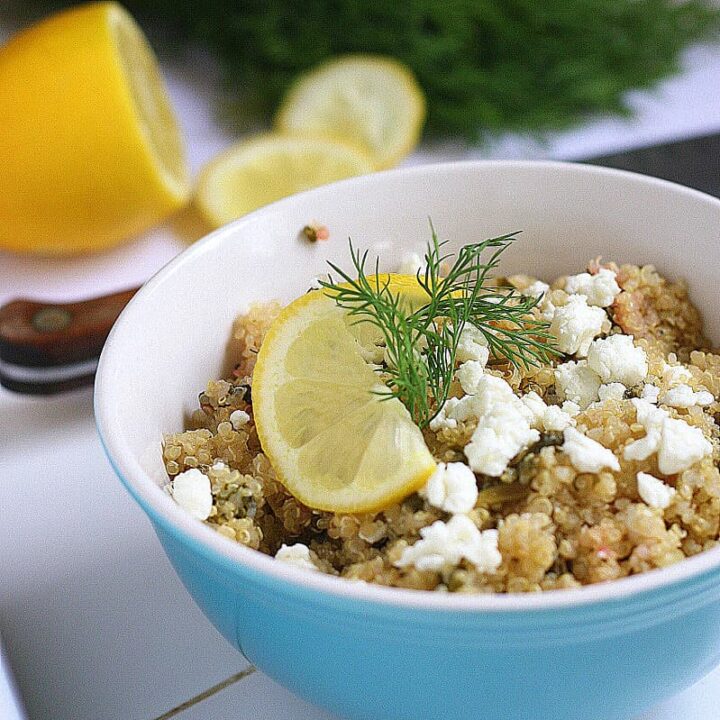 Lemon Quinoa Salad with Greens, Dill, & Feta
We made this side dish repeatedly to use up the greens from our CSA box! It was always a hit with our family. You could also replace the quinoa with rice or cauliflower rice.
Ingredients
2 1/4 cups vegetable or chicken broth
1 1/2 cups uncooked quinoa, rinsed
4 T olive oil, divided
4-6 cups chopped fresh greens (spinach, chard, kale)
1 spring onion, sliced thinly (white and light green parts only)
1/2 teaspoon salt, or more to taste
Juice from 1 large lemon (about 3-4 T)
3 Tablespoons finely chopped fresh dill
1/2 cup feta crumbles
Instructions
Bring the broth to boil in a medium saucepan. Stir in quinoa and 1/2 tsp salt. Return to boil, then reduce heat to medium-low, cover, and let it cook for about 20 minutes. Quinoa should be light and fluffy and liquid should be cooked away.
Meanwhile, add 2 T of oil to a large skillet over medium heat.
Add greens and onions. Cook, stirring occasionally, until greens have cooked down and onions are tender. (Cook time depends on the type of greens you use. Spinach=5-8 minutes. Chard/Kale=8-10 minutes.) Remove from heat and set aside.
When the quinoa and the greens are both ready, combine both into a large serving bowl. Add remaining 2 T oil, lemon juice, dill, and feta. Toss to combine.
Adjust seasonings to suit your taste.
Notes
Nat's Notes:
1. Spring onions look like overgrown scallions (green onions). Feel free to substitute a couple of scallions or 1/4 cup chopped yellow onion.