These mashed sweet potatoes are easily made in your Instant Pot and have a unique orange-chili butter mixed in! This flavor combination is STELLAR and more delicious than you'd think!
If I'm being honest, I've never particularly liked mashed sweet potatoes.
They seemed too sweet and sorta… blah.
Until I made these mashed sweet potatoes.
This is actually a recipe from my Instant Pot cookbook — The Big Book of Paleo Pressure Cooking.
It's one of the recipes that doesn't have a photo, so it exists quietly in the book and is likely overlooked by people who prefer recipes with photos.
I added it to my blog because it's a perfect alternative to white mashed potatoes for Thanksgiving.
And the combination of sweet potatoes + orange + chili is rather unique. It has me sold on mashed sweet potatoes from here on out.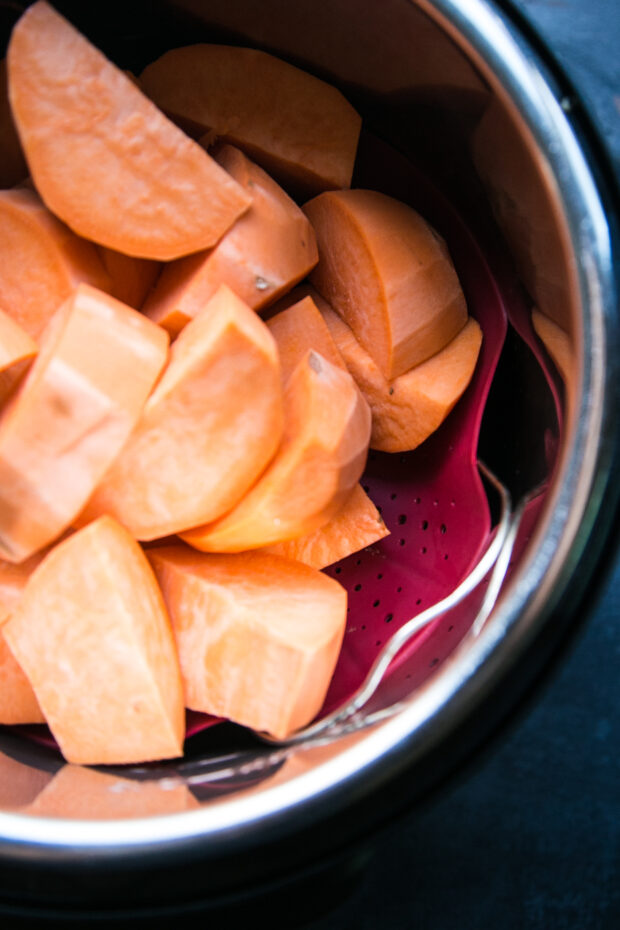 Tip for making mashed sweet potatoes (or any kind of potatoes) in your Instant Pot:

Use a silicone steaming basket. It makes it MUCH easier to separate the potatoes from the liquid. My basket needs the wire rack underneath, but the one I linked to is specifically made for Instant Pot and provides enough structure so you don't need the wire rack.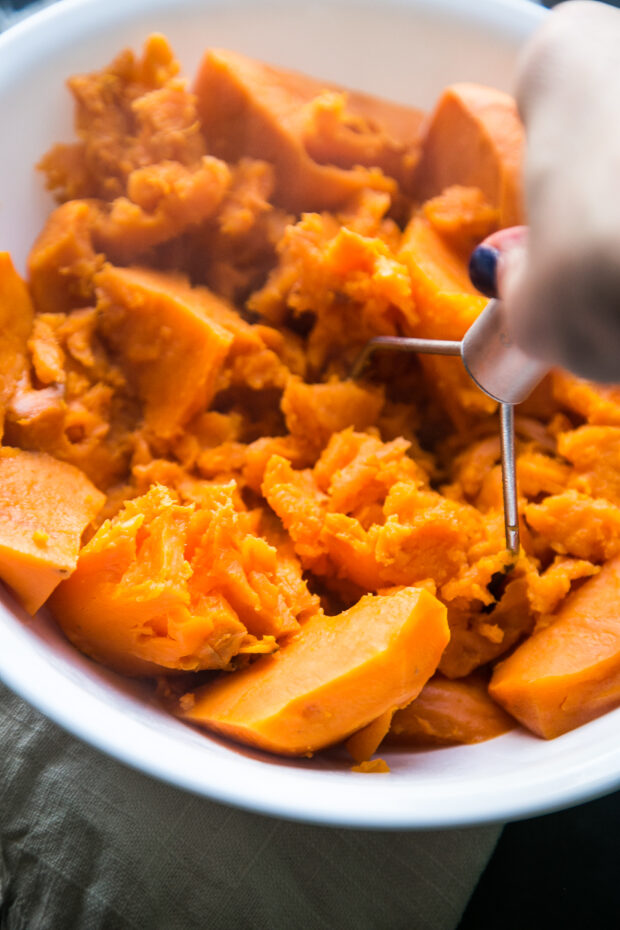 Sweet potatoes cook pretty quickly, so you don't need to cut the potatoes into small pieces. 2-3 inch pieces are all you need.
I mash mine right in the serving bowl, too.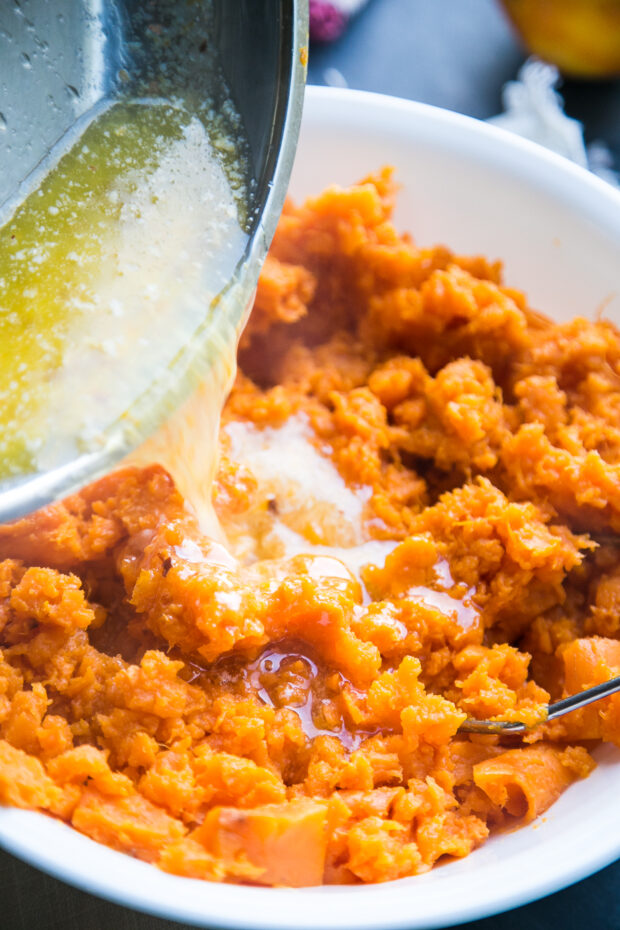 Let's talk about this orange-chili butter for a second. Did you know sweet potatoes and orange are a REALLY good flavor combination?
I love this flavored butter on the mashed sweet potatoes because the butter gives it richness, the orange zest compliments the sweet potatoes really well, the apple cider vinegar offsets some of the overall sweetness and the pinch of red pepper flakes gives it a subtle pop of heat.
It's so easy, too. Just melt the butter and mix it with the other ingredients, then pour it over the hot, freshly mashed sweet potatoes.
Can I make this dairy-free?
I'd recommend using a dairy-free butter replacement so you still have that rich, buttery flavor.
Sometimes people who have a sensitivity to dairy can use ghee instead of butter and do alright since ghee is butter with the milk solids removed. Using ghee would also make this recipe Whole30 compliant.
Can I leave out the red pepper flakes?
Yes. If you're not into heat, just leave out the red pepper flakes and they'll still be really tasty.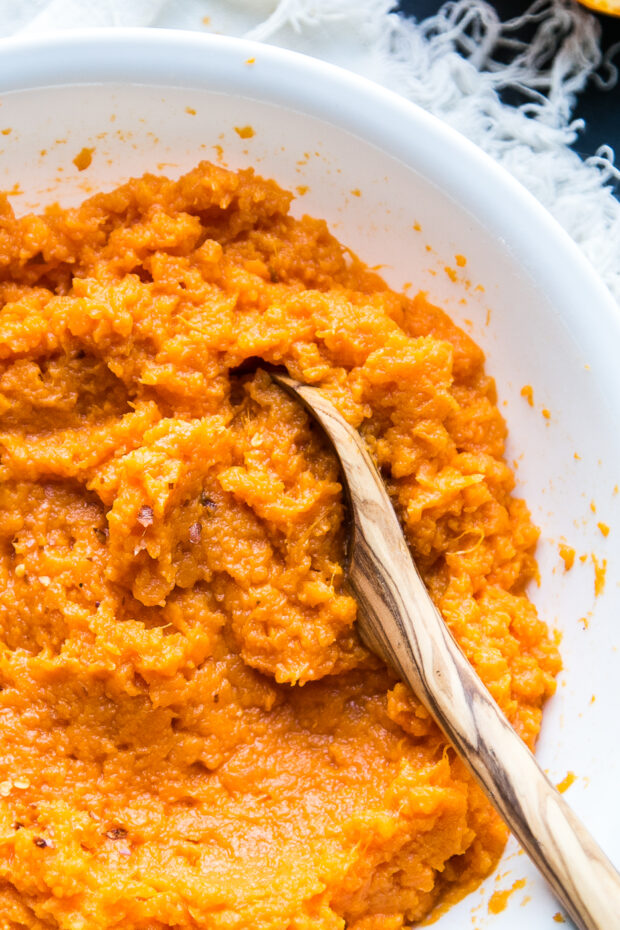 What Can I Serve with Mashed Sweet Potatoes?
Serve it at Thanksgiving or during the holidays! For those who don't care for the marshmallow-topped sweet potatoes traditionally served (*cough* like me) or those who are looking for an alternative to regular mashed potatoes, they'll appreciate these or my Instant Pot Cauliflower Puree. It'll go beautifully with my Dry Brine Turkey with Orange-Rosemary Butter, too!
A simple Roasted Chicken. Or a rotisserie chicken and a salad kit you pick up at the store for an easy dinner.
Grilled chicken — like my Grilled Lemon Chicken or Easy Grilled BBQ Chicken.
Hearty beef dishes like steak or Mini Skillet Meatloaves.
Other BBQ recipes like Instant Pot Ribs or Instant Pot BBQ Pulled Pork.
---
If you make this recipe, be sure to post it to social media and tag me at @perrysplate or #perrysplate so I can send you some love!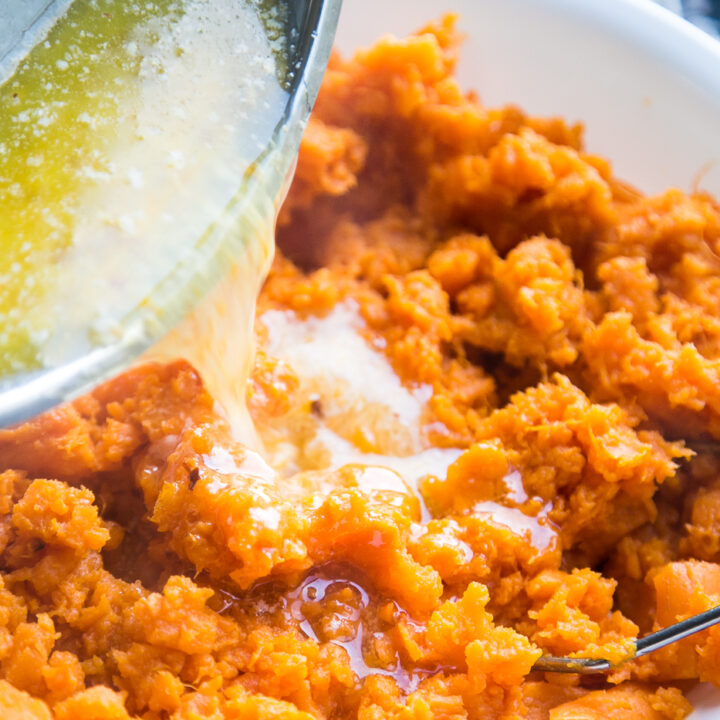 Mashed Sweet Potatoes with Orange-Chili Butter (Instant Pot)
These mashed sweet potatoes are easily made in your Instant Pot and have a unique orange-chili butter mixed in! This flavor combination is STELLAR and more delicious than you'd think!
Ingredients
3 pounds sweet potatoes, peeled and cut into 2-2 1/2 inch chunks
1/2 cup melted butter or ghee
Zest from 1/2 of an orange
2 Tablespoons apple cider vinegar
1/8 tsp crushed red pepper flakes
1 teaspoon sea salt
Instructions
Put a cup of water in the insert pot of your Instant Pot. Add the wire rack and a silicone steam basket, if you have one (see note). Put the sweet potatoes in the steam basket.
Put the lid on the cooker, locking it and moving the steam release valve to "sealing". Set the cooker for 10 minutes at high pressure. When the pressure cycle is finished, let it sit for about 5 minutes before releasing the rest of the steam manually.
Meanwhile, melt the butter in a small saucepan or skillet. Add the zest, vinegar, and red pepper flakes and remove it from the heat. Set aside.
When the potatoes are finished, lift them out of the cooker and drain off the water. If you have a steam basket with a handle, this makes it much easier.
Transfer the cooked potatoes into a large serving bowl. Mash them with a potato masher or a large fork. Pour the orange-chili butter over them and add 1 teaspoon of salt. Mix everything together well. Taste, and add more salt if needed.
Serve immediately.
Notes
I highly recommend using a steam basket. Mine doesn't have handles, so I use it over my wire rack. There are some that are specifically made for use in an Instant Pot that have handles and enough structure so you don't need the wire rack. Here's a link to one: Instant Pot Silicone Steam Basket.
Recommended Products
As an Amazon Associate and member of other affiliate programs, I earn from qualifying purchases.