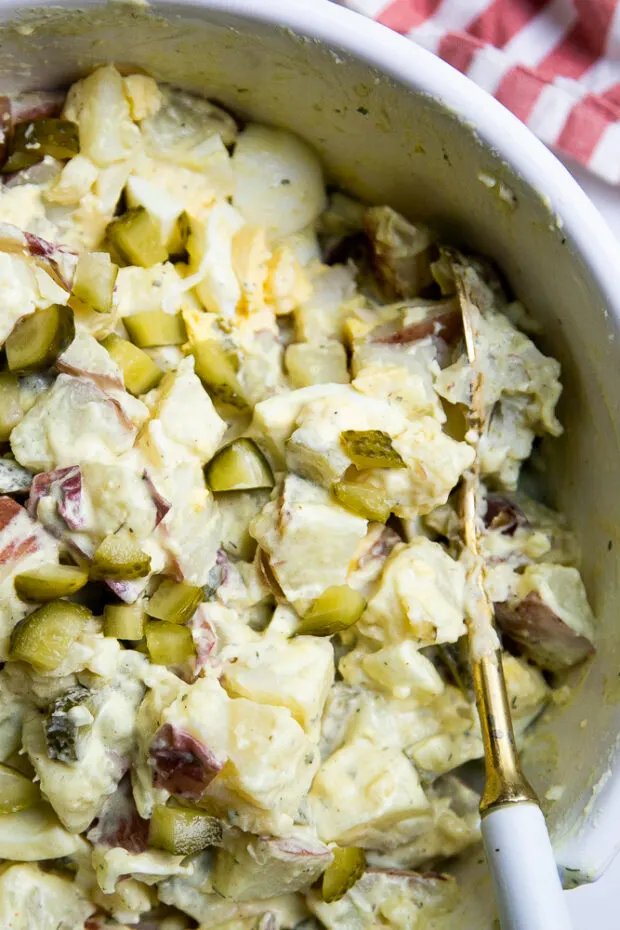 If you haven't used an Instant Pot to make potato salad, you're in for a treat.
My mom's best friend made the BEST potato salad. And as far as I knew, she eyeballed everything without a recipe.
It was infinitely better than store-bought potato salad which is often weirdly sweet and lacking salt. And boring. And, if we're being honest, gross.
Homemade potato salad was a big treat! I only ate it a couple of times a year, which makes sense because traditional potato salad is sort of a pain to make. Boiling a big pot of potatoes AND hard boiling eggs while trying to get both of them at an ideal doneness is a lot of mental exercise.
Not to mention straining off potatoes in a big pot of boiling water without scalding yourself should be an Olympic sport.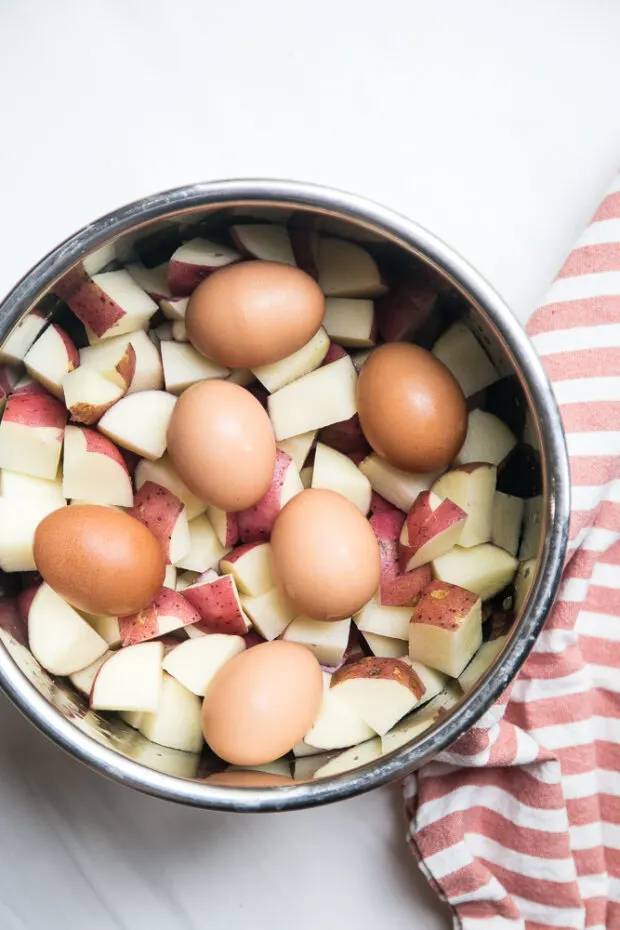 Enter: Instant Pot.
Did you know you can cook the potatoes and eggs AT THE SAME TIME?
And that there's hardly any water to strain off?
That's right. No more waiting 30 minutes for your stockpot to boil. And no more scalding water to dogde.
How long does it take to make Instant Pot Potato Salad?
Are you ready for this?
30 minutes.
That's it.
Potato salad is suddenly a weeknight side dish instead of a biannual potluck contribution.
What is in potato salad dressing?
Well, it depends on what you like. Traditional potato salads have a mayonnaise-based dressing.
Mayo gets a bad rap because of its tendency to get gross when it's out in the sun. And for having unhealthy vegetable/canola oil as a base.
I use avocado-oil mayonnaise and keep this one indoors for everyone's benefit.
Most have mustard, too. I found some dill pickle mustard from Trader Joe's that is WONDERFUL in this!
There is also some kind of briny component, like pickles.
After that, it depends on your preference!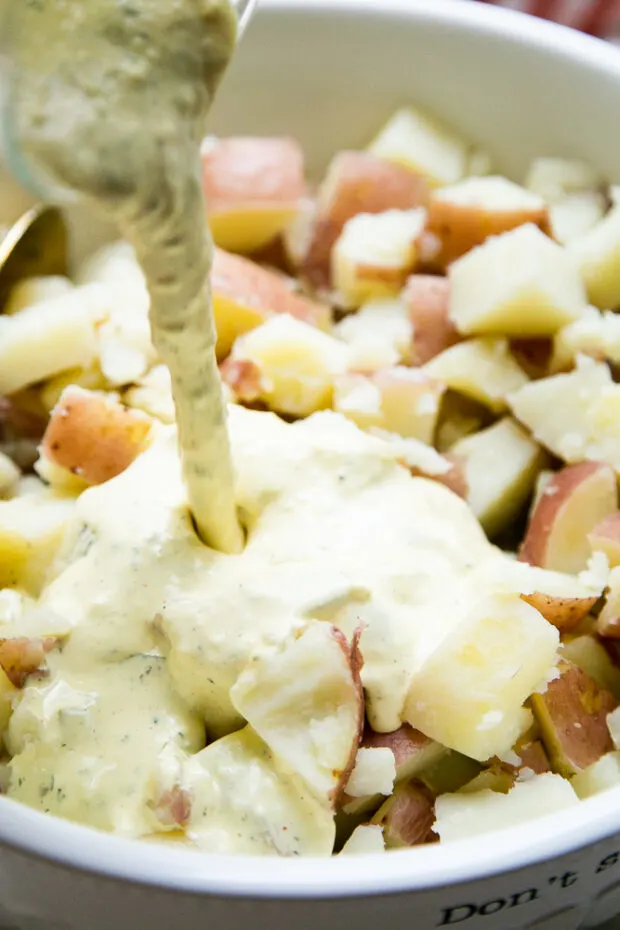 I LOVE ranch dressing in my potato salad.
I use my dry ranch dressing mix to whip up some quick dressing if I don't have some already made.
Lots of pickles are also my preference. As well as some pickle juice from the jar.
More ways to customize potato salad
If you're feeling adventurous, change up some of the ingredients!
Add a different salad dressing: My grandma uses thousand island in her salad! Try different kinds of ranch dressing, green goddess dresing, or even Italian dressing for some extra spunk.
Add some different seasonings: Throw in some fresh garlic or a teaspoon or two of your favorite spice blend, like Everything Bagel Seasoning.
Add some mix-ins: Adding some crispy bacon to potato salad would not be a horrible idea. Just sayin'. My grandma also puts tiny chunks of cheddar cheese in her potato salad! Chopped celery, sliced green onions, diced avocado, cubed ham or smoked turkey would be delicious, too.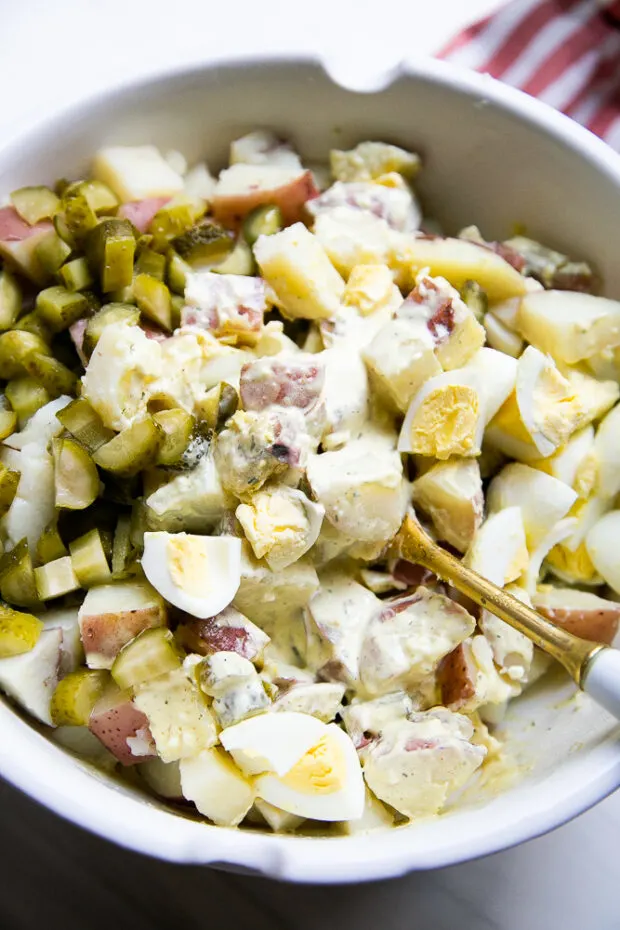 More Potato Salad recipes on Perry's Plate
I have a few other potato salad recipes on my site! None of them have a mayo-based dressing, if that happens to be something you prefer.
Roasted Potato Salad with Dill-Scallion Vinaigrette — No boiling potatoes here either! Roasted potatoes are tossed with a tangy vinaigrette that's packed with fresh herbs and scallions. LOVE this one.
Hot German Potato Salad — A twist on classic German potato salad loaded with crispy bacon & sauerkraut.
---
If you make one of my recipes, be sure to post it on social media and tag me at @perrysplate or #perrysplate so I can send you some love!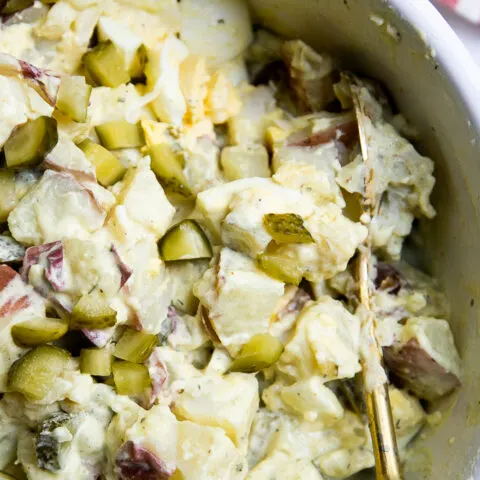 Instant Pot Potato Salad (with pickles & ranch)
An Instant Pot makes potato salad SO much easier! Cooking the potatoes and eggs TOGETHER is a great, time-saving shortcut! We love extra pickles ranch dressing in this salad.
Ingredients
4 pounds Russet or red potatoes cut into 1 - 1 1/2 inch cubes (peeling optional)
6 eggs
3/4 cup Paleo-friendly Ranch Dressing
1/2 cup avocado oil mayonnaise
1/4 cup pickle juice
2 Tablespoons yellow or Dijon mustard
1 teaspoon sea salt
1/4 teaspoon black pepper
1 1/2 cup chopped pickles
Instructions
Place all of the potato cubes in the insert pot of your pressure cooker. Pour 1 1/2 cups of water over the potatoes. Place the eggs on top of the potatoes, spaced apart.
Close the lid to your cooker, moving the steam release valve to "sealing" and set it to cook on high pressure for 5 minutes. When the pressure cycle is complete, manually remove the steam by moving the steam release valve to "venting".
Meanwhile, whisk together the ranch, mayonnaise, pickle juice, mustard, salt, and pepper. Set aside.
Fill a medium bowl with ice water. Set aside.
When the potatoes and eggs are finished, transfer the eggs to the ice water. Tilt the pot to allow the potatoes to mostly drain. Let them sit in the pot to cool for 5-10 minutes so they don't break up as easily when you scoop them out. Transfer them to a large serving bowl.
When the eggs are cool enough to handle, peel and chop them. Place the chopped eggs and diced pickles on top of the potatoes (don't stir yet). Pour the dressing over the whole thing and very gently stir so you don't mash up the potatoes. Taste, and adjust the salt if needed.
Serve immediately or chill in a lidded container until ready to serve. Keeps in the fridge for about 10 days.
Notes
Nat's Notes:
If you don't have an Instant Pot, boil the potatoes on the stovetop (separately) until they're fork tender. Cook the eggs in a separate smaller pot by bringing them to boil, then removing them from the heat, covering the pot and allowing them to sit for 12 minutes before transferring them to an ice bath.
I highly recommend adding some crispy bacon pieces to this salad.
I make my own ranch dressing using a homemade dry ranch mix. If you haven't tried it, it's pretty awesome.
You can also make your own avocado oil mayonnaise or find Primal Kitchen's mayonnaise.
If you live near a Trader Joe's, see if you can find their Dill Pickle Mustard. It's the bomb. Like, the best mustard I've ever had. And if you like pickle flavored things, you'll love it.
Recommended Products
As an Amazon Associate and member of other affiliate programs, I earn from qualifying purchases.