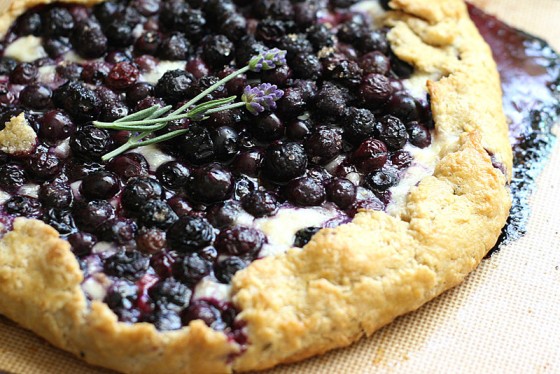 I'm not going to try to explain the thoughts that preceded this.
All I know is that I have quite a bit of brie in the freezer. And I have a thing for galettes. And homemade gluten-free pie crust. Thus, this Gluten-Free Blueberry Galette was born.
In this case, the crust is speckled with bits of dried, crushed lavender. I've paired blueberry and lavender once before in some pancakes and loved how it turned out.
The brie? Well, like I said. I have a lot of it in the freezer. (Don't ask.) I hoped for a cheesecake-like taste with a little more punch.
And that's exactly what I got.
Can I tell you how much love baked blueberries? I do. I'm pretty sure we liked this galette, too. "Pretty sure" because the entire time we were trying to decide if it was really good or just really interesting. A lot of bites went into our research.
I think the fact that the whole thing was gone in an hour means we liked it.
SaveSave
SaveSave
---
If you make this recipe, be sure to post it to social media and tag me at @perrysplate or #perrysplate so I can send you some love!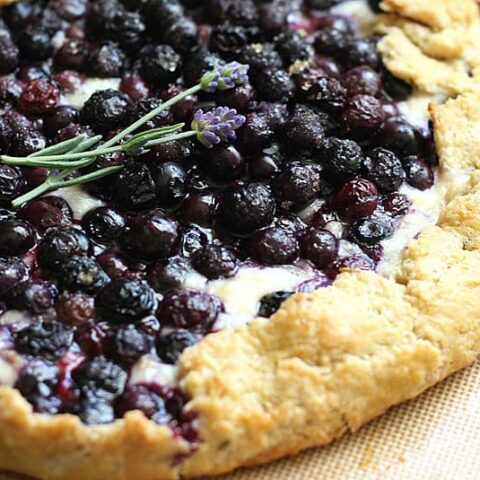 Blueberry Brie Galette
Blueberry and brie are an unlikely combination, but this rustic galette takes on a cheesecake-like quality. Just not overly sweet or rich. The lavender-scented crust makes it extra special!
Ingredients
6 ounces of brie cheese
2 cups fresh blueberries
juice from 1 small lemon
1/4 cup coconut sugar or raw turbinado sugar, divided
Instructions
To assemble: Preheat the oven to 350 degrees F.
Slice the rind off of the brie and cut remaining cheese into 1/2-inch strips.
Place blueberries in a bowl with the juice from one lemon and 2 T of raw sugar. Toss to combine.
Place dough on a piece of parchment paper or a silicone liner, sprinkled liberally with flour, on your counter. Roll out the dough until it's about 1/8th of an inch thick (like you would for a pie crust).
Carefully transfer the parchment/liner to a baking sheet. Arrange brie slices in the center of the dough, leaving a 2-3 inch border. Spoon 2/3 of the blueberries over the brie, then fold up the edges of the dough around the filling with the center exposed. (Use a dough scraper or a spatula if it sticks.) Place the remaining blueberries on the center. Brush the remaining egg over the crust and sprinkle the remaining 2 T of raw sugar over the galette.
Bake for 350 degrees for 20-25 minutes or until the filling is bubbly and the crust is golden brown. Allow galette to sit for about 10 minutes before slicing.