I love the creamy, dill-y topping for this fish! It's such a light, fresh meal that won't leave you feeling dozy.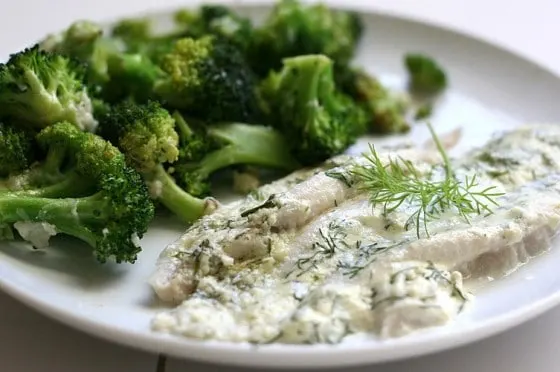 Here's a quickie for you today. Literally. Main dish in 20 minutes!
But first there's something I'm dying to ask you:
Are we hooked up on Facebook yet? The Perry's Plate Facebook page is thisclose to having 1000 "likes."
Not that I'm in a numbers race. I could care less, actually. I just like nice, rounded numbers. The 900s make me antsy.
Changing gears, I'd like to discuss my dislike of store-bought mayonnaise. I don't like it's weird sweet taste, and I don't like that commercial mayo is filled with unhealthy oils, sweeteners, and all kinds of… other stuff.
SO… I make my own mayonnaise. And no it doesn't take forever. In fact, it only added 5 minutes to the prep time of this recipe. Honest to goodness. The recipe I just linked to uses olive oil, but if you want a milder tasting mayo, use a neutral-tasting oil like grapeseed. Using high-quality oils and farm-fresh eggs makes mayo a lot nicer to your body. Dare I say *gasp* healthy?
Why is it yellow? That would be due to the brilliantly-hued yolks of farm-fresh eggs. They're gorgeous. And the taste is far better than commercial eggs. If you can find someone with chickens to sell you their eggs, you'll never want to go back.
The concoction that gets smeared on these fish fillets plus baking them in foil packets makes them tender, creamy, and full of flavor. Plus it's low in starch, if you're into that kind of thing. Baking in foil packets is my absolute favorite way of preparing fish. Like my favorite salmon recipe in the whole world.
If you make one of my recipes, be sure to post it on social media and tag me at @perrysplate or #perrysplate so I can send you some love!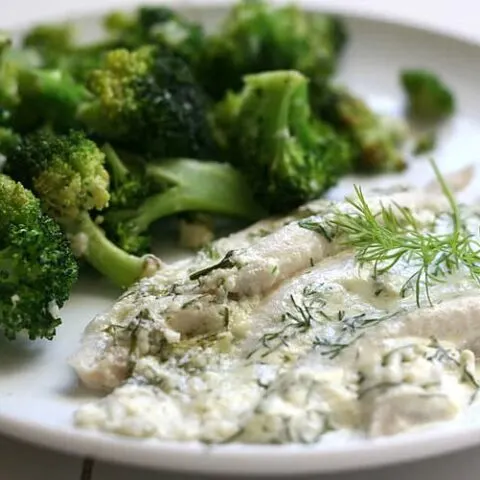 Creamy Dill Foil Packet Fish
Additional Time:
30 minutes
I love the creamy, dill-y topping for this fish! It's such a light, fresh meal that won't leave you feeling dozy.
Ingredients
1 pound wild-caught Dover sole (or any other white fish like cod, rockfish, halibut, etc.)
salt and pepper, to taste
1/4 cup mayonnaise (try homemade!)
1/4 cup shredded Parmesan cheese
juice from 1/2 a lemon (about 2 T)
3 Tablespoons chopped fresh dill (or 2 tsp dried dill)
1 clove garlic, minced
Instructions
Preheat the oven to 350 degrees F.
In a small bowl combine the ingredients for the dill spread. Set aside.
Pat fish dry and place them on one half of a large sheet of aluminum foil. (I divided them in half and did two packets.) Sprinkle both sides of the fillets with a pinch of salt and pepper. Cover all the fillets with dill spread (only one side is necessary).
Fold the foil over the fish and fold the edges over to make a sealed packet. Place packet on a sheet pan or baking dish and bake for 10-20 minutes, depending on the thickness of the fillet. Dover sole is very thin and was cooked through in about 10 minutes. The fish should flake easily with a fork and be tender.
Notes
Nat's Note: The original recipe suggested making several small packets and stack them in a slow cooker to cook on low for 3-4 hours. I've made it both ways and there isn't a big difference in the result.
This post may contain affiliate links. Any purchases made by using these links won't cost you any extra and helps keep my content free. These links may be Amazon links as I am part of the Amazon Associate Program.
SaveSave
SaveSave