Throw this foil-packet salmon on the grill and serve it with a fresh green salad for an easy weeknight summertime dinner!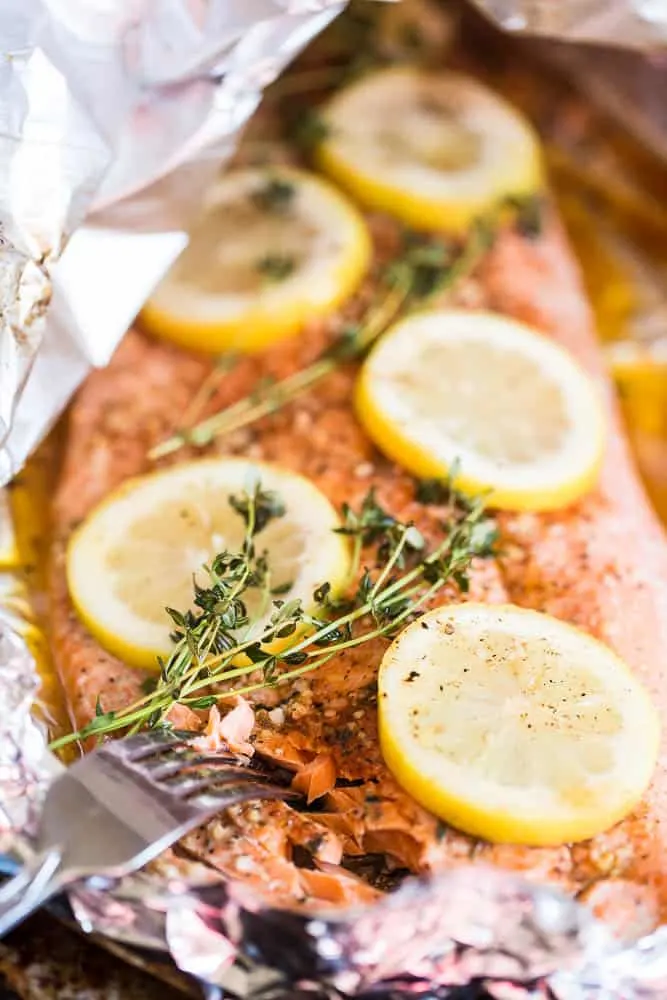 Grilled salmon in foil has been one of my favorite meals since I was a kid living at home.
My parents have been making a slightly different version of this for YEARS. I just added some fresh lemon and thyme to take it over the top.
Cooking salmon in a foil packet is far the best way to cook salmon, in my opinion. It keeps it nice and moist and helps the flavors penetrate the fish better.
I've tried to cook salmon other ways, but I always go back to this method. I've converted more than a few self-proclaimed salmon haters with this one!
PSST — You can also broil it in the oven, too, if you don't have a grill.
And best news? It's super easy. Ten minute prep and it cooks in the same amount of time it takes to prep a salad.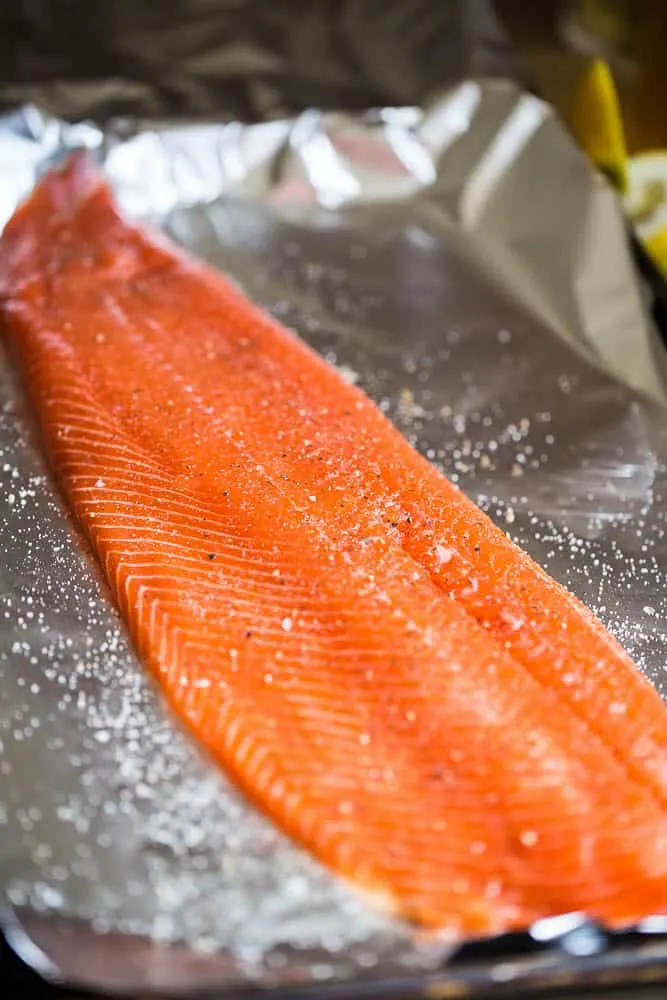 How to cook salmon in a foil packet
Start with a wild-caught, fresh salmon fillet.
Pre-frozen fillets would work, too, but the best flavor comes from fresh fillets.
I always get wild-caught salmon at Costco in a two-pack and cook both of them at the same time so I can make salmon cakes with the leftovers.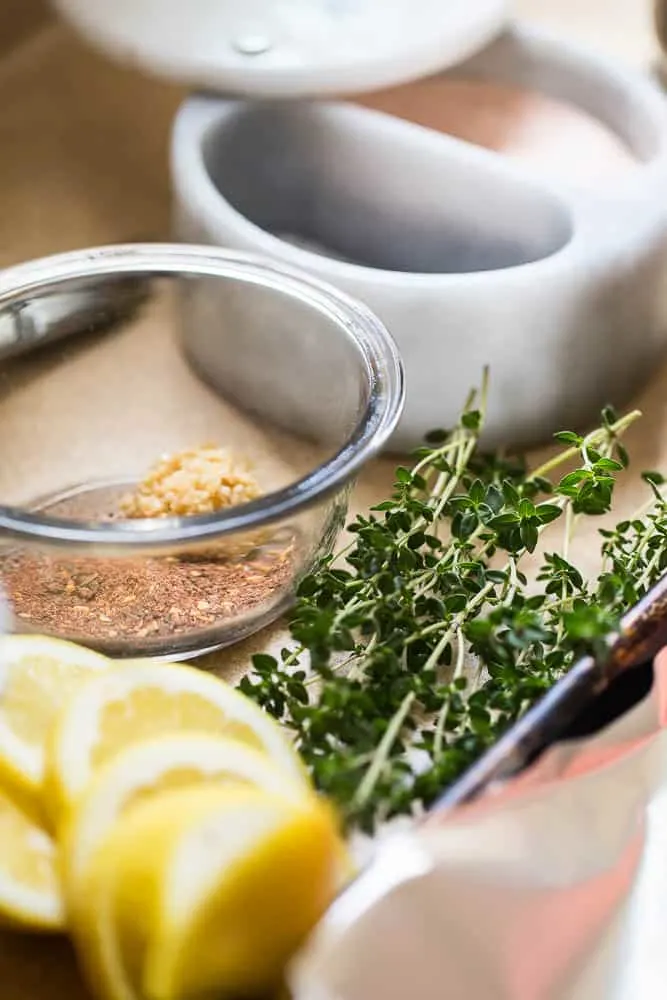 Gather herbs & spices
Cajun seasoning is so good on salmon. I don't know why, but it is.
It's pretty easy to find a good, clean blend at the grocery store. (I like Spicely's and Morton & Bassett's blends.)
You can also make your own! I included a recipe for homemade Cajun seasoning in my cookbook, but I'm sure a Google search would give you lots of options.
Fresh thyme, garlic, and lemon slices are delicious on salmon and compliment Cajun seasoning really well!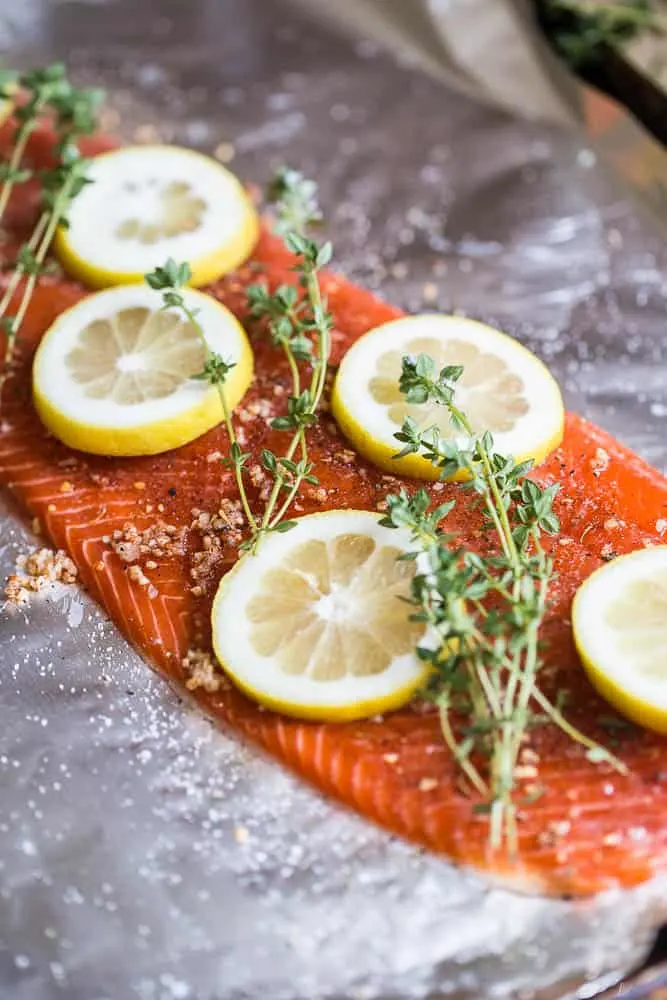 Prepare the foil packet
Lay the fillet on a large piece of aluminum foil.
Smear the fillet with the spices and garlic and arrange the lemon and thyme on top! Oh, and don't forget the butter or ghee. It makes a big difference!
(I nearly forgot — it didn't make it into the photo. Oops.)
Just put several small blobs along the fillet — this is really scientific, isn't it?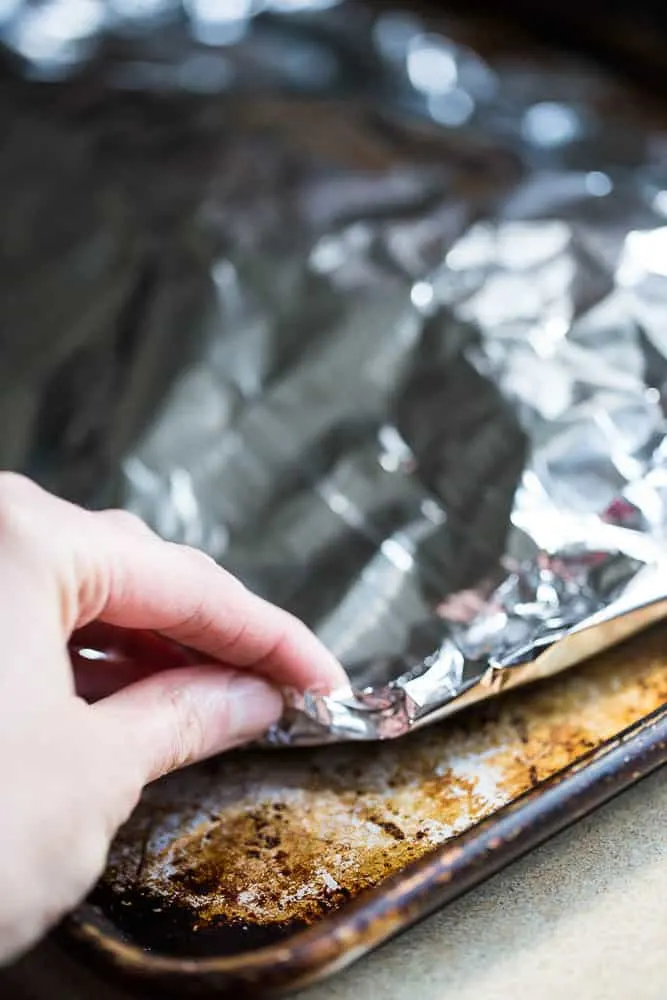 Crip the edges and then throw that puppy on your hot grill.
Or in a really hot oven — like 425 degrees.
What to serve with grilled salmon
If you're looking for side dishes or salads to go with this, here are a few ideas…
A big, homemade Caesar salad is my favorite thing to serve with this salmon. It's one of our go-to summertime meals! My Whole30 Caesar Dressing is a great option if you're needing a dairy-free creamy dressing.
This Easy Cajun Sausage & Rice Skillet would compliment this salmon beautifully!
Southwest Cabbage Slaw or Sweet Kale Salad are a couple of other tasty options, too!
---
If you make one of my recipes, be sure to post it on social media and tag me at @perrysplate or #perrysplate so I can send you some love!
Cajun Grilled Salmon in Foil
Hands down, this is my all-time favorite way to cook salmon -- my parents cooked it this way when I was growing up. The foil packet creates a steamy environment and you end up with tender, juicy, flavorful salmon that you can't stop eating.
Ingredients
1 whole, fresh salmon fillet (or 4-6 smaller fillets)
Sea salt
Black pepper
1 teaspoon Cajun seasoning
2 cloves of garlic, minced
2 lemons, one sliced into rounds, one sliced into wedges
3-4 sprigs of fresh thyme
2-3 Tablespoons ghee or grass-fed butter
Instructions
Preheat your grill to high heat.
Cut a piece of aluminum foil twice as long as the salmon fillet. Place the foil on a rimmed baking sheet so half is on the baking sheet and the other half extends to the side. Place the salmon on the side of the foil that is over the baking sheet.
Sprinkle the fillet liberally with sea salt and black pepper. Add the Cajun seasoning and garlic and rub them around evenly on the fillet. Place the lemon slices and thyme springs on top, and put blobs of ghee/butter on the fillet as well.
Fold the foil over to cover the salmon and crimp the sides to form a packet.
Place the packet on the grill. Cover the grill and cook for 8-12 minutes, until the thickest parts of the salmon are just barely cooked through -- or even slightly dark pink still.
Remove the salmon, turn off the grill, and let it cool for a few minutes before serving. Serve with lemon wedges.
This post may contain affiliate links. Any purchases made by using these links won't cost you any extra and helps keep my content free. These links may be Amazon links as I am part of the Amazon Associate Program.