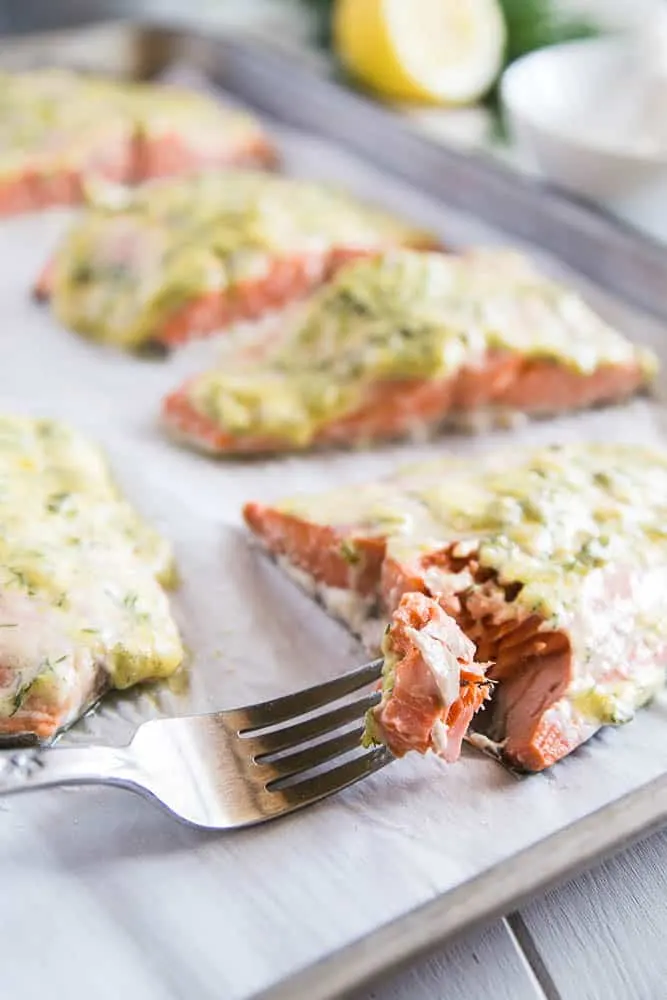 Up until recently, I had a hard time finding roasted salmon recipes that I loved that weren't cooked in either a foil packet or a parchment packet.
I've been a die-hard lover of this Grilled Cajun Foil-Packet Salmon recipe from my childhood. Nothing could ever compare, really.
Until I made this 5-Ingredient Harissa Roasted Salmon last year that knocked my socks off. OK, so maybe it was possible to cook salmon in the oven, UNWRAPPED, and have it be moist and flavorful?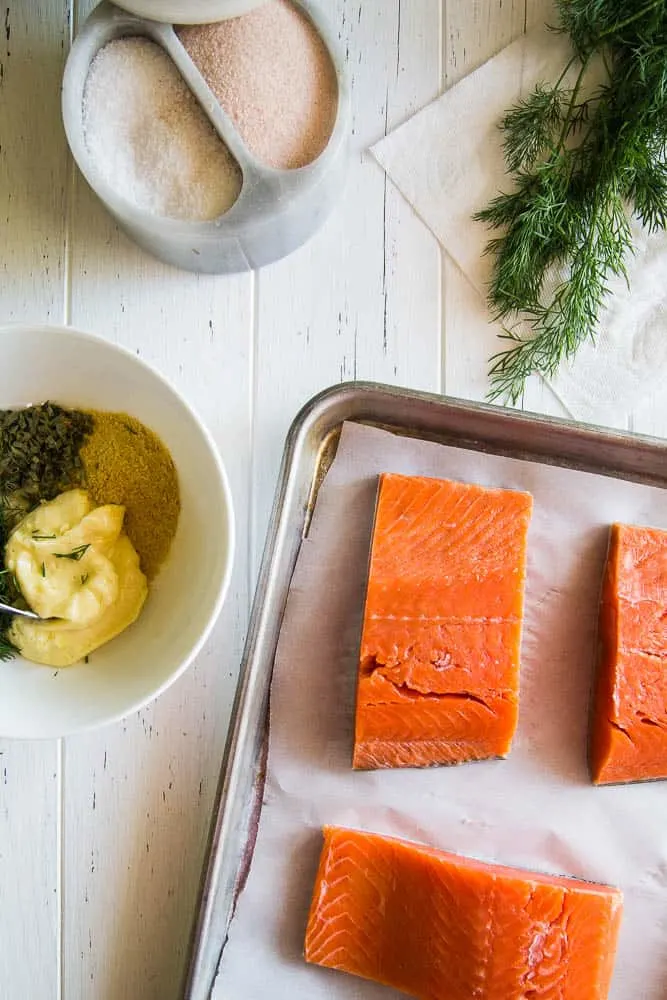 And to take it a step further (and show you just what a salmon snob I am) I didn't like frozen, pre-portioned salmon for a long time because I thought it always had a rather fishy smell and taste.
I always waited for those big, fresh, wild Alaskan salmon fillets to arrive at Costco during late spring, and then we'd have them every other week throughout the summer.
I'm not a huge fan of summertime, but dang, it's fun to eat everything that is in season.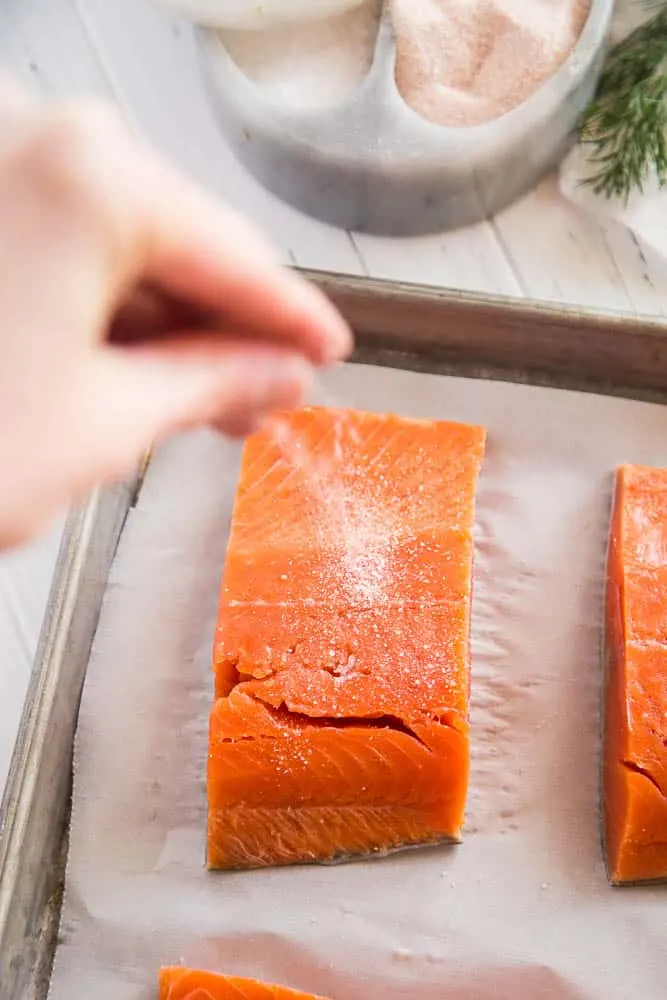 What I'm getting at is not only can frozen, pre-portioned wild salmon be tasty — you don't have to put it in a foil or parchment packet for it to be amazing.
My salmon snobbery is being chipped away, see?
I think a big key in making flavorful fish (no matter what kind) is to season it well. Under-seasoned fish is a really sad thing. So, if you have thick fillets, give them a generous sprinkle of salt and you won't be sorry.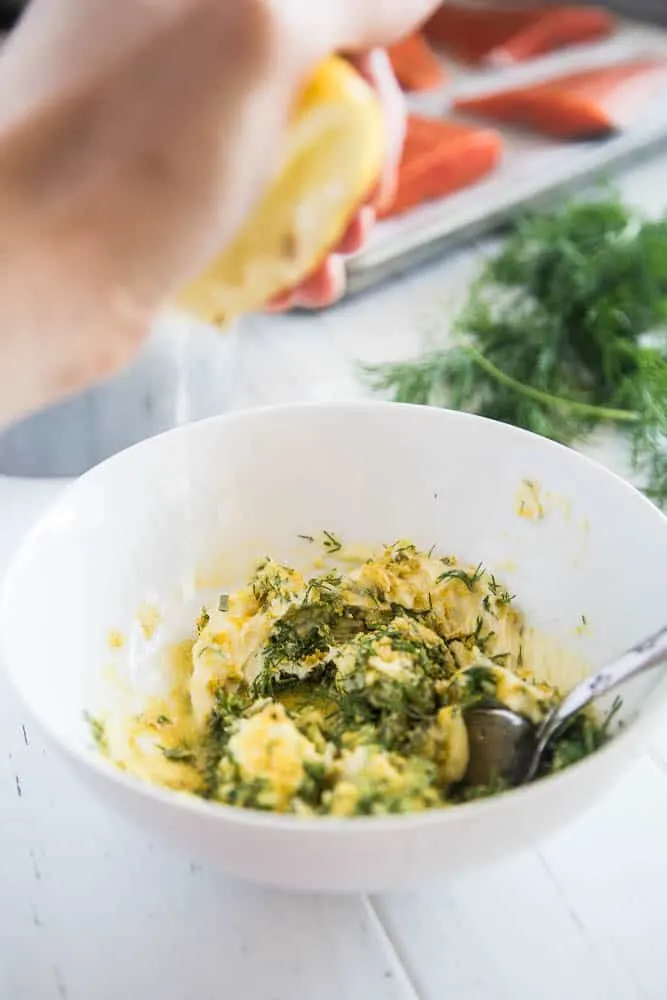 Ok, let's talk about this topping and how fresh dill is, in my opinion, one of the most underrated herbs out there.
I made a creamy mixture of fresh mayo, lemon juice, fresh herbs, and fresh garlic. I also added a big spoonful of nutritional yeast, but you could totally use grated Parmesan if you're cool with cheese.
Speaking of mayo — making homemade mayo is super easy. I actually use my food processor every time now, but if you have an immersion blender and mason jar you could do it that way, too. I wrote a post on it forever ago — How to Make Mayonnaise. I also have instructions in both of my cookbooks for the food processor method!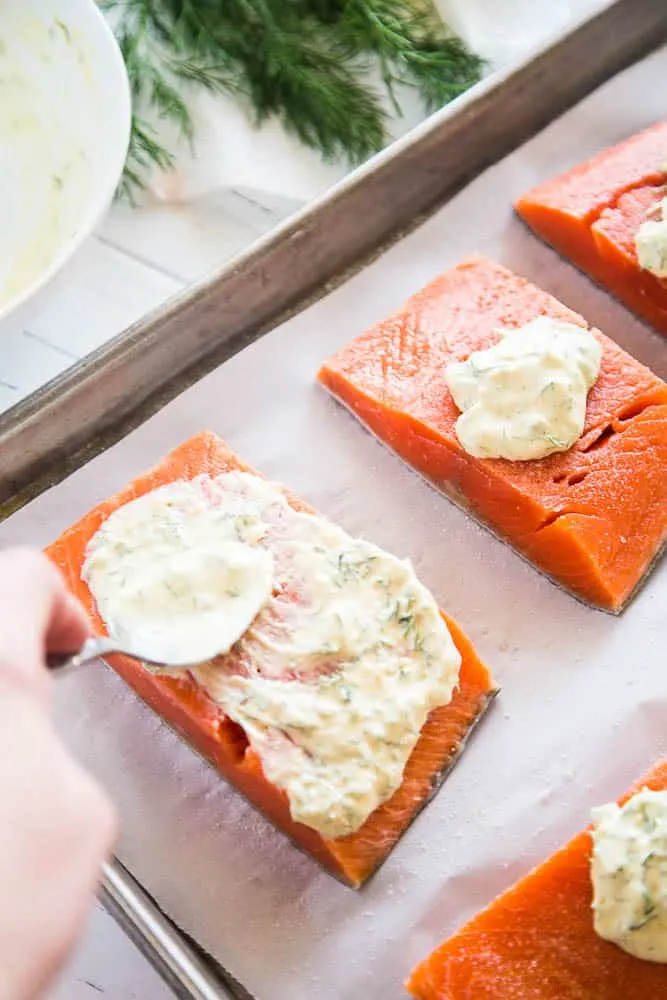 Fresh dill usually comes in those clear, small herb boxes at the grocery store which bums me out. I usually have to hunt pretty hard to find dill that comes in big bunches. Since we moved to Boise, I've been to about a dozen grocery stores and have only found big bunches of dill in one place — an Indian grocery store about 8 miles from our house.
Sigh.
Granted, you don't need a ton of fresh dill for this particular recipe, so those little boxes are fine. But I really love making Dill Pesto which requires about 5-6 times more dill. And those little boxes add up quick.
Yeah, you could grow dill, but I haven't had much luck so far. (I'm still learning to keep green things alive, so don't be discouraged by that.)
Can I use dried dill instead of fresh?
And if you absolutely can't find any fresh dill, just use dried. (But make a valiant effort to find the fresh stuff. Promise me? Please?)
This amount of garlicky-dill spread will cover six salmon fillets nicely. You'll want to use all of it, too.
I love how quickly this all comes together. Very minimal chopping and fish cooks quickly, so you could have an amazing roasted salmon meal ready in about 30 minutes. With a side dish, too.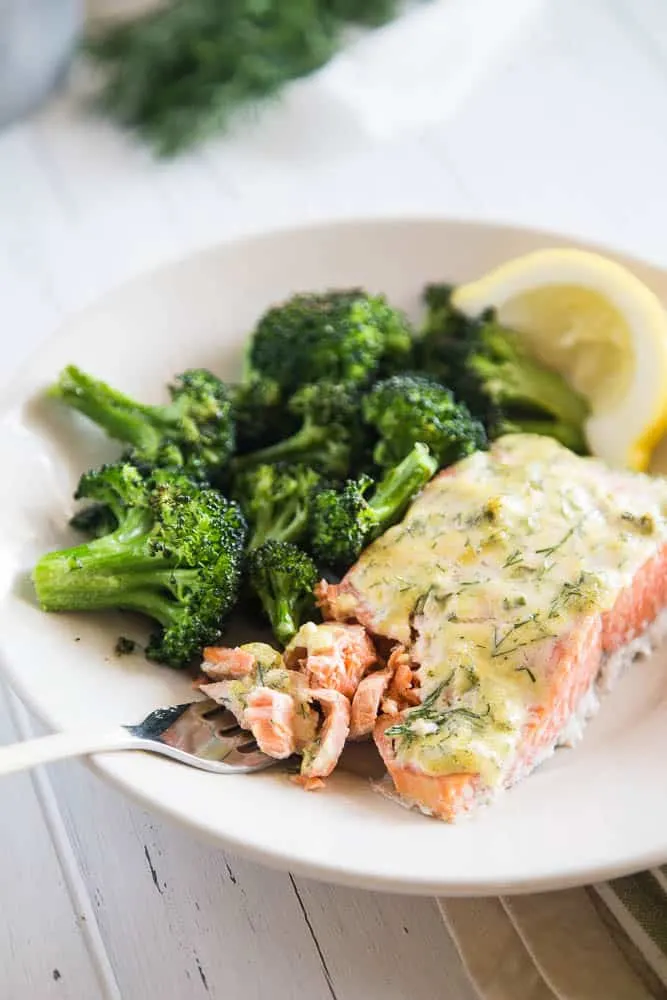 What to eat with roasted salmon
I paired this with some leftover jasmine rice and roasted broccoli (which went into the oven after the salmon because I like to roast it hotter), but you can pair it with a salad, too.
Actually Homemade Caesar Salad is fabulous with salmon. It's one of our most favorite summertime meals! (I even wrote about our Grilled Salmon Caesar Salad shenanigans over on The Pioneer Woman: Food & Friends.
And if you're doing Whole30, this is totally compliant! Just whip up a batch of Whole30 Caesar Dressing for a salad to go with it.
Here are a few other quick side dishes that would go well with this roasted salmon:
Syrian Salad with Za'atar Vinaigrette
Dill Roasted Cabbage (Use up the rest of your dill, too!)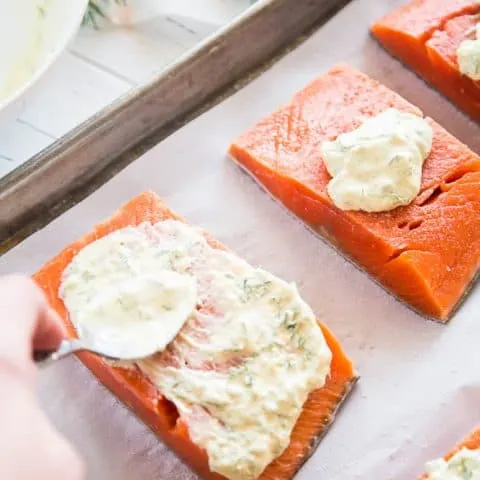 Creamy Garlic & Dill Salmon
I think dill is one of the most underrated herbs out there. It really shines in this roasted salmon recipe with a creamy garlic sauce baked on top!
Ingredients
6 salmon fillets, about 4-5 ounces each
pink Himalayan salt
1 clove grated or crushed garlic
1 Tablespoon chopped fresh chives (or 1 1/2 teaspoons dried)
3 Tablespoons chopped fresh dill (or 1/2 teaspoon dried)
1 Tablespoon nutritional yeast (or freshly grated Parmesan)
Juice from 1/2 of a lemon (1-2 Tablespoons)
Instructions
Preheat the oven to 350 degrees F.
Lay the salmon fillets on a parchment covered sheet pan and sprinkle with salt.
In a small bowl, stir together the remaining ingredients -- mayonnaise, garlic, dill, nutritional yeast, and lemon juice.
Spread a tablespoon or two of the sauce over each salmon fillet until you have used all the sauce.
Bake the salmon for 12-15 minutes or until just barely cooked through. It should flake off fairly easily with a fork, but not be too stiff or rubbery.
Set aside to cool, then serve.