Grilled Eggplant Parmesan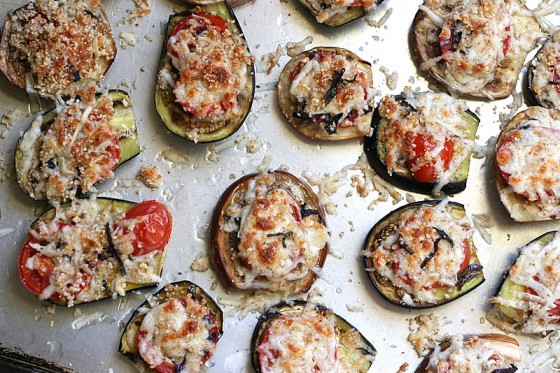 Do you remember the first time you had eggplant? My first eggplant experience was Olive Garden's Eggplant Parmesan. I was about 16. I believe it was around that time that I ate my first artichoke (in the form of dip – does that even count?). I thought those things were so exotic and fancy because we never ate stuff like that at home. I don't think my mom was a big fan of eggplant (or artichokes) and neither was the rest of my family. It wasn't until I was married that I actually prepped an eggplant with my own hands.
What a strange experience that was…. peeling off the thick, shiny peel that reminded me of dolphin skin to reveal what looked and felt like a Nerf football. I seriously had my doubts that it would transform into the silky-smooth vegetable I'd had at the restaurant.
This year we were lucky to get a bunch of baby eggplant in our CSA box! I'd never seen these lighter, striped eggplants before. I found that they were a little tougher and required longer cooking than their darker cousins.
Our lovely farmer, Elizabeth, sends recipes along with the vegetables in our box and this was one of the ones she sent. I had to adapt is slightly because we don't have a proper BBQ grill, but you can easily do this on a stove-top grill pan or under the broiler in your oven.
The only thing I would make note of in this recipe is to make sure the eggplant is cooked all the way through. Tender-crisp eggplant is not a delicious thing. (To me, anyway.) I loved this recipe, but I ended up eating the topping off of the ones that weren't cooked completely through.
I'm working on bulking up the number of eggplant recipes I've got here and will be featuring eggplant and tomatoes in a CSA Wednesday post this week!
I know… it's about time, right?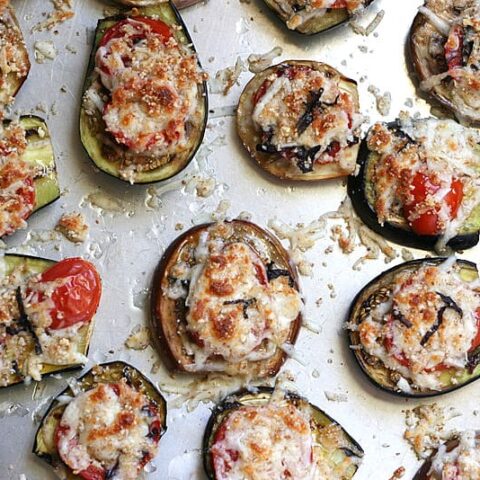 Grilled Eggplant Parmesan
Yield: Serves 2-3
Additional Time: 40 minutes
Total Time: 40 minutes
This is a lighter take on a classic eggplant parmesan using your grill! Pair it with a green salad for a great summertime meal.
Ingredients
1/4 cup + 2 T avocado oil
2 garlic cloves, minced
1 medium eggplant, cut lengthwise into 1/2-inch thick slices
1/2 pound plum tomatoes, thinly sliced
1/3 cup + 2 T thinly sliced fresh basil
1 1/3 cup shredded Italian cheese mix (I mixed mozzarella and fresh Romano)
2 T Italian style breadcrumbs (or almond meal to make it gluten-free)
2 T freshly grated Parmesan cheese
Instructions
Place the oil in a small bowl and stir in the garlic. Let it sit for a few minutes to infuse while you gather the rest of the ingredients.
Place the tomatoes in a shallow bowl and drizzle with 2 T of the garlic oil. Sprinkle the basil over top.
In a separate bowl, combine the cheese mix and the breadcrumbs.
Preheat your grill (or stove-top grillpan) to medium heat. Brush one side of the eggplant slices with remaining garlic oil and place them on the hot grill. Grill for 3-5 minutes, then flip, brushing the other side with the remaining oil. If you have a grill: Add a few of the sliced tomatoes and a pinch or two of the cheese mixture to each eggplant slice. Sprinkle with Parmesan cheese and cover. Grill until tomatoes and eggplant are tender and the cheese is melted, about 7 minutes.
Transfer eggplant slices to plates and serve. If you're using a stove-top grill pan: After you flip the eggplant slices over, cook them for another 5 minutes or until they are completely tender, but not mushy. Meanwhile, preheat your oven broiler. When the eggplant is cooked, transfer the slices to a baking sheet and top with tomatoes, cheese mixture, and Parmesan. Broil for 2-3 minutes until the cheese is melted and the tomatoes are tender.
Save
Save