Pull some of those garden tomatoes out and roast them into the best tomato sauce you've ever had! You can use the sauce on pasta or pizza. It even freezes well!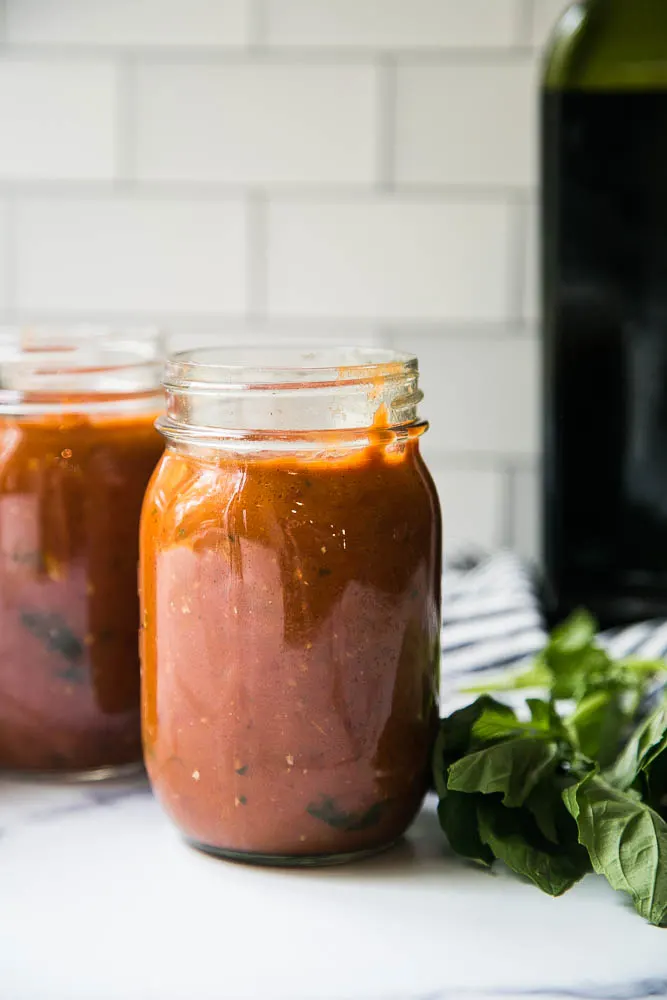 Have you ever made homemade roasted tomato sauce? It's DIVINE.
Obviously, perfect end-of-summer tomatoes should be used in things like BLTs, caprese salads, or sprinkled with sea salt and enjoyed alone.
If you have tomato plants exploding and you've eaten all of the BLTs you can handle, make some roasted tomato sauce! Are there any stray tomatoes left out there? They'd feel right at home here.
(Has anyone actually maxed out on BLTs? I'm genuinely curious if that's possible.)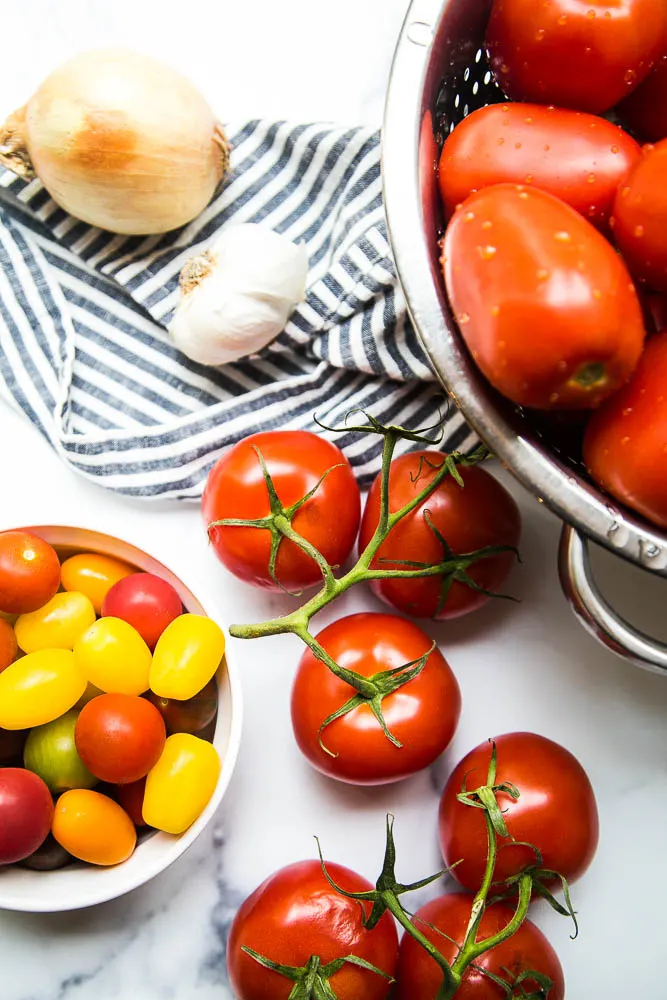 Or, if you're like me and have little patience for gardening (this year was an off year), but want to take advantage of all of the semi-yummy tomatoes at the grocery store (no shame there — I totally get most of mine at Costco) you can elevate them by roasting.
You know how much I love roasting things. Roasted tomatoes are no different — they turn a mediocre tomato into something fabulous. Trust me. Roasting pulls out all of the natural sweetness in food.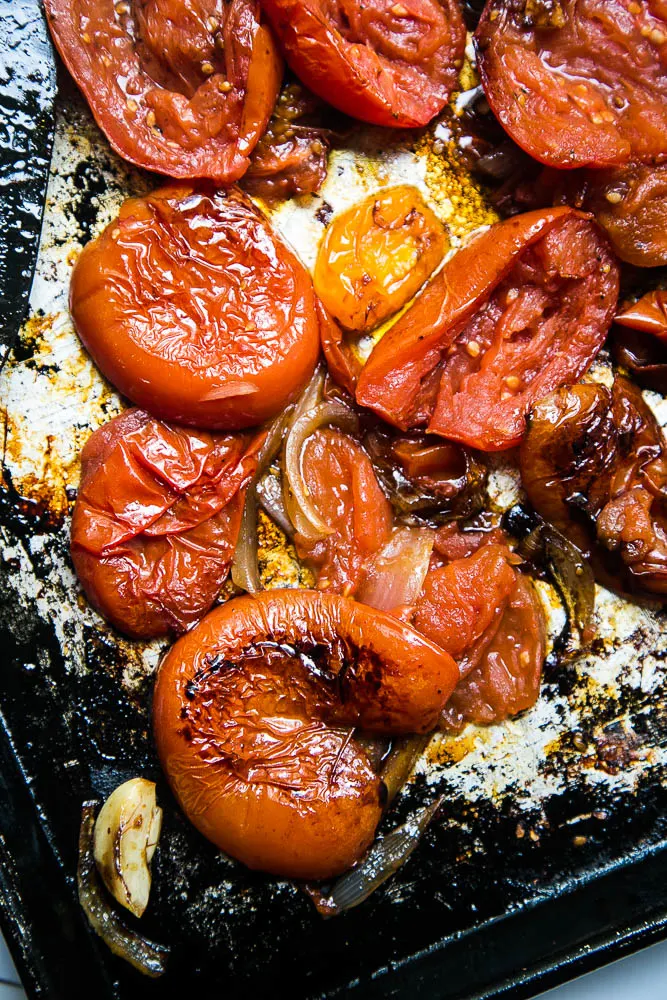 Check out all of those caramelized bits of roasted tomato, hunks of garlic and translucent onion strips. That caramelization adds sweetness to your homemade tomato sauce. Tomatoes can be really acidic so it helps to have some sweetness to balance it.
If my gnarly roasting pans aren't proof of my love of roasting, I don't know what is. I'm pretty sure my grandma is horrified by my pans.
What are the best sheet pans for roasting?
Speaking of pans, my favorite roasting pans are the
Nordicware sheet pans on Amazon
. They're sturdy, and they don't scratch as easily when you're using pizza cutters or knives on them. (P.S. Don't waste your money on the Martha Stewart ones. Just trust me.)
What kind of tomatoes are good for homemade tomato sauce?
Roma tomatoes tend to be the top pick for homemade tomato sauce because they have less water than other types of tomatoes which results in a thicker, heartier sauce.
I like use a mixture of tomatoes, though — mostly Romas, some on the vine, and some small cherry or grape tomatoes for extra sweetness. You could use all of the same kind, too.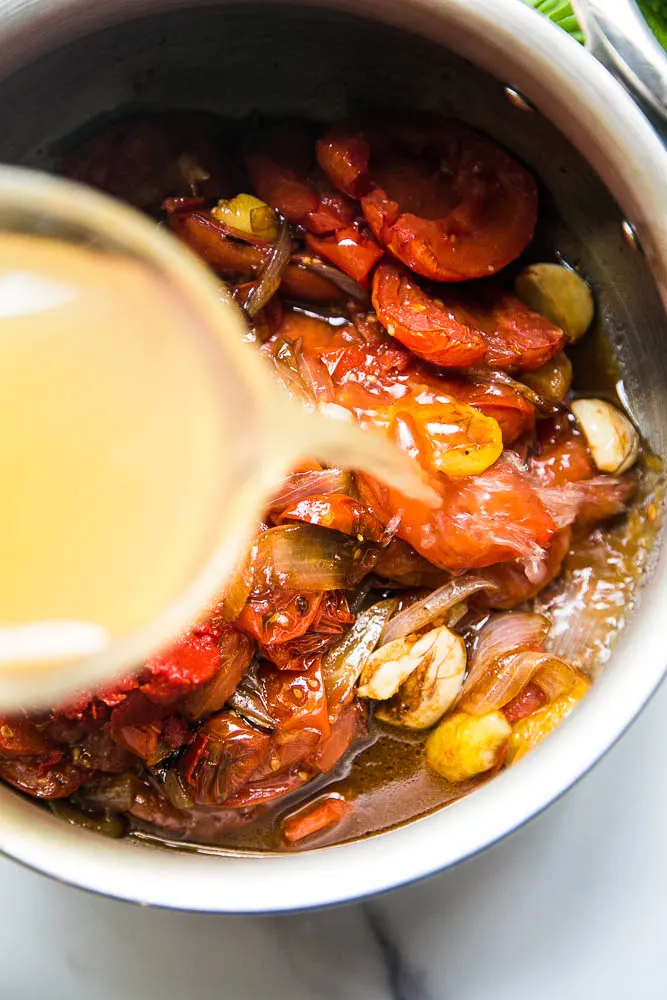 After roasting it's just a matter of simmering and blending everything together with some chicken broth, tomato paste (for extra body), and fresh basil.
Add the chicken broth in halves so you can customize how thick you'd like it. If you roasted your vegetables for longer, there will be less liquid in them and you may need more chicken broth.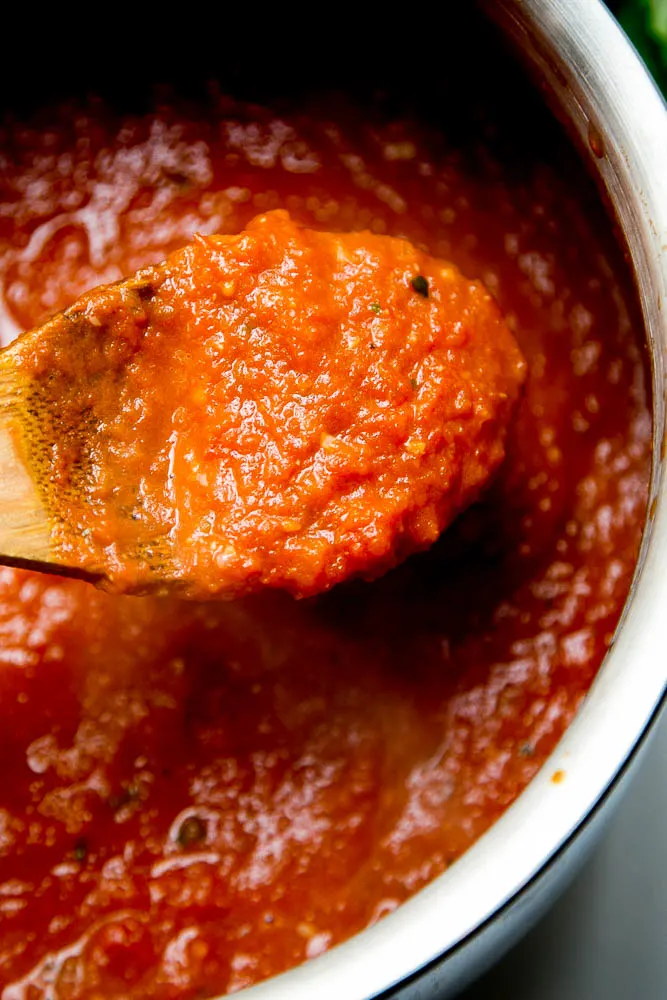 Yum, right? This homemade roasted tomato sauce is so, so good.
I add an extra splash of balsamic and extra-virgin olive oil at the end to boost those flavors and add some richness.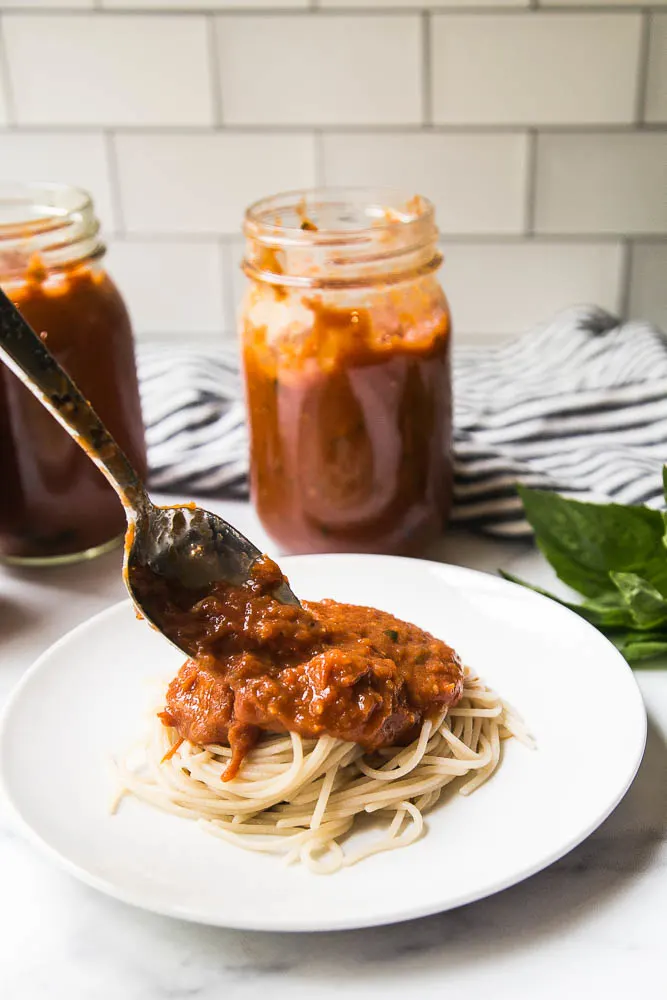 I have a pasta-obsessed kid who begged me to make some noodles for my pic so she could eat them afterward. (I see what you're doing, kid. haha)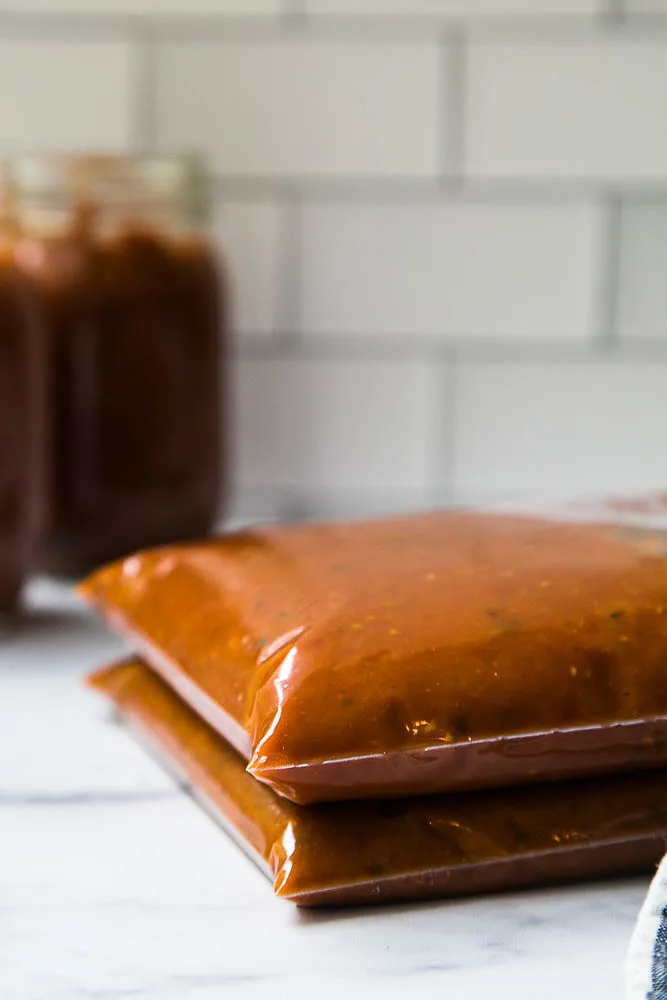 How to store homemade tomato sauce
DO NOT try to preserve this recipe using steam or pressure canning methods. You need special recipes for that, and this one isn't one of those. I don't want you to end up with botulism.
You've got two options for this:
Store it in the fridge for about a week.
Freeze it. This sauce freezes beautifully! You can freeze it in mason jars, freezer-safe deli containers (I love these!), or zip-top freezer bags. Just save a little space in whatever container you use so you don't end up with broken or leaky containers from the expanding liquid.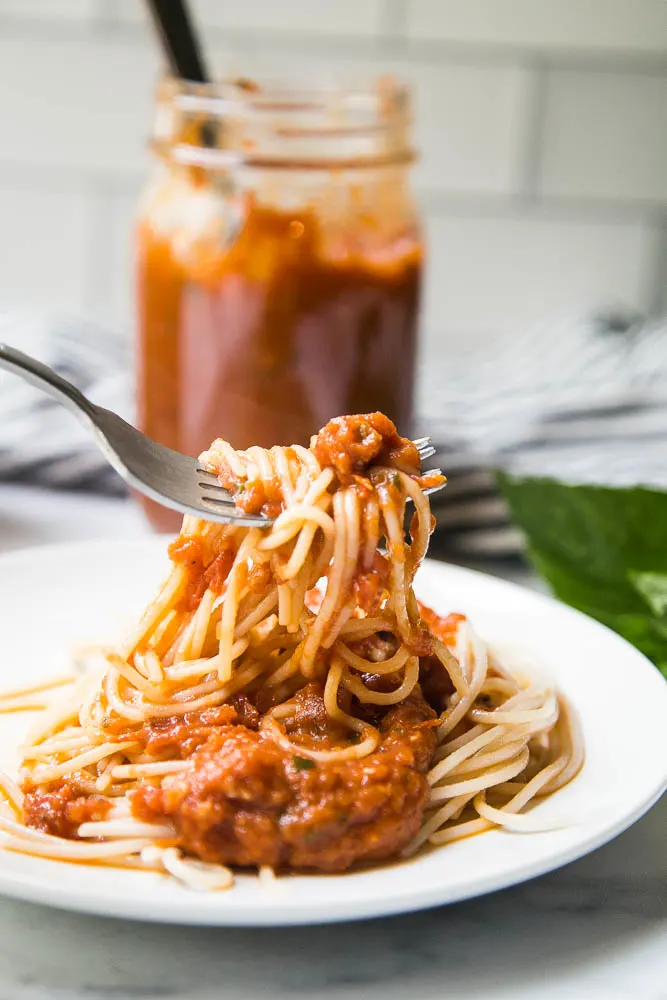 I hope you enjoy this delicious roasted tomato sauce! Throw this homemade marinara on gluten-free pasta or on a pile of zoodles! Or use it in any baked pasta casserole or any other dish that calls for marinara.
If you make one of my recipes, be sure to post it on social media and tag me at @perrysplate or #perrysplate so I can send you some love!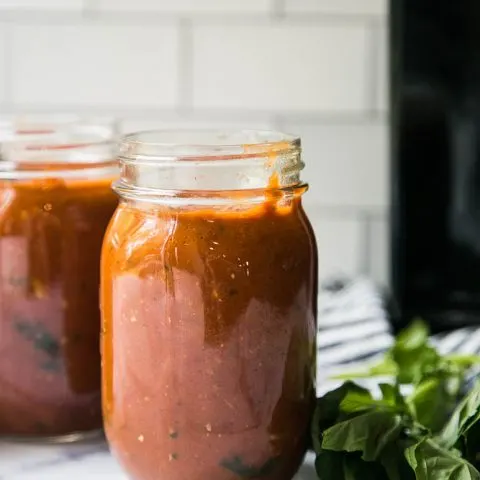 Easy Roasted Balsamic Tomato Sauce
Yield:
About 1 1/2 quarts
Additional Time:
45 minutes
Total Time:
1 hour
30 minutes
Pull some of those garden tomatoes out and roast them into the best tomato sauce you've ever had! You can use the sauce on pasta or pizza. It even freezes well!
Ingredients
5 pounds tomatoes cored and quartered (see note)
1 small onion, halved and sliced thinly
6 large garlic cloves, peeled
4 Tablespoons olive oil
4 Tablespoons balsamic vinegar
1/2 teaspoon sea salt
1/4 teaspoon freshly cracked pepper
2 Tablespoons tomato paste
1 bunch fresh basil (about 12 leaves) or 2 teaspoons dried basil or Italian seasoning
1 cup chicken or vegetable broth (if needed, to adjust texture)
Instructions
Preheat oven to 450 degrees F.
Place tomatoes on two rimmed baking sheets. Scatter onion and garlic cloves over the top. Drizzle olive oil and vinegar over the vegetables, then sprinkle the salt and pepper.
Using your hands, toss until everything is coated and spread vegetables evenly on the pans.
Roast for 25-30 minutes or until tomatoes and onions are tender and have begun to brown or blacken slightly. Stir once or twice during roasting and rotate pans halfway through.
Transfer roasted vegetables to a large saucepan. (Or store, covered, in the fridge for up to 4 days until you're ready to finish the sauce.)
Add tomato paste, basil, and half of the chicken broth. Cook over medium heat and stir to incorporate the tomato paste.
Puree the vegetables using an immersion blender or working in batches with a blender. (Hopefully you have an immersion blender. It's such a lifesaver in times like these.) Add more chicken stock to reach the consistency you want.
Let the sauce simmer over medium-low heat for about 5 minutes.
Transfer to freezer safe containers and freeze. Or use it right away. It'll keep in the fridge for about a week.
Notes
Nat's Note: I recommend using mostly Roma tomatoes, but using a variety of tomatoes gives this sauce a more rounded flavor. Adding some sweet grape or cherry tomatoes is nice, too!
Recommended Products
As an Amazon Associate and member of other affiliate programs, I earn from qualifying purchases.
This post may contain affiliate links. Any purchases made by using these links won't cost you any extra and helps keep my content free. These links may be Amazon links as I am part of the Amazon Associate Program.
SaveSave
SaveSave