Easy Roasted Balsamic Pasta Sauce (to Freeze!)
I realize that doesn't look much like roasted baslamic pasta sauce down there. (Could it be extra, extra chunky?) It will in a second, though. Are there any stray tomatoes left out there? They'd feel right at home here.
My go-to pasta sauce is usually Emeril's Roasted Garlic Pasta Sauce that I keep stocked in the freezer. But because I had a(nother)
bout of insanity
, I ordered another big box of tomatoes. Feeling a little balsamic-y one day I decided to make a roasted tomato version. With lots of olive oil and balsamic vinegar.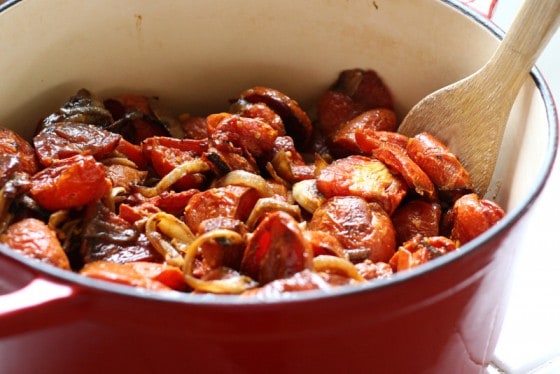 I realized today that this is the first real recipe I've posted in over two weeks, and there is a good reason for that. A lot of exciting things are happening around here. More on that later…
So, take about 20 Romas, quarter them, and throw them on a sturdy baking sheet with some sliced onion and whole, peeled garlic cloves.
I hesitate giving measurements for this recipe, because — truly — it was a chop, drizzle, sprinkle kind of thing. Load the tomatoes up with olive oil, balsamic vinegar, sea salt, and some freshly cracked pepper.
Let them roast for 25-30 minutes and not only will you have a gorgeous pan of caramelized vegetables, but your house will smell like an Italian restaurant. A good Italian restaurant. The kind that doesn't have high chairs and where you'd feel completely at home wearing a feather boa.
AAAND… if you're tired or scared of canning. Or don't know how. Or just plain lazy (Ahem, moi) store the sauce in canning jars and freeze them. Yep, you can freeze them, just leave an inch of space at the top for expansion. And don't drop a frozen-solid jar of sauce into a sink of hot water to thaw. (Like you would do that, right?) Put it in the fridge to thaw. Or on the counter for several hours. (That's probably not safe according to someone's standards, but I do it all the time.)
Then do two things:
1. When you pull it out to use it, make sure someone is watching and they'll think you actually CANNED it yourself.
2. Make something like this with it. Especially if you've had a hankering for pasta and cheese for, like, 3 months. (Me, again.)
Note: You can also store them in freezer safe zip-top bags, but that would defeat the purpose of #1.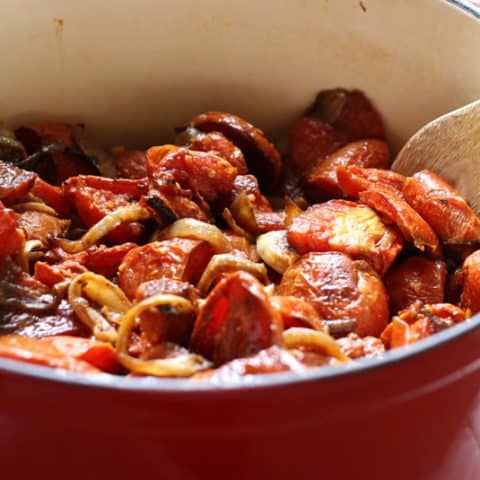 Easy Roasted Balsamic Tomato Sauce
Yield: About 1 1/2 quarts
Additional Time: 45 minutes
Total Time: 45 minutes
Pull some of those garden tomatoes out and roast them into the best tomato sauce you've ever had! You can use the sauce on pasta or pizza. It even freezes well!
Ingredients
around 20 Roma tomatoes, cored and quartered (enough to fill a half sheet pan)
1 small onion, halved and sliced thinly (or half of a large one)
3 large garlic cloves, peeled
3-4 Tablespoons olive oil
3-4 Tablespoons balsamic vinegar
1/2 teaspoon sea salt
1/4 teaspoon freshly cracked pepper
3 T tomato paste
1 1/2 teaspoons basil or Italian seasoning
1 cup chicken or vegetable broth (if needed, to adjust texture)
Instructions
Preheat oven to 425 degrees F.
Place tomatoes on a rimmed baking sheet (those sturdy half sheet pans are wonderful!). Scatter onion and garlic cloves over the top. Drizzle olive oil and vinegar over the vegetables, then sprinkle the salt and pepper.
Using your hands, toss until everything is coated and spread vegetables evenly in the pan.
Roast for 25-30 minutes or until tomatoes and onions are tender and have begun to brown or blacken slightly. Stir once or twice during roasting.
Transfer roasted vegetables to a large saucepan. (Or store, covered, in the fridge for up to 4 days until you're ready to finish the sauce.)
Add tomato paste, basil, and half of the chicken broth. Cook over medium heat and stir to incorporate the tomato paste.
Puree the vegetables using an immersion blender or working in batches with a blender. (Hopefully you have an immersion blender. It's such a lifesaver in times like these.) Add more chicken stock to reach the consistency you want.
Let the sauce simmer over medium-low heat for about 10-15 minutes. Taste and add more salt, pepper, or vinegar as you see fit.
Transfer to freezer safe containers and freeze. Or use it right away. It'll keep in the fridge for about a week. Makes about 1 1/2 quarts.
.
SaveSave
SaveSave