This super delicious, super spreadable honey butter is naturally sweetened and is made with a secret ingredient that makes the texture SUPER smooth. Nope, it's not marshmallow fluff.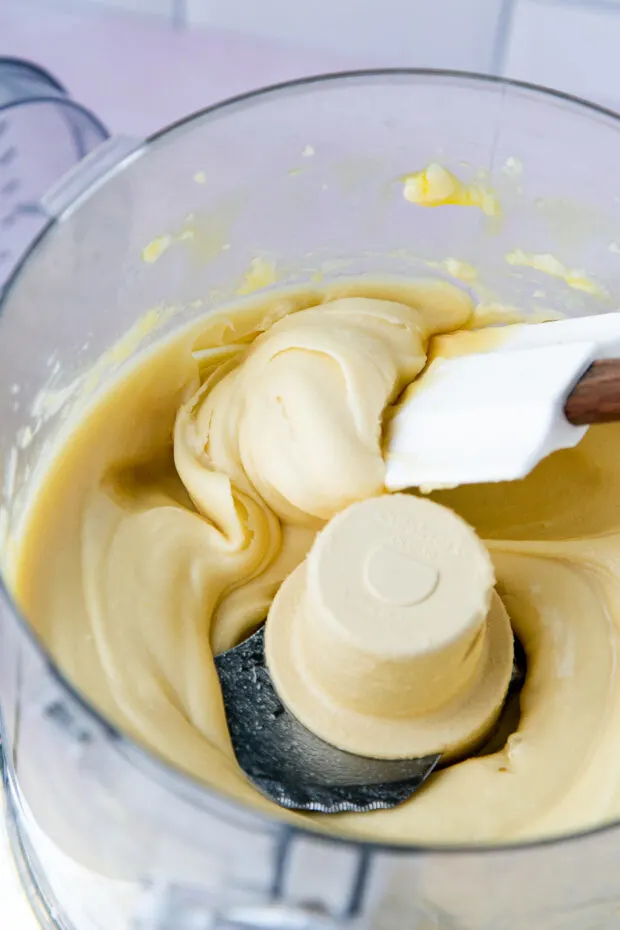 Guys, I've been holding out on you with this honey butter recipe.
This is my great-grandpa's honey butter recipe that my mom made a lot when we were growing up. It's smooth and spreadable and insanely delicious.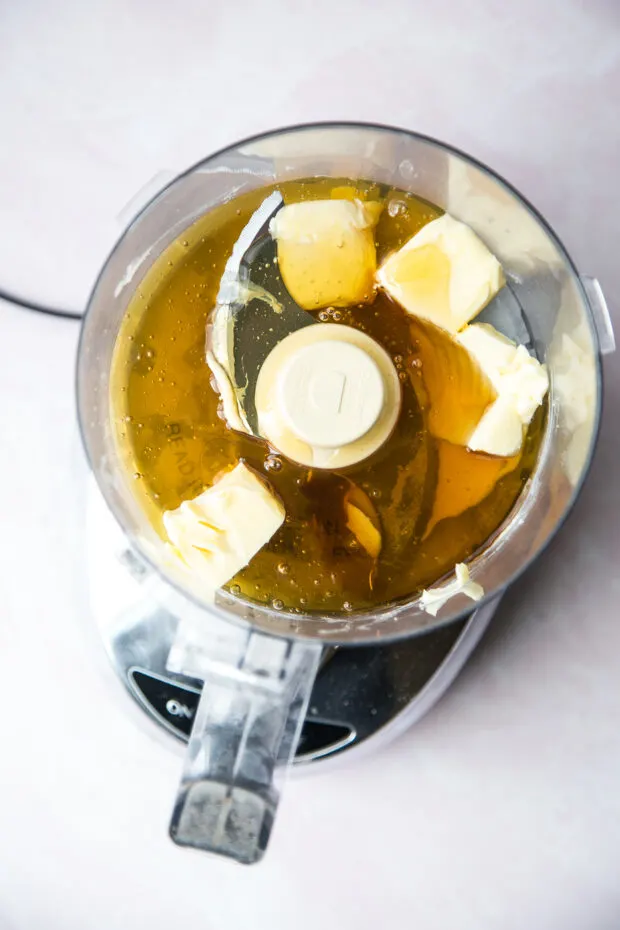 How to make honey butter
Honey butter is pretty easy to make. Most people blend up honey and… butter. You guessed it.
There's nothing wrong with just honey and butter. It's super tasty.
You can use a blender if you don't have a food processor.
The issue I have with stopping at this point is that it's sort of clumpy and hard to spread.
If you're trying to spread this on toast or a scone or some pancakes, they better be really hot in order to get this honey butter smoothed evenly.
Or it'll rip it to shreds.
There's a secret ingredient we use to make honey butter super smooth and spreadable. Are you ready for it?
(It's not marshmallow fluff. Although I've heard good things about that, too.)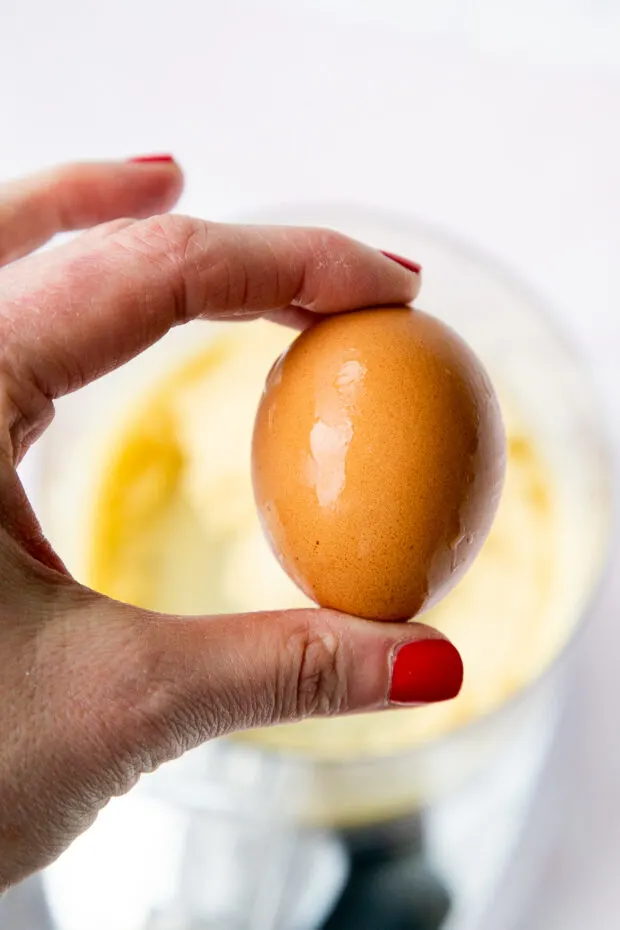 It's an egg.
Yep, a raw egg.
It smooths out the honey butter and gives it a better flavor. Trust me on this.
Do you get why I didn't share this recipe before? And why I hesitate giving this stuff away to people?
Once they try it they'd ask for the recipe, and I don't want to admit I tossed a raw egg into what I just gave them.
Is it safe to eat raw eggs?
I'm totally fine making this for us because I get higher quality egg and the risk of getting salmonella is super low. There's a statistic going around online that the CDC said the risk is 1 in 20,000 eggs being contaminated with salmonella. I've hunted around for a legit link on the CDC's site and haven't been able to find that exact statistic.
I guess the takeaway is… the risk is low. Especially if you're buying good eggs. And salmonella isn't super dangerous for most people anyway so, use your best judgment there.
How to pasteurize a raw egg
I decided to give some loaves of sourdough and honey butter out to a few people last Christmas and didn't want to give everybody raw egg honey butter.
So, I pasteurized my own eggs!
It was pretty easy. I used a tutorial over at Sugar Geek Show who followed instructions from the Egg Safety Center.
Basically you bring a pot of water to 140 degrees. Add some eggs and hold the temperature there for 3-4 minutes. Then put the eggs into an ice bath so they don't scramble on the inside.
The goal is to get the inside of the egg to 140 degrees for a couple of minutes. This doesn't 100% eliminate the risk of bacteria, but it greatly reduces the risk.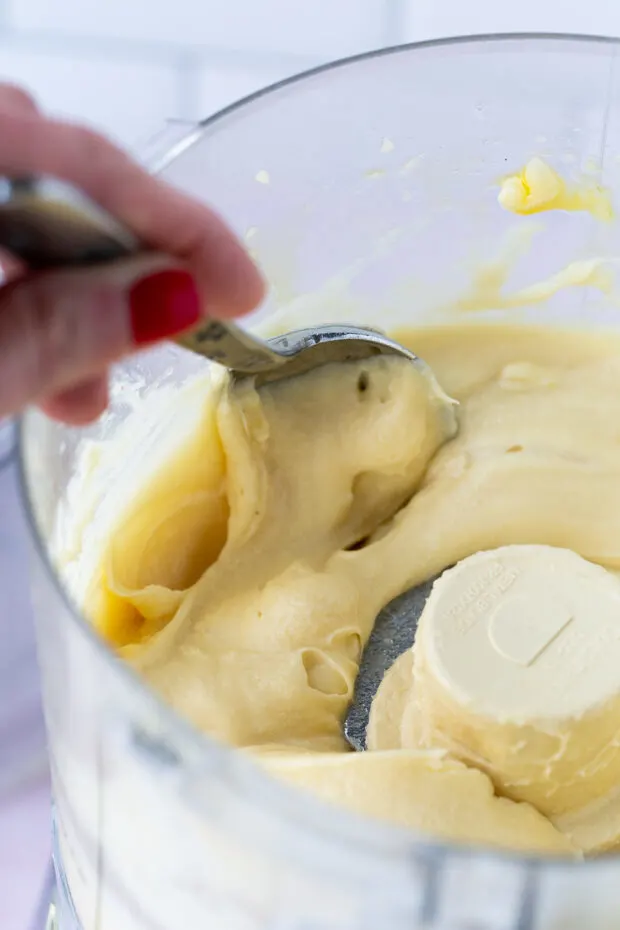 Honey Butter Variations
I like to add some vanilla and a pinch of salt to add more flavor to my honey butter.
You can also add one of these:
Cinnamon
Orange zest
Raw Cranberries (good with the orange zest, too!)
Freeze dried berries
Shaved chocolate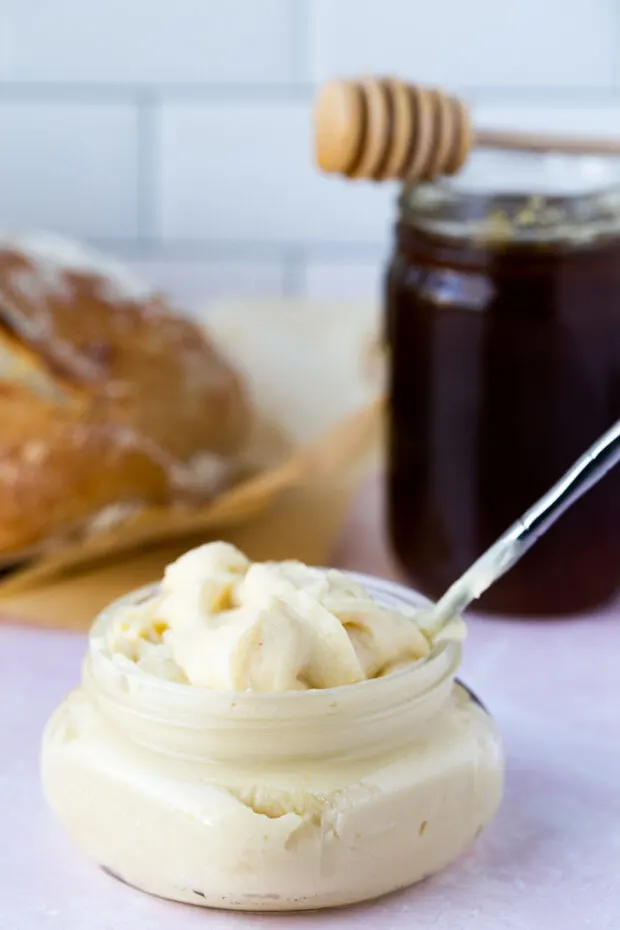 Ways to use Honey Butter
Most of the best ways to use honey butter have to do with smearing it on some kind of bread product. Like. . .
Warm bread
Toast
Scones
Pancakes/Waffles
Biscuits
If you find a creative way to use honey butter, let me know!
---
If you make one of my recipes, be sure to post it on social media and tag me at @perrysplate or #perrysplate so I can send you some love!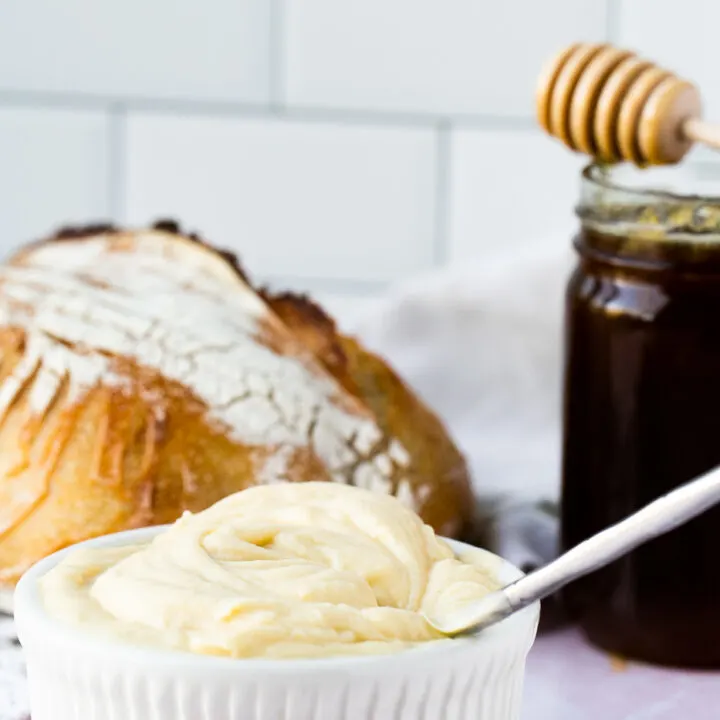 Smooth Homemade Honey Butter
This super delicious, super spreadable honey butter is naturally sweetened and is made with a secret ingredient that makes the texture SUPER smooth.
Ingredients
1/2 cup butter, softened to room temperature
1 cup honey
1/2 teaspoon vanilla
pinch of salt
1 egg
Instructions
Put the butter and honey in your food processor or blender. Blend until smooth and no large butter clumps remain.
Add the vanilla, salt, and egg.
Blend until completely smooth.
Store in a lidded container in the refrigerator. Keeps for a week.
Notes
If using a raw egg freaks you out, use a store-bought pasteurized egg or pasteurize your own eggs using the link within the recipe post.
Recommended Products
As an Amazon Associate and member of other affiliate programs, I earn from qualifying purchases.
Nutrition Information
Yield

12
Serving Size

2 Tablespoons
Amount Per Serving
Calories

160
Total Fat

8g
Saturated Fat

5g
Trans Fat

0g
Unsaturated Fat

3g
Cholesterol

36mg
Sodium

79mg
Carbohydrates

23g
Fiber

0g
Sugar

23g
Protein

1g
The information shown is an estimate provided by an online nutrition calculator. It should not be considered a substitute for a professional nutritionist's advice.