The only thing better than a full-sized trifle is a few mini trifles in cute little dishes! These desserts are perfect for Valentine's Day or any time you're in need of a little portion control. . .
Hey there! You may be wondering what this mini trifles recipe is doing on a paleo-ish food blog. Well…. it dates back to when I wasn't a paleo-ish blogger, and it's one of our favorites. And it's apparently one of your favorites, too, because it's been flying around Pinterest like crazy for the past few years.
Eventually I'd like to clean it up and make it (at least) gluten and dairy-free, but in the meantime it'll stay and have a home here on my blog as totally-worth-it recipe we'd indulge in.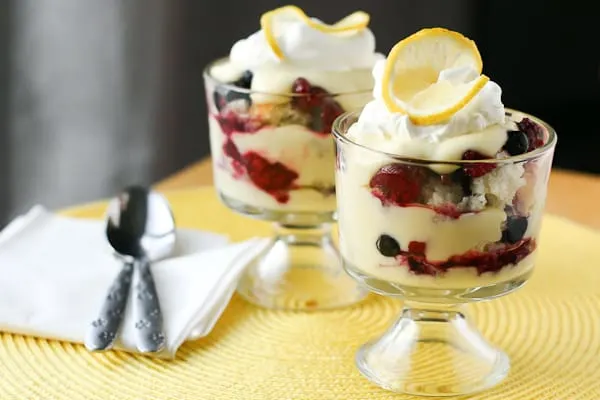 I've made it a tradition around Valentine's Day to make a treat with my girls. This year they didn't pick mini trifles.
Those little trifles were a happy little accident that started out as cupcakes…
These cupcakes, to be exact — Raspberry Lemon Cupcakes from My Baking Addiction. I was perusing Pinterest with my 4-year-old, searching for the cupcakes to make for Valentine's Day. She went nuts when she saw these. (Obviously. The photos in the post are gorgeous.)
Decision made. Cupcakes baked & frosted. Lots of fingers licked. Memories made.
But. They didn't knock my socks off. Don't get me wrong, as far as cupcakes go, these were pretty good. The lemon cake had a really light, moist texture and the raspberry buttercream frosting was nice, but neither had the strong fruity flavor I was hoping for.
I also made a big mistake. I had intended to half the recipe, but after I blended the dry ingredients together I realized I was on the road to 24 cupcakes instead of 12. So, I made 12 and baked the rest of the cake batter in a round pan to do something else with.
Freeze, maybe? It never made it to the freezer. Nor did the leftover frozen raspberries.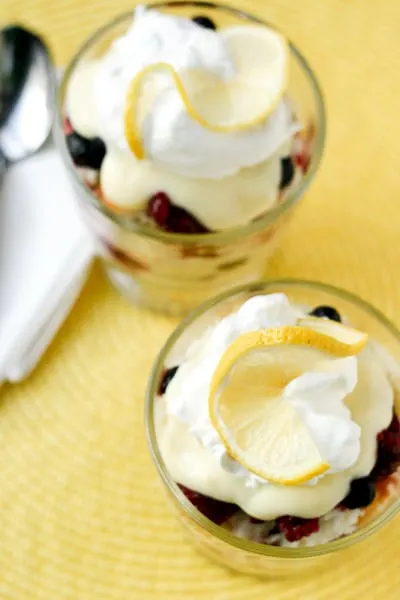 I've got a pretty fantastic Strawberry Trifle recipe (that placed 2nd in a dessert contest once upon a time). In fact, my husband and I both agreed we'd much rather have trifle than cupcakes. (Dare I say that cupcakes are kind of overrated? Unless they knock my socks off.) So I decided to make my leftovers into some mini trifles.
I made the custard from my trifle recipe, using buttermilk and lemon juice instead of regular milk. (Hello, tang.) Then I combined the rest of the frozen raspberries with some frozen blueberries and layered it with the custard and the leftover cake… with a dollop of freshly whipped cream on top. The cake recipe I used for the cupcakes was more time consuming and dirtied more dishes than the sponge cake from my trifle recipe, so I made a few tweaks to the sponge cake and added it to the recipe below.
After trying my new creation I believe I said audibly, "Whoa. Screw the cupcakes." Then I refilled my little trifle dish and ate another one.
The sweet, gooey berries were a perfect pairing with the tangy custard and the fluffy, slightly-lemony cake. I could dive into a big bowl of this and never come out.
I found these cute little trifle dishes at Walmart. They were only $3-4 a piece (I think). You can also use 8-ounce ramekins or small bowls. Clear bowls make for a prettier presentation when it comes to trifles, but honestly… you kind of forget how pretty it is once you take a few bites.
SaveSave
If you make one of my recipes, be sure to post it on social media and tag me at @perrysplate or #perrysplate so I can send you some love!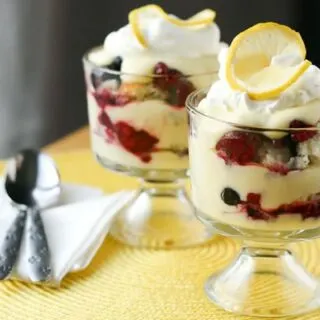 Lemon-Berry Mini Trifles
Yield:
Makes 6 mini trifles (8-ounces each)
The only thing better than a full-sized trifle is a few mini trifles in cute little dishes! These desserts are perfect for Valentine's Day or any time you're in need of a little portion control. . .
Ingredients
Lemon Custard:
2/3 c. sugar
2 T. cornstarch
¼ t. salt
1 1/2 c. buttermilk
1/2 cup freshly squeezed lemon juice (from 2 or 3 large lemons)
4 egg yolks, lightly beaten
2 T. butter
1 tsp. vanilla
Sponge Cake:
1 egg
1/2 c. sugar
1/2 c. flour
1/2 tsp. baking powder
1/8 tsp. salt
1/4 cup milk
1 T butter
1/2 tsp. vanilla
zest from two large lemons
For the trifles:
2 cups frozen raspberries, thawed
2 cups frozen blueberries, thawed
2 T. sugar
1 1/4 cup heavy cream, whipped and sweetened to taste (or 2-2 1/2 cups of whipped cream)
Instructions
For the custard: Whisk together sugar, cornstarch, salt, buttermilk, and lemon juice in a saucepan. Cook over medium heat, stirring constantly, until thickened and bubbly.
Stir about ¼ of mixture into egg yolks; add egg yolk mixture back into saucepan, stirring constantly. Cook over medium heat, stirring constantly, 2 min.
Remove from heat; add butter and vanilla, stirring until butter melts. Cover with plastic wrap, gently pressing it onto surface; chill at least 2 hours.
For the sponge cake: Beat egg at high speed with electric mixer 3 min or until thick and pale. Gradually add sugar and lemon zest; beat 4 min.
Combine flour, baking powder and salt; gradually fold into batter.
Combine milk and butter in saucepan; cook over low heat until butter melts (or zap in the microwave). Gradually stir milk mixture and vanilla into batter.
Pour into a greased and floured 8" round cake pan. Bake at 350 for 16 min or until toothpick comes clean. Cool on wire rack for 10 min. Remove from pan; cool completely on rack. Cut into 1 in. cubes.
When you're ready to assemble the trifles, mix the thawed berries and sugar in a bowl. Set aside. Whip the cream with an electric mixer, adding your preferred sweetener, to taste, during the whipping. (I added about 1 T of sugar.) Fold a couple of heaping spoonfuls of the cream into the custard. Set aside the rest for the topping.
In trifle cups or a small serving bowl, layer custard, cake cubes, and berry mixture. Repeat layers until you run out of ingredients. If you're using small cups, you may only be able to layer once. Top with remaining custard. Cover and chill. Top with whipped cream when you're ready to serve.
This post may contain affiliate links. Any purchases made by using these links won't cost you any extra and helps keep my content free. These links may be Amazon links as I am part of the Amazon Associate Program.