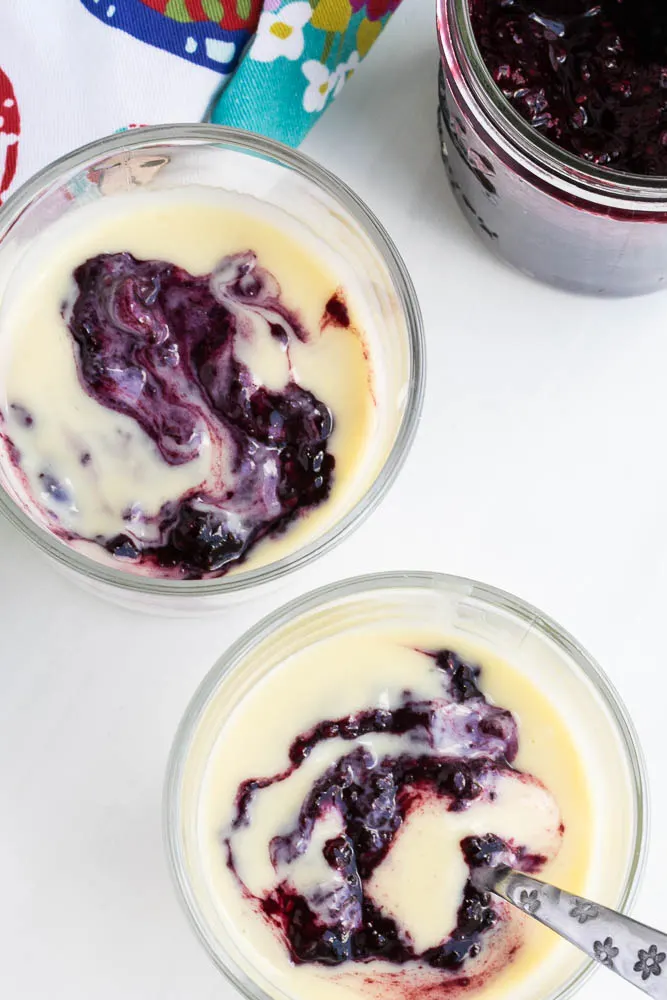 This might look rather simple on your end.
Custard & berries? That's it?
If you're imagining vanilla Jell-O pudding with some jam mixed in. Please remove that thought from your mind.
It's so much more than that. I'll try to explain.
Have you ever made my Strawberry Holiday Trifle? It's an Easter tradition in my family and for good reason. ALL of the components are made from scratch — the custard, the sponge cake, the whipped cream. (No Cool Whip here, yo.)
The custard in that recipe is one of my favorite things. It's ridiculously good. And not too hard to make.
I took that custard recipe and made it dairy-free and refined sugar free.
I thought it would ruin it when I did that, but IT DIDN'T.
Even my daughter who has my "healthy desserts" on her hit list, liked it. No, LOVED it.
How to make low-carb custard
If you're in the ket0/low-carb camp, you can easily make this with some granulated low-carb sweetener like Lakanto Monkfruit sweetener.
I actually use that quite a bit, even though I'm not necessarily eating "keto". I do try to remove a lot of the refined sugar from my diet and monkfruit sweetener works really well in place of sugar most of the time.
If you don't want to use that, you can use coconut sugar, but it will turn the custard a golden brown color and give it more caramel notes. Not necessarily a bad thing, but it might not be what you want.
How to make homemade custard
Ok, let's make the custard!
There is a bit of technique involved with this one. But it's not hard.
In a nutshell, you heat the milk and sweetener in a pot and slowly incorporate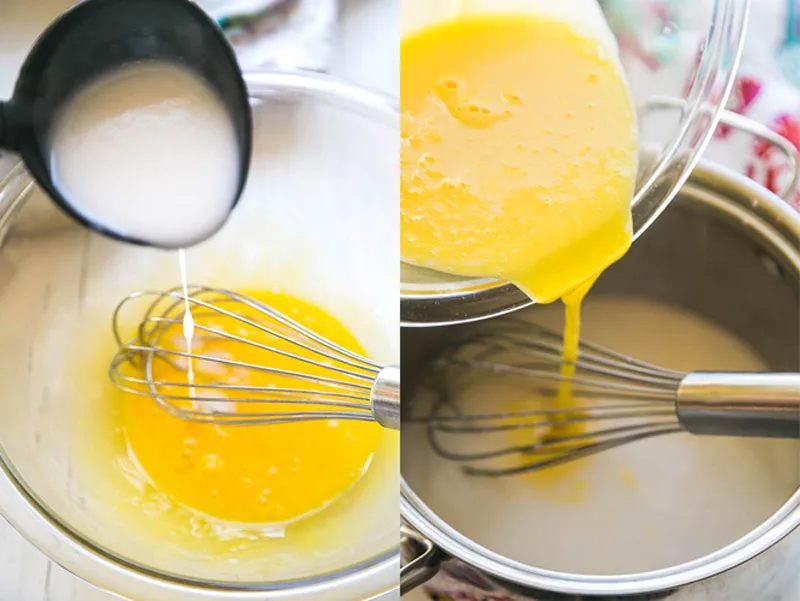 How to temper egg yolks
Tempering egg yolks is just a fancy way of saying "adding them really slowly so you don't end up with scrambled eggs".
The idea is to drizzle a little of the hot custard mixture into the egg yolks to warm them up slightly.
Then you can pour it slowly back into the rest of the hot custard mixture without ending up with scrambled eggs. It works beautifully and it gives such a richness to custards.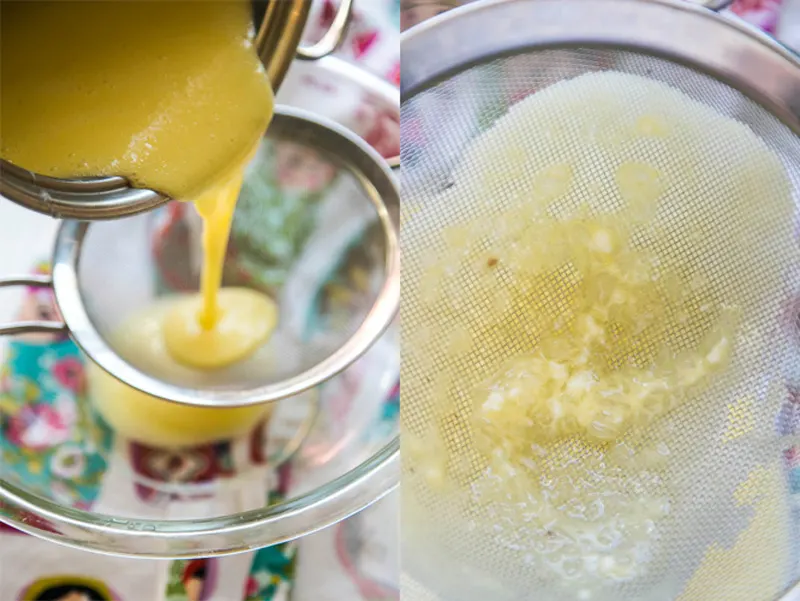 Then you strain the whole thing just in case a little big got scrambled. It's just for insurance.
Those clear blobs in my strainer up there are actually bits of tapioca flour. Sometimes it does that when it's heated up. Good thing we strained, eh?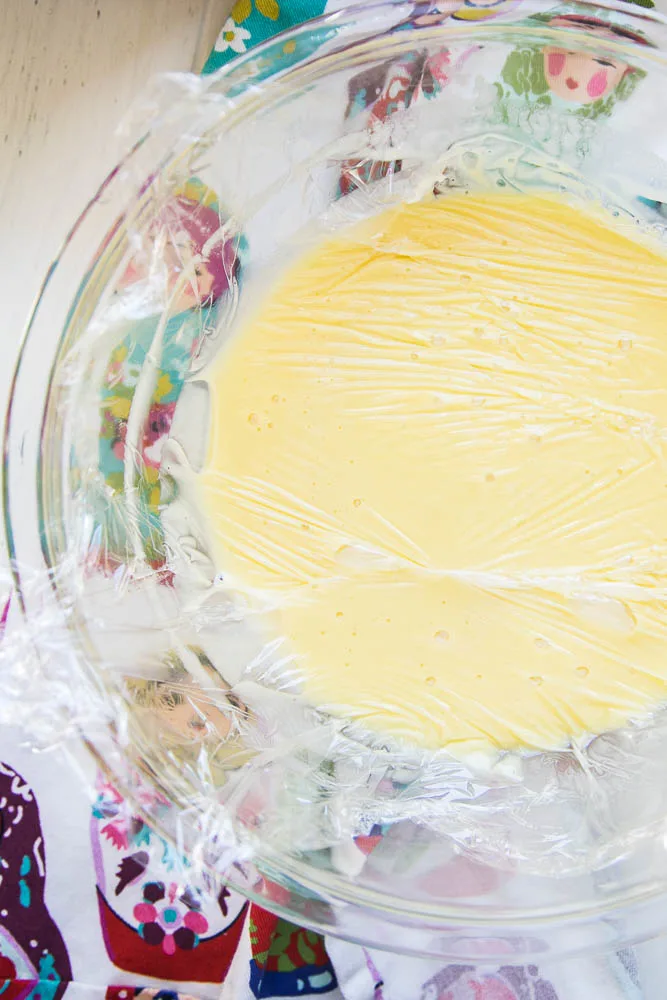 Now it just needs to sit in the fridge for a while.
How to keep custard from forming a skin
The reason why I have a piece of plastic wrap stuck to the surface of the custard is to avoid the icky "skin" that forms on top when it's exposed to air for a long time.
Forming a tight seal with the plastic wrap helps a lot.
By the way, this custard keeps in the fridge for several days, so it's a great dessert to make in advance.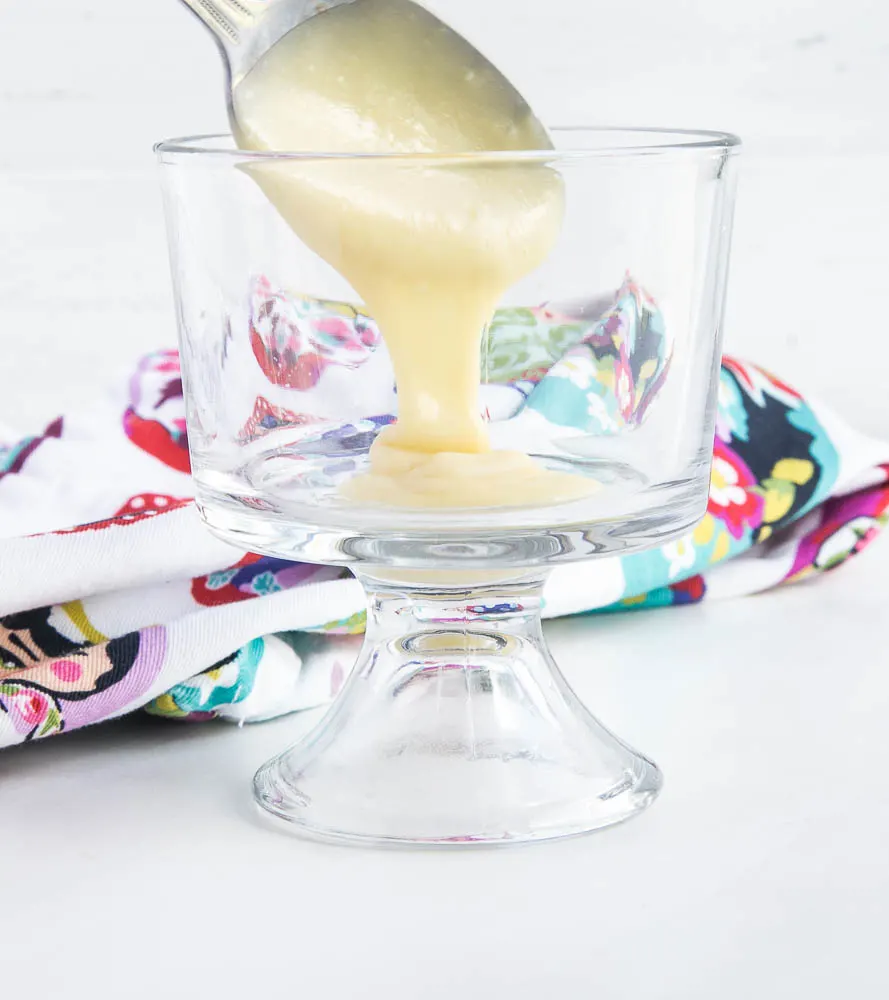 Now just drizzle some into a cute serving dish.
Like this mini trifle cup. Isn't it cute? I found mine at Walmart, but they sell them on Amazon, too.
I used it when I made the Lemon Berry Mini Trifles, too. Another variation on my trifle recipe.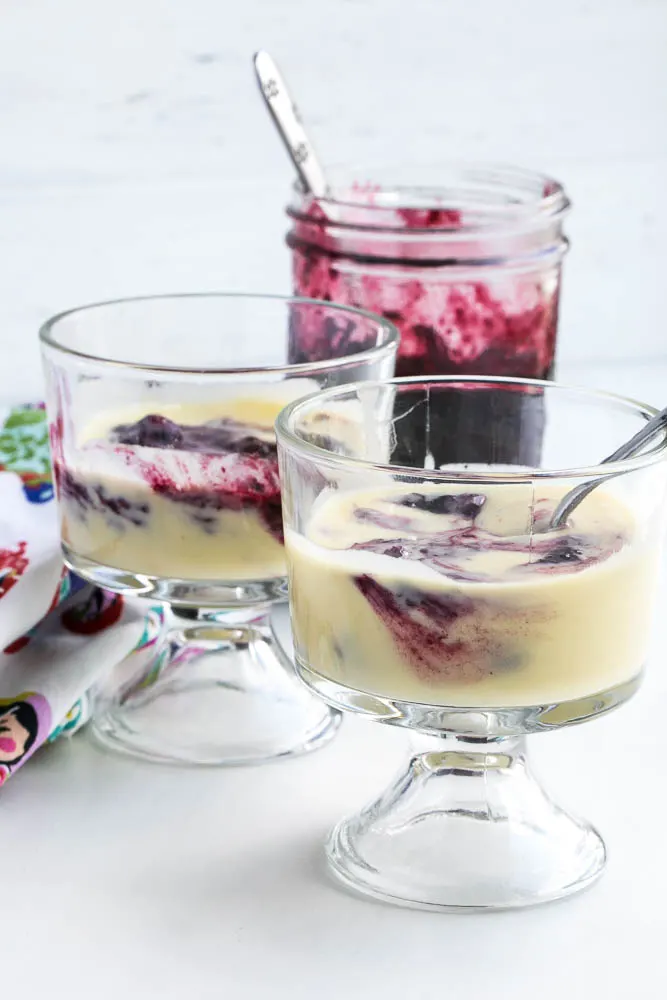 Add some of my Easy Berry Sauce (which is also great to make in advance!) and you've got the best little dessert in all the land.
I'm serious.
The only way you could make this better is by adding a dollop of whipped cream on top.
But then it wouldn't be dairy-free. I'm fond of whipped coconut cream, but my kids are still staunchly against it. (Sometimes I do it anyway.)
You could simply add fresh berries to this as well and it would be spectacular. And a perfect little weeknight dessert!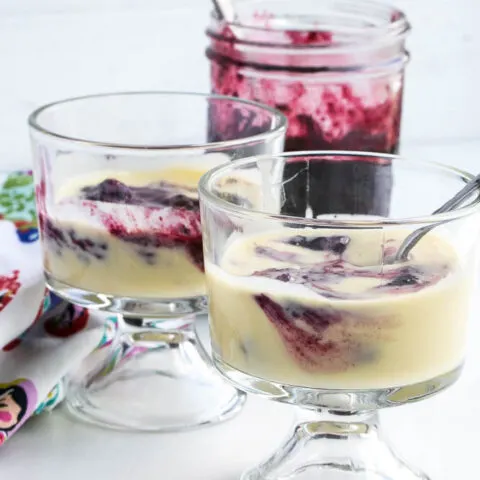 Dairy Free Custard Cups with Berry Sauce
Total Time:
2 hours
20 minutes
A simple, yet elegant and delicious dessert that you can prep completely ahead of time! It's dairy-free and easily made low-carb as well.
Ingredients
2 11.5-ounce cans of full-fat coconut milk
2 Tablespoons tapioca flour or arrowroot flour/starch
1/2 cup preferred granulated sweetener (see note)
Pinch of salt
8 egg yolks
1 Tablespoon vanilla extract
Whipped cream or Whipped coconut cream (optional)
Instructions
Whisk the coconut milk, tapioca flour, sweetener and salt in a medium sauce pan. Cook over medium heat until it's bubbly and has thickened slightly. Turn off the heat.
Meanwhile, put the egg yolks into a small bowl and give them a good whisk.
While whisking the egg yolks, VERY slowly drizzle a ladle-full of the hot coconut milk mixture into the egg yolks. When it's fully incorporated, take that egg yolk mixture and while whisking, pour it slowly back into the pot with the rest of the coconut milk mixture.
Return the pan to medium-low heat and cook the custard until it's bubbly and has thickened even more. (It won't be super thick like pudding. And will continue to thicken as it sits in the fridge.)
Wash out the bowl you just used for the egg whites. Remove the custard from the heat and pour it through a fine-mesh strainer back into the clean bowl. (I know -- a lot of back and forth.)
Stir in the vanilla and let it sit for 15 minutes or until it's no longer steamy.
Press a piece of plastic wrap over the custard, sealing the top. Place in the fridge for at least 2 hours until the custard is completely chilled and has set up even more. (Again, it won't be as thick as pudding.)
Spoon some custard into small serving dishes with a spoonful of Easy Berry Sauce. And a dollop of whipped coconut cream (if you're choosing to)
Notes
Nat's Notes:
1. I really liked using Lakanto Monkfruit sweetener for this custard. You could also use coconut sugar, but it will turn the custard a golden brown color and give it a more caramel-y taste. (Not a bad thing, but maybe not what you're looking for.) I'd avoid using a liquid sweetener unless you'd like to use several drops of stevia.
2. The original recipe called for 2 Tablespoons of softened butter to be added at the same time as the vanilla. If you aren't strictly dairy-free, I'd highly recommending this. It adds more flavor and richness to the custard. But it's totally delicious without it.
Recommended Products
As an Amazon Associate and member of other affiliate programs, I earn from qualifying purchases.
Disclosure: This post may contain Amazon affiliate links. Purchases made by using these links don't cost you any extra and helps to keep my content free.