Strawberry Pudding Soufflés (Paleo)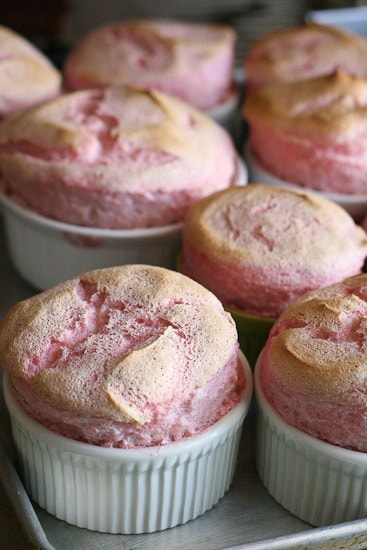 Did you know making soufflés isn't difficult? They seem really intimidating, and I think it's because when a door slams on a cartoon where someone's baking, there's a soufflé in the oven that sinks in the middle.
We're basically trained from a young age to fear these things! If you feel alright working with egg whites, then these are a cinch and they only took about 35-40 minutes from start to finish.
And this particular soufflé is paleo! Well, the ingredients are, at least. I'm not sure if the concept of a soufflé is paleo. I can't see Grog's wife pureeing strawberries or beating egg whites, but you catch my drift.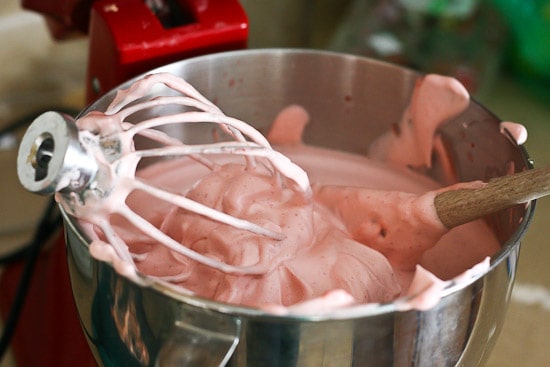 The original recipe for these came out of a cookbook called Austrian Desserts that I was excited to review. If you didn't know already, I spent 18 months as a representative for the LDS Church in Austria, so Austria and all things Austrian are dear to my heart.
If you want to read more about this cookbook, read my review over at Reading for Sanity!
OK, so… this recipe wasn't super descriptive.
The fact that I'd never made a soufflé before didn't help any. I had no idea when I threw strawberry puree and egg whites into a mixer for 10 minutes it would almost fill the bowl. For reals.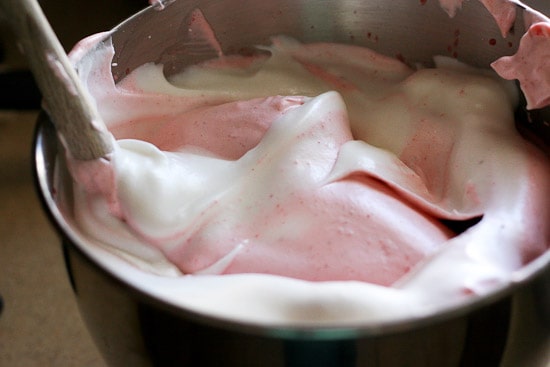 And because it wasn't fluffy enough, more egg whites are folded in.
This next part cracked me up.
"Six servings" it said. It didn't tell me what size ramekins to grab, so I grabbed a few and started filling them.
Then I went back for more.
Then I went back for the rest.
I FILLED ALL 11 OF THEM.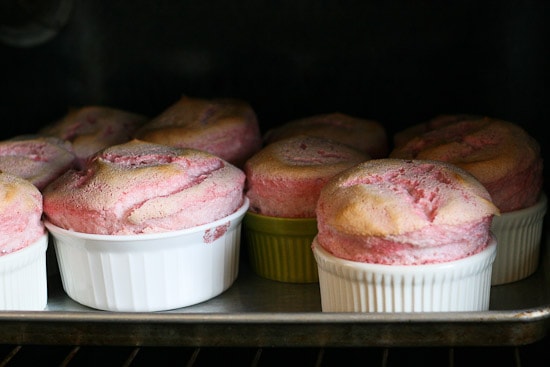 This could have been a disaster trying to make sure they were all cooked evenly.
And by the way, how do you tell a soufflé is cooked through? By its height? The recipe didn't tell me that, either.
It wasn't a disaster at all, though. I even opened the oven door a few times to check them (my oven light's been out for almost a year now) and THEY DIDN'T FALL.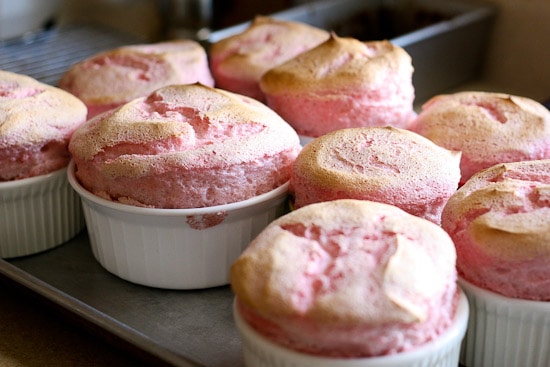 I think I understand why this is "six servings." These are like strawberry-flavored clouds. They are SO light and foamy. I could eat the whole batch without batting an eye.
OK, that's not saying much since I could also eat half a cheesecake in one sitting. I can hold my desserts pretty well.
I believe you could use roughly 10-11 6-ounce ramekins for these. I love these 6-ounce ramekins on Amazon and I use them a lot.
You could also put them in about 5-6 10-ounce ramekins.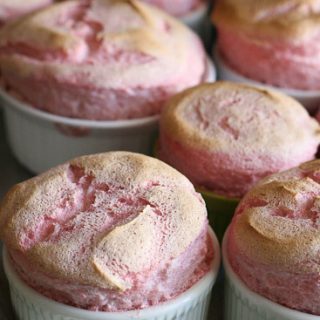 Strawberry Pudding Soufflés (Paleo)
Yield: Serves 6....ish.
Prep Time: 25 minutes
Cook Time: 10 minutes
Total Time: 35 minutes
My 6-year-old loves these and says she's eating strawberry clouds! If you've never tried Strawberry Pudding Souffles, you'll love this paleo treat!
Ingredients
18 ounces fresh or frozen (and thawed) strawberries
4 teaspoons fresh lemon juice
5 egg whites, divided (store 2 together and 3 together if you crack the eggs all at once)
6 Tablespoons raw honey, divided
Instructions
Preheat the oven to 350 degrees F and gather some ramekins (large ones) and place them on a cookie sheet.
Puree the strawberries in a food processor or blender. Strain out the seeds.
Put strawberries in the bowl of a stand mixer with the lemon juice, 2 egg whites, and 3 Tablespoons of honey. Beat on medium-high speed for 10-15 minutes or until the mixture is very light and frothy and almost fills the bowl.
Meanwhile, beat the other three egg whites in a separate bowl until it begins to get frothy. While beating, slowly add in the remaining 3 Tablespoons of honey and beat until the whites form stiff peaks.
Gently fold the egg whites into the strawberry mixture. Divide souffle fluff into ramekins -- fill them full. (Do not grease the ramekins.) I have no idea how many you will use. I used about 9, but they were all different sizes. The original recipe says "6 servings", and I believe it would fill 6 10-ounce ramekin cups. Maybe 7.
Bake for 10-12 minutes or until the souffles rise high above the ramekins and the tops are golden brown like a toasted marshmallow. Cool slightly and serve immmediately. You can also let them cool on the counter (they will fall... it's normal), cover with plastic wrap and store them in the fridge for a couple of days. They won't puff back up when you heat them up, and to be quite honest, we liked them better cold!

Disclosure: This post contains Amazon affiliate links. Purchases made by using these links don't cost you any extra and helps to keep my content free.