These tasty cloud-like strawberry soufflés are only FOUR ingredients! They're paleo friendly and easily made keto/low-carb, too.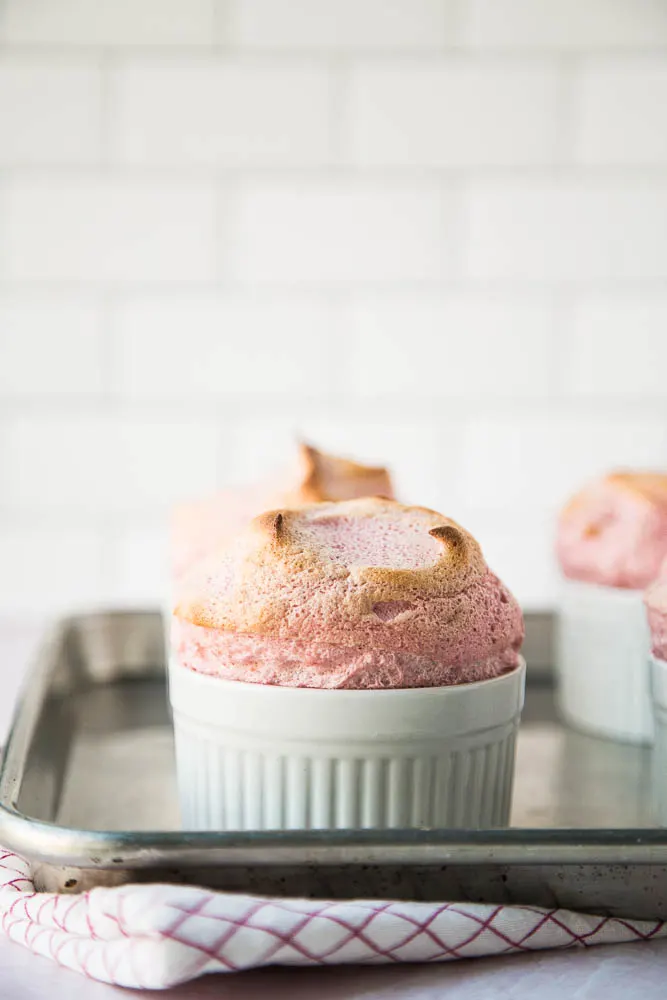 **This recipe was updated and rewritten on 2/10/21 for more clarity & consistency.**
I think we've been conditioned as a culture to fear souffle baking.
How many cartoons did you watch as a kid where it showed a front door slamming and immediately cut over to the kitchen where it shows a souffle falling in the oven?
They're really not that temperamental. Feel free to slam a door or two while you make these.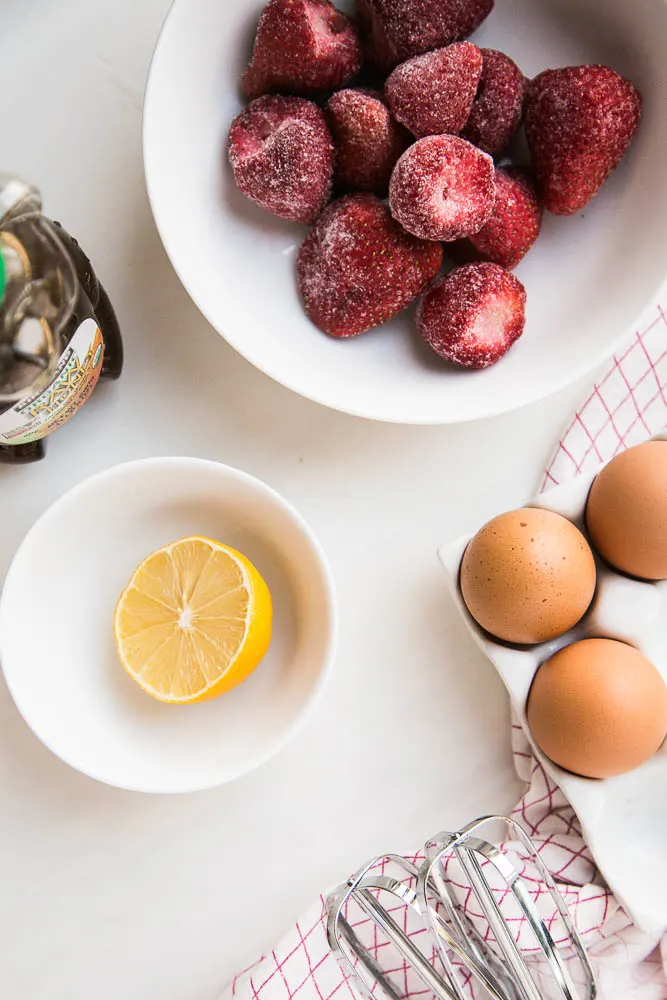 If you're comfortable working with egg whites, then these are a cinch and they only take about 30-40 minutes from start to finish.
These were inspired by a recipe from an Austrian dessert cookbook I used to have. The recipe intrigued me, but it needed an overhaul because it was REALLY poorly written.
Like, lots of important steps missing. And no indication of the size or number of ramekins. Yikes, man.
So, I cleaned it up for you.
Oh, did I mention this recipe only has four ingredients?!
Only 4 ingredients!
Yep. Truth.
Strawberries (fresh or frozen)
Lemon juice
Egg whites
Honey or whatever liquid or granulated sweetener you prefer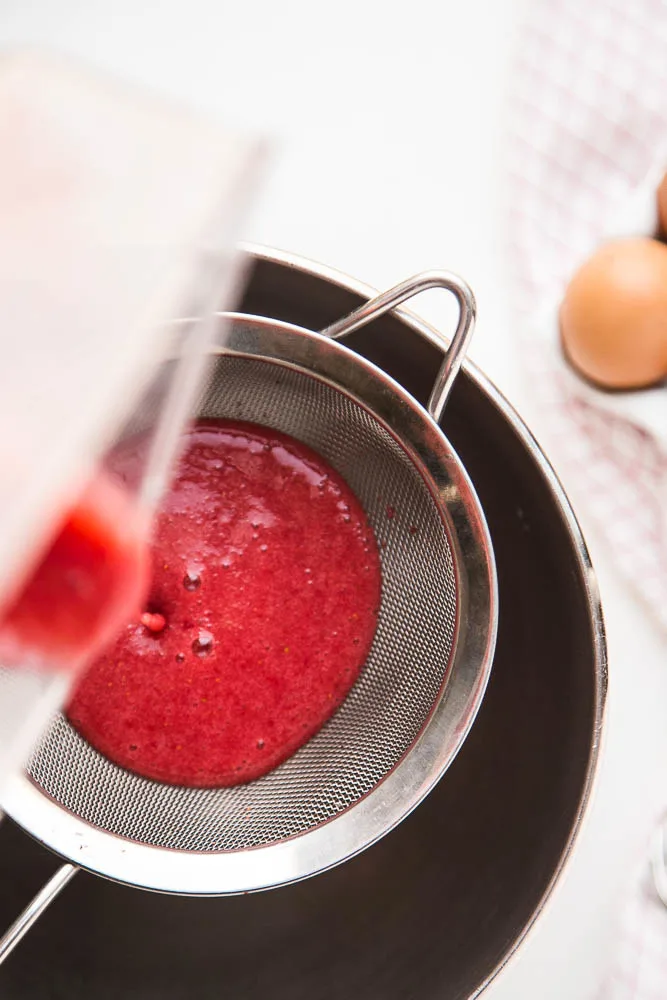 How to make Paleo Strawberry Souffles
First, buzz up your strawberries — either in a blender or a food processor.
Then, strain the seeds out. I strain them right into the bowl of my stand mixer with a fine-mesh metal strainer.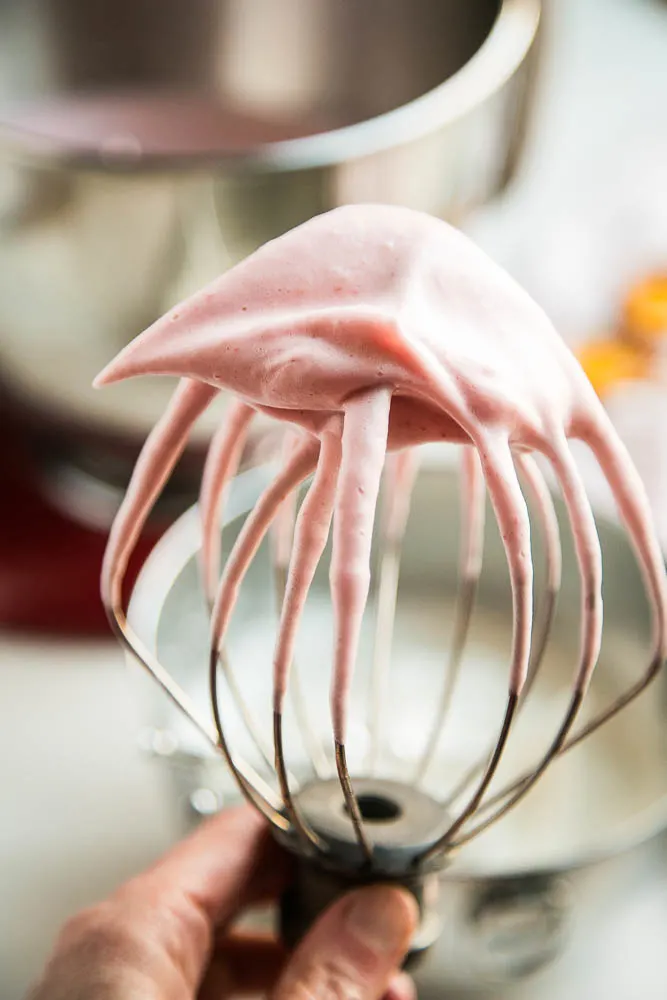 After adding the lemon juice and part of the egg whites and sweetener, it gets whipped like crazy.
The first time I made these I was surprised that you could add that many ingredients to egg whites and still have them fluff up that nicely.
Egg whites can be temperamental. Like teenage girls.
You end up with this bowl of fluffy, pink heaven. Seriously, stick your finger in that strawberry fluff.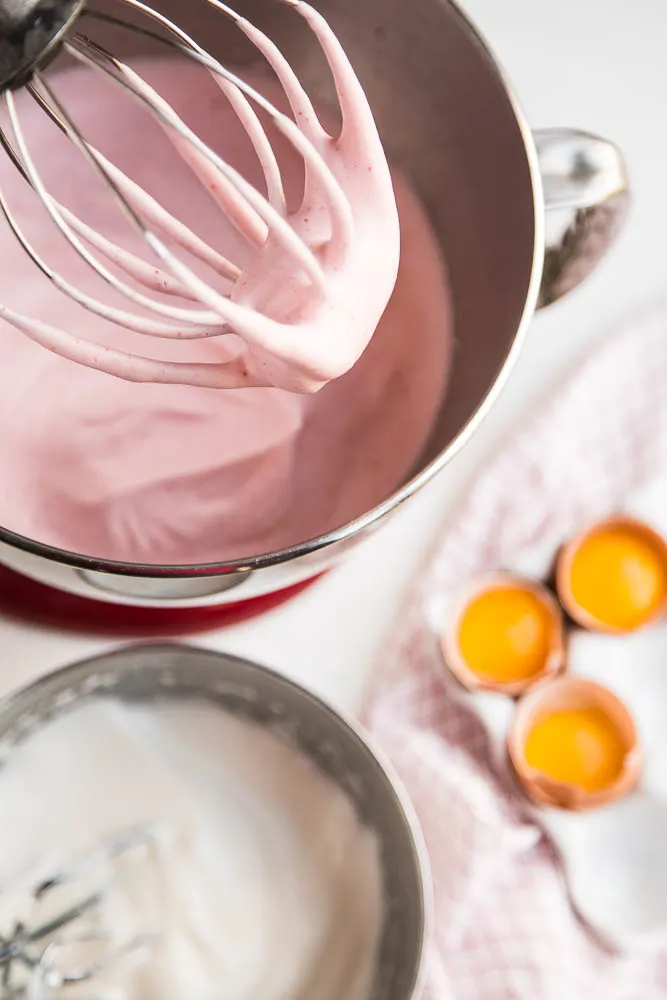 See that bowl on the bottom with the white stuff?
That's the other part of the egg and sweetener. That will get whipped up as well and make more of a meringue-type of thing.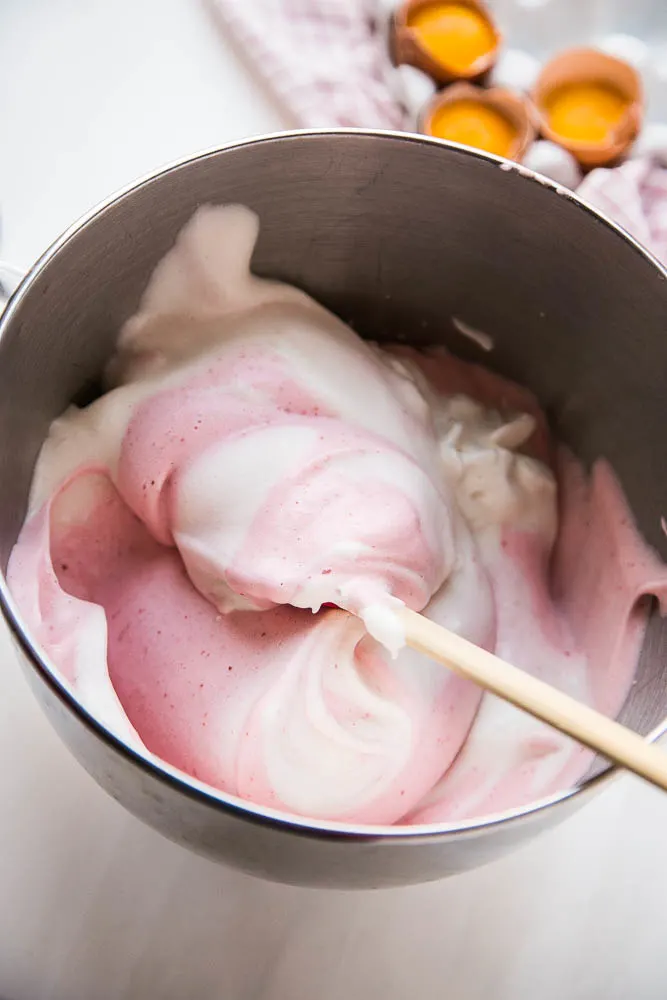 Strawberry clouds, yo.
Aren't those swirls so pretty??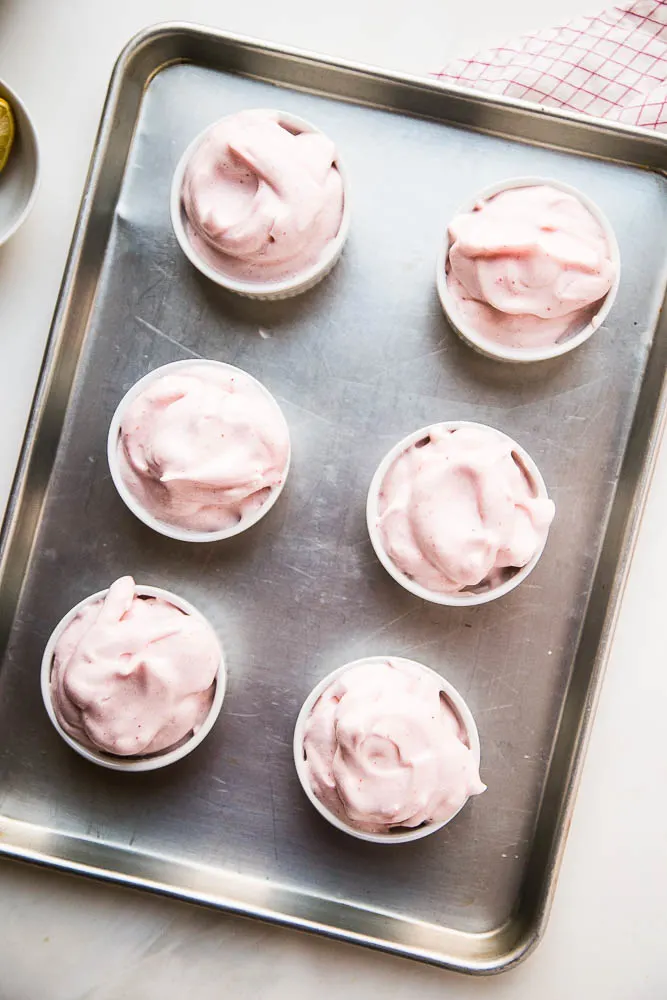 Pile that strawberry fluff into 6 ramekins. Pile them high.
They puff up, but they puff STRAIGHT up.
There will be a little bubbling around the edges, but very little will ooze out of the ramekins, if anything.
I have these 6-ounce ramekins on Amazon and I use them a lot. You could use 8-ounce ounce ones, if that's what you have.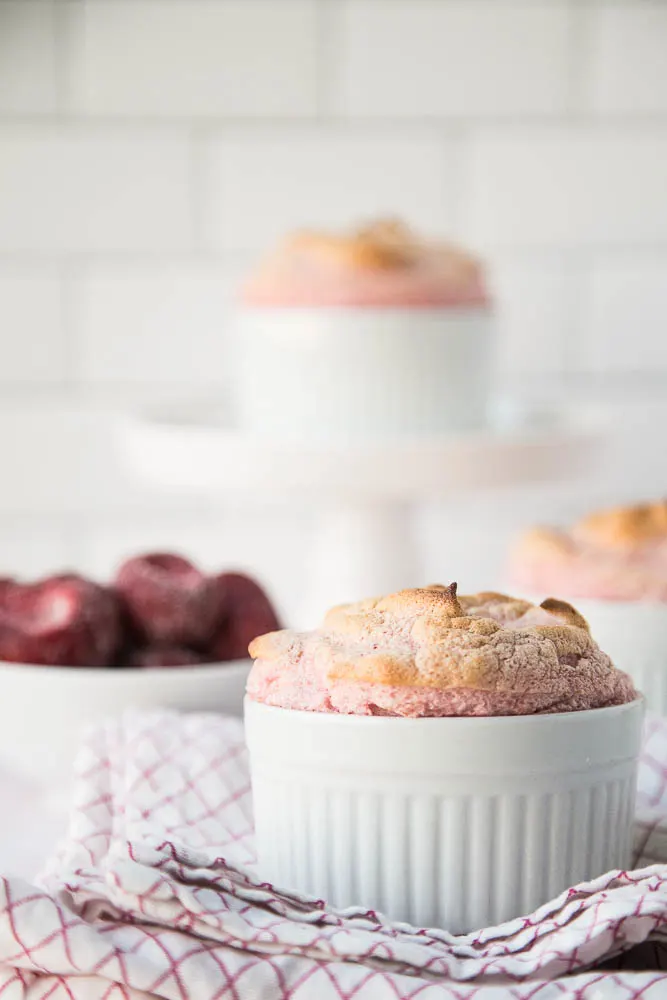 Is it normal for soufflés to fall?
Yes, a little.
A couple minutes after they come out of the oven, they'll start to fall.
Don't worry, it's normal.
You can eat them as soon as they're cool enough not to burn your face off.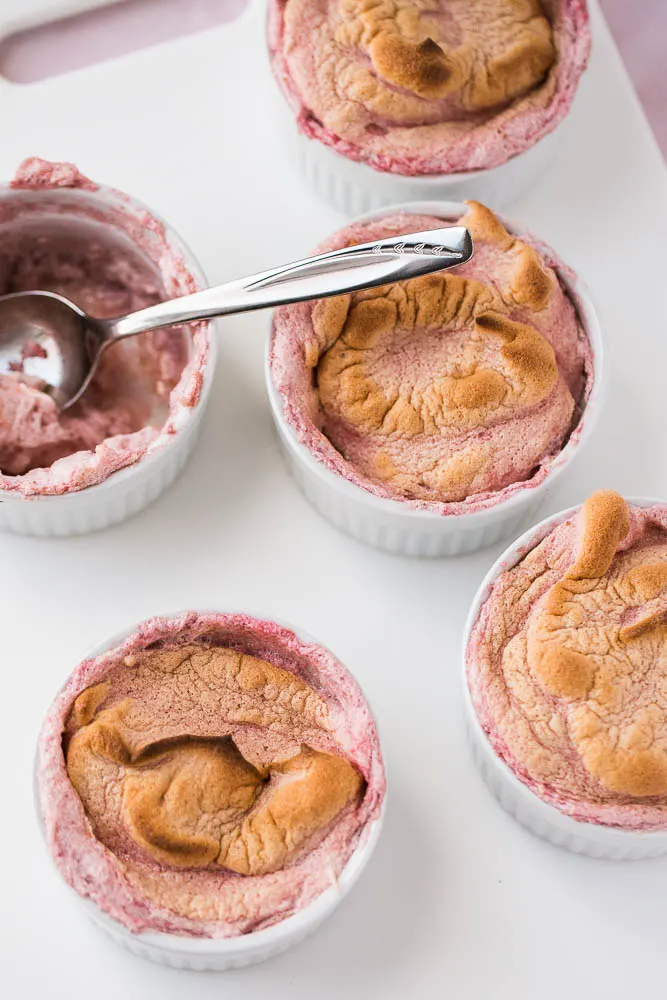 When they finish falling they'll be slightly lower than the edge of the ramekin.
If they fall all the way down to the bottom of the ramekin, then something is off. Maybe overbeaten egg whites or too much puree?
Can you eat strawberry soufflés cold?
Yep! You can refrigerate these strawberry soufflés and eat them chilled.
(We actually liked them better chilled!)
My daughter likes hers frozen!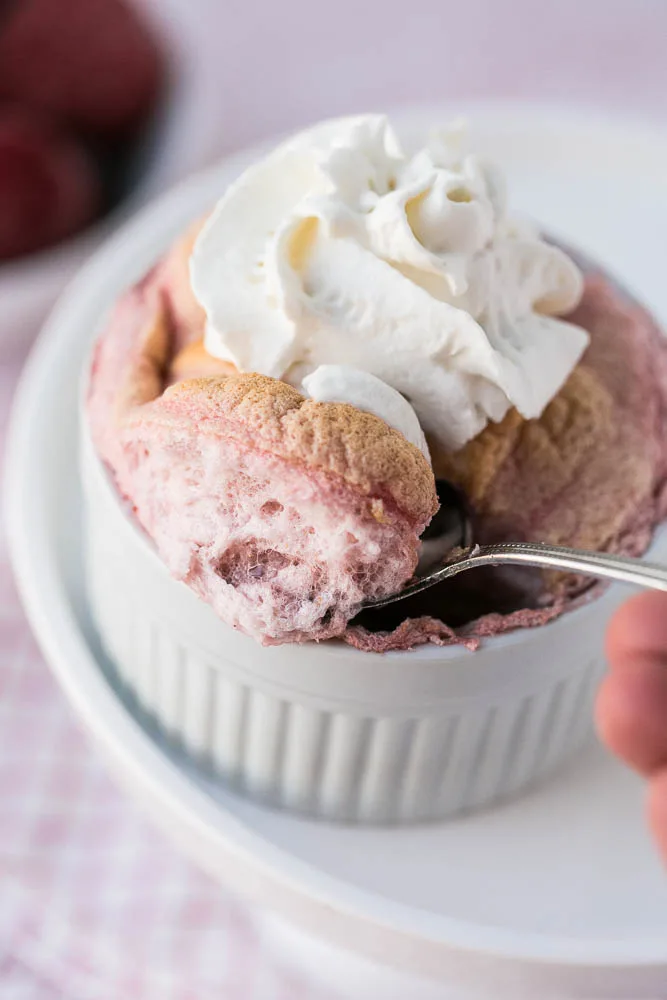 If you want, you can throw a little whipped cream on top. I've see sprayable coconut and almond milk whipped cream at Trader Joe's and other grocery stores.
I love that there are dairy-free options now!
(Although the real thing is pretty fantastic.)
If you make one of my recipes, be sure to post it on social media and tag me at @perrysplate or #perrysplate so I can send you some love!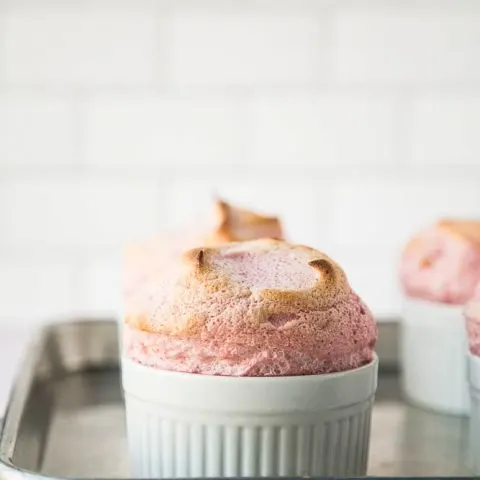 Paleo Strawberry Souffles
Ingredients
8 ounces strawberries (thawed, if frozen)
2 teaspoons lemon juice
3 Tablespoons honey, divided
3 egg whites, divided
6 6-ounce ramekins (8-ounce ramekins are fine, too)
Instructions
Preheat your oven to 350 degrees F.
Place a fine-mesh strainer over a large mixing bowl or the bowl of a stand mixer.
Blend the strawberries in a blender or a food processor. Pour the puree into the strainer to remove the seeds and use a rubber spatula to press the puree through the holes, getting as much puree out as you can. Discard the seeds and thick pulp.
To the strawberry puree, add the lemon juice, 2 tablespoons of the honey, and 1 egg white. Whip for about 5 minutes or until the mixture is very fluffy and has reached soft peak phase. (If you remove a beater, the mixture should stand up on its own with the "peak" of the mixture flopping over a little.)
In a separate, medium sized bowl, whip the remaining 2 egg whites with a hand mixer until it gets bubbly, then drizzle in the remaining tablespoon of honey. Continue to beat the egg whites until they reach soft peak as well. (See note)
Gently fold the white egg white mixture into the pink mixture. Don't overstir or you'll lose volume.
Place the ramekins on a baking sheet. (DO NOT GREASE THEM.) Divide the fluffy strawberry mixture among the ramekins. They'll be very full.
Bake them on a rack in the center of the oven for 15-16 minutes. Or until the top of each souffle is stiff and has golden brown spots -- like a toasted marshmallow.
Remove from the oven and serve as soon as they've cooled off enough to eat. Serve as is or top with a little whipped cream.
Notes
Nat's Notes:
If you have a stand mixer, you can whip both mixtures at the same time! Get the first mixture started in your stand mixer and then use a hand-held mixer to whip the other mixture. They should be done close to the same time.
Feel free to use a different sweetener if you like. Maple syrup, monkfruit sweetener, or regular sugar all work well here. Avoid using a super concentrated sweetener like Stevia drops or it'll affect the texture of the souffles.
These soufflés will fall quite a bit after they've been removed from the oven. They're also good frigerated. (My daughter even likes them frozen. Haha.)
Recommended Products
As an Amazon Associate and member of other affiliate programs, I earn from qualifying purchases.
This post may contain affiliate links. Any purchases made by using these links won't cost you any extra and helps keep my content free. These links may be Amazon links as I am part of the Amazon Associate Program.