This coconut trifle is a labor of love as all the components are made from scratch, but it's well worth it! Fluffy toasted coconut cake + creamy coconut custard + tart crushed pineapple + freshly whipped cream is THE dreamiest dessert.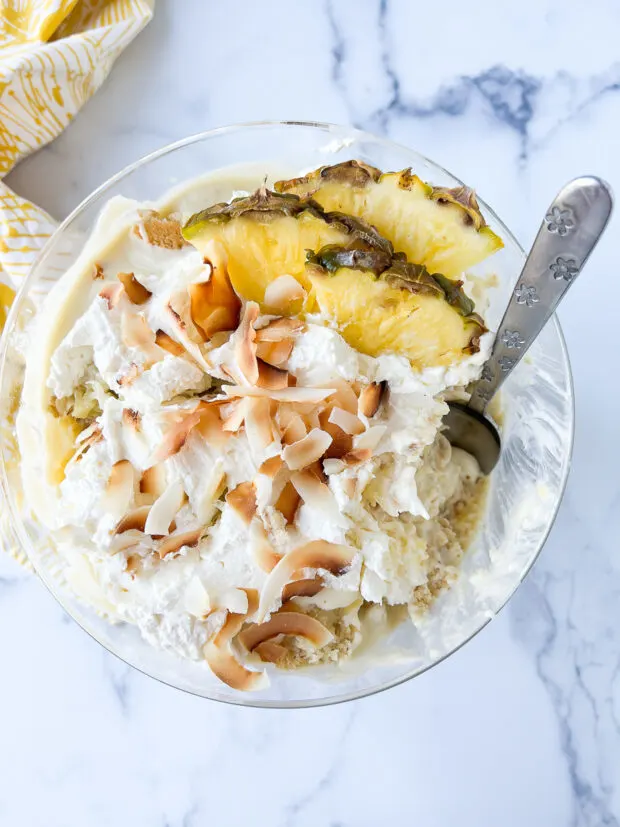 If you've been around here for a while you may have seen (or heard me talk about) this Strawberry Trifle. It's one of our family's favorite desserts and an Easter dinner tradition.
I took that recipe as a jumping off point and made it a little tropical. Because I super puffy heart love coconut.
And I'm dying for a beachy vacation at the moment. WHYYYY is it snowing in March?
If you don't know how to make a trifle, there are a few ways. Some are easier and quicker ways using a cake mix and instant pudding.
If you want to go down that road, more power to you. You'll have a decent trifle whipped up in no time.
BUT.
If you want a REALLY REALLY good trifle and have some extra time on the weekend, I highly recommend making one from scratch. It's not that hard.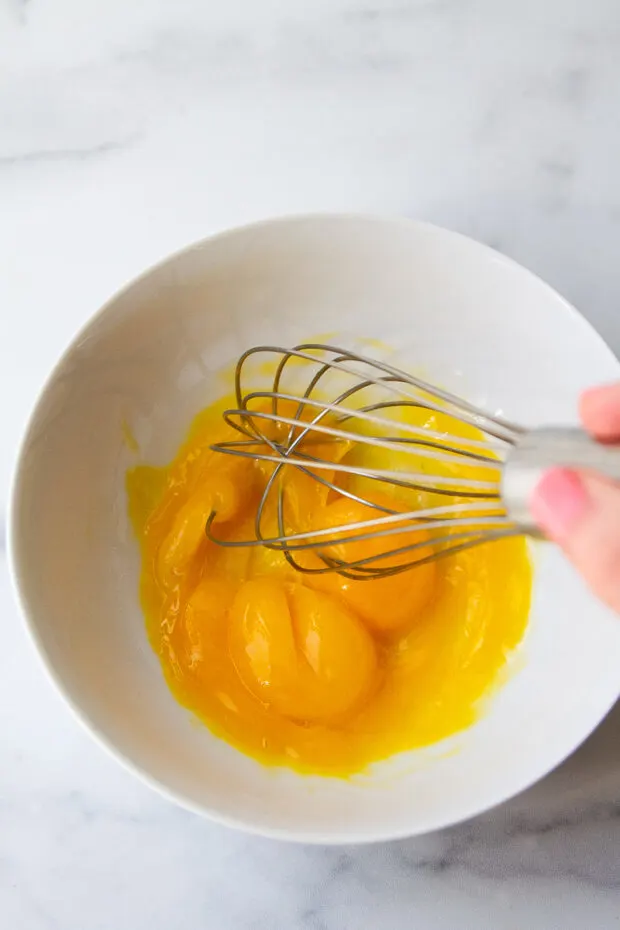 Easy Coconut Custard
If you're comfy with tempering egg yolks, then this will be a piece of cake for you!
If not, then no worries. It's actually pretty easy.
Ingredients:
sugar
cornstarch, arrowroot, or potato starch
salt
coconut milk
egg yolks
butter
coconut extract
vanilla extract
Tips for making the coconut custard:
Keep the burner lower than you think you need. It'll take a little more patience, but this custard burns quickly and if that happens — it's all over my friends.
Stir a LOT. Because, again, it burns quickly. Use a rubber spatula to scrape the bottom well.
Temper the egg yolks slowly. When you add the hot liquid to the yolks, do it in a tiny drizzle. (Yes, more patience.) You don't want to make scrambled egg custard.
If you make scrambled egg custard, you can always run it through a fine-mesh strainer to get the eggy parts out. Or some of the starch that has congealed. Sometimes that happens, too.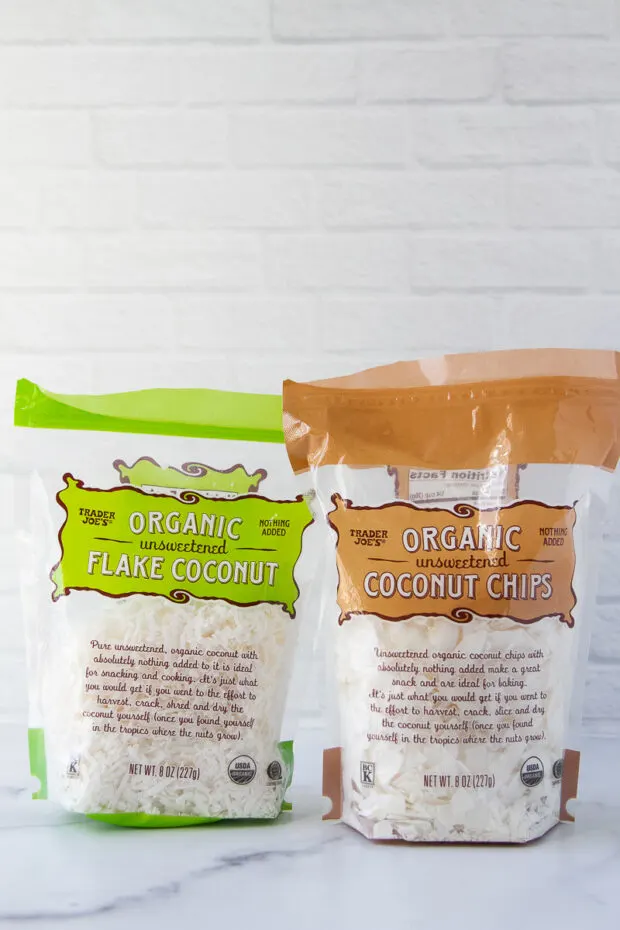 Flaked Coconut or Coconut Chips?
I like to use the coconut flakes in the cake and coconut chips on top since they're super pretty!
I wouldn't recommend using the coconut chips in the cake since they'd take on a mushier texture.
You can find both at Trader Joe's and some well-stocked grocery stores.
Can I use sweetened shredded coconut?
Sure! I just chose unsweetened to lessen the sugar load in this recipe. Use whichever you prefer.
Fluffy toasted coconut sponge cake
Sponge cake is key in this recipe because you'll want a cake that won't weigh down your trifle, but sturdy enough to absorb some of the moisture from the custard and the pineapple without turning to mush.
Ingredients:
toasted shredded coconut
eggs
sugar
gluten-free flour or all purpose flour
baking powder
salt
coconut milk
butter
coconut extract
vanilla extract
Tips for the sponge cake
Bake it a little longer than you'd normally bake a layer cake. You'll want it to be a little toasty so it doesn't get too mushy when the trifle has been sitting for a while. You'll want it to soak up some of the moisture from the custard and the pineapple juice, but not turn into a mushy mess.
Add the toasted coconut flakes to the cake batter — if you want.
We had a little debate about adding the toasted coconut to the cake…
I loved the extra texture it gave the sponge cake and the chewiness of the coconut.
Steve didn't like the texture of the coconut in the cake and preferred the toasted coconut be added to the top of the trifle only or on individual servings to keep its crunch.
I see both sides. They're both great options. Go forth and make your own choice.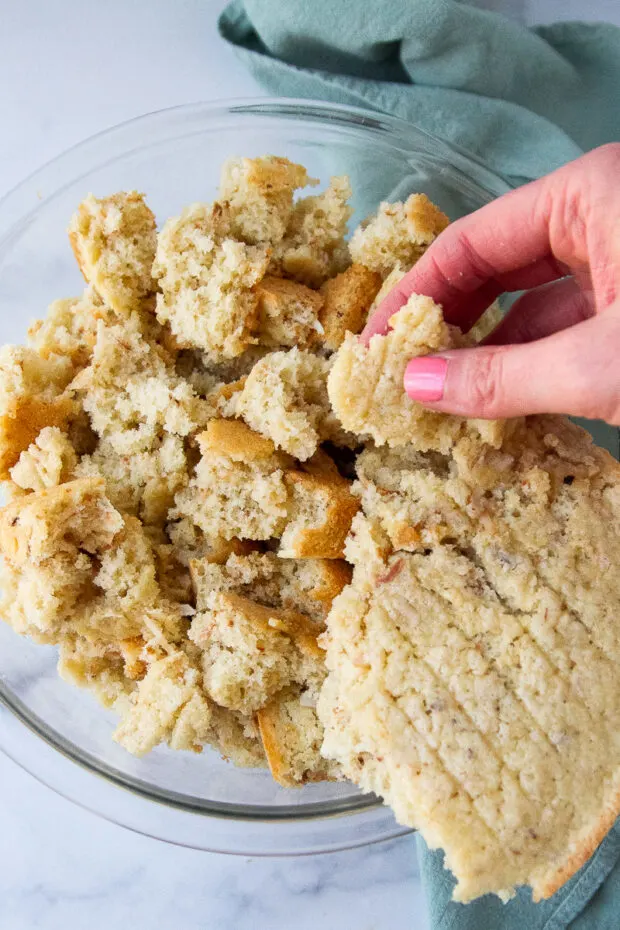 How to assemble the coconut cream trifle
It's showtime!
Once the sponge cake has cooled and the coconut custard has cooled, you can assemble your trifle! Just layer the ingredients in a trifle dish or large bowl and top with whipped cream.
To answer some questions…
Do I need a trifle bowl?
Technically, no. You can use any large, deep bowl. If it's clear you can see the layering, but that's not necessary either.
Here's a trifle dish on Amazon if you need a little guidance. You can find them in most stores that sell kitchenware.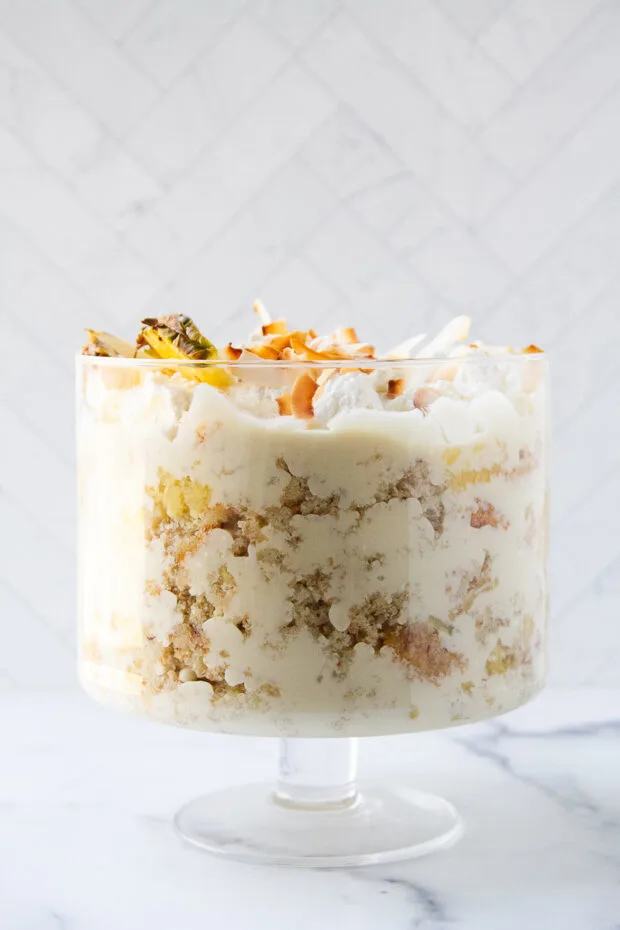 Can I use fresh pineapple?
Yep! Sure.
Crushed is definitely more convenient, but if you want a more pronounced pineapple with a little more tartness, fresh would be your best bet. I actually liked it better when I was testing both!
Can I use a different kind of cake?
I'd stick to the recipe, friend.
There are trifles made with angel food cake, but for this particular recipe, I think that type of cake would be too delicate and get mushy really easily.
Can this pineapple coconut trifle be dairy free?
Yes, but only if you're fond of coconut cream. Or leave out the heavy cream completely. And replace the butter with coconut oil.
Can this be made into mini trifle cups?
Sure! This recipe makes about 20 4-ounce cups. You'll need slightly less cake and a little extra whipped cream to fill them all.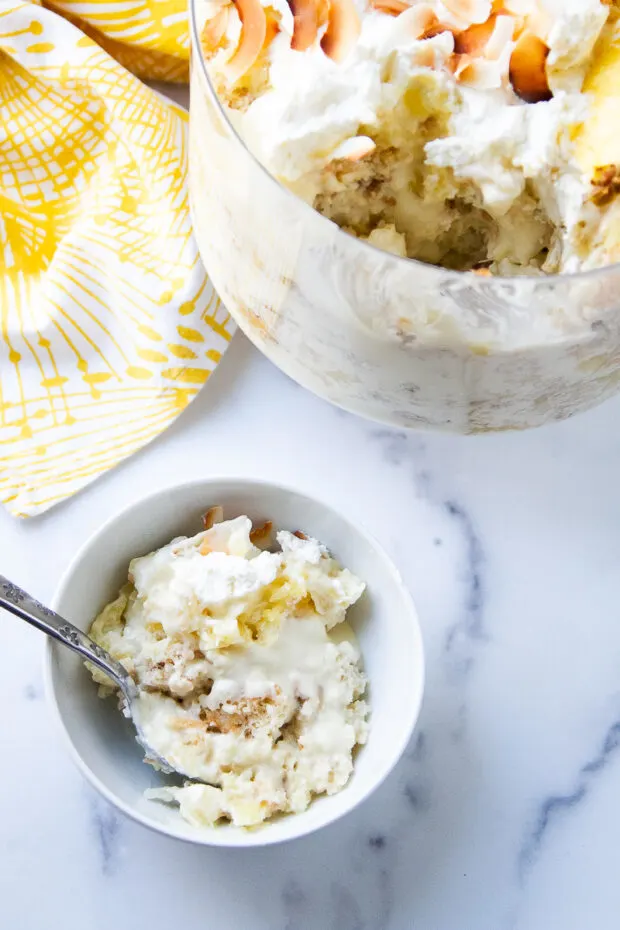 How to make homemade coconut whipped topping
You can make easy coconut cream by putting a can of coconut cream upside down in the fridge for several hours. Flip the can back around and open it from the top.
Discard all the liquid at the top, then transfer the chilled coconut cream into a medium bowl and beat with an electric mixer until it's fluffy. It won't be quite the same consistency as regular heavy whipping cream, but it'll do.
When you put it on the trifle and chill it, the cream will harden in the fridge — just a heads up. Leave it at room temp for a while to let it soften.
More Delicious Trifle Recipes
If you liked this coconut trifle recipe, you'll love these other trifle variations!
Strawberry Trifle — this is the original recipe. And a classic. It's beyond delicious and always gets rave reviews.
Lemon Berry Mini Trifles — This is a fun, citrusy twist on that original trifle recipe with mixed berries and a tart lemony custard! This recipe is divided into little cups!
---
If you make one of my recipes, be sure to post it on social media and tag me at @perrysplate or #perrysplate so I can send you some love!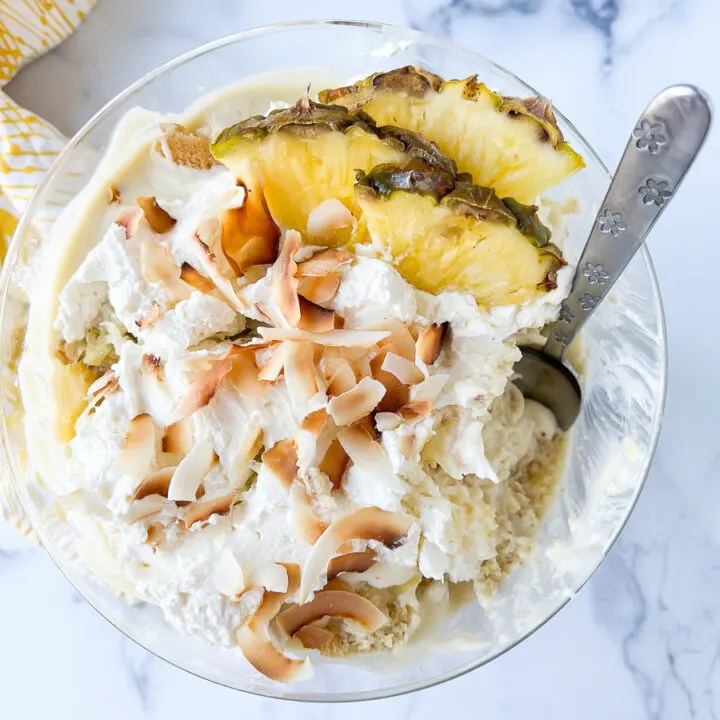 Creamy Toasted Coconut Trifle
Total Time:
3 hours
40 minutes
This coconut trifle is somewhat a labor of love as all the components are made from scratch, but it's well worth it! Fluffy toasted coconut cake + creamy coconut custard + tart crushed pineapple + freshly whipped cream is THE dreamiest dessert.
Ingredients
For the custard:
4 cups coconut milk
1 cup sugar
4 Tablespoons cornstarch, potato starch, or arrowroot starch
1/4 teaspoon salt
8 egg yolks, lightly beaten
4 Tablespoons butter
1 1/2 teaspoons coconut extract
1/2 teaspoon vanilla extract
For the sponge cake:
2 cups unsweetened toasted coconut flakes
3 eggs
1 1/2 cups sugar
2 cups gluten free flour blend
2 teaspoons baking powder
1/2 teaspoon salt
1 cup coconut milk
4 tablespoons butter
2 teaspoons coconut extract
1 teaspoon vanilla extract
For the rest of the trifle
1 1/4 cups heavy whipping cream
2-3 Tablespoons sugar or maple syrup
1 20-oz can of crushed pineapple or an equivalent amount of finely diced fresh pineapple
Extra toasted coconut flakes, for garnish (see note)
Special Equipment:
A trifle dish or a large, deep glass bowl.
Instructions
FOR THE CUSTARD:

Whisk together coconut milk, sugar, preferred starch, and salt in a medium saucepan. Cook over medium heat, stirring constantly, until thickened and bubbly.
Meanwhile, combine egg yolks into a small bowl and whisk together.
Very slowly stir 1 cup of hot custard mixture into the egg yolks while whisking quickly; add egg yolk mixture back into saucepan slowly, stirring constantly.
Cook over medium heat until it starts to bubble. Stir frequently so the mixture doesn't scorch, scraping the bottom with a rubber spatula.
Remove from heat. Add butter and vanilla, stirring until butter melts.
Cover with plastic wrap, gently pressing it onto surface. Chill at least 2 hours.

FOR THE SPONGE CAKE:

Preheat oven to 350 degrees F. Prepare two 8-inch round cake pans with nonstick spray.
Put the coconut flakes in a large dry skillet over medium low heat. Cook, shaking the pan occasionally, until the coconut is toasted to your liking, about 10-12 minutes. Watch it closely because it burns easily!
Beat eggs at high speed with electric mixer for 3 min or until thick and pale.Gradually add sugar; beat 4 min.
Combine flour, baking powder and salt; gradually fold into batter.
Combine coconut milk and butter in saucepan; cook over low heat until butter melts (or zap in the microwave). Gradually stir milk mixture and vanilla into batter.
If you are adding your 2 cups of toasted coconut flakes to your cake, fold it in the batter now. (See note)
Pour cake batter into prepared round cake pans. Bake for 16-18 min or until toothpick comes clean and the edges are golden brown. You'll want it to be a little more toasty than you'd regularly bake a cake.
Cool on wire racks for 10 min. Run a knife around the edges of the cake and invert the layers onto a cooling rack to cool completely. Cut or tear cake into 1 in. cubes.

FOR THE REST OF THE TRIFLE:


Whip the heavy cream for a minute or two with an electric mixer. Drizzle in the sugar or maple syrup. Continue whipping until the cream is stiff and stands on its own when you turn off the beaters and lift them out of the cream.
Stir about 1/2 cup of sweetened whipped cream into the chilled custard. Reserve the rest for the top of the trifle.
Spoon 1 cup custard on bottom of trifle bowl. Continue layering in this order: cake cubes, crushed pineapple, custard, until you run out of ingredients. Top with remaining whipped cream and extra toasted coconut flakes.
Serve immediately or cover and chill. The trifle will last longer than that, but the whipped cream on top will begin to wilt after a day or two, so if you're concerned about presentation, serve it within 24 hours.
Notes
There was a debate in our house on whether or not to add the coconut to the cake itself. I liked the texture and chewiness it added. Steve didn't like the texture and would rather have all of the toasted coconut on top or add it to individual servings as a garnish. Do what you like with this info.
If you're using really thick coconut milk (like Thai Kitchen) I recommend emptying 2 cans into a large glass measuring cup and whisking it thoroughly. This will make it easier to measure.
Recommended Products
As an Amazon Associate and member of other affiliate programs, I earn from qualifying purchases.
Nutrition Information
Yield

12
Serving Size

1/10
Amount Per Serving
Calories

829
Total Fat

50g
Saturated Fat

37g
Trans Fat

1g
Unsaturated Fat

10g
Cholesterol

231mg
Sodium

397mg
Carbohydrates

92g
Fiber

4g
Sugar

64g
Protein

10g
The information shown is an estimate provided by an online nutrition calculator. It should not be considered a substitute for a professional nutritionist's advice.
This post may contain affiliate links. Any purchases made by using these links won't cost you any extra and helps keep my content free. These links may be Amazon links as I am part of the Amazon Associate Program.