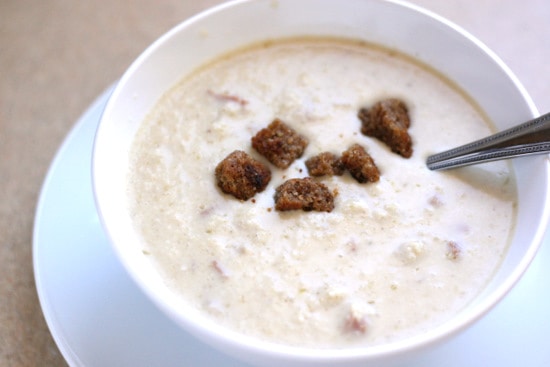 I've got a brilliant business idea if anyone is interested.
Monday I had a wicked cold (Flu maybe? Not sure.) and spent about 90% of the day on the couch watching mind-numbing amounts of Dora the Explorer and Chopped. All I wanted was my mom. And some chicken noodle soup. Unfortunately my mom lives over 600 miles away, and I quit buying condensed soup years ago, so I would have had to make it from scratch. Notachance.
Here's my idea…
Get a bunch of women over the age of 50 together and provide a "we'll be your mom for a day" type of service. Just schedule a sweet lady to come over if you're sick and make you chicken noodle soup. AND she'd even let you lay your head in her lap and play with your hair while you watch hour after hour of Food Network.
Yep, that would be pretty sweet. I think I'd schedule one at least once a week even if I wasn't sick.
Speaking of soups, this one would be good for days like that. I think my husband could even manage this one on his own.
Plus, it's a great use for sauerkraut. Did you see the Homemade Sauerkraut post earlier this week?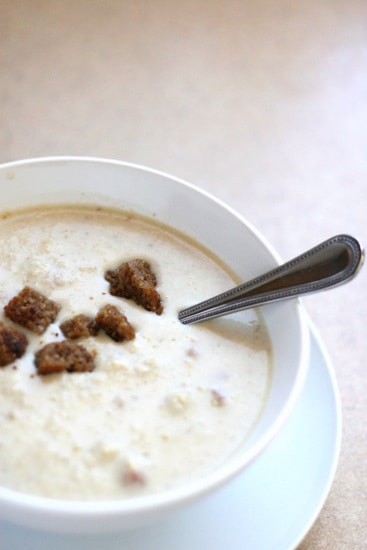 This recipe is slightly adapted from one in Primal Blueprint Quick & Easy Meals — a primal-eating cookbook by Mark Sisson and Jennifer Meier that we received from one of my husband's patients. This soup is my favorite of the recipes we've tried so far. If you're into primal/paleo eating, you'd dig it I'm sure.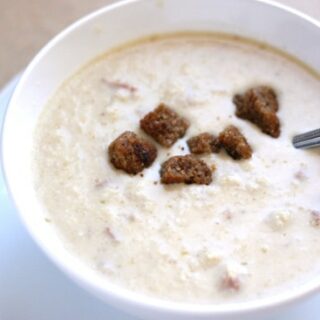 Sausage and Sauerkraut Soup
This Sausage and Sauerkraut Soup is so easy to put together and is perfect for a chilly day. It can easily be made paleo and Whole30 friendly!
Ingredients
2 T butter or ghee
8-10 ounces of sausage (see note)
1 cup chopped white onion
2 cups sauerkraut, rinsed and drained
3 cups chicken stock, plus more if needed
1/2 cup heavy cream (optional)
4 tsp Dijon mustard
Instructions
Melt 1 T of the butter in a deep pot over medium heat.
Add the sausage and cook until browned. Remove sausage from the pot and set aside.
Add remaining 1 T of butter and onion to the pot and cook until the onion is soft. Add sauerkraut and 1/2 cup of chicken stock and boil for about 5 minutes.
Turn down heat slightly and add remaining stock. Simmer for 10 minutes.
Remove from heat and stir in cream and mustard. Puree the soup using an immersion blender or in batches in a blender.
Return the soup to the pot and add the sausage. Add more chicken stock to thin the soup if you think it's too thick. Season with salt and pepper to taste.
Notes
Nat's Note:
1. The recipe didn't indicate whether the sausage should be pre-cooked or not. You could use either type. I couldn't find an uncooked sausage that would compliment this soup (didn't want spicy Italian), so I used Aidell's chicken & apple sausage, which added a bit of sweetness to the briny flavors of the sauerkraut.
2. The croutons in the photo are from some sourdough spelt bread I had sitting around. Black or sour-type bread would make great croutons for this soup! Just cube the bread, toast in a skillet or in the oven with a little butter or oil.
Save
Save