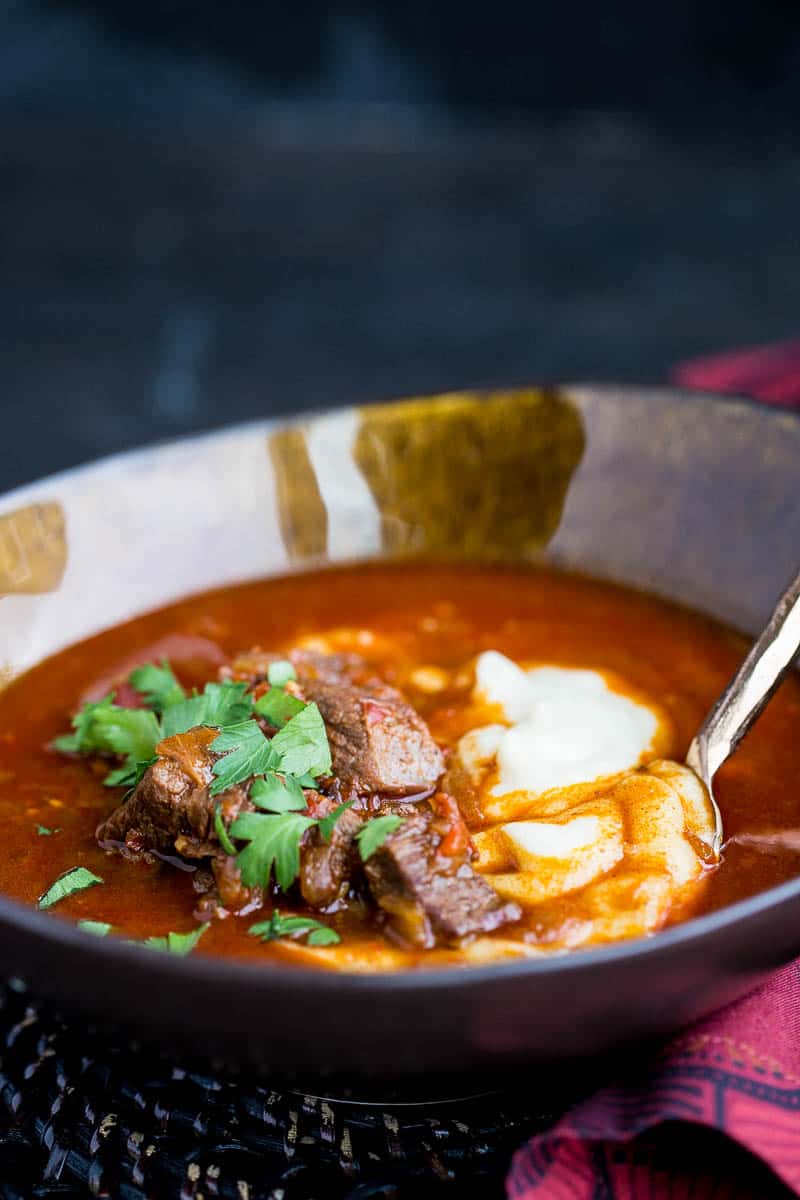 Goulash is a recipe that holds a lot of memories and sentiment for me.
By goulash, I don't mean the American concoction of elbow pasta, ground beef, and spaghetti sauce. I'm talking about the Hungarian-inspired goulash stew with a fiery-colored paprika sauce.
I spent a year and a half in Austria during my early 20s as a representative for the LDS church, and fell in love with the unique mixture of German and Hungarian food that we ate.
I learned to appreciate good sausage, homemade sauerkraut, authentic apple strudel, and ate more bowls of Hungarian goulash than I could count. I also ate Nutella for the first time, so basically my time there changed my life.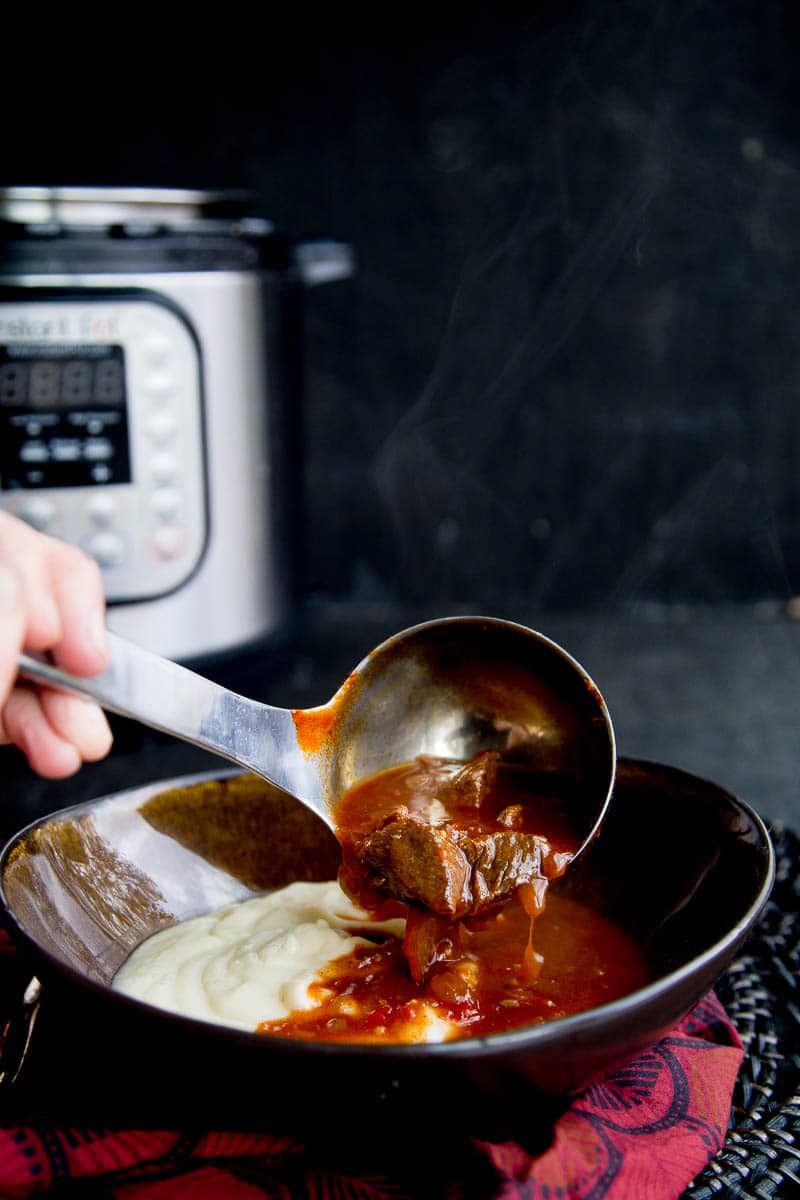 Side story: I also learned what Wienerschnitzel actually is, and shake my head with embarrassment when I see the Wienerschnitzel restaurants here in the States serving hot dogs. WIENERSCHNITZEL is NOT a hot dog.
Wiener = from Wien (Vienna), or Viennese
Schnitzel = slice or cutlet
Wienerschnitzel is actually a pounded pork or turkey cutlet that is breaded and fried and usually served with fries. It's one of my favorite Austrian dishes — especially the "cordon bleu" version that is stuffed with Swiss cheese and ham slices. IN-CREDIBLE.
It's a good thing we did a lot of walking around and climbing stairs in really old elevator-less buildings or else I would have weighed 500 pounds when I came home.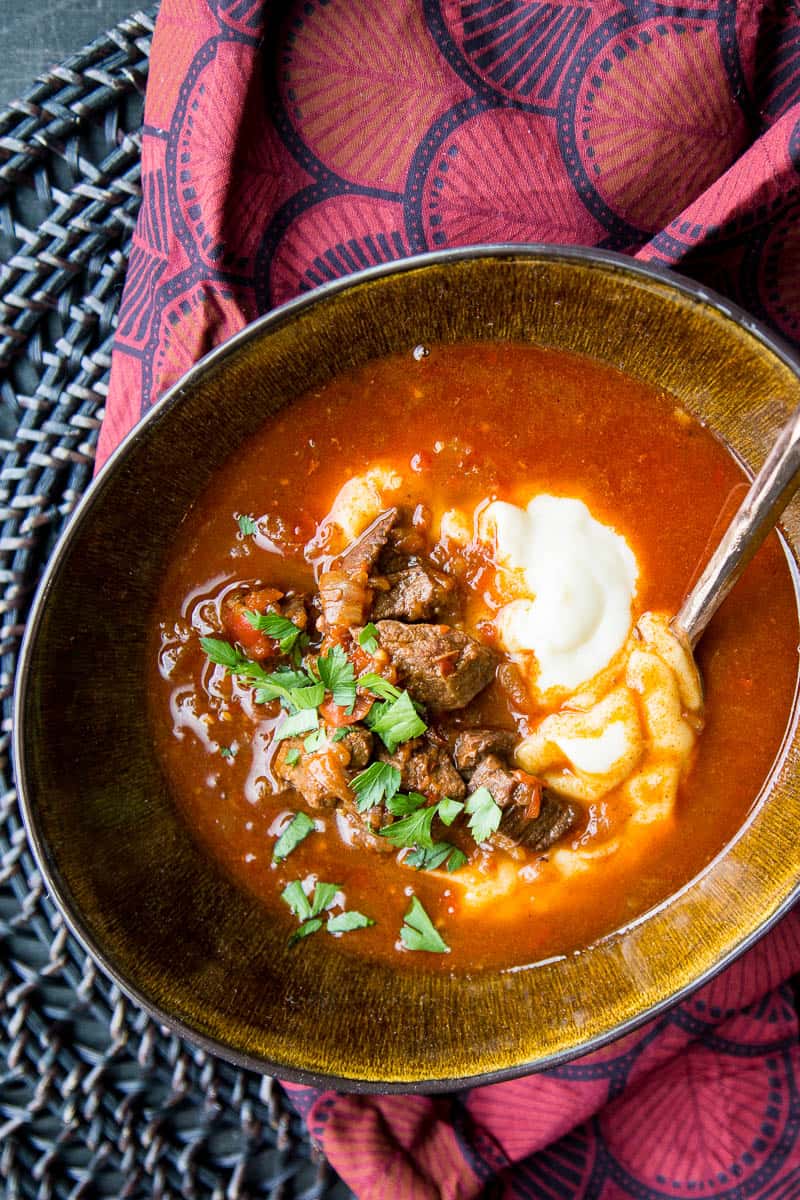 Ok, back to goulash. And time for another story — this one's good because it involves yodeling.
Here's a video to show you how easy it is!
There was an elderly woman we visited who invited us over for lunch quite often. Her name was Maria Güsenleitner, and she was Austria's "Queen Yodeler" back in the 1940s. (Yes, that was a thing.) She was quite famous and even did voiceover work in movies during that time.
Maria was fun to chat with and she liked to show us clips from the movies in which her crisp yodeling vocals were featured.
She also made the best goulash and served it to us every time we came over. Sometimes we ate it with egg noodles. Sometimes with steamed potatoes. It was one of my favorite things to eat.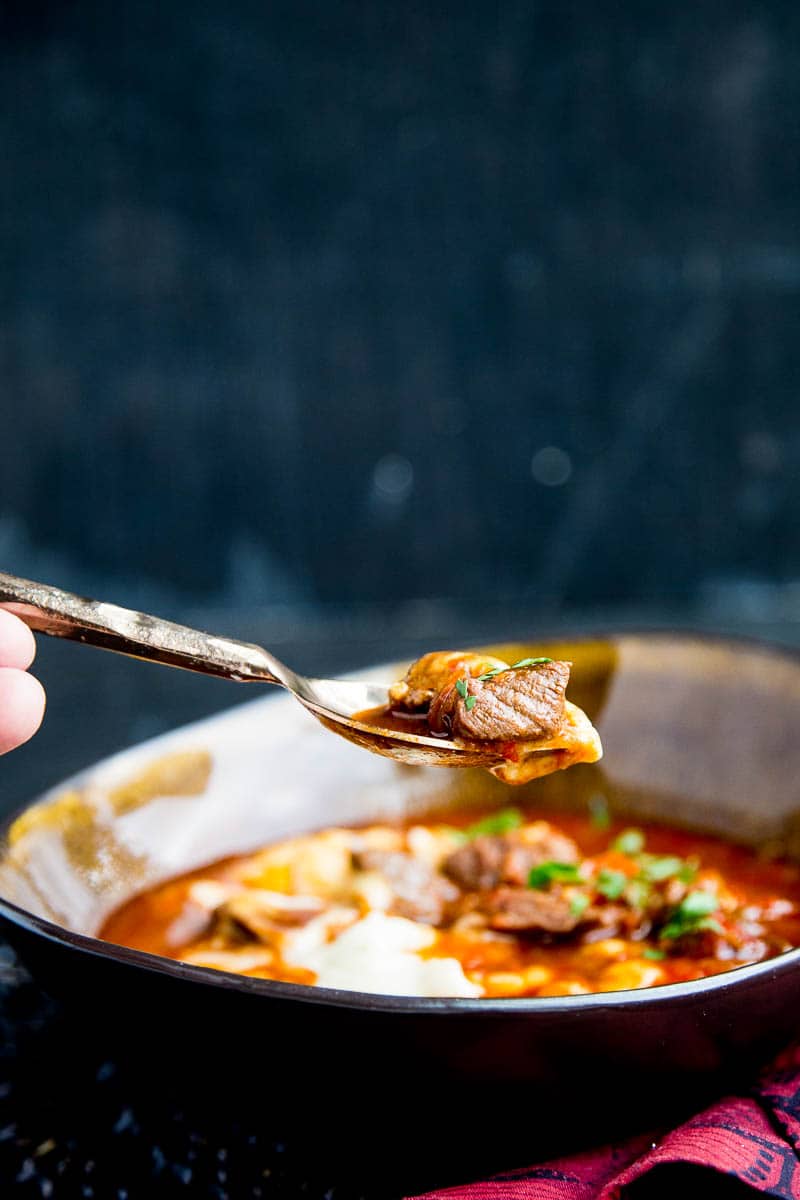 The fact that I can make more authentic goulash in my Instant Pot makes me giddy. You can also make it in a slow cooker (see recipe notes), and that version is in my paleo slow cooker cookbook, too!
Despite the hot sauce-colored gravy, this stew isn't spicy. You can certainly make it spicy by adding more Hungarian hot paprika and maybe some chili flakes.
We ate it this particular day with some leftover Instant Pot Cauliflower Puree with Rosemary & Garlic — a PERFECT COMBO. But, unless you have two Instant Pots or prep one of the dishes ahead of time, it could be somewhat cumbersome making both at dinnertime.
You can also serve it over rice, baked potatoes, or gluten-free noodles. And if you add a little more beef broth, you can eat it like a soup!
Have short ribs? Try these Instant Pot (Pressure Cooker) Beef Short Ribs!
---
If you make this recipe, be sure to post it to social media and tag me at @perrysplate or #perrysplate so I can send you some love!
SaveSave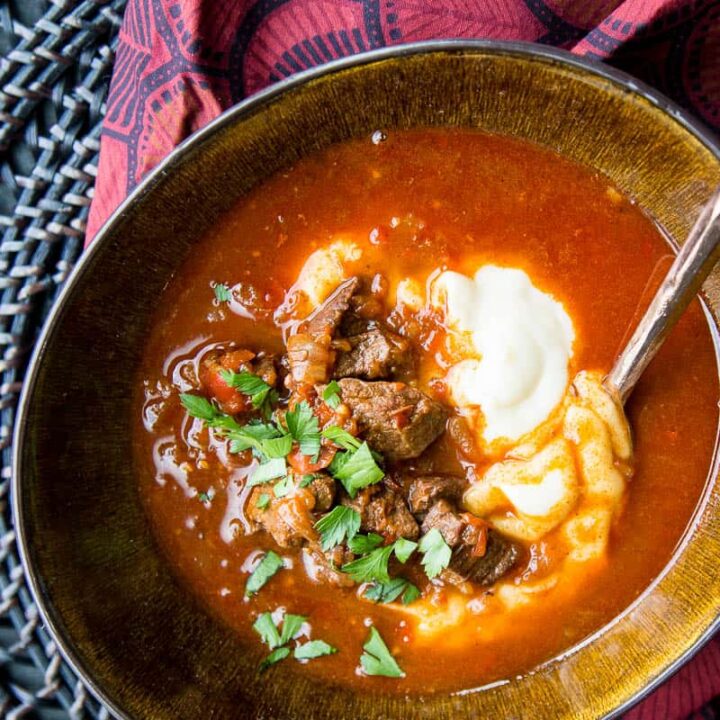 Paleo Hungarian Goulash
Additional Time:
1 hour
5 minutes
Total Time:
1 hour
30 minutes
No, not the American mesh of macaroni, ground beef, and spaghetti sauce, but authentic Hungarian goulash with tender beef pieces and fiery paprika sauce. Includes adaptation for a slow cooker, too!
Ingredients
2 - 2 1/2 pounds beef stew meat, cut into 1/2-inch pieces
2 teaspoons sea salt, divided
1/2 teaspoon black pepper
2-4 Tablespoons ghee, bacon drippings, or grass-fed butter
2 red bell peppers, seeded and minced
1 large onion, minced
3 cloves garlic, minced
3 Tablespoons sweet paprika
1 teaspoon hot Hungarian paprika
1 teaspoon whole caraway seeds
3 Tablespoons red wine vinegar
2 Tablespoons tapioca flour
2 Tablespoons tomato paste
3 cups beef broth
Instructions
Trim any excess fat from the stew meat. Sprinkle 1 teaspoon sea salt and the black pepper over the meat. Toss to coat evenly.
Turn the Instant Pot to the High Saute setting and add 1-2 Tablespoons of ghee to the pot. When it is preheated, brown the meat in 3 batches, adding a little ghee each time you start a new batch. Let them cook, undisturbed for 3-4 minutes. Flip them around and let them cook another 3-4 minutes until a crust forms. If you overcrowd the pot the meat won't develop that tasty, caramelized crust. It doesn't have to be cooked through.
Return all of the seared meat to the pot. Add the minced bell pepper and onion, garlic, both paprikas, caraway seed, and 1 teaspoon sea salt to the pot.
In a large liquid measuring cup, whisk together the red wine vinegar, tapioca flour, tomato paste, and 2 cups of beef broth. Pour the liquid mixture into the pot and give the whole thing a good stir.
Seal the Instant pot, moving the steam valve to "sealing" and set it for Manual - 30 minutes. Let the steam release naturally for 10 minutes, and then manually release the rest of the steam by moving the steam valve to "venting".
Stir the goulash around and add the other cup of beef broth if you'd like a thinner consistency. Taste, and add more salt or a splash of red wine vinegar if you think it needs it.
Serve with desired side dish.
Notes
Nat's Note: A slow cooker version of this recipe is featured in my cookbook on page 162. If you'd like to use a slow cooker, sear the meat in a pan on the stove and use some beef broth to deglaze the pan, pouring everything into the slow cooker. Continue as instructed and cook it on low for 5-6 hour.
Recommended Products
As an Amazon Associate and member of other affiliate programs, I earn from qualifying purchases.
SaveSave
SaveSave
SaveSave
SaveSave