This goulash recipe is reminiscent of a authentic Hungarian goulash with tender chunks of braised beef and a bright red paprika sauce. It's cozy and comforting and the epitome of comfort food. It's also a simple recipe and easy to make, too!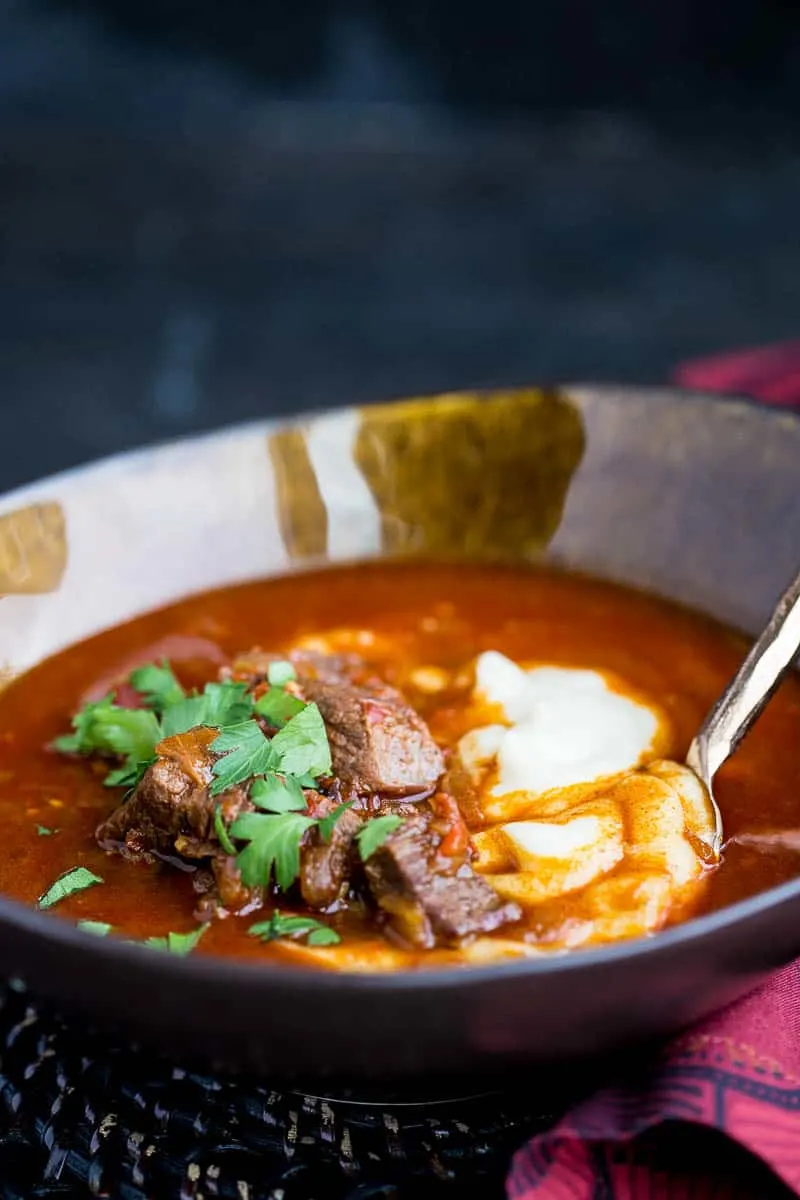 Goulash is a recipe that holds a lot of memories and sentiment for me.
By goulash, I don't mean the American goulash recipes of of elbow macaroni, ground beef, and jarred spaghetti sauce.
I'm talking about a stew that taste more like authentic Hungarian goulash with a fiery-colored paprika sauce and tender chunks of braised beef.
About Hungarian-inspired goulash
I spent a year and a half in Austria during my early 20s and fell in love with the unique mixture of German and Hungarian food that we ate.
I learned to appreciate good sausage, homemade sauerkraut, authentic apple strudel, and ate more bowls of Hungarian goulash than I could count. I also ate Nutella for the first time, so basically my time there changed my life.
Ok, back to this Hungarian goulash recipe. And time for a story — this one's good because it involves yodeling.
There was an elderly woman we visited who invited us over for lunch quite often. Her name was Maria Güsenleitner, and she was Austria's "Queen Yodeler" back in the 1940s. (Yes, that was a thing.)
She also made the best goulash and served it to us every time we came over. Sometimes we ate it with egg noodles. Sometimes with steamed potatoes. It was one of my favorite things to eat.
I imagine there are a lot of variations of this peasant-type dish that evolved from the countries in central Europe. This one is the closest to what I ate in Austria, though.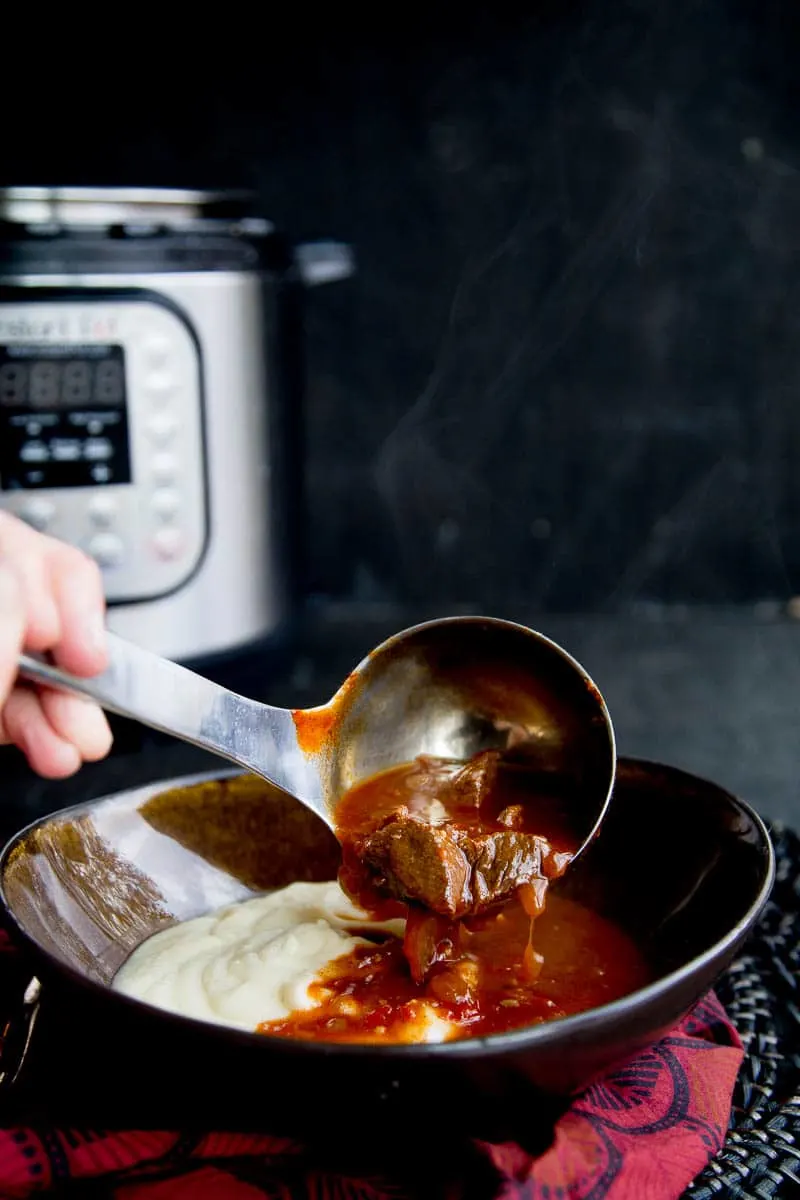 What's in Hungarian Goulash?
Tender pieces of beef stew meat covered in a rich, bell pepper-based sauce with two different kinds of paprika (sweet paprika and sweet Hungarian paprika), garlic, caraway seeds, and a hit of vinegar to give it a little tang. Tomato paste gives it even more richness and depth and won't make it too thick like tomato sauce would.
Can I use a different kind of bell pepper?
I highly recommend using red peppers or a sweet pepper that's orange or yellow.
A red pepper has a totally different taste than a green pepper. Don't use green peppers.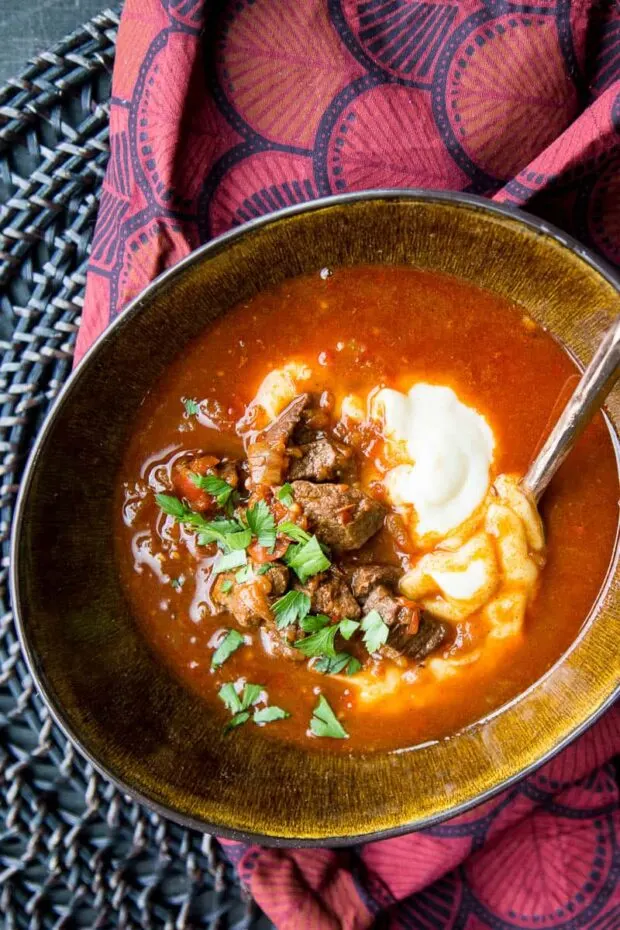 Making Hungarian Goulash in an Instant Pot
The fact that I can make more authentic-tasting goulash in my Instant Pot makes me giddy. Using the sauté setting lets you sear that beef, add the rest of the ingredients and do the pressure cooking all in the same pot.
TIP: After the high pressure cycle is over, let the cooker sit 10 minutes while it does a natural pressure release before using the quick release the remaining pressure naturally. This will help the beef to be even more tender.
That high pressure cycle in your Instant Pot or electric pressure cooker creates a slow cooker texture in a fraction of the time.
Can I use a slow cooker to make this Hungarian beef goulash recipe?
Yes! You CAN make it in a slow cooker (see recipe notes), and that version is in The Big Book of Paleo Slow Cooking, too!
Despite the hot sauce-colored gravy, this Instant Pot goulash recipe isn't spicy.
It's a little peppery from the black pepper and Hungarian paprika, but you can certainly make it spicy by adding more Hungarian spicy paprika and maybe some chili flakes.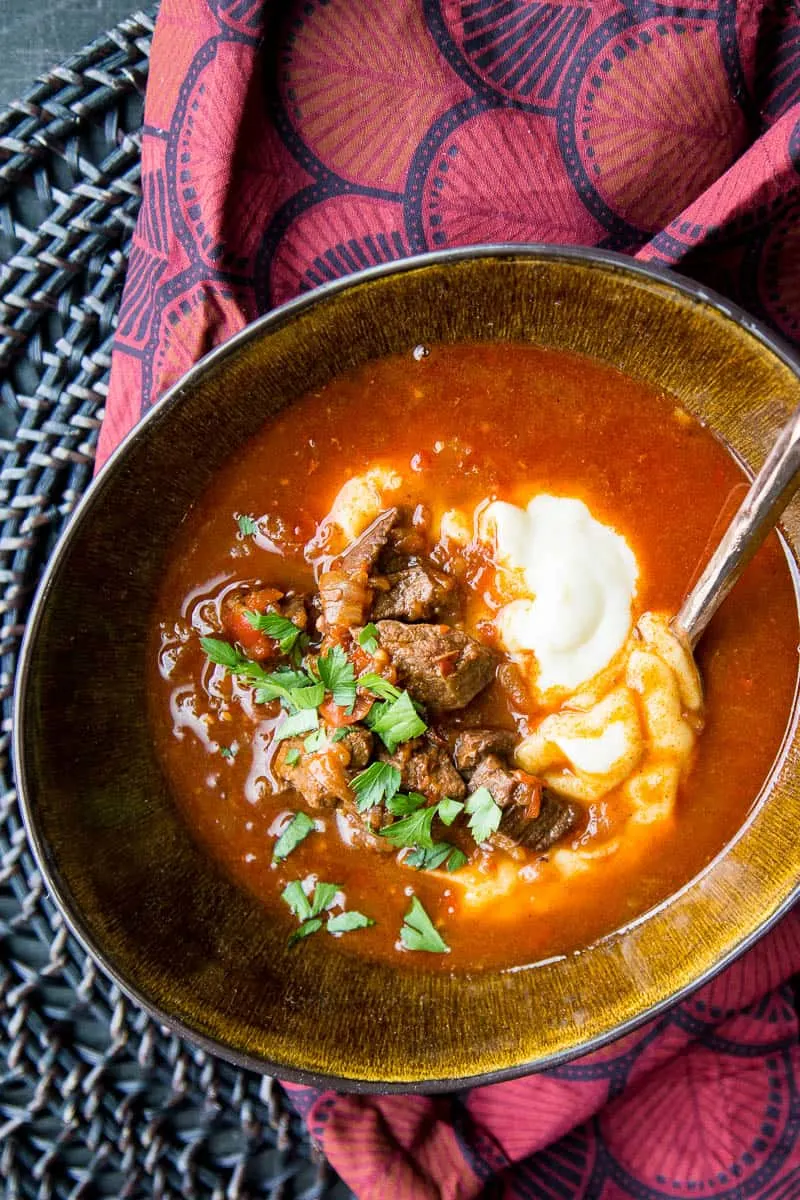 What do you serve with Hungarian goulash?
We ate it this particular day with some leftover Instant Pot Cauliflower Puree with Rosemary & Garlic — a PERFECT COMBO.
But, unless you have two Instant Pots or prep one of the dishes ahead of time, it could be somewhat cumbersome making both at dinnertime.
You can also serve this Instant Pot beef goulash over rice, baked potatoes, or gluten-free noodles.
And if you add a little more beef broth, you can eat it like a soup! It's commonly garnished with a dollop of sour cream, which is lovely, too.
Can you freeze leftover goulash?
Absolutely. Goulash is one of those recipes that is sometimes better the second day — like chili and Indian curry. Just store it in a freezer-safe airtight container for a few months and pull it out when you need a quick weeknight meal.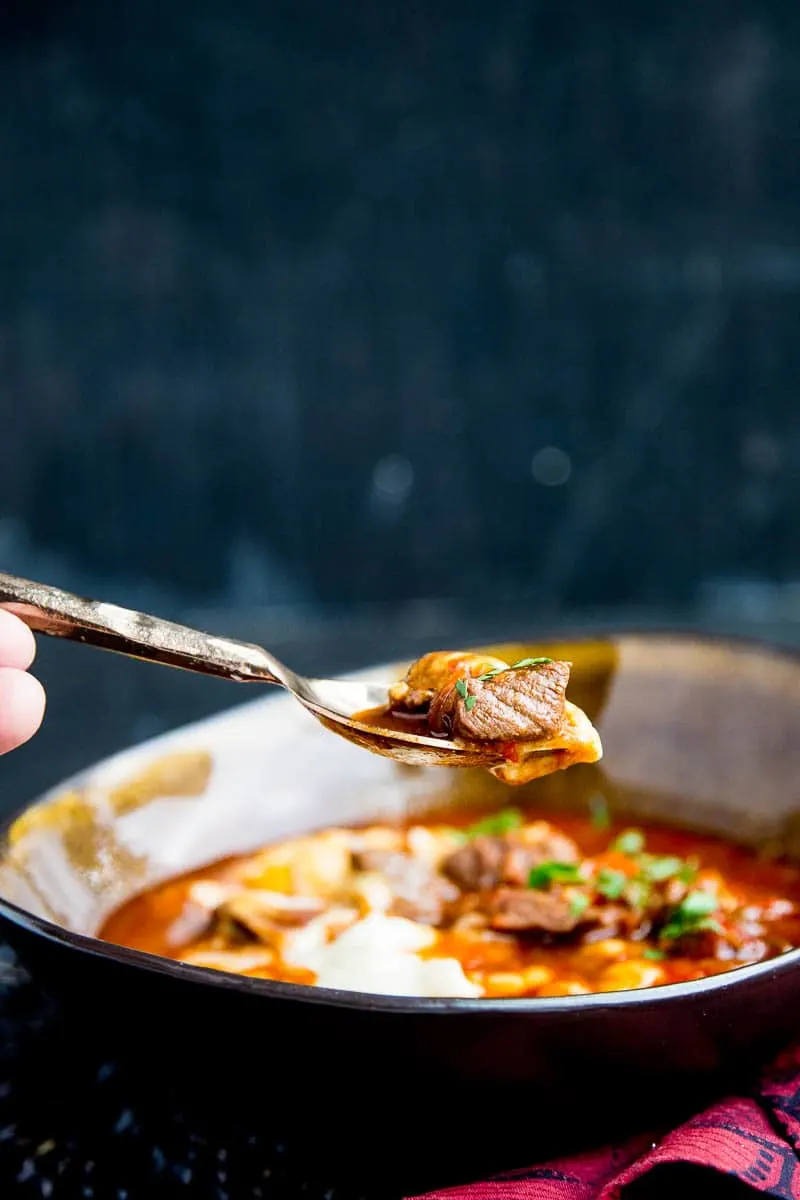 If you like this recipe, try another one of my beef Instant Pot recipes!
More Beef Instant Pot Recipes on Perry's Plate
Gyro-Inspired Shredded Beef makes THE BEST Greek-inspired bowls and stuffed pitas!
Copycat Chipotle Barbacoa Beef is probably my favorite shredded beef taco meat. It's heavenly
Instant Pot Shredded Beef with Green Chile is another fabulous one for taco night!
Instant Pot Pot Roast with Rosemary Gravy is another cozy option for winter served with potatoes or rice.
The Best Steak Chili is a winner at so many chili cook-offs! Whip it up quickly in your Instant Pot or low and slow with your Crock Pot.
Instant Pot Corned Beef is a classic for St. Patrick's Day!
---
If you make one of my recipes, be sure to post it on social media and tag me at @perrysplate or #perrysplate so I can send you some love!
SaveSave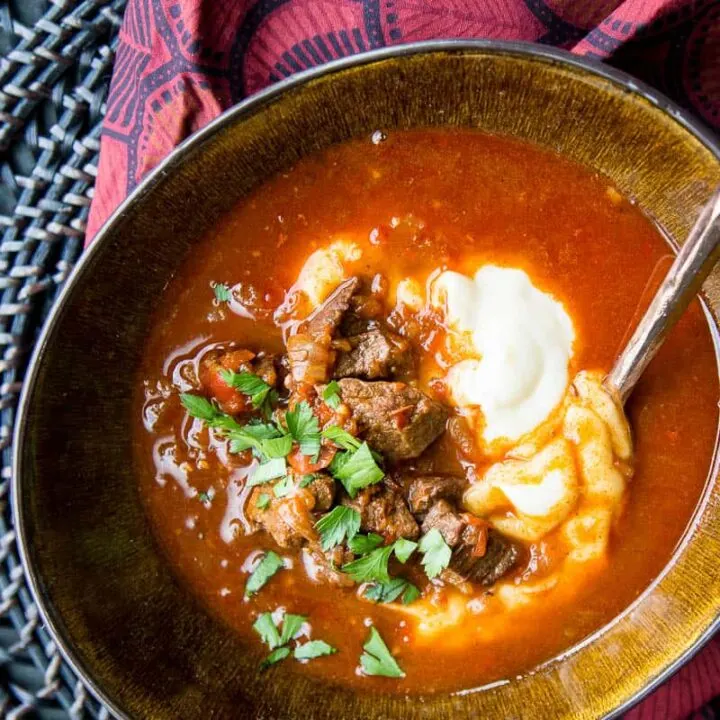 Paleo Hungarian Goulash
Additional Time:
1 hour
5 minutes
Total Time:
1 hour
30 minutes
No, not the American mesh of macaroni, ground beef, and spaghetti sauce, but authentic Hungarian goulash with tender beef pieces and fiery paprika sauce. Includes adaptation for a slow cooker, too!
Ingredients
2 - 2 1/2 pounds beef stew meat, cut into 1/2-inch pieces
2 teaspoons sea salt, divided
1/2 teaspoon black pepper
2-4 Tablespoons ghee, bacon drippings, or grass-fed butter
2 red bell peppers, seeded and minced
1 large onion, minced
3 cloves garlic, minced
3 Tablespoons sweet paprika
1 teaspoon hot Hungarian paprika
1 teaspoon whole caraway seeds
3 Tablespoons red wine vinegar
2 Tablespoons tapioca flour
2 Tablespoons tomato paste
3 cups beef broth
Instructions
Trim any excess fat from the stew meat. Sprinkle 1 teaspoon sea salt and the black pepper over the meat. Toss to coat evenly.
Turn the Instant Pot to the High Saute setting and add 1-2 Tablespoons of ghee to the pot. When it is preheated, brown the meat in 3 batches, adding a little ghee each time you start a new batch. Let them cook, undisturbed for 3-4 minutes. Flip them around and let them cook another 3-4 minutes until a crust forms. If you overcrowd the pot the meat won't develop that tasty, caramelized crust. It doesn't have to be cooked through.
Return all of the seared meat to the pot. Add the minced bell pepper and onion, garlic, both paprikas, caraway seed, and 1 teaspoon sea salt to the pot.
In a large liquid measuring cup, whisk together the red wine vinegar, tapioca flour, tomato paste, and 2 cups of beef broth. Pour the liquid mixture into the pot and give the whole thing a good stir.
Seal the Instant pot, moving the steam valve to "sealing" and set it for Manual - 30 minutes. Let the steam release naturally for 10 minutes, and then manually release the rest of the steam by moving the steam valve to "venting".
Stir the goulash around and add the other cup of beef broth if you'd like a thinner consistency. Taste, and add more salt or a splash of red wine vinegar if you think it needs it.
Serve with desired side dish.
Notes
Nat's Note: A slow cooker version of this recipe is featured in my cookbook on page 162. If you'd like to use a slow cooker, sear the meat in a pan on the stove and use some beef broth to deglaze the pan, pouring everything into the slow cooker. Continue as instructed and cook it on low for 5-6 hour.
Recommended Products
As an Amazon Associate and member of other affiliate programs, I earn from qualifying purchases.
SaveSave
SaveSave
SaveSave
SaveSave