Hot German Potato Salad with Sauerkraut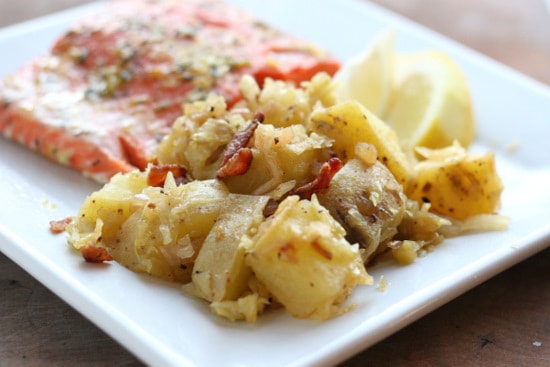 Yes, another use for sauerkraut! A hot German potato salad dressed in a bacon-y vinaigrette with some sauerkraut tossed in.
My kids weren't so keen on this (They're not big potato eaters, which breaks my little Idahoan heart.), so Steve and I happily finished off the whole bowl. That's how we roll sometimes.
I wanted to get this up last week before we left for our 10-hour trek to Idaho, but it just…. didn't make it. We got home last night, and I've got loads of laundry, grocery shopping, and organizing to do.
And I've got a few stories for you from our trip…. have you ever seen a sheep give birth? Well, my children have. I'll tell you more about it next time. :)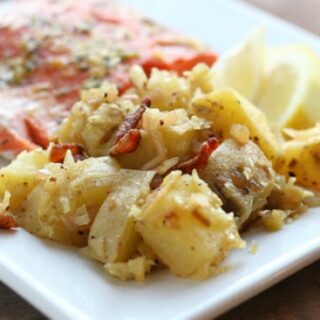 Hot German Potato Salad with Sauerkraut
Yield: Serves 4-6 as a side dish
This hot German potato salad dressed in a bacon-y vinaigrette is the perfect comfy side dish! You'll love the smattering of sauerkraut throughout.
Ingredients
2 pounds thin-skinned potatoes, scrubbed, halved, and cut into 1/4 inch slices or larger chunks
4 ounces bacon, diced
1 shallot, minced
5 Tablespoons apple cider vinegar, plus more to taste
2 Tablespoons extra-virgin olive oil
1 teaspoon honey
1 cup sauerkraut, drained and rinsed if you find it too salty
Salt and freshly ground pepper, to taste
Instructions
Place the potatoes in a large pot and cover with water. Bring to a boil, the reduce heat and simmer for about 5-10 minutes, depending on how thick the pieces are. Cook until fork tender, reserve 1/4 cup of cooking liquid, then drain.
Transfer potatoes to a large mixing bowl and cover to keep warm.
Meanwhile, cook the bacon in a skillet over medium heat until brown and crisp. Remove bacon with a slotted spoon and transfer to the bowl with the potatoes.
Discard all but 2 tablespoons of the bacon grease. Add the shallot to the skillet and cook over medium heat until slightly softened, about 3 minutes.
Add the vinegar, oil, and honey. Bring to a boil, then pour over the potatoes and toss to coat. Add the sauerkraut.
Taste and season with more vinegar, salt, and pepper, if needed. Add some of the potato cooking water if the mixture seems dry. (I didn't need any.) Serve immediately.
Notes
Nat's notes:

Omit the honey or substitute with pineapple juice to make this Whole30 compliant.

P.S. We made this Slow-Baked Salmon with Lemon and Thyme from one of last year's Bon Appetit issues to go with the salad. I thought it was a great combination and cut through the starchiness of the potatoes.

P.P.S. This is another recipe from Recipes from the Root Cellar by Andrea Chesman. This book is definitely growing on me. :)

SaveSave