This hot German inspired potatoes and sauerkraut salad is tossed in a bacon-y vinaigrette is the perfect comfy side dish! You'll love the smattering of briny sauerkraut throughout.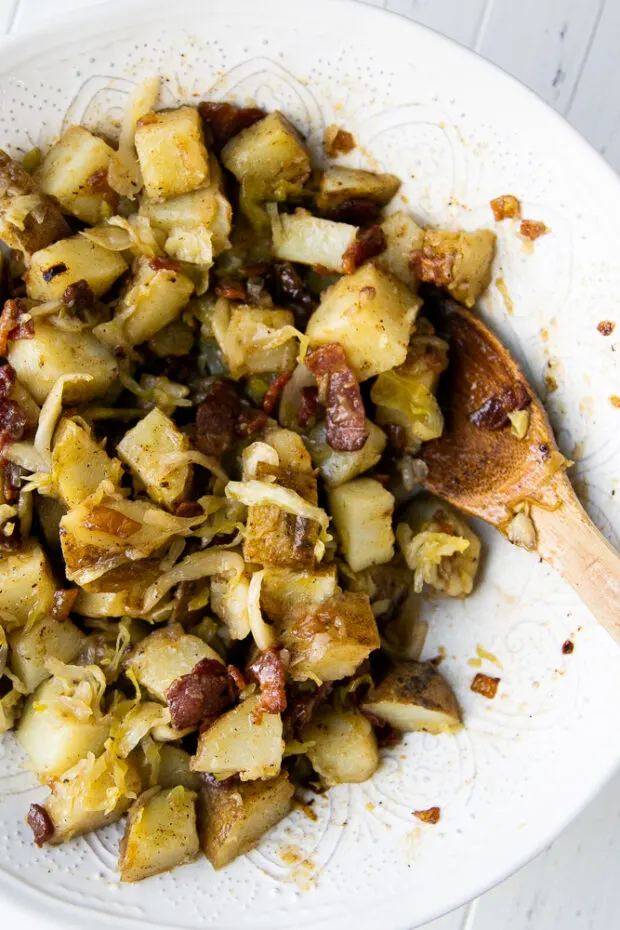 This hot German potato and sauerkraut bowl dressed in a tangy bacon vinaigrette is the perfect comfy side dish! Serve alongside a pot roast, a roast chicken, or as a stand-alone meal.
How is sauerkraut eaten?
First let's talk about sauerkraut.
What's sauerkraut? It's fermented cabbage. It's usually treated like a combination of a condiment and a side dish — like pickled vegetables.
Shelf stable sauerkraut is usually made with vinegar, but traditional sauerkraut is just cabbage and salt. You can find traditionally fermented sauerkraut in the refrigerated section of most grocery stores.
Get the fermented kind. It's fully of gut-healthy probiotics and it tastes WAY better than shelf stable!
Have you ever made Homemade Sauerkraut? It's easier than you think.
And if you ever have way more than you need — make some of this German-inspired potato salad. Potatoes and sauerkraut go beautifully together!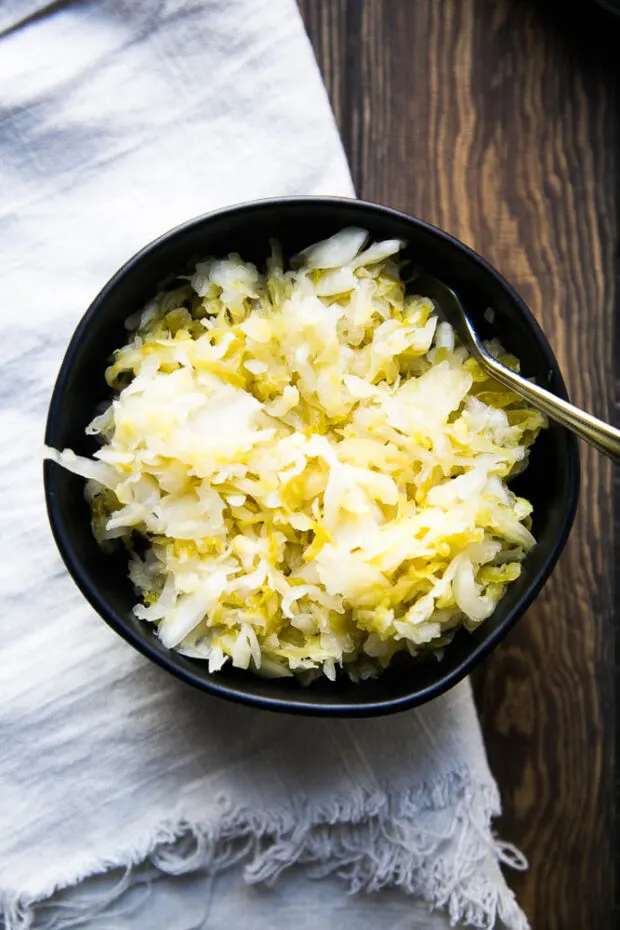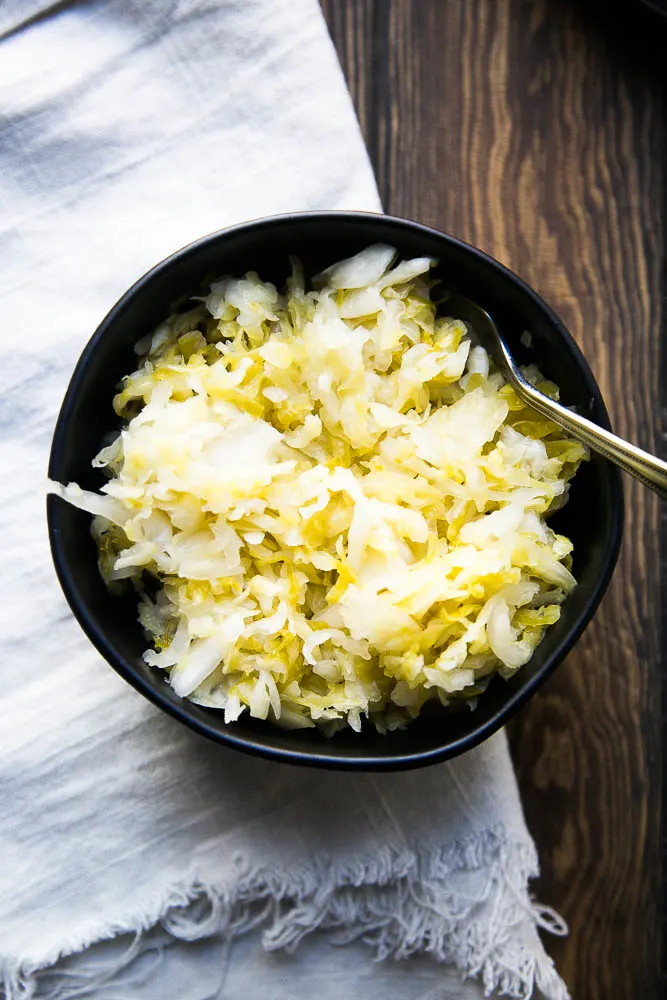 What kind of potatoes to use in German potato salad?
You can use any of the three most popular kinds of white potatoes — Russets, reds, or Yukon golds.
I typically use reds for potato salads because they have a firmer texture and hold up better to stirring. And they have the least amount of starch out of the three types.
BUT. As you can see I used Russets because that's what I had on hand that day.
(Fresh ones out of the ground! A bonus of being in Idaho.)
So use what you want. Any of them would be delicious.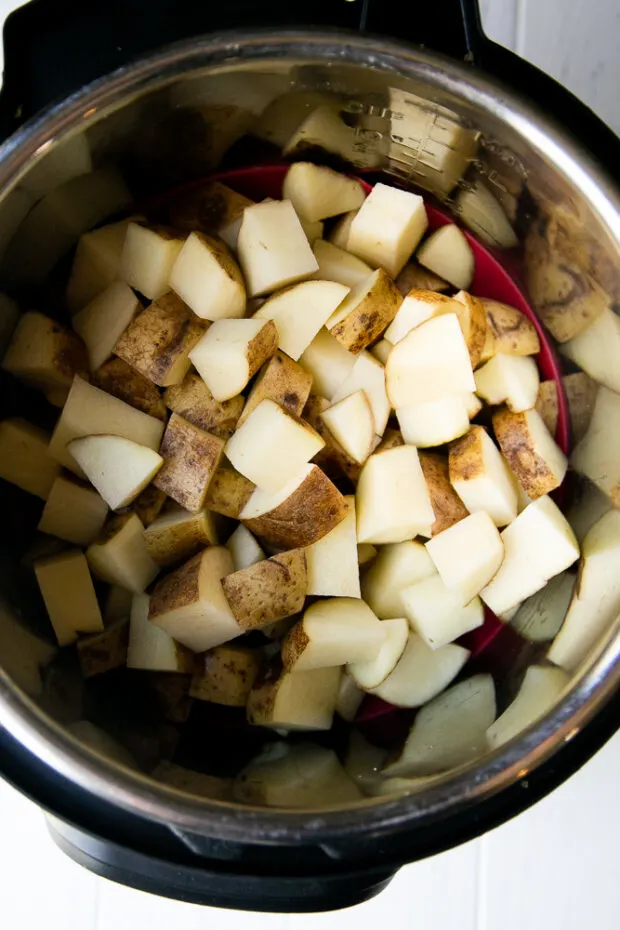 Potatoes and sauerkraut instructions
Ok, this recipe is split into three parts — the potatoes, the warm bacon dressing, and the sauerkraut.
Cook the potatoes
I like to use my Instant Pot for this. Once I realized I'd never have to boil (and strain) a giant pot of water to cook potatoes, I never looked back. I always steam/pressure cook them!
If you don't have an Instant Pot or another type of electric pressure cooker, I included stovetop instructions in the recipe.
You can totally boil the potatoes, but if you have an Instant Pot, it's WAY easier to steam/pressure cook them.
I included instructions for Instant Pot in the recipe notes as well as boiling them on the stove.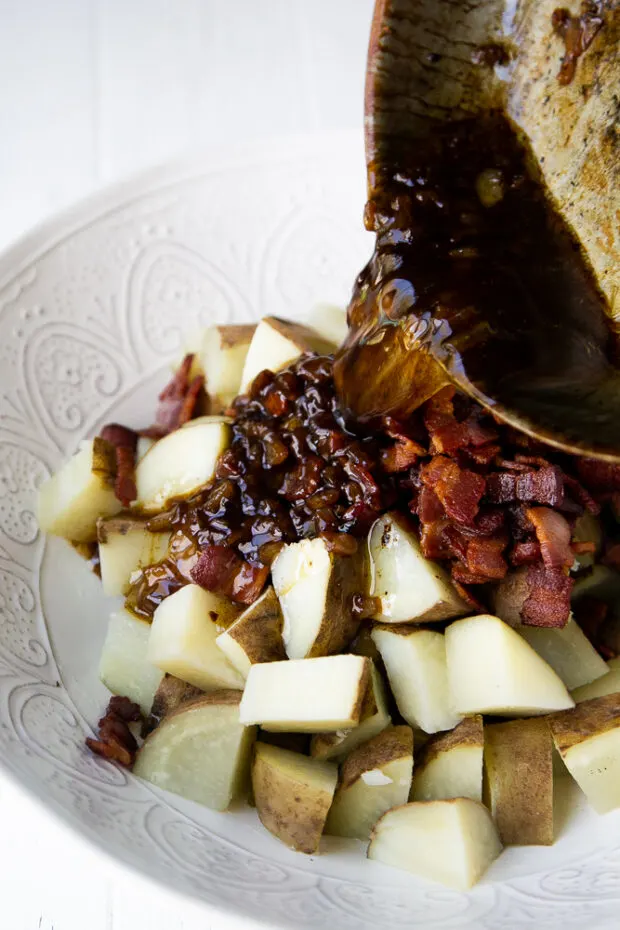 Make the bacon dressing
What makes this German style potatoes and sauerkraut unique is the dressing — a tangy vinaigrette instead of a mayonnaise-based dressing typical to most potato salads.
Take it a step further and add some bacon. *muah*
What is warm bacon dressing?
Warm bacon dressing is a type of vinaigrette that uses warm bacon drippings as the base oil. You can try it with different kinds of vinegar — this one has apple cider vinegar.
My head exploded when I realized warm bacon dressing was a thing.
(I really love bacon.)
If you haven't made a warm bacon dressing, you're missing out. (You should also make this BLT Chicken Salad with Warm Bacon Dressing.)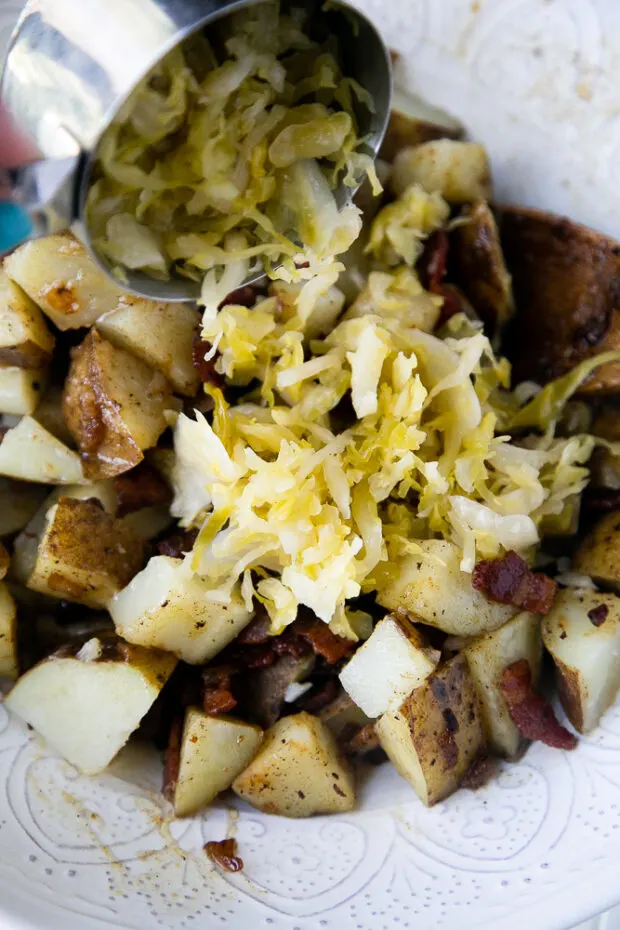 Add the sauerkraut
Sauerkraut might seem like an odd addition, but traditional potato salad has pickles and pickles are another pickled/fermented cousin of sauerkraut.
Try it! You'll love all of the salty bites, and it adds more texture to the potatoes. This recipe calls for 1 cup sauerkraut, but if you want to add more, it wouldn't be a bad idea.
Ways to adapt this potato and sauerkraut recipe
Replace the bacon with some bulk sausage. Italian sausage or breakfast sausage would be good here. I'd use pork so you have enough drippings to make the dressing. Sliced polish sausage would also be a good choice.
Roast your potatoes or pan fry them in a skillet or air fryer to give them a little color and crispness!
Make your sauerkraut and potatoes vegetarian by sauteeing the dressing ingredients in avocado oil instead of using bacon.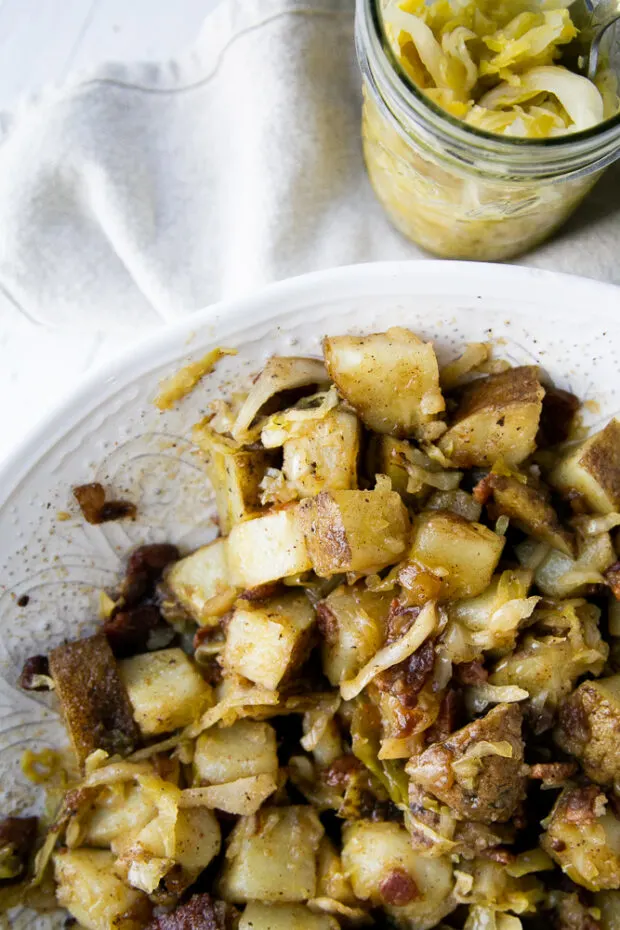 What to serve with sauerkraut potato salad
This delicious sauerkraut and potatoes side dish would be great with any of these main dishes:
Smoked Whole Chicken or Smoked Chicken Breasts
Instant Pot Pot Roast with Rosemary Gravy
The Best Instant Pot Pork Ribs
More Easy Potato Salad Recipes
If you like this recipe, try another one of my potato salad recipes!
Instant Pot Potato Salad with Ranch
Roasted Potato Salad with Dill Scallion Vinaigrette
---
If you make one of my recipes, be sure to post it on social media and tag me at @perrysplate or #perrysplate so I can send you some love!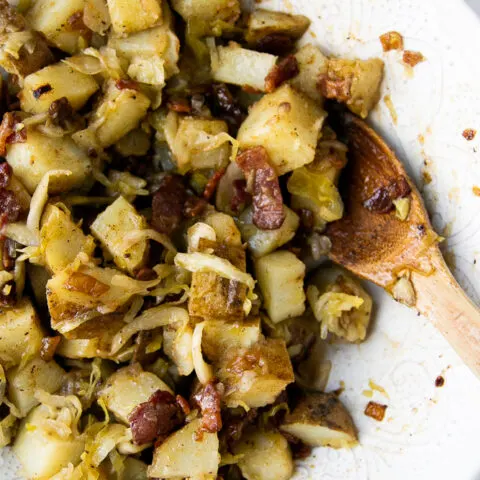 Hot German Potatoes and Sauerkraut with Bacon Dressing
Yield:
Serves 4-6 as a side dish
This hot German inspired potatoes and sauerkraut salad is tossed in a bacon-y vinaigrette is the perfect comfy side dish! You'll love the smattering of briny sauerkraut throughout.
Ingredients
2 pounds thin-skinned potatoes, scrubbed, halved, and cut into 1/4 inch slices or 1 1/2 in chunks
4 ounces bacon, diced
1 shallot, minced
5 Tablespoons apple cider vinegar, plus more to taste
2 Tablespoons extra-virgin olive oil
1 teaspoon honey
1 cup sauerkraut, drained and rinsed if you find it too salty
Salt and freshly ground pepper, to taste
Instructions
Place the potatoes in a large pot and cover with water. Bring to a boil, the reduce heat and simmer for about 5-10 minutes, depending on how thick the pieces are. Cook until fork tender, reserve 1/4 cup of cooking liquid, then drain.
Transfer potatoes to a large mixing bowl and cover to keep warm.
Meanwhile, cook the bacon in a skillet over medium heat until brown and crisp. Remove bacon with a slotted spoon and transfer to the bowl with the potatoes.
Discard all but 2 tablespoons of the bacon grease. Add the shallot to the skillet and cook over medium heat until slightly softened, about 3 minutes.
Add the vinegar, oil, and honey. Bring to a boil, then pour over the potatoes and toss to coat. Add the sauerkraut.
Taste and season with more vinegar, salt, and pepper, if needed. Add some of the potato cooking water if the mixture seems dry. Serve immediately.
Notes
FOR INSTANT POT: Put a cup of water in the bottom of your Instant Pot insert. Place a steamer basket in the bottom and add the cut potatoes. (Only use this method with 1-2 inch potato cubes.) Cook on high pressure for 8 minutes, then release the steam. Transfer the potatoes to a large bowl and resume recipe.


Recommended Products
As an Amazon Associate and member of other affiliate programs, I earn from qualifying purchases.
Nutrition Information
Yield

6
Serving Size

About 1 cup
Amount Per Serving
Calories

286
Total Fat

11g
Saturated Fat

3g
Trans Fat

0g
Unsaturated Fat

8g
Cholesterol

19mg
Sodium

592mg
Carbohydrates

36g
Fiber

4g
Sugar

4g
Protein

11g
The information shown is an estimate provided by an online nutrition calculator. It should not be considered a substitute for a professional nutritionist's advice.
This recipe was adapted from Recipes from the Root Cellar by Andrea Chesman.
This post may contain affiliate links. Any purchases made by using these links won't cost you any extra and helps keep my content free. These links may be Amazon links as I am part of the Amazon Associate Program.