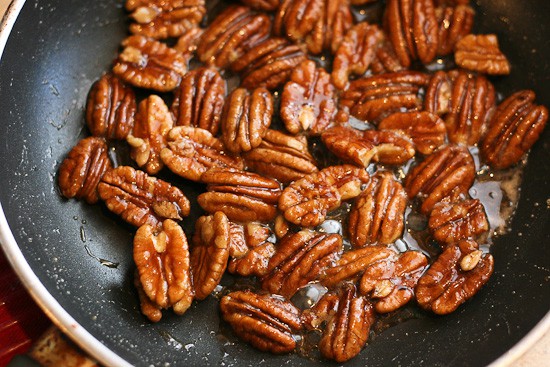 Once I was making a salad.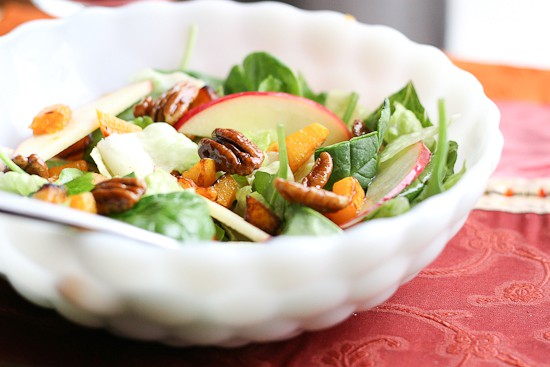 This salad, from Cooking with Love has these spicy sweet glazed pecans.
I flip over to the pecan recipe and begin reading the ingredients. When I came to "egg whites" my eyes glazed over.
I'm sure her spicy sweet pecans are delish, like all of the other recipes I tried, but seriously… I've got two hungry kids asking for snacks and a clingy 5-month-old that insists on being suspended, face-out, from my chest during dinner prep.
Plus, I don't separate eggs at 5:30PM on Wednesdays. So, I cheated.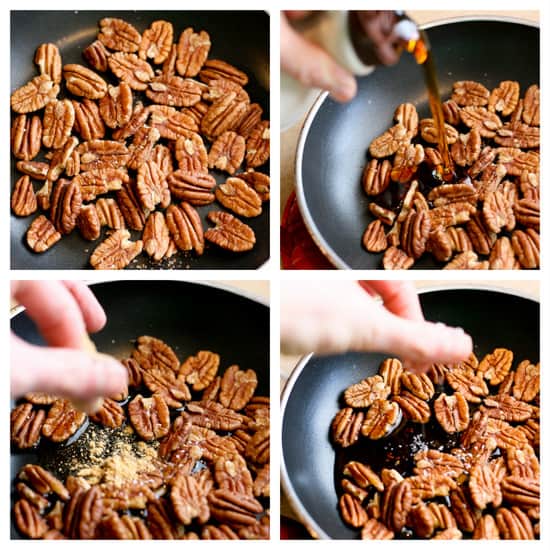 Nuts go in a pan.
Then a glug of maple syrup.
A sprinkle of ginger.
And a pinch of salt.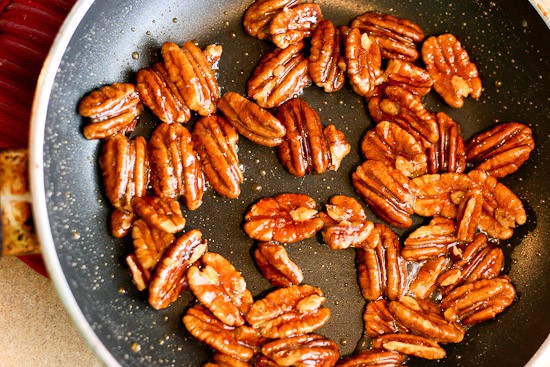 Let it get bubbly. And in a couple if minutes the syrup will be gone and you're left with sweet, sticky, slightly-spicy glazed pecans.
(My kids loved them, so they weren't too spicy.) If you don't like or want ginger on them, cinnamon would be a good substitute..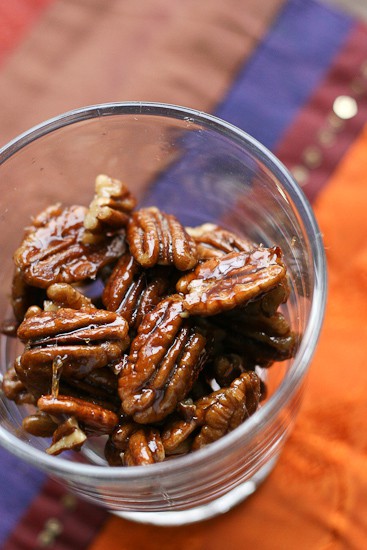 These glazed pecans be the first recipe that is in both the salad and the dessert section
These sticky little morsels MADE that salad. And I'm sure they would also MAKE some lonely caramel ice cream sundae somewhere.
Or you could just eat them by themselves.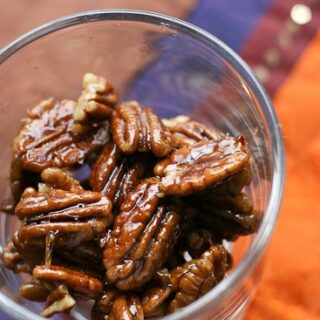 5-Minute Maple-Ginger Glazed Pecans
Yield:
1 1/2 cups of nuts
Additional Time:
5 minutes
Maple-Ginger Glazed Pecans are a perfect little addition to any salad! Or.... an ice cream sundae.
Ingredients
1 1/2 cups whole, raw pecans
2 Tablespoons pure maple syrup
1/4 teaspoon ground ginger
pinch of salt
Instructions
Combine all ingredients in a small, nonstick skillet and cook over medium heat while stirring frequently. Syrup should get bubbly, then quickly evaporate, leaving a sticky coating on the nuts. That's it!