This white chocolate popcorn is studded with sweet dried cranberries, salty pretzels, sea salt flakes, and a surprising hint of orange zest! It's the perfect last-minute gluten-free holiday treat.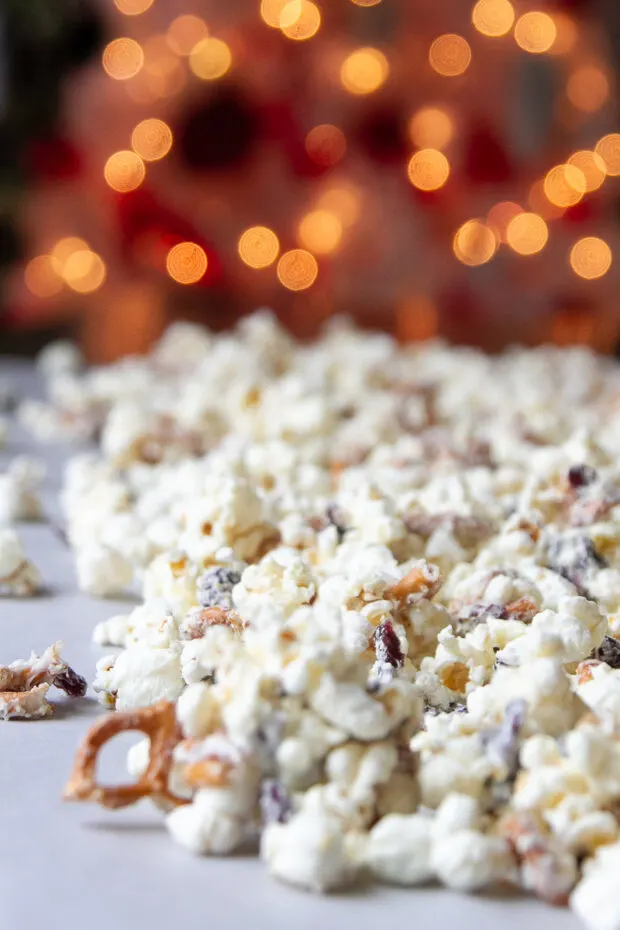 This white chocolate popcorn recipe was kind of an accident. I needed to make a quick treat for something, so I pulled my air popper out, dug some white chocolate out of the cabinet and started scrounging for toppings.
The result turned out to be my kids' favorite treat that Christmas! And many MANY more batches were made in the years to follow.
White chocolate covered popcorn is an inexpensive and EASY treat to give to neighbors and friends, take to parties, or munch on during movie night.
I figured it was time to share it here. :)
Cranberry Orange White Chocolate Popcorn Ingredients
For this recipe, you only need a few ingredients:
Popped popcorn
Melted white chocolate
Orange Zest
Dried Cranberries
Pretzels
Sea salt flakes (optional)
Can I use microwave popcorn in this recipe?
I have a low key obsession with my air-popper, but I understand that not everyone has (or wants) one.
Here's a link to a newer version of the one we have: Presto Air Popper. We had air-popped popcorn all throughout my childhood, and it's been a staple in our family, too. We literally pull it out every weekend.
You can use microwave popcorn for this recipe — you'll need two bags. Make sure you use a natural or very lightly buttered one so the flavor doesn't overpower what you're adding. Save the movie theater popcorn for movie night. :)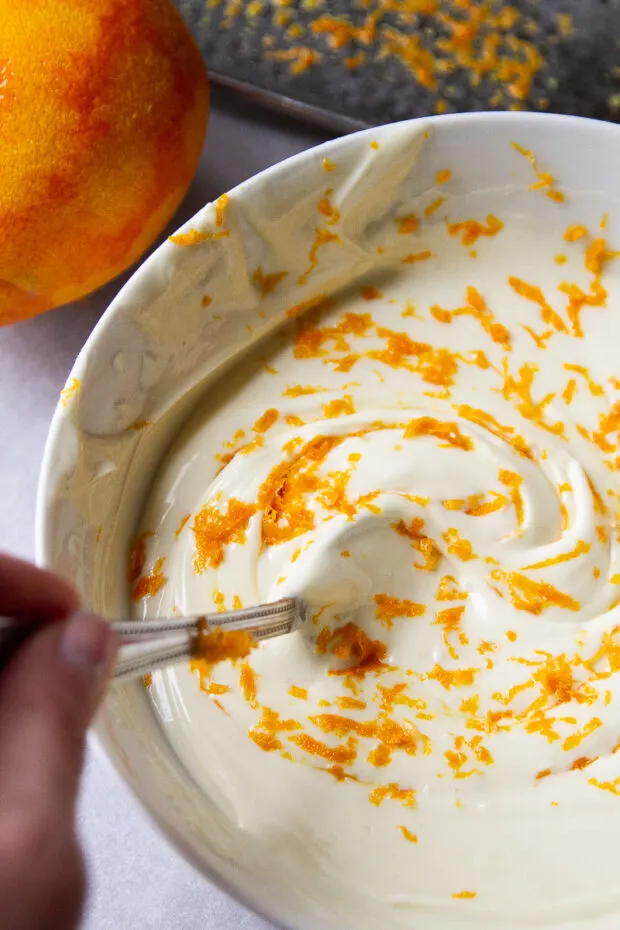 Adding the orange zest
SUPER IMPORTANT TIP: When you add the orange zest to the white chocolate be sure that your orange is COMPLETELY DRY.
Why? If any water droplets get into the melted white chocolate it will seize up, get clumpy, and you'll be using some choice words as you toss it out.
The natural moisture in the zest is mostly oils, so it doesn't cause the white chocolate to seize.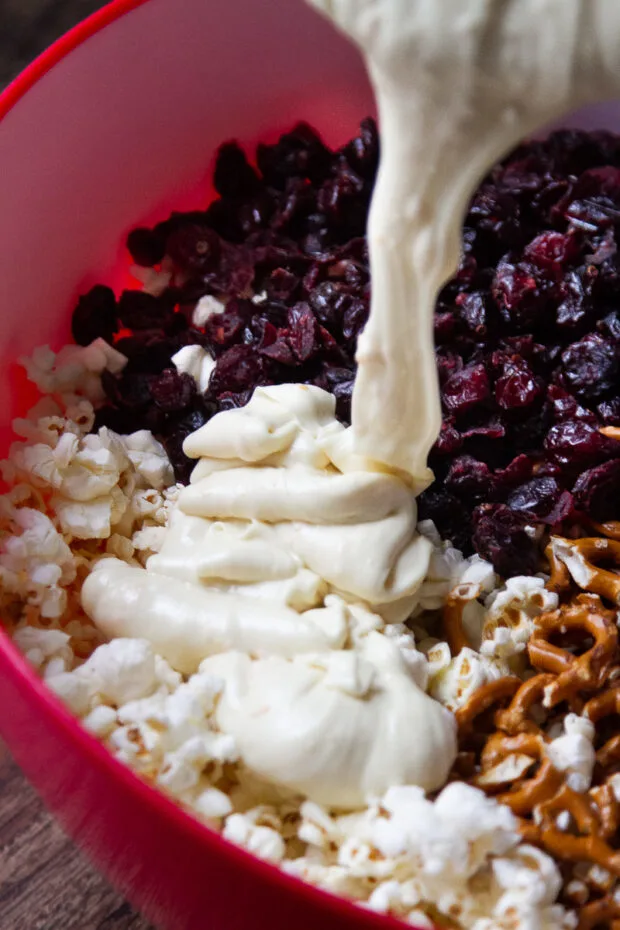 What kind of white chocolate do I use?
I like to use white chocolate chips (Ghirardelli or Guittard usually) or white chocolate melts.
You can also use things labeled almond bark, candy coating, or candy melts, but they're usually lower quality than white chocolate chips. However, almond bark or candy coating is easier to use and more forgiving.
Whichever you prefer will be fine.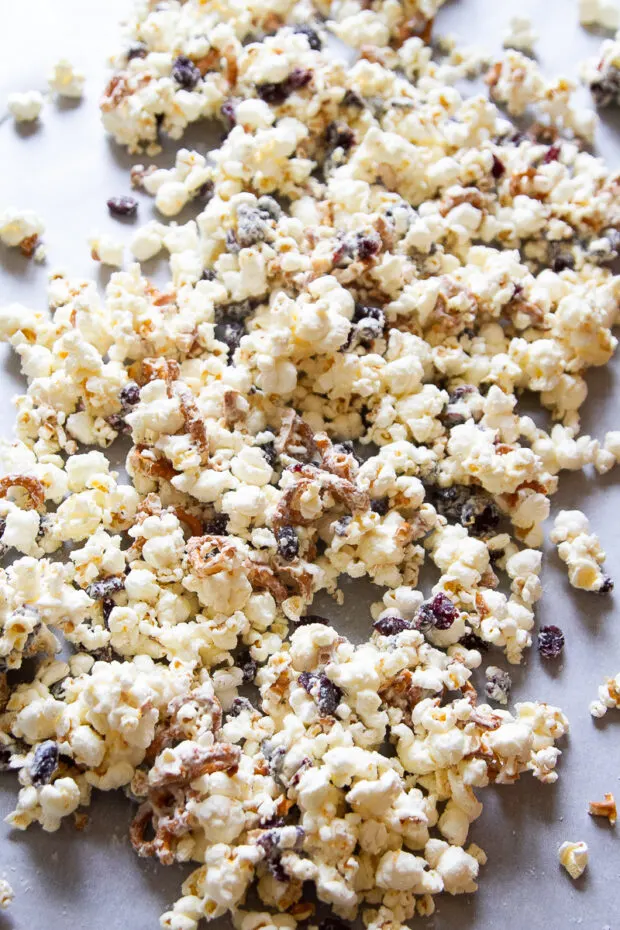 How to melt white chocolate
I like to take the easy route and use a microwave safe bowl to heat the chocolate in 20-second intervals, stirring after each one, until it's completely melted. Be sure not to over heat the white chocolate because it burns easily.
If you'd rather not use your microwave, set up a double-broiler situation on your stove by nesting a glass or metal bowl inside a medium saucepan. Put 1 inch of water in the saucepan and heat it to boiling. Put the chocolate in the bowl and stir as it beings to melt.
It's a gentler way to melt chocolate. You'll never want to melt chocolate on the stove in a pan — it'll burn too easily!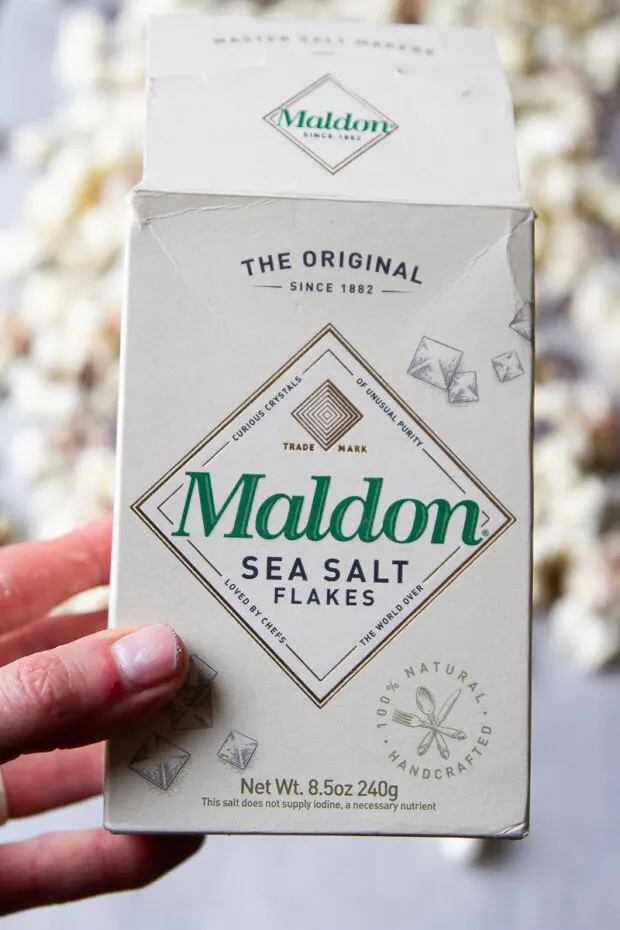 Making the popcorn
All you need to do is drizzle the orange-flavored melted chocolate over a really big bowl containing the popcorn, dried cranberries, and broken pretzels.
Stir well, then spread it out over a really large piece of parchment paper. I like to sprinkle some sea salt flakes while it's still wet to add a little extra flavor.
It'll set in about 15-20 minutes depending on the temperature inside your house.
Adaptation ideas
Make these gluten free: Use gluten free pretzels! Or replace the prezels with salted peanuts or thicker potato chips to keep that salty component in the popcorn.
Lower the sugar: Use Lily's White Chocolate Chips (I've melted them in the microwave like I described and they melt well.) and use unsweetened dried cherries (cut in half).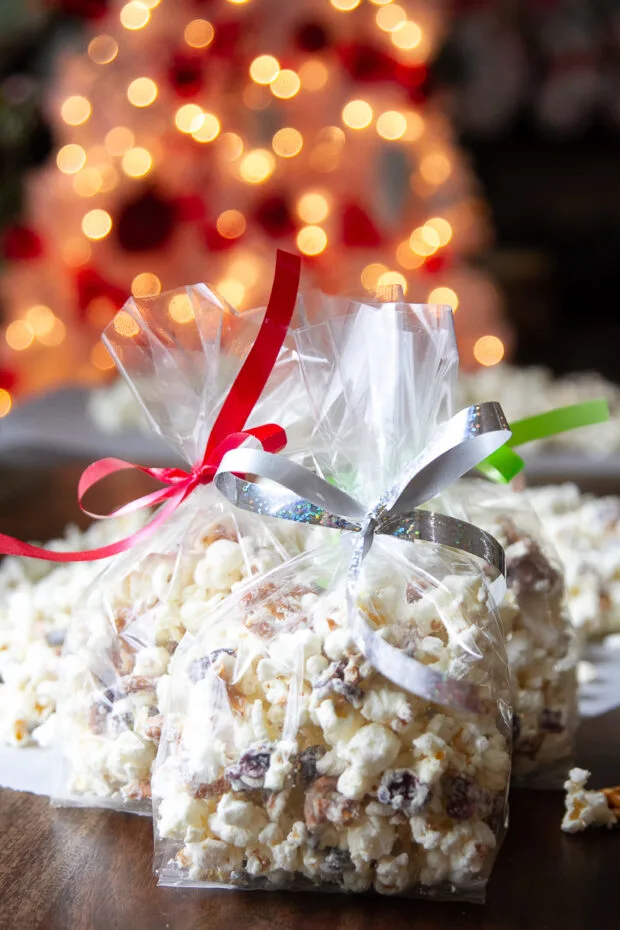 Packaged popcorn as a gift
I love to package this popcorn up in cellophane bags with a simple bow and give to neighbors and teachers. Here are the bags that I used: Cellophane bags for treats. They're the same bags I use for my Simmer Pot Kits.
How to store white chocolate popcorn
Store it in an airtight container for several days. After that, the popcorn tends to get a little chewy, but it'll still taste good.
More easy holiday treat ideas on Perry's Plate
Loaded Chai Caramel Popcorn – GF/DF Popcorn covered in a chai caramel coating mixed with dried apples, toasted coconut flakes, and toasted pecans.
10-min Candied Pecans with Cocoa & Chili – GF/DF Knock off of the Cocoa-Chili Pecans that Trader Joe's used to make. They're sweet with bit of heat.
Keto Chocolate Nuggets – GF/DF/Keto Knock off of the Keto Nuggets made by InnoFoods sold at Costco. A mixture of toasted coconut and seeds. These are nut-free, too!
Homemade Peppermint Bark – GF This can be dairy-free and keto friendly depending on the chocolate you use!
Thai Toasted Coconut Cashews – GF/DF Sweetened cashews toasted with coconut and a pinch of chili flakes.
Paleo Cookie Dough Bites – GF/DF Almond flour based "cookie dough" bites perfect for snacking!
---
If you make one of my recipes, be sure to post it on social media and tag me at @perrysplate or #perrysplate so I can send you some love!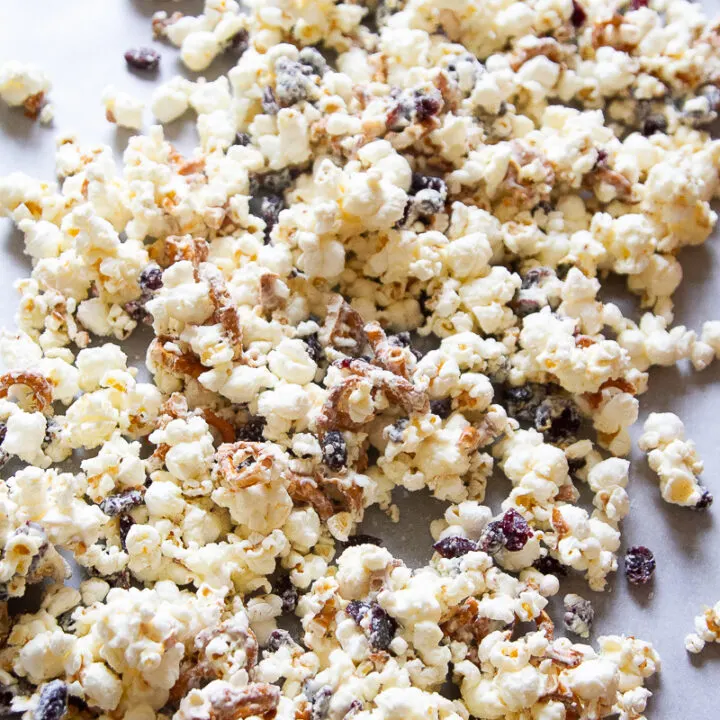 Sweet & Salty White Chocolate Popcorn
Additional Time:
15 minutes
This white chocolate popcorn is studded with sweet dried cranberries, salty pretzels, sea salt flakes, and a surprising hint of orange zest! It's the perfect last-minute gluten-free holiday treat.
Ingredients
1 batch of air popped popcorn
2 cups broken gluten-free pretzels
1 1/2 cups dried cranberries
16 ounces white chocolate chips or melts
1 orange
1/2 teaspoon sea salt flakes
Instructions
Put the air-popped popcorn in the biggest bowl you can find. Add the prezels & dried cranberries.
Put the white chocolate chips or melts in a small bowl and microwave in 20-second intervals, stirring after each one, until it's completely melted. Be careful not to overcook it. White chocolate burns easily.
Be sure your orange is COMPLETELY dry if you just washed it. Zest the orange and add the zest to the melted white chocolate. If any water gets into that melted chocolate, it's all over, friend. You'll have to start over.
Stir the zest into the chocolate well and pour it over the popcorn mixture. Mix well, coating everything in the white chocolate.
Lay a very large piece of parchment on a table or countertop. Spread the popcorn out on the parchment and let it sit for 15-20 minutes until it sets and is not longer wet.
Store white chocolate popcorn in an airtight container for up to a week. Or package it up and give it to friends!
Notes
My air popper uses 1/2 cup of popcorn kernels per batch. If yours uses less or more, you may need to adjust the other ingredients accordingly.
If you don't have an air popper, you can use two bags worth of microwave popcorn. I recommend using a lightly flavored one. And omit the sea salt flakes so it isn't too salty.
If you can't find gluten-free pretzels, using some salted peanuts or broken potato chips is also good. Find ones that are a little thicker, like ones with ridges or kettle-cooked.
If you want to reduce the amount of sugar in this recipe, I've had success with Lily's white chocolate chips. Just melt them like it directs in the recipe. You can also swap out the dried cranberries for unsweetened dried cherries cut in half.
Recommended Products
As an Amazon Associate and member of other affiliate programs, I earn from qualifying purchases.
Nutrition Information
Yield

10
Serving Size

About 1 1/2 cups
Amount Per Serving
Calories

367
Total Fat

15g
Saturated Fat

9g
Trans Fat

0g
Unsaturated Fat

5g
Cholesterol

10mg
Sodium

272mg
Carbohydrates

57g
Fiber

2g
Sugar

46g
Protein

4g
The information shown is an estimate provided by an online nutrition calculator. It should not be considered a substitute for a professional nutritionist's advice.