These delicious white chocolate pretzels are sprinkled with freeze-dried strawberries for a pop of berry flavor. They make a quick, easy treat for Valentine's Day. (Or any day!)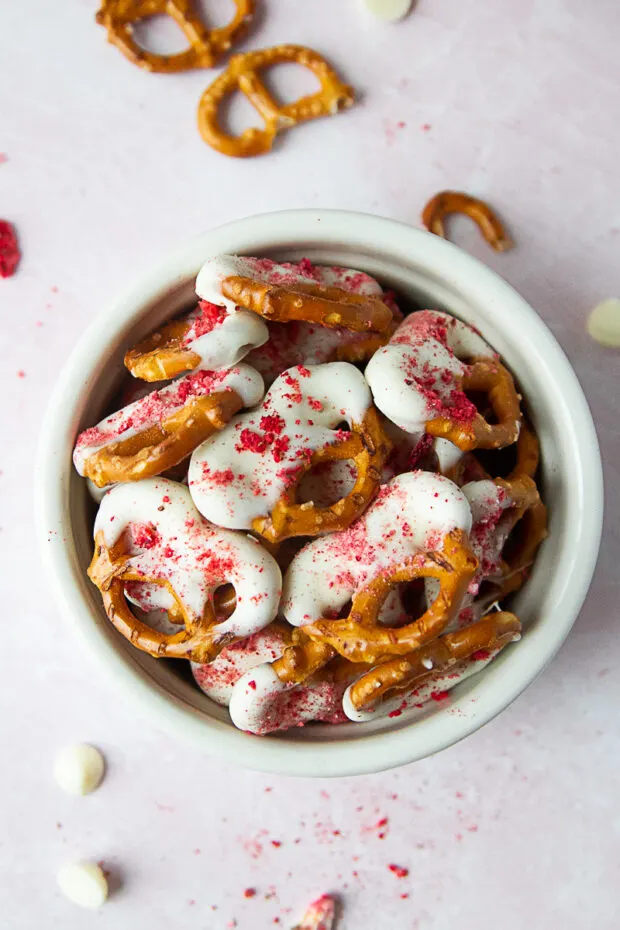 Aren't these the cutest? Making white chocolate covered pretzels is easy they are and you only need THREE INGREDIENTS. They'd be a cute addition to a Valentine's snack board, an easy treat to give out during Christmas or a rainy day project with the kids.
These particular pretzels with the freeze-dried strawberries dusted on them are the best white chocolate pretzels I've made. They're so good!
You can make them gluten-free, dairy-free, & low sugar, too. More on that later.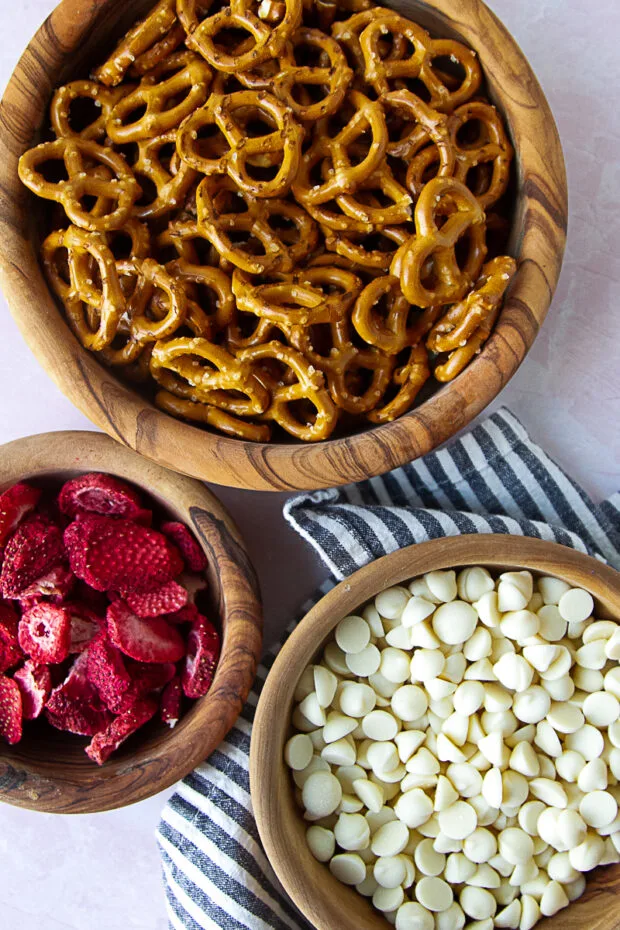 Ingredients for Strawberry White Chocolate Pretzels
Pretzels (twists, sticks or pretzel rods)
White chocolate chips or melts or almond bark
Freeze-dried strawberries
(That's it!)
Best pretzels for dipping in chocolate
It depends, really.
For this recipe, I like using mini pretzel twists because they create more surface area for the crushed strawberries.
White chocolate pretzels sticks are delicious, but it would be hard for the crushed strawberries to stick. Thick pretzel rods may work.
Side note: Gluten-free pretzels are really easy to find if you wanted to make these gluten-free!
What kind of white chocolate to use for dipping pretzels?
You have two options here:
White chocolate chips/bars — this is my preferred type of chocolate because typically chocolate chips (depending on the brand) are higher quality and taste better than candy melts or almond bark. I like to use Ghirardelli or Guittard chocolate chips. If you can find high quality chocolate in bars or large chunks, those are good to use, too. Just chop it coarsely before melting.
Candy melts/almond bark — These tend to be more forgiving and melt easier. They also come in fun colors, if that's what you're going for. Like I said above, they typically won't taste as good as high quality chips.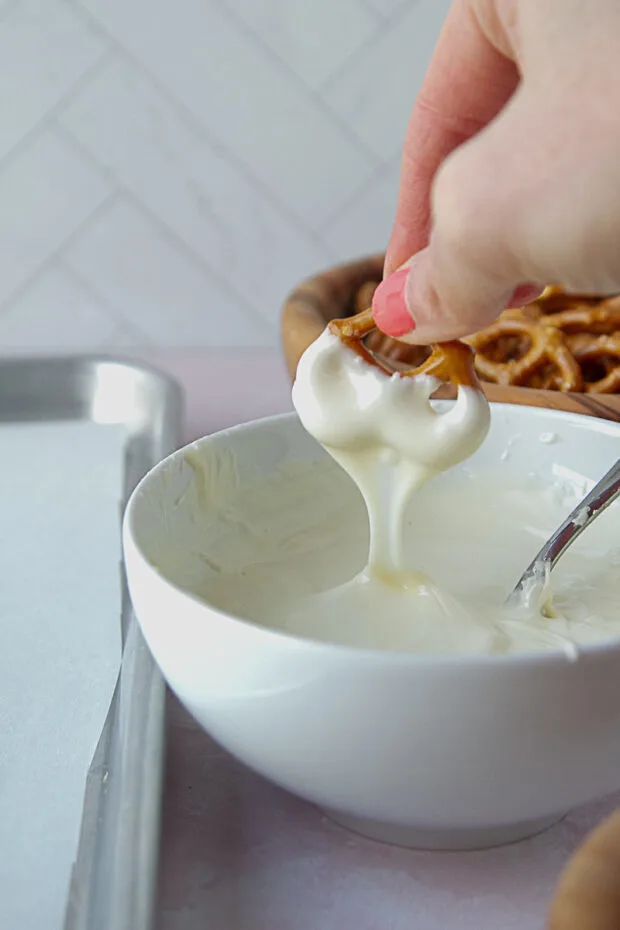 How to melt white chocolate for white pretzels
The easiest way is to put some chocolate chips or melts into a small bowl and microwave on high in 20-second increments, stirring after every one.
Don't microwave it for more than 20-30 seconds because the chocolate might scorch (especially white chocolate — it burns easily!)
How to make white chocolate covered pretzles
Line a baking sheet with parchment paper or wax paper.
Melt your chocolate in a small bowl.
Dip pretzel in chocolate, shaking off the excess chocolate, and lay it on the paper.
Sprinkle with crushed freeze dried strawberries (I just crush them in my fingers)
Let them sit until the chocolate has fully hardened. You can transfer the pan to a cool spot in your house or the refrigerator.
Tips for pretzels dipped in white chocolate
Use a small bowl, not a deep, wide bowl, for the chocolate. It'll be easier to dip the pretzels.
You can dip them halfway like I did which is faster and easier. Or you can fully cover them. I like to use a fork or a couple of chopsticks to fish them out of the melted chocolate.
You could pulverize the freeze-dried strawberries and stir some of the powder into the melted white chocolate to get more strawberry flavor. I found the chocolate to be lumpy and hard to work with, but it's an option if you wanted to give it a try.
If you don't want to use strawberries, just leave them plain. Add some festive sprinkles for white chocolate Christmas pretzels!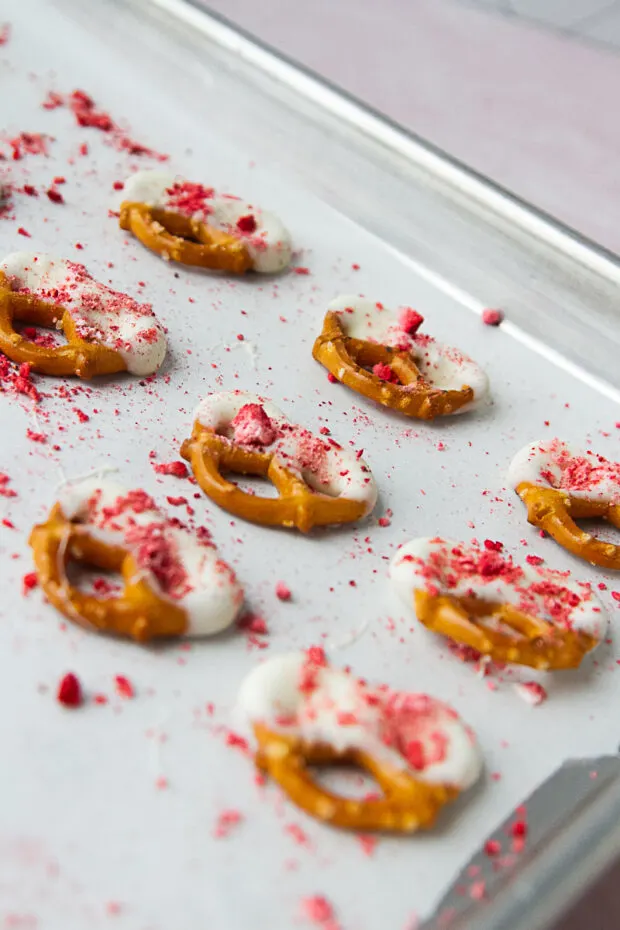 Where do you buy freeze-dried strawberries?
Trader Joe's always has them and recently these have been more easy to find in regular grocery stores. Just look over by the dried fruit.
How long does it take for chocolate to harden?
That depends on the temperature of your house. It's wintertime here and I had these sitting by the back door and they were hard in under 15 minutes.
I'd plan at least 30 just to be on the safe side, but they'll harden more quickly if you set them in a cold garage or in the refrigerator.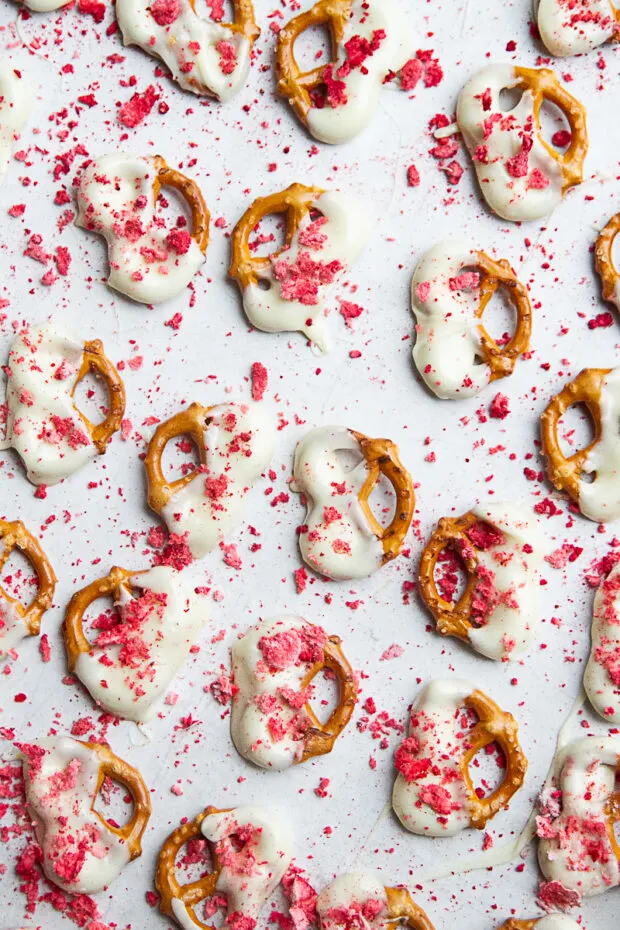 How to make pretzels with white chocolate allergy-friendly
MAKE THEM GLUTEN FREE: Use gluten free pretzels. Most chocolate is naturally gluten free, but check the labels to be sure.
MAKE THEM DAIRY FREE: Use dairy free chocolate.
MAKE THEM LOW SUGAR: Since pretzels aren't low-carb, these won't ever be low-carb or keto friendly, but you can reduce the sugar content by using low carb chocolate chips. I like Lily's for this. I've used all kinds of Lily's chocolate for melting and dipping pretzels, and it works beautifully.
How to store chocolate covered pretzels
With most chocolate covered pretzels, you can just stick them in an airtight container or a zip top bag for storage. They'll stay tasty for a couple of weeks.
I'd recommend using a container for these since the bits of strawberry would get knocked off if the pretzels were jostled around a lot in a plastic bag.
More Easy Melted Chocolate Recipes on Perry's Plate
If you liked this white chocolate dipped pretzels recipe, you might like these…
Chocolate Dipped Strawberries with Marshmallow Fluff
Cranberry Orange White Chocolate Popcorn
---
If you make one of my recipes, be sure to post it on social media and tag me at @perrysplate or #perrysplate so I can send you some love!
Strawberry White Chocolate Pretzels
These delicious white chocolate pretzels are sprinkled with freeze-dried strawberries for a pop of berry flavor. They make a quick, easy treat for Valentine's Day. (Or any day!)
Ingredients
6 ounces white chocolate chips or melts
50 small pretzel twists (gluten-free if you like!)
1/4 cup freeze-dried strawberries
Instructions
Put the white chocolate chips in a small bowl and microwave in 20 second increments, stirring after each one, until completely melted.
Line a rimmed baking sheet with parchment paper.
Dip each pretzel halfway into the melted chocolate and lay it on the parchment paper. Crush some freeze-dried strawberry and sprinkle some on each wet pretzel. I like to dip 4-5 and then sprinkle them before dipping more so they're still wet enough for the strawberry pieces to stick.
Let the chocolate set until fully hardened, about 20-30 minutes depending on the temperature of your home.
Store in an airtight container for up to a week.
Notes
If you're wanting to lower the sugar content here, use low-carb white chocolate. I've used Lily's white chocolate chips successfully in this recipe.
Recommended Products
As an Amazon Associate and member of other affiliate programs, I earn from qualifying purchases.
Nutrition Information
Yield

5
Serving Size

10 pretzels
Amount Per Serving
Calories

1275
Total Fat

19g
Saturated Fat

8g
Trans Fat

0g
Unsaturated Fat

9g
Cholesterol

7mg
Sodium

3546mg
Carbohydrates

249g
Fiber

10g
Sugar

27g
Protein

31g
The information shown is an estimate provided by an online nutrition calculator. It should not be considered a substitute for a professional nutritionist's advice.