Mashed Root Vegetables with Bacon Vinaigrette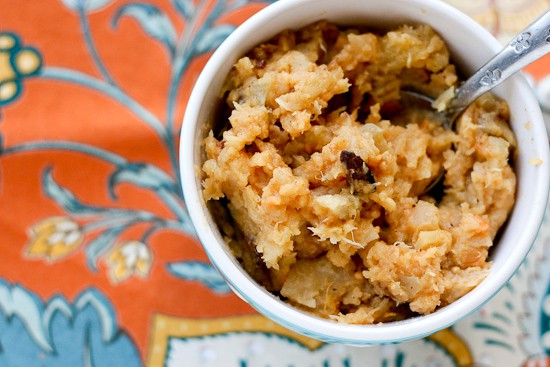 The big day is almost here! What are your plans? Traveling? Hosting?
Traveling so you don't have to host?
We're heading up to Idaho, and I'm totally excited. Not for the 10-hour drive with a 5-month-old who isn't fond of her car seat, but to be with my family, who I don't get to see often.
And for my mom's pretzel jello. (You are making it, right mom?)
And for my grandma Inez's pineapple pie and cornbread dressing.
And for a few rounds of Killer Bunnies.
And to have a dozen other adults around to hold Mimi. (Ahhhhhhh…)
And to try out some new Thanksgiving sides!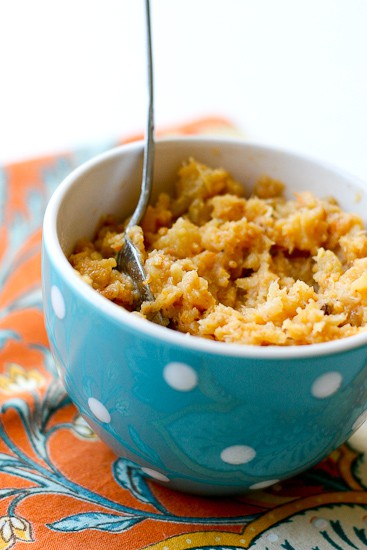 This root vegetable mash is a great alternative (or addition to) mashed potatoes. I used a combination of parsnips, kohlrabi (a first for us!), and sweet potatoes.
Honestly, with the bacon vinaigrette, you could get away with mashing up all kinds of root vegetables you've never tried before. And you'll probably love it.
Next time I'll leave out the sweet potatoes to tone down the sweetness, but other than that it was perfect…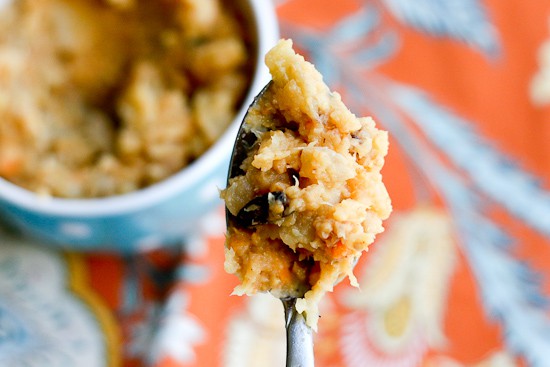 so perfect that it made me giggle.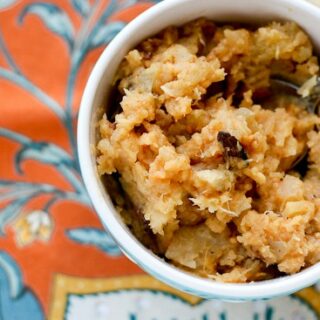 Mashed Root Vegetables with Bacon Vinaigrette
Yield: 8-10 servings
Additional Time: 1 hour
Total Time: 1 hour
Ingredients
1/2 cup apple cider vinegar
2 tablespoons yellow mustard seeds
4-5 pounds mixed root vegetables (such as parsnips, kohlrabi, celery root, turnips, and rutabagas), peeled, cut into 1-inch cubes
1/2 pound thick-cut bacon, diced
1 large white onion, diced
1 teaspoon honey
Kosher salt and freshly ground black pepper
2 tablespoons chopped flat-leaf parsley
Instructions
Bring vinegar, mustard seeds, and 1/4 cup water to a simmer in a small pot; cook until seeds are plump, 20-25 minutes. Drain; set aside seeds and cooking liquid separately.
Place a steamer basket inside a large pot. Add water to a depth of 1-inch, and bring to a boil. Add root vegetables to steamer basket. Cover and cook, adding water by 1/2-cupfuls if needed to maintain level of water in pot, until vegetables are very tender but not mushy, about 45 minutes.
Meanwhile, place bacon in a large skillet; set over medium-low heat and cook until bacon softens and fat begins to render, about 4 minutes.
Add onion; increase heat to medium-high and cook, stirring occasionally, until both are browned and the bacon is crisp, about 10 minutes.
Add reserved mustard seeds to bacon mixture and cook until seeds begin to pop, about 1 minute. Turn off heat and stir in brown sugar and reserved mustard seed cooking liquid.
Season vinaigrette to taste with salt and pepper. Drain vegetables and return to pot. Using a fork or potato masher, coarsely mash. Stir in vinaigrette; season to taste with salt and pepper.
Transfer to a serving dish and sprinkle with parsley to serve..
TIP: Vegetable mash can be made 1 day ahead. Transfer the mash to a 9x13 pan and cove with foil. Chill. Rewarm vegetable mash, covered, in a 350° oven until just warmed through, 45-55 minutes. Alternatively, place in a microwave-safe bowl and microwave until warmed through (time will vary). Stir parsley into mash. Transfer to a bowl; serve warm or at room temperature.
Notes
Nat's Note: I used two large parsnips, one kohlrabi, and one small sweet potato. Next time I'll leave the sweet potato out to reduce sweetness.