This breakfast crumble doubles as dessert and breakfast! I love it when they overlap.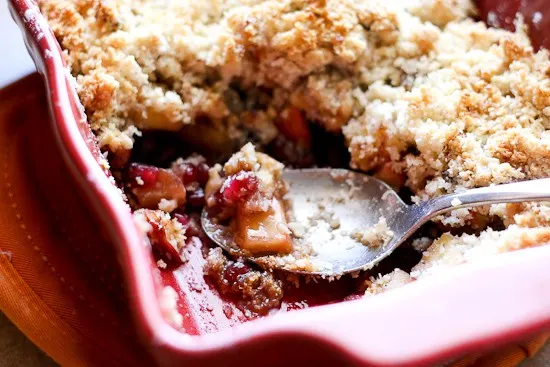 I like it when breakfast and dessert overlap. Particularly in the form of a breakfast crumble.
Crumble + coconut cream/yogurt = breakfast
Crumble + ice cream = dessert
That's the kind of math my brain can handle, which makes me glad I'm married to a human calculator. He's nice to have around when I shop. And he's just nice to have around period.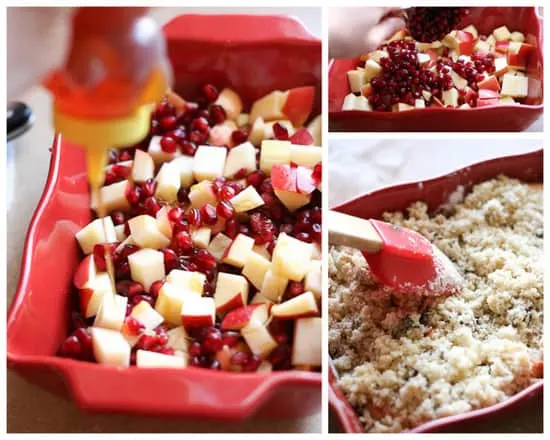 We've been eating a lot of pomegranates this season. My kids will sit and spoon the arils into their mouths until a giant bowl (that took me 15 minutes to fill) is empty and there are purple spots on the kitchen tile (that took me 15 minutes to mop). We need to work on pacing ourselves, I think.
Do you have a favorite way to open them? Here's how we cut and de-seed our pomegranates. I'm too chicken to cut them in half and whack them with a spoon. (See comment above about mopping.)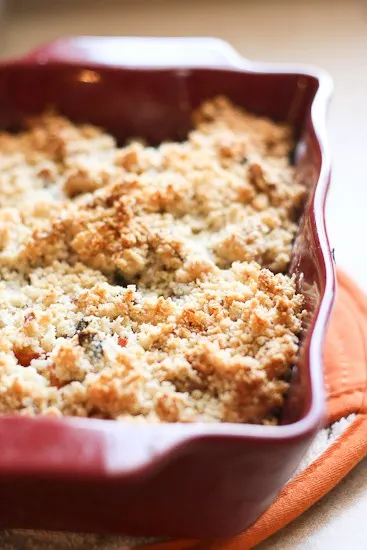 Pomegranate arils remind me of cranberries in flavor, so I figured they'd be good in something like this. I've never baked with them before and was surprised to see that they held their shape, letting out just enough juice to tint the saucy part of the crumble ever so slightly.
Remember the Spiced Pear Breakfast Crumble that I posted last year? This is similar, but uses almond meal and coconut to make it completely grain-free!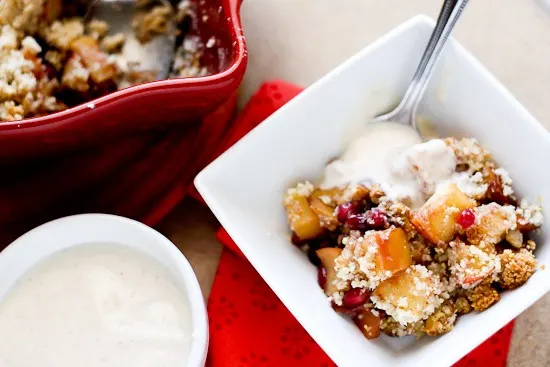 I added the instructions for the Cinnamon-Vanilla Cream that we ate with this to the recipe. It's also great as a fruit dip!
If you're looking for another dessert-for-breakfast option, this Gluten-Free Peach Cobbler from Allergylicious would be amazing for those peach lovers in your life. Just hold back on the sugar a smidge and BOOM, breakfast.
---
If you make one of my recipes, be sure to post it on social media and tag me at @perrysplate or #perrysplate so I can send you some love!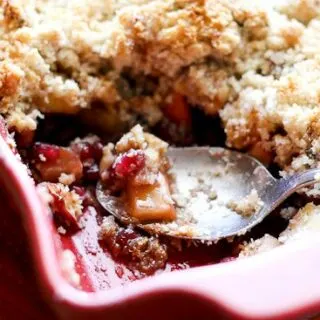 Grain-Free Apple-Pomegranate Breakfast Crumble
This little breakfast crumble is perfect for a weekend brunch -- and it's gluten and grain-free! I love the little pomegranate jewels scattered among the tart apple pieces.
Ingredients
For the filling
2 large tart apples (or 3-4 small/medium ones)
1 cup pomegranate arils
2 Tablespoons honey
2 Tablespoons freshly squeezed lemon juice (1/2 a lemon will do)
1 Tablespoon arrowroot powder (see note)
1 teaspoon cinnamon
For the topping
1 cup almond flour
1/2 cup shredded unsweetened coconut
1/2 cup chopped nuts (any kind)
1/4 teaspoon ground ginger
1/4 teaspoon ground nutmeg
Stevia, or another dry sweetener, to taste. (Equivalent to about a Tablespoon of sugar in sweetness.)
1/4 cup melted coconut oil, divided
Instructions
Preheat oven to 375 degrees F.
Place apples and pomegranate arils in a 2 quart baking dish. Drizzle with honey and lemon juice. Sprinkle the arrowroot powder and cinnamon, and give it a stir. Pour 1 Tablespoon of the coconut oil evenly over the top.
In a small bowl, whisk together the almond flour, coconut, chopped nuts, ginger, nutmeg, and Stevia. Stir in the remaining 3 Tablespoons of coconut oil and mix well. You should have a thick, crumbly mixture. Spread it evenly over the fruit.
Cover with foil and bake for 25 minutes. Uncover and bake for an additional 10 minutes or until the top is golden brown and the apples are tender.
Optional topping: Cinnamon-Vanilla Cream - Just mix together 1 cup of whipped full-fat coconut cream or whole-milk yogurt with 1-2 Tablespoons of real maple syrup, 1/4 teaspoon cinnamon, and 1/4 teaspoon vanilla extract. This is great as a fruit dip as well.
Notes
Nat's Note: 1. Arrowroot powder is a grain-free substitute for flour or cornstarch and works like a thickener. If you don't have or can't find it, either leave it out or substitute an equal amount of cornstarch or double the amount of all-purpose flour.
SaveSave
This post may contain affiliate links. Any purchases made by using these links won't cost you any extra and helps keep my content free. These links may be Amazon links as I am part of the Amazon Associate Program.