I think breakfast crumble should be a thing — especially if it's filled with spiced pears and a crumbly, nutty topping!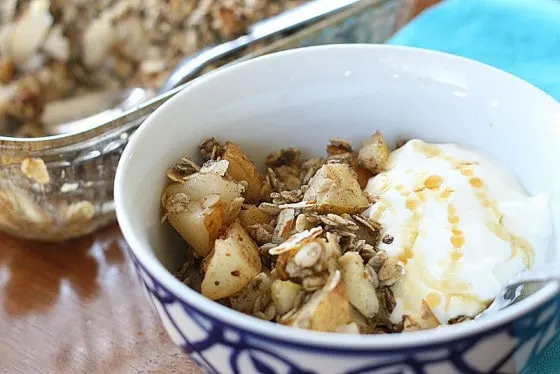 I always wondered why some desserts are able to be passed off as breakfast and some aren't. Why are cinnamon rolls and doughnuts "OK" in the morning, but a piece of pound cake isn't? Seems a little unfair.
Just a thought.
We try to make breakfast pretty healthy during the week and save splurges (i.e. whole-grain pancakes, waffles…) for the weekends. And if there are leftover baked goods sitting on my counter, I really have no chance of starting the day off well. (Which is why I don't bake often.)
When I got a huge box of pears a couple of weeks ago, I wanted to make some kind of pear crumble that would be alright to eat for breakfast. On a Tuesday.
Low in sugar and accented with whole grains, this pear crumble makes me feel like I'm eating dessert for breakfast. It could probably even double as a dessert later that evening. The pears were so sweet on their own, which allowed me to cut way back on the sugar. I loved the nutty addition of buckwheat flour in the oat mixture, but you could substitute whole wheat, almond, or coconut flour if you like.
And no, that's not ice cream in the bowl, but Greek yogurt with a tiny drizzle of maple syrup. I made this two days in a row, which tells you how much we liked it!
If you make one of my recipes, be sure to post it on social media and tag me at @perrysplate or #perrysplate so I can send you some love!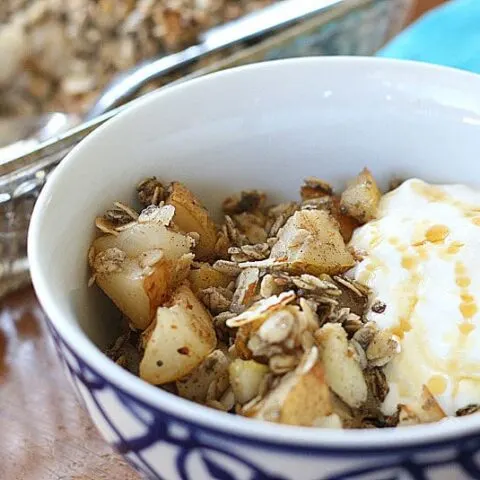 Spiced Pear Breakfast Crumble
If you have a plethora of pairs, this is a great way to use them up in a delicious, sweet breakfast!
Ingredients
For filling:
4-5 pears, cored and chopped (peeling optional)
1 Tablespoon lemon juice
1 Tablespoon maple syrup
1 teaspoon ground ginger
1/8 teaspoon ground cardamom (or 1/4 tsp cinnamon)
For topping:
4 Tablespoon melted butter
1 cup gluten-free old-fashioned rolled oats (quick oats would also work)
1/4 cup sliced almonds
2 Tablespoons buckwheat flour (wheat, almond or coconut flour would work, too)
1 Tablespoon milled flax (optional)
1 Tablespoon raw sugar
Instructions
Preheat oven to 350 degrees F.
Place the chopped pears in a 9x13 inch baking dish. Sprinkle/drizzle remaining filling ingredients over the top and mix well. Use your hands -- it's fun.
Combine the topping ingredients in a small bowl and mix well. Sprinkle evenly over the pears.
Bake for 25-30 minutes or until the juices that have collected at the bottom of the pan are bubbly.
Serve with Greek yogurt and a drizzle of honey or maple syrup.
Notes
Nat's Note: You could also make this with chopped apples, peaches, or berries. Just adjust the spices to suit your taste.
SaveSave
This post may contain affiliate links. Any purchases made by using these links won't cost you any extra and helps keep my content free. These links may be Amazon links as I am part of the Amazon Associate Program.
SaveSave