I imagine most of us let our hair down last night and ate ourselves silly. We did. I saw red and white heart-shaped cheese ravioli at Costco last week, and it practically jumped into my cart.
And then a couple of steaks flew out of the freezer, jumped in and out of a frying pan, and landed next to the ravioli. They rolled around in some homemade Alfredo sauce having the time of their lives. I think there was salad, too, but I'm not sure.
Then we shared the giant heart-shaped cookie the girls made for Steve with more sprinkles and colored sugar than any human should consume, so ya. . . it was a pretty tasty night.
And last night I felt (and looked) like I was 6 months pregnant. Hello, pasta baby!
I really want to get back to normal meals. (Holidays are nice reminders why we don't eat like that all the time.) I'd like to throw this quinoa over a tex-mex salad to begin with.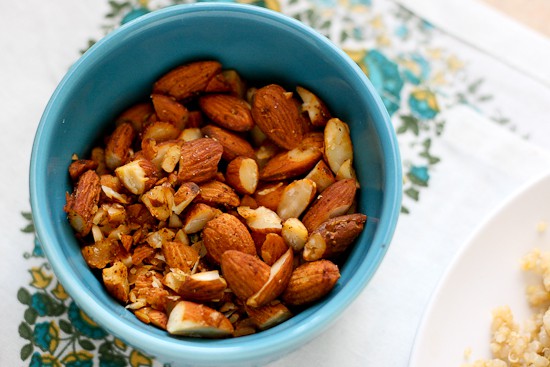 This crunchy, flavorful quinoa is my altered version of cilantro-lime rice that's popular at a little place called Cafe Rio. I'm sure fresh-mex restaurants have this type of rice as well.
I really like using quinoa in place of rice because it's less starchy, and it's a complete protein. (True!) I added some chile-lime spiced almonds and loved the crunchy bits throughout.
My oldest child didn't feel the same way and proceeded to pick them all out. (Yet, she'll eat them by themselves. I'll never completely understand the strange and ever-changing 5-year-old palate.) I simply picked up her discarded almonds and threw them on my place. More for me.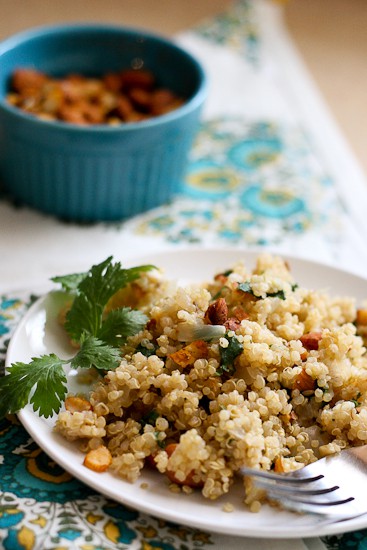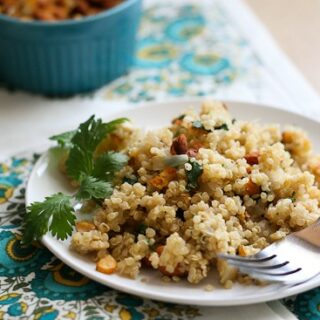 Cilantro-Lime Quinoa with Spicy Almonds
This spiced quinoa is a perfect side dish for southwest or Mexican-inspired meals! I love the spicy almonds -- they add such a fun crunch!
Ingredients
For the quinoa
2 Tablespoons coconut oil or butter
1/2 cup chopped onion
3 cloves garlic, peeled and minced
1 teaspoon cumin seed (or 3/4 teaspoon ground cumin)
3/4 teaspoon salt
1 lime, zested and juiced
1 cup uncooked quinoa, rinsed
1 cup loosely packed fresh cilantro (one small bunch or half of a large bunch)
For the almonds
1 cup raw, unsalted almonds
1/2 teaspoon chili powder
1/4 teaspoon ground cumin
1-2 teaspoons hot sauce (or to taste)
Instructions
Bring oil to medium-high heat in a deep saute pan or a wide pot. Add onion; cook, stirring frequently for 5 minutes, until the onion is soft and translucent. Add garlic, cumin seed, salt, lime juice and zest, and quinoa. Cook for a minute or so until garlic and cumin is fragrant. Add 1 3/4 cups of water. Bring to a boil (if it isn't already), then turn the heat to medium-low and let it simmer gently for 12-15 minutes or until all of the liquid has been absorbed. Remove from heat and let it sit, covered, for 5 minutes or so.
While the quinoa is cooking, prepare the almonds. Put the almonds in a small frying pan with the chili powder, cumin, hot sauce, and a couple pinches of salt. Cook over medium heat, stirring frequently (to prevent burning) for about 5 minutes. The almonds should be hot and coated in spices. Remove from heat and let them cool off some. Chop roughly and toss the almonds and the cilantro with the quinoa before serving.