Roasting intensifies the strawberry flavor in this Ginger and Roasted Strawberry Ice Cream!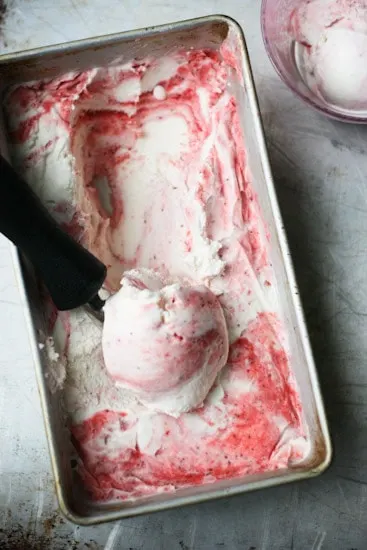 If I wrote a book it would be called, Food Blogging for Busy and/or Lazy Moms.
I'm both of those moms so I can totally relate.
Take food photography, for example. There have been pretty obvious trends in food photography on blogs, some of which I've adopted, some I haven't. Things like creating faux table tops swept a lot of food blogs and I'm all,
"Seriously? I don't have time for that. It would totally cut into my Pinterest time. And who would believe that I have 2-3 different rustic farm tables anyway? Oh, and where would I store them? And deciding on a color to paint them might take me longer than actually painting. Again, more time I could have spent pinning."
Lately it's been about the marble slab background. Simple to acquire, but again…. where would I store the thing? And if everyone buys the same kind of marble, wouldn't all of our photos look the same?
And isn't marble super heavy? (I'm a wuss.)
Another trend I've seen lately is using gnarly old pans and baking sheets. THOSE I have. AND they already have a place in my kitchen. Done and done.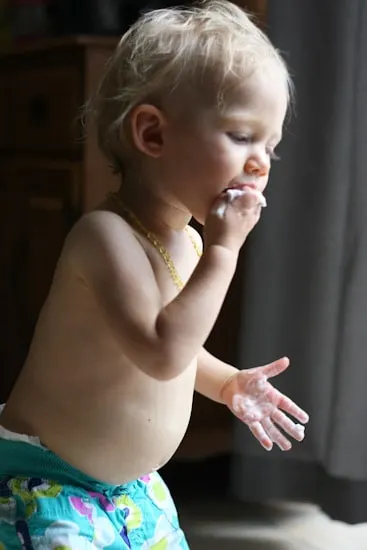 I'd like to start my own trend. It's called, "Curious baby destroys food styling."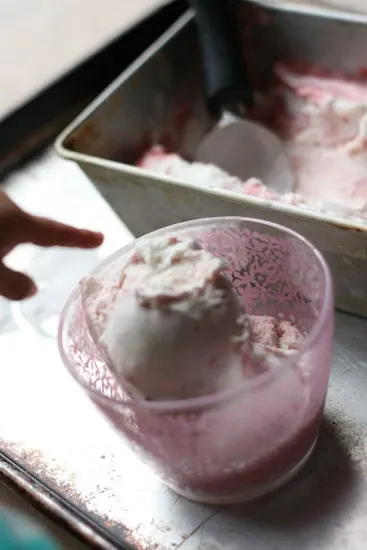 I think it could catch on. Not all food bloggers have babies, but I'm sure they could find one. Or someone could start a rental service for food bloggers.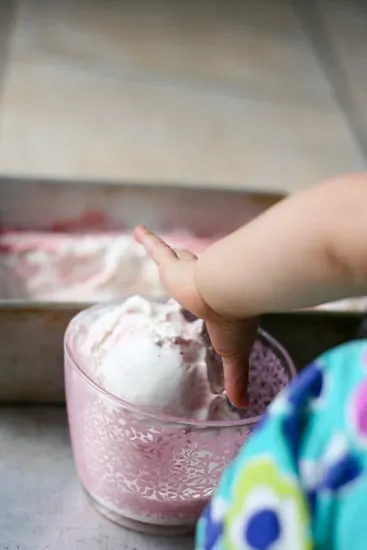 I'd totally let another food blogger have my toddler for an hour.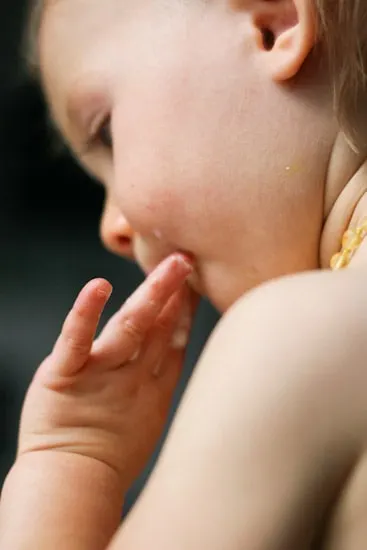 I'll even cut my rate in half if you bring her back bathed and freshly napped.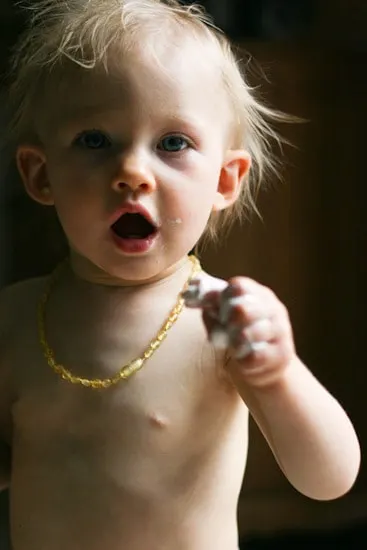 If she's potty trained when I get her back, I'll waive the fee completely. And I'll make you a cake on your birthday.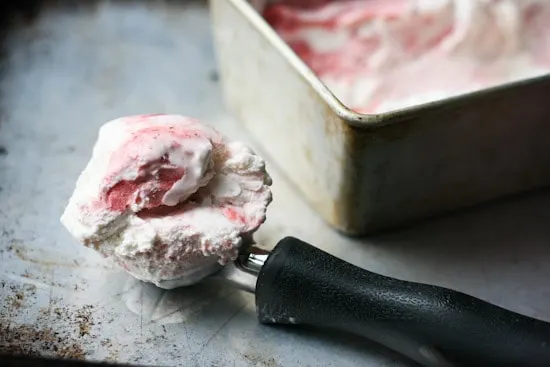 Speaking of birthdays… my birthday was last week. So was Steve's birthday. Usually I make a cake for us, but this year I didn't. A couple of weeks ago I made a ridiculously good frozen dessert, and figured we didn't need a cake so soon.
(I'd like to still fit in my jeans when it gets cold, thanks.)
I also realized that, having birthdays in the summer, we'd rather have really good ice cream.
Like this completely un-paleo ice cream. (I did use honey to sweeten the whole thing, so counts for something, right?)
Have you ever roasted strawberries? It gives them a deep, rich flavor, which I love. I used pureed roasted strawberries as the swirl in some ginger ice cream.
Um, wow. Sweet and creamy and gingery-spicy.
---
If you make one of my recipes, be sure to post it on social media and tag me at @perrysplate or #perrysplate so I can send you some love!
Ginger and Roasted Strawberry Swirled Ice Cream
Yield:
About 1 1/2 quarts
Have you ever roasted strawberries? It makes such a lovely swirl for this sweet and gingery ice cream that is naturally sweetened and can easily be made dairy free!
Ingredients
2 cups heavy cream
1 cup whole milk (I used coconut)
1/2 cup raw honey
pinch of salt
3-inch piece of fresh ginger, cut into thin rounds
1 teaspoon ground ginger
2 cups fresh strawberries, hulled and halved
1 T fresh lemon juice
2 T raw honey
Instructions
Combine the cream, milk, honey, salt, and fresh ginger in a medium saucepan over medium heat. Stir until the mixture is very warm and the honey is dissolved. (Don't boil it.)
Remove from heat, cover, and let it steep for an hour or so.
Taste the mixture and add 1/2 of the ground ginger. The ice cream base should have a very strong ginger flavor (it mellows out some once it's frozen). Add the remaining 1/2 teaspoon if necessary. Chill for several hours in the fridge.
Meanwhile, preheat your oven to 425 degrees F. Toss your strawberries on a baking sheet with the lemon juice. Roast for 25-30 minutes until the strawberries are very soft and have given off a lot of juice.
Blend strawberries in your food processor or blender. Taste and add honey, if necessary. Store chilled until ready to use. Remove and discard the fresh ginger slices from the ice cream mixture, then freeze it in your ice cream maker according to the manufacturer's directions.
When you're ready to take the ice cream out of the ice cream machine, drizzle in the strawberry mixture just enough to spread it around a bit and see a visible swirl. Transfer the ice cream to a shallow baking dish, cover, and freeze until solid. Or you could take a spoon to it right then. I wouldn't judge.
SaveSaveSaveSave
This post may contain affiliate links. Any purchases made by using these links won't cost you any extra and helps keep my content free. These links may be Amazon links as I am part of the Amazon Associate Program.