Paleo Dreamsicle Pancakes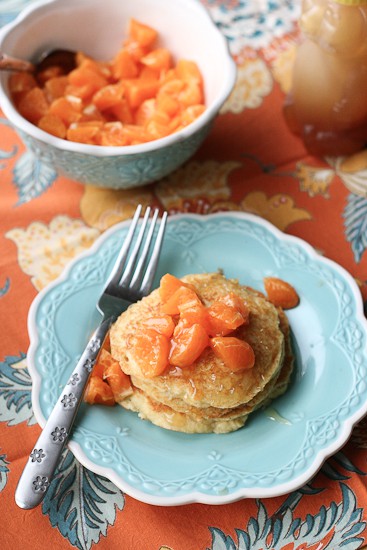 We eat a lot of pancakes around here. I'm always dying to play around with flavor combinations and make them more exciting, but my kids don't dig that. They like plain old pancakes with a little jam or fruit on top. Sometimes I beg them to let me put cinnamon in the batter, and sometimes they'll agree to it.
They're purists. What can I say?
Well, the other night I just did my own thing and told them I was going to "surprise" them with new pancakes. They looked at me suspiciously and went back to what they were doing.
Phew. Crisis averted. I just hoped they would turn out well because I don't make dinner twice.
Ya. We eat pancakes for dinner occasionally. I love brinner.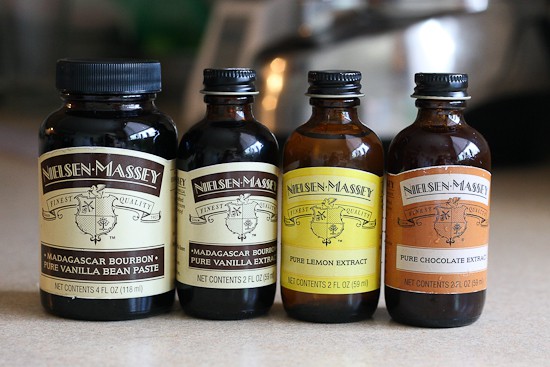 You know what else I love? When someone offers to send me something that I already use and love. Nielsen-Massey sent me this fun little kit of extracts and vanilla bean paste. I was already a huge fan of the vanilla bean paste, so I happily obliged.
I may have also done a happy dance.
That same week I noticed Meyer lemons were still at Costco, and I hadn't had my fix this season. Have you ever had Meyer lemons? They're a cross between a lemon and a mandarin so they're really tart, but have a warm, orange-y sweetness to them. They're heavenly.
I remembered some Blackberry Lemonade Ice Cream I made a while back with Meyer lemons that ended up tasting more like a dreamsicle than lemonade and suddenly I was craving something "dreamsicle" flavored.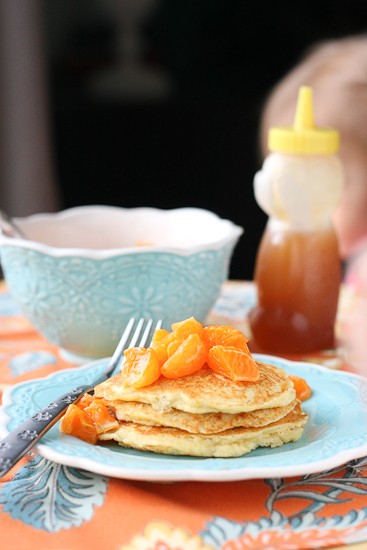 I experimented a bit and ended up loving these. Since they were for dinner (and we rarely have pancakes leftover), I needed to take a photo, stat.
Thing is… my little blond shadow saw me setting up and made a beeline for the table.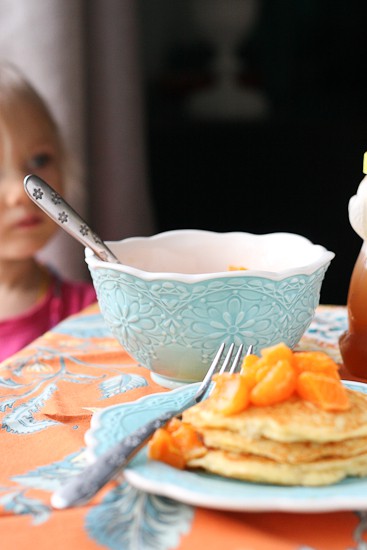 I frantically started snapping photos knowing it was only a matter of seconds before a couple of little fingers would tear chunks out of those pancakes.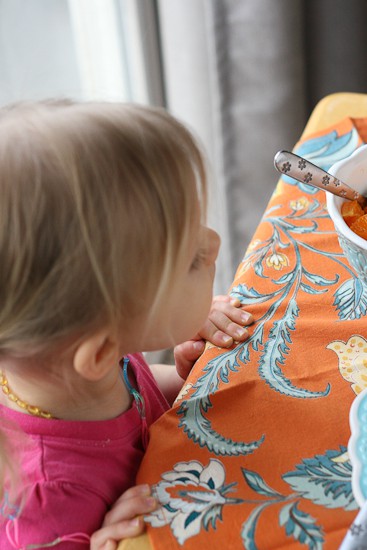 I told her not to touch it and know what? She had a surprising amount of restraint.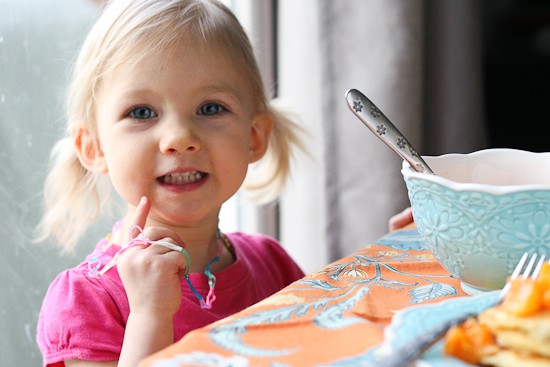 Yes, dear. Pancakes. I'm just as thrilled as you are.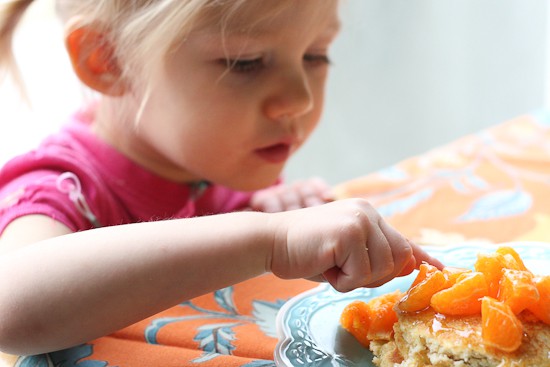 And then it was over.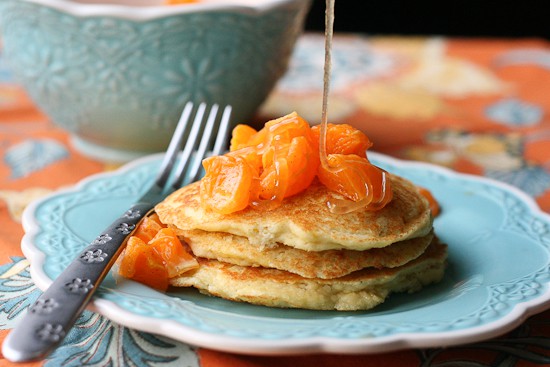 These were a huge hit with my picky little pancake eaters. I thought the clementine compote MADE these, but my kids didn't like it. They happily gobbled them up with a little honey on top.
*sigh*
If you've got pears in your fruit bowl, too, try these Gluten Free Buckwheat Pear Pancakes from Fearless Dining!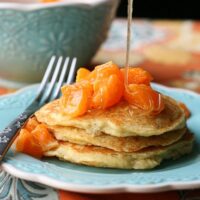 Paleo Dreamsicle Pancakes with Clementine-Vanilla Bean Compote
Yield: Makes about 20-22 pancakes

Prep Time: 20 minutes

Cook Time: 20 minutes

Total Time: 40 minutes

These paleo dreamsicle pancakes are laced with the sweet lemony-orange flavor of Meyer lemons and vanilla beans. It's like having a dreamsicle for breakfast!
Ingredients
For the pancakes
2 cups blanched almond flour
1/2 cup coconut flour
1 teaspoon baking soda
1/2 teaspoon Kosher salt
3 Meyer lemons, zested and juiced
4 eggs
1 cup full-fat coconut milk or plan full-fat yogurt
1 cup unsweetened applesauce
1 Tablespoon vanilla bean paste or vanilla extract
Vanilla stevia, to taste (I used 2/3 a dropper.)
coconut oil, for frying pancakes
For the compote
6 clementines, peeled and diced
1 teaspoon vanilla bean paste or vanilla stevia
Raw honey, for serving
Instructions
Combine almond flour, coconut flour, baking soda, salt, and the zest from all three lemons in a large bowl. Whisk to combine.
In a medium-sized bowl, whisk together the eggs, yogurt, applesauce, juice from TWO of the lemons, and 1 Tablespoon of the vanilla bean paste.
Pour the wet ingredients into the dry mixture and stir to combine.
Heat a skillet over medium-low heat and brush some coconut oil on the surface. I use a 1/4 cup measuring cup to grab a dollops of pancake batter, place them on the pan, and spread them out a bit. The batter will be thicker than traditional pancake batter, so they need a little help spreading. For best results, cover the pan to allow pancakes to steam while they cook.
Cook until the edges look dry and the pancakes are golden brown. Flip and cook on the other side. Keep warm while you continue to cook in batches.
To make the compote, combine the clementine pieces, 1 teaspoon of vanilla bean paste, and the juice from the remaining lemon in a small bowl.
Serve the compote over the pancakes and drizzle with honey.
Notes
Nat's Notes:
If you don't have vanilla bean paste, you can use 1 teaspoon of vanilla extract in the batter and 1/4 teaspoon in the compote.
If you can't find Meyer lemons, substitute one lemon and two clementines (juice and zest).
Disclaimer: I received the Nielsen-Massey products for free, but I did not receive any monetary compensation for this post. As usual, all opinions are 100% my own. This post also contains an Amazon affiliate link.
SaveSave
SaveSave