(Almost) Blackberry Lemonade Ice Cream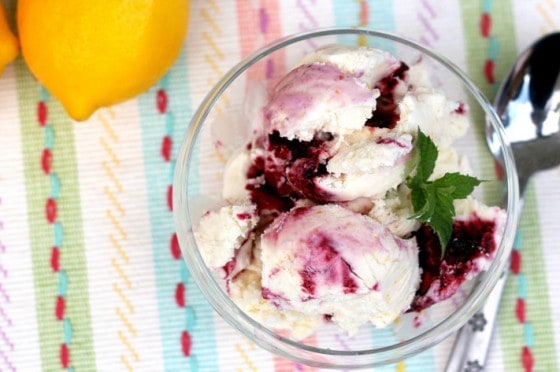 Thank you, thank you for all of your kind words about my last post. I was a silly, forgetful girl who failed to mention why I was able to fly down to Texas in the first place. If it wasn't for all of your lovely clicks, comments, referrals, and the step-by-steps I get to do for the Tasty Kitchen Blog, I wouldn't have had the extra money to buy a plane ticket with two day's notice. So thank you, from the absolute bottom of my heart. I'm so glad I was able to spend that precious time with my family!
Forward we go…
I really like Costco. My girls especially love the "snack ladies" and can spy their white hair nets from 30 yards away. My favorite was an elderly woman who had Ruffles potato chips on demo.
Yes, Ruffles. Not even a special dip to go with it. JUST the chips. I think pretty much everybody in the country has tasted a Ruffles potato chip at least once in their life. While I was snickering to myself at how ridiculous the demo was she asked me if I wanted to try one.
"Sure!" I said. Then I added, kind of sarcastically, "I've never had these before."
The woman looked up, thought I was being serious, and said, "You haven't? Oh, they're fantastic! They're great with sandwiches, and burgers, and dips…" On and on she gushed about the "glorious" Ruffles potato chips.
It took all I had not to burst out laughing. Bless her heart.
Last week I noticed Costco had Meyer lemons. Meyer lemons, guys. If you're not familiar with Meyer lemons, they're a hybrid between a lemon and a mandarin orange – the tartness of a lemon calmed and sweetened with a bit of sweet orange flavor. They're heavenly. These particular lemons were grown in New Zealand, but I suppressed my slightly hippie tendencies and all of the concerns about excessive transportation costs and grabbed a container.
It might be my only chance to get some around here. That or bringing some back from California.
My original plans for this recipe was to have a lemon-flavored ice cream and a blackberry ripple running through it — Blackberry Lemonade Ice Cream!
But.
I was surprised at just how sweet and orange-y these lemons were. When I tried the ice cream fresh out of the freezer it actually tasted like an orange dreamsicle — another one of my favorite things. The recipe still turned out fantastic, but didn't taste like blackberry lemonade. I think using regular lemons would do the trick, though.
But for now, I'm happy with my Orange Dreamsicle Ice Cream with Blackberry Ripple. And you get two variations in one recipe!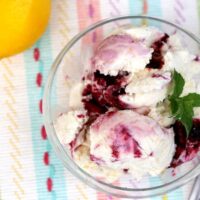 Blackberry Lemonade Ice Cream
Ingredients
3 whole lemons, preferably unsprayed (zest only) 1 cup sugar, divided 2 1/2 cups heavy cream 1 1/2 cups whole milk pinch of salt 1/2 tsp vanilla extract 1 18-ounce carton of blackberries 1 tsp cornstarch (optional)
Instructions
Combine 3/4 cup of sugar into the bowl of a food processor. Zest all three lemons directly into the bowl. Blend until the mixture well combined and looks rather sandy.
Combine 1/2 cup of cream, all of the milk, the lemon-scented sugar, and salt in a medium saucepan. Gently warm over medium heat, stirring, until all of the sugar is dissolved. Remove from heat, cover and allow the mixture to sit and infuse for an hour.
Add remaining 2 cups of cream and vanilla to the mixture and refrigerate for a few hours until completely chilled.
Meanwhile, place the blackberries and 1/4 cup sugar in a medium saucepan. Cook over medium heat, stirring frequently, until berries have cooked down, about 10-15 minutes. Strain the mixture, pressing to extract all of the liquid, and discard the seeds. Return the strained sauce to the pan. Continue to cook over medium heat until mixture has reduced about a third. At this point you can whisk in the cornstarch if you want your syrup to be extra thick. Refrigerate until ready to use. (By the way, this stuff would be fantastic over pancakes.)
Freeze ice cream mixture according to the manufacturer's instructions. As you remove it from the machine, swirl in the blackberry syrup. I layered mine and it seemed to work well.
Makes about 1 1/2 quarts.
Variation: If you use Meyer lemons or oranges it will give the ice cream an orange dreamsicle flavor.