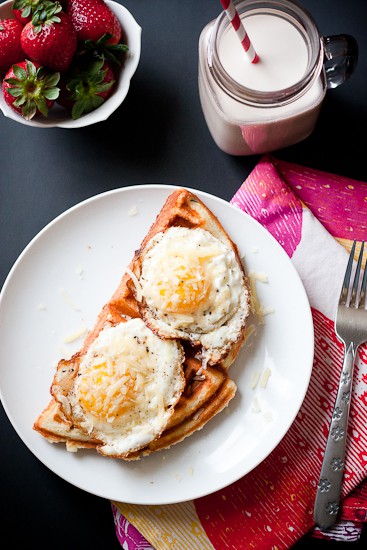 Oh, friends. I feel like this post needs a big ol' disclaimer at the beginning.
No, this isn't a paleo recipe.
Yes, there are hot dogs involved.
No, I haven't lost my mind.
Hot dogs. There are hot dogs in these waffles. I can't even type that without a shiver going down my spine.
Hot dogs are probably the trashiest food ever. Even when you put them next to a bowl of strawberries and some almond milk in a mason jar-type glass with a cute striped straw.
BUT.
Confession: I kind of like hot dogs. And I REALLY love corn dogs. (I also love stuff dusted in fluorescent orange cheese powder, but I think that's enough confessions for today.)
One day I was at Costco and…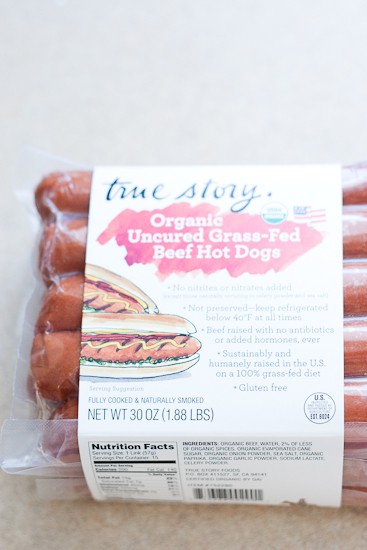 whenever I see the words "organic" and "grass-fed" on the same product, I hear angels singing. It doesn't happen very often. Yes, they're still pretty processed, but they were from a clean source and suddenly NOT the trashiest thing in the store.
(By the way, this isn't a sponsored post. True Story doesn't know me.)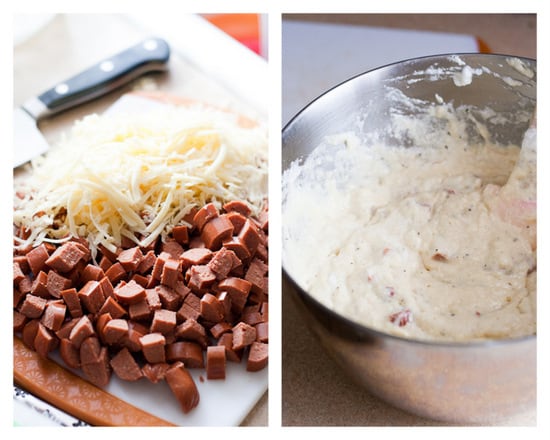 So how did they end up in my waffles?
I wanted to make a savory waffle with a fried egg on top and searched the fridge for some ham or bacon or something to put in them. My only option was hot dogs that day. And some grass-fed Kerrygold cheese.
And you know what? These are pretty freakin' amazing waffles. They reminded me of a corn dog. With a drippy fried egg on top.
(Anything with a drippy fried egg is fantastic. Even salad.)
I don't make paleo waffles because I haven't found a recipe that isn't super dense or eggy. So, I take my mama's waffle recipe and at least make them gluten-free by using Bob's Red Mill Gluten Free Flour Blend and almond milk. (Don't skip beating the egg whites. It helps the texture SO much!)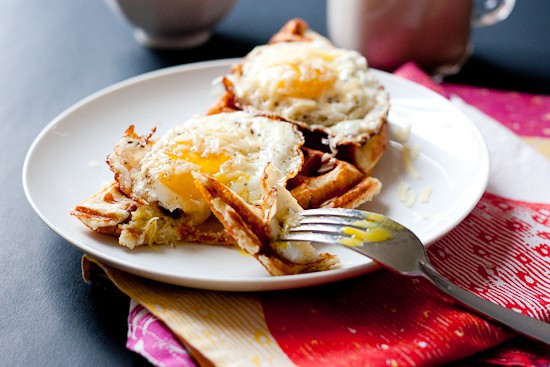 If putting hot dogs in your waffles is more than you can handle, try some bacon, chopped ham, prosciutto, sausage, or any smoked/cured meat.
I saw these Buckwheat Waffles over at Meaningful Eats, and they would be amazing with the spices and bits of meat throughout!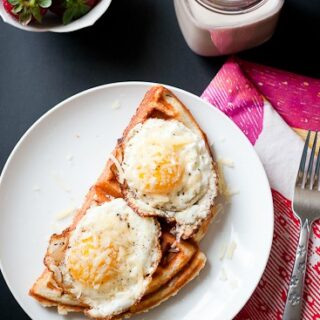 Gluten-Free Hot Dog Waffles
Yield:
5 1/2 Belgian-style waffles
Bits of grass-fed hot dogs (or even sausages!) and sharp shredded cheese make these savory waffles TO DIE FOR with a runny egg on top. I may even prefer these to sweet waffles!
Ingredients
1 cup gluten-free flour blend (I like Bob's Red Mill)
1 cup blanched almond flour
1 Tablespoon baking powder
1/2 teaspoon sea salt
1/4 teaspoon each dried basil, dried thyme, onion powder, and garlic powder
1 cup Greek yogurt
1/2 cup almond milk
4 Tablespoons melted coconut oil or ghee
2 eggs, divided
3 diced hot dogs or equivalent of ham, bacon, or sausage
1 handful of shredded grass-fed cheese (Kerrygold Dubliner is great!) + more for garnish, if desired.
Additional eggs to fry
Instructions
In a large mixing bowl whisk together the dry ingredients (flours, baking powder, salt, and herbs).
In a medium-sized bowl, whisk together yogurt, almond milk, coconut oil, and egg yolks.
In a small bowl (Yes, another bowl. Sorry! It's worth it!) whip the egg whites until soft peaks form. Stir the yogurt mixture into the dry mixture, just until combined. Fold in the egg whites, just until combined. Fold in the cheese and hot dogs.
Cook in a waffle iron according to the manufacturer's instructions. I used a Belgian waffle iron and get 5 1/2 rounds.
While the waffles are cooking, fry eggs to your liking. Top waffles with fried eggs and a sprinkle of cheese.