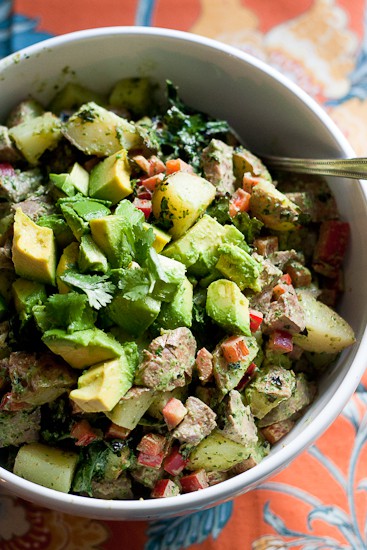 So, the most awesome thing happened.
Mimi, who turned two last month, decided to potty train herself with minimal help from mom and dad. I heard about kids like this and was POSITIVE their parents were exaggerating. I was also crazy with envy as my older girls were not easy to potty train.
But it happened. She's probably the most feisty and independent child we have so I figured potty training would either be a complete nightmare or only slightly better. Luckily she used her independence for good.
Like this morning… I was still in my pj's (in my bed) texting a friend. Mimi had gone potty by herself, dressed herself, ran into my bathroom to get some lipgloss, then stood by my bed and informed me she was ready for pancakes.
She kills me.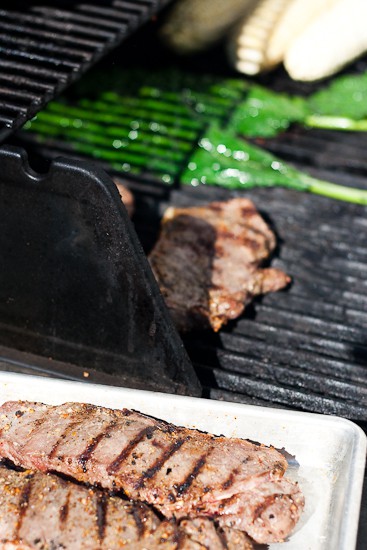 Kids are funny. Ivy, my 5-year-old, LIVES for steak. She LOVES it — especially if it's pinkish red in the middle. Judging from her petite size, you'd never guess she was a raging carnivore.
Obviously she loved this salad because she also loves potatoes. (She's a true, Idaho, meat-and-potatoes girl.)
All of us loved this salad. I was watching The Next Food Network Star and one of the contestants made a steak and potato salad with (according to the judges) a store-bought-potato-salad dressing. Ick.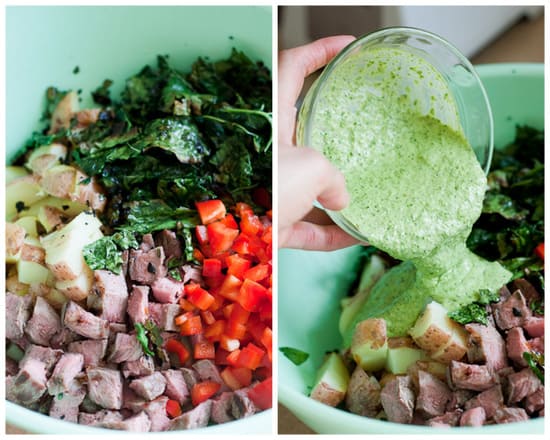 Since I try to find an excuse to put cilantro and avocados in everything we eat, I thought a chimichurri dressing would be good. I LOVE chimichurri sauce and used to have a chimichurri burger recipe on my blog. (Sadly it disappeared with a few others when I switched blogging platforms. *sniff*)
I decided to reincarnate it as a dressing for a hearty, yet summery salad. This recipe isn't a quickie.
From start to finish it took me over an hour, but you can definitely make some of the components ahead of time and throw everything together right before you eat it. I added some make-ahead tips in the recipe notes!
Also, if you're strict paleo and avoid white potatoes you could probably use sweet potatoes or roasted/steamed cauliflower in place of the potatoes!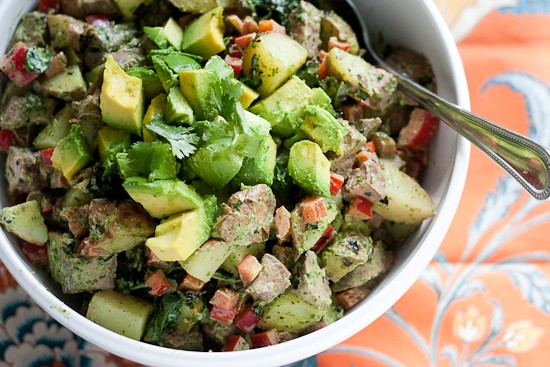 More Potato Salad Recipes on Perry's Plate
Instant Pot Potato Salad is a more traditional potato salad made in just 30 minutes using your Instant Pot! It has a lot of pickles and… ranch dressing. It's so good!
Have you ever had Hot German Potato Salad? I ate it occasionally when I lived in Austria. I love the warm potato salad dressed in a tangy vinaigrette. My version has crispy bacon and sauerkraut!
Starting with roasted potatoes is another way to make a potato salad! Roasted Potato Salad with Dill-Scallion Vinaigrette is a fresher, mayo-free take on potato salad.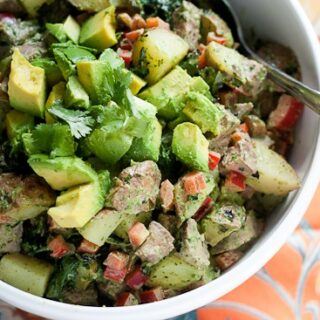 Chimichurri Steak and Potato Salad with Grilled Kale
Yield:
Serves 8-10 as a side
Additional Time:
1 hour
15 minutes
Total Time:
1 hour
15 minutes
Chimichurri Steak and Potato Salad with Grilled Kale -- A hearty potluck salad that puts regular potato salads to shame. It can stand on its own as a meal! | perrysplate.com
Ingredients
For the salad:
1 bunch dino/Tuscan kale (or another type of kale if you wish)
heat-safe oil
salt
16 medium-sized red potatoes
1 1/2 pounds of steak
1 Tablespoon salt-free seasoning blend
1 red bell pepper, diced
1 avocado, peeled, pitted and diced
For the dressing:
1 Tablespoon ground cumin
1 whole bunch of cilantro, rinsed well and longer stem pieces removed
2 Tablespoons red wine vinegar
1/2 teaspoon salt
pinch of crushed red pepper
2 Tablespoons extra-virgin olive oil
3 Tablespoons paleo-friendly mayonnaise
Instructions
Preheat oven to 425 degrees F. Rinse the kale leaves (leave the stems on) and potatoes and rub both with oil and sprinkle with salt. Set kale aside. Place potatoes on a sheet pan and cook for 30-40 minutes or until fork tender and the skins begin to crisp slightly.
Put the steaks on a plate or platter and sprinkle both sides liberally with salt. Let them rest at room temperature for 15 minutes per 1/4-inch thickness of the steak. So if they're an inch thick, let them rest for about an hour. If you're uncomfortable leaving them at room temperature for that long, refrigerate them, but let them sit at room temperature for at least 15-20 minutes before grilling.
Make the dressing by combining the cuming, cilantro (leave out a few leaves for garnish if you like), vinegar, salt, and red pepper in a food processor or blender. Scrape down the sides and while the machine is running, pour in the olive oil. Transfer the chimichurri to a bowl and stir in the mayonnaise. Chill until ready to use.
Preheat your grill to medium-high heat. When the steaks have finished resting, pat them dry and sprinkle them with the salt-free seasoning blend. Grill steaks for a few minutes on each side until grill marks form and they are cooked the way you like them. Toward the end of cooking, reduce the heat to medium and put the kale leaves on the grill. Grill them for 1-2 minutes on each side until the edges begin to char, flipping once. Let the steaks rest for 10-15 minutes before cutting.
Once the potatoes, steak, and kale are finished cooking, chop the potatoes and steak into bite-sized pieces. Strip the stems off the kale and crumble or chop up the leaves. Combine the meat and vegetables (except the avocado) in an extra large serving bowl. Pour dressing over the top and stir gently to combine. Top with diced avocado.
Notes
Nat's Notes:

1. The dressing, potatoes, steak, kale, and bell pepper can all be cooked and/or chopped ahead of time. Just toss it all together and chop the avocado at the end!