This is a fresh, mayo-free take on a potato salad. Tender roasted potatoes are tossed with a herby, mustardy vinaigrette. You'll never go back to regular potato salads.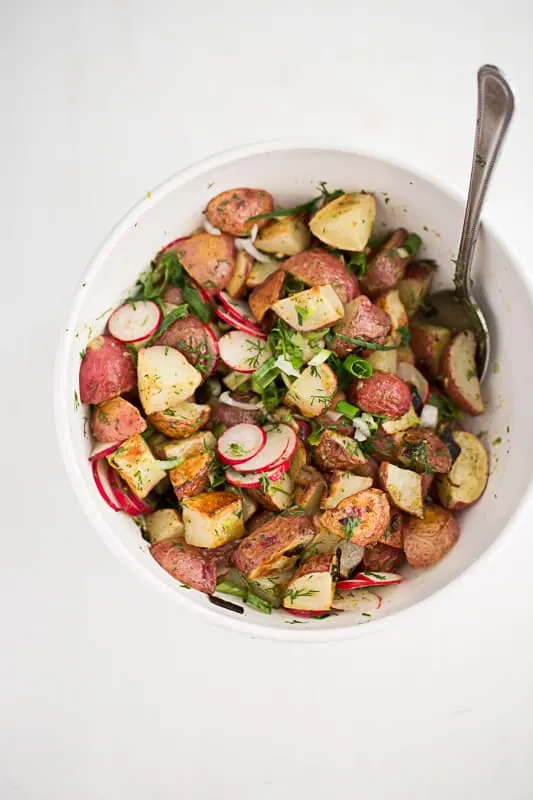 Do you know what one of my proudest parenting achievements is to date?
My kids don't freak out when they see green food on their plates. Or specks of green in their food. I think it's because I put minced baby spinach in their food from the time they were babies, but maybe I just got lucky.
Some days I'd happily trade that for A CLOSED DOOR during the summer, but you can't have everything.
Despite the awesomeness of my children eating green things, you can't push them too far. I thought they would hate this salad. I even left some potatoes out so they'd have something else to eat besides Paleo Fish Nuggets. But I threw those naked potatoes back into the salad when all four of them declared that it was edible.
Let's talk about this salad, shall we?
I was born and raised in Idaho — in russet-burbank potato country. There was never a box of instant potatoes in our house the entire time I was growing up.
But.
I think I've joined the red potato camp. I love their creamy, firm texture, and they're much easier to cut up. They're also less starchy than russets.
Oh, and if you roast them with some shallots and toss them in a tart and herby dressing? You end up with a potato salad that's fresher and lighter than the typical mayo-laden ones that get grody in the sun.
Not that I have anything against mayonnaise. I make it all the time. It's just not a friend of sunshine.
This salad, however, is.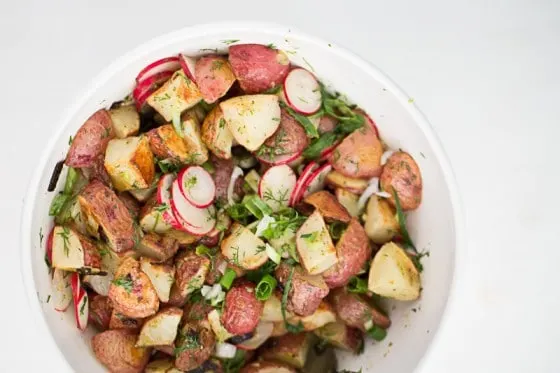 More Potato Salad Recipes on Perry's Plate
Here are a few more delicious potato salad recipes!
Instant Pot Potato Salad is a more traditional potato salad recipe. If you haven't used an Instant Pot to make potato salad, you're in for a treat! You can cook the potatoes and eggs in the Instant Pot at the same time! This recipe also has lots of pickles and….ranch dressing. It's the best. Seriously.
Hot German Potato Salad is a warm, tangy take on a potato salad that also has a vinaigrette-based dressing. My version has bits of crispy bacon & sauerkraut!
---
If you make one of my recipes, be sure to post it on social media and tag me at @perrysplate or #perrysplate so I can send you some love!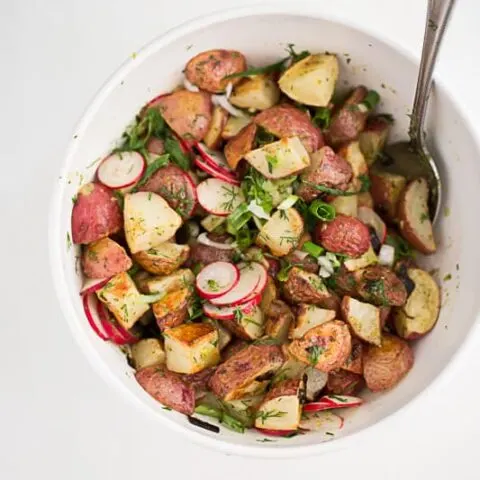 Roasted Potato Salad with Dill-Scallion Vinaigrette
This is a fresh, mayo-free take on a potato salad. Tender roasted potatoes are tossed with a herby, mustardy vinaigrette. You'll never go back to regular potato salads. | perrysplate.com
Ingredients
3 pounds red or Yukon gold potatoes, cut into 1-inch pieces
1 large shallot, peeled and sliced thinly
2 Tablespoons avocado or coconut oil
3/4 teaspoon sea salt, divided
1/4 teaspoon black pepper
1 bunch of fresh dill (about 1 packed cup of chopped leaves and thin stems), divided
2 Tablespoons freshly squeezed lemon juice (about 1/2 of a lemon)
3 scallions (green onions), sliced thinly, divided
1 garlic clove
2 Tablespoons red wine vinegar
1 teaspoon honey
1/2 teaspoon whole grain mustard
1/4 cup extra-virgin olive oil
4 radishes, trimmed and sliced very thinly
Instructions
Preheat the oven to 425 degrees F.
Place the potatoes and shallots on a rimmed baking sheet. Drizzle the vegetables with the avocado oil and sprinkle with salt and pepper. Use your hands to toss the vegetables to coat evenly, then spread them in an even layer on the pan. Roast on a lower rack for 30 minutes, flipping them around 2-3 times during cooking.
Meanwhile, make the dressing by combining half of the dill, the lemon juice, one third of the chopped scallions, the garlic, red wine vinegar, honey, and whole grain mustard in the work bowl of a food processor. Pulse a few times to mince. While the machine is running, pour in the olive oil and blend until smooth.
When the potatoes are finished roasting, transfer them (while still warm) to a large salad bowl. Pour the dressing over the potatoes and sprinkle the remaining dill, chopped scallions, and sliced radishes over the top. Stir gently to coat everything in the dressing.
Best served warm or at room temperature.
Notes
Nat's Notes:

1. You could substitute parsley or cilantro in place of the dill, if you prefer.

2. To make it Whole30 compliant, omit the honey or substitute it with Date Paste.
This post may contain affiliate links. Any purchases made by using these links won't cost you any extra and helps keep my content free. These links may be Amazon links as I am part of the Amazon Associate Program.