The only thing better than grilled pineapple is sausage and pineapple skewers tossed in a southwest marinade!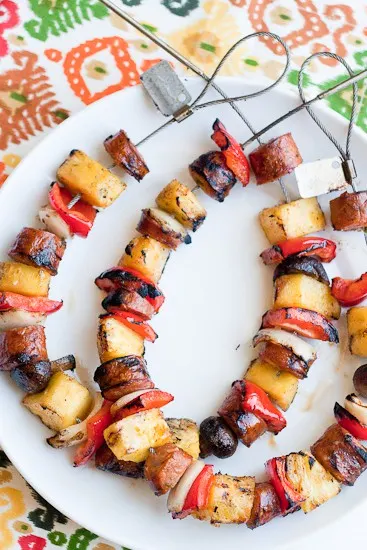 Edible necklaces!
Joking. There are no clasps. But how cool would that be? I'd totally walk around munching on some grilled goodness.
I grill almost everything we eat lately just to avoid turning my oven on. I mentioned recently that I'm sort of obsessed with grilling pineapple. Last time it was Grilled Pineapple Salsa. This time it's skewers.
Pineapple plays so well with spicy tex-mex flavors. I'm completely smitten by it.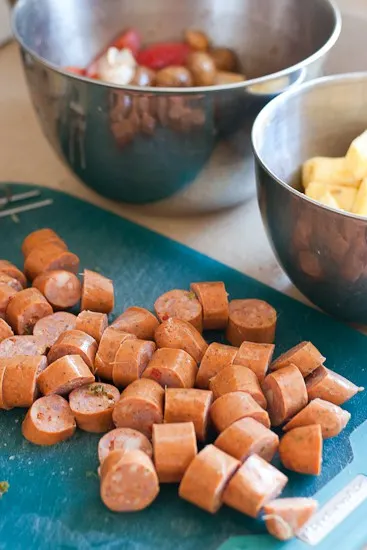 I like to buy the True Story brand of organic, antibiotic-free sausages and grass-fed hot dogs (to make waffles!)
(Again, this isn't a sponsored post. I just rant about the things that I love!)
I noticed a new southwest flavored sausage and tried it out on these skewers.
Um, YUM. They're my new favorite. They have such a great punch of flavor with just a little heat. It was too much for my eldest, though. I died inside when she complained that they were too spicy. The other two inhaled them. Can't win them all.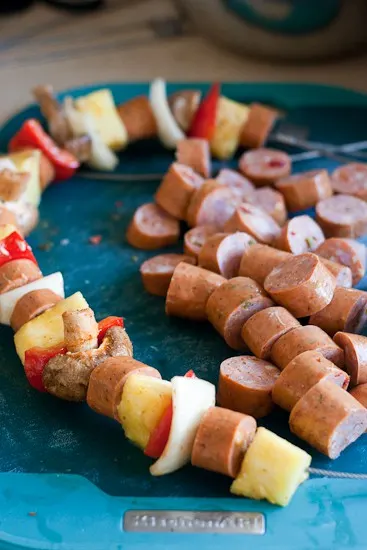 I wanted to give the pineapple and vegetables more flavor so I threw together a citrus-spice marinade and tossed them in it.
After cleaning out my spice cupboard(s) recently and discovering I have about NINETY bottles of herbs and spices and blends, I'm making a more conscious effort to use what I have.
Hello, spice hoarder.
For this I used my super simple Seasoning for Sweet Potato Fries. It's a great all-purpose tex-mex blend to use when you're not wanting to use taco seasoning. And it's PERFECT on pineapple.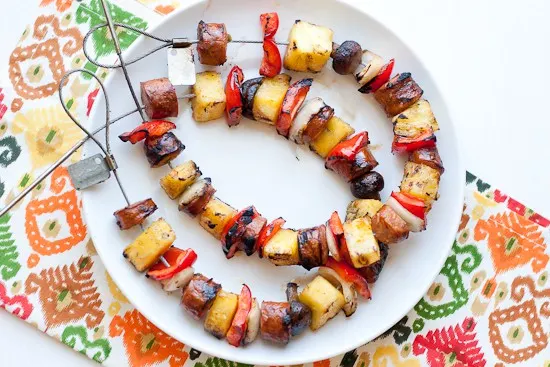 By the way, I love my flexible wire skewers. I love how you can snake them around your grill so they don't take up too much space. You can find them here.
---
If you make one of my recipes, be sure to post it on social media and tag me at @perrysplate or #perrysplate so I can send you some love!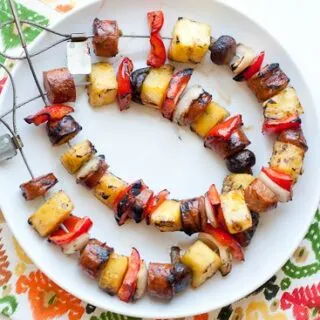 Southwest Sausage and Pineapple Skewers
Additional Time:
5 minutes
These skewers couldn't be easier. Or more delicious. They're perfect to take to a potluck BBQ -- especially if you happen to be doing a round of Whole30 since they're compliant with Aidell's chicken & apple sausage!
Ingredients
1 large sweet onion, peeled, halved, then cut into large chunks
4-5 cups of grilling vegetables cut into large chunks (mushrooms, bell peppers, zucchini, summer squash, eggplant, etc.)
1 whole pineapple
1 1/2 pounds tex-mex flavored sausage (preferably organic and antibiotic-free)
1 Tablespoon Sweet Potato Fry Seasoning (link within the post) or 3/4 teaspoon of each, cumin, garlic powder, chili powder, and salt
1 lime
3 Tablespoons of heat-safe oil (like coconut or avocado)
Instructions
Combine the onion and grilling vegetables in a large bowl.
Slice the ends off the pineapple. Run a sharp knife down the sides to remove the skin. Quarter it lengthwise, then run your knife down the center of each wedge to remove the tough core. Chop them into 1-inch chunks. Add the pineapple chunks to the bowl of vegetables.
Cut the sausage into 1-inch pieces.
In a small bowl, mix together the seasoning, juice from the lime, and the oil. Pour it over the vegetables and toss to coat.
Preheat your BBQ grill or grill pan to medium-high heat.
Stick the sausage, vegetables, and pineapple onto metal skewers. Grill for about 10-12 minutes, flipping halfway through, until grill marks form and vegetables are cooked through and have charred spots.
Serve immediately.
Disclosure: This is not a sponsored post, but this post does contain an Amazon affiliate link. Purchases made by using these links doesn't cost you any extra and provides Perry's Plate with a few pennies. This allows me to sponsor more giveaways and replace things like sticky camera lenses.