Perry's Plate Homemade Taco Seasoning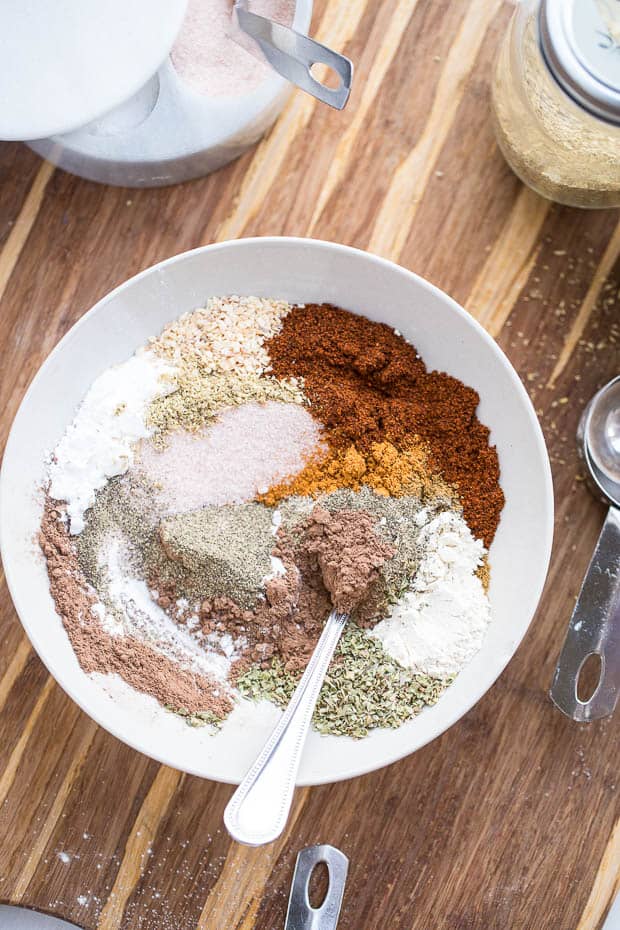 This homemade taco seasoning has a pretty devoted fan base. One of my friends says she uses it like its her religion. Another couple of friends have given it away as neighbor gifts for Christmas. Everyone who tries it loves it as much as I do!
I distinctly remember the moment (about a decade ago) when it occurred to me that taco seasoning packets at the grocery store contained (gasp) a lot of the spices I had in my cupboard and that I COULD MAKE MY OWN.
Mind. Blown.
This was an exciting revelation to me. After looking at the ingredients of store-bought packets and noticing spice combinations of mexican/southwestern dishes that I make, I came up with my own homemade taco seasoning. I like it because it has a lower salt content than most store-bought brands, no fillers, and doesn't have MSG. (Some brands don't have this anyway. Nice job!)
This is one of the oldest and most beloved recipes on my site. I decided to give it a makeover because it deserved some nice photos. And more poetic love.
[Insert "Ode to Homemade Taco Seasoning" — someone has one, right? I'm SO not a poet, so don't look at me.]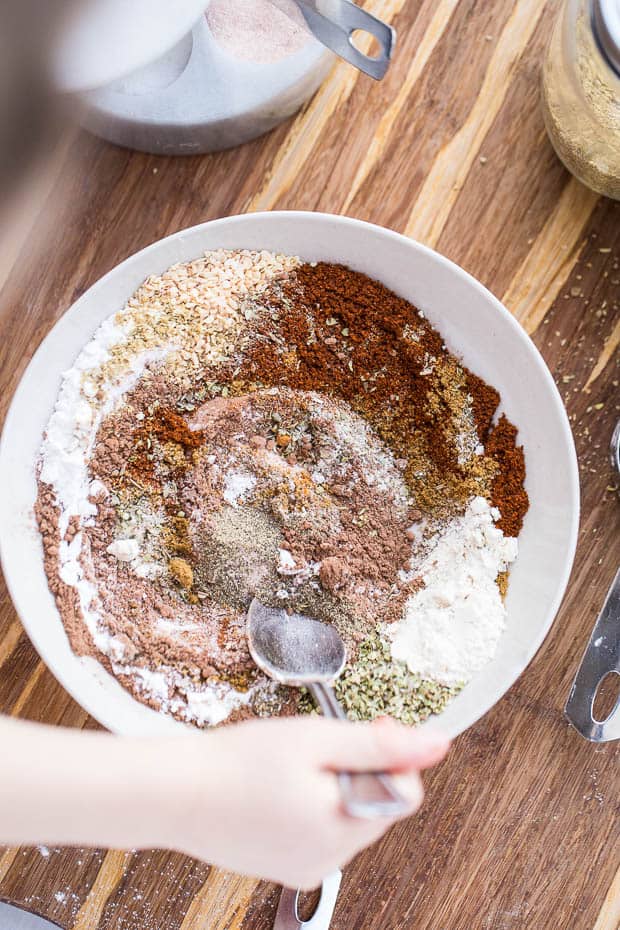 If you scan the list of ingredients and think, "What the. . . cocoa?!" I'm not crazy, I promise — cocoa is no stranger to Mexican cooking (think mole). It makes the flavors richer, but it doesn't make your tacos taste like chocolate, I promise.
You can use this blend in any recipe that calls for taco seasoning, and it turns out just as good, if not better, than a taco seasoning packet.
Oh, and it's cheaper this way. I made a big mason jar of it for a lot less than spending $1+ per packet. Gotta love frugality.
My favorite part about making spice blends is stirring (or shaking) it all together. My little 4-year-old was sitting next to me, begging to stir up my spices.
Well, OK. The sacrifice of being a mother, right?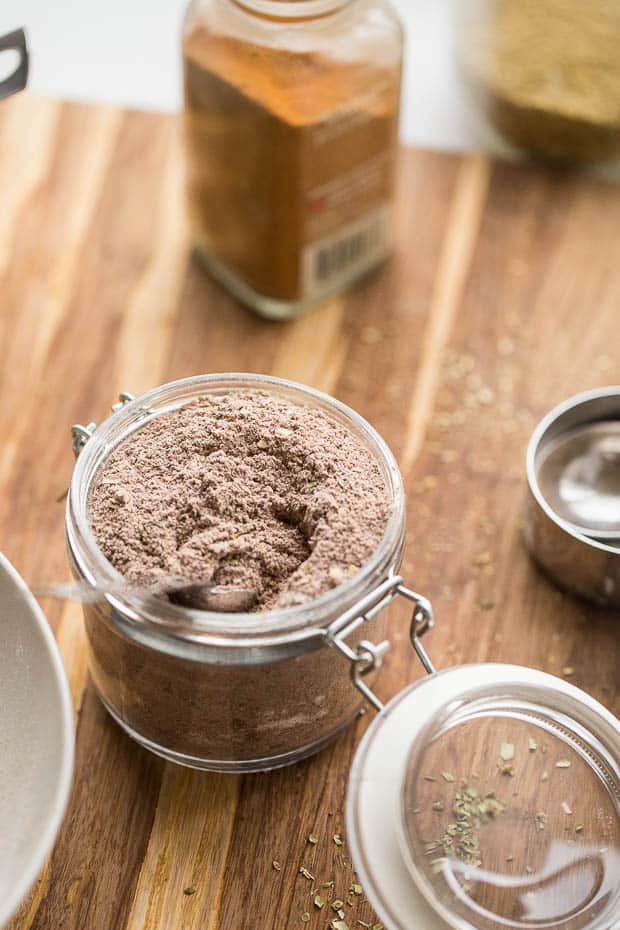 Most of the time I layer it right into a mason jar, take a photo of it, and post it on Instagram with the hashtag #spiceblendsandart. If you happen to think this taco seasoning deserves some Insta love, tag me @perrysplate and use my hashtag!
Have you tried some of my other seasoning blends? Here are a few of my favorites:
Homemade Dry Ranch Mix (I use this mix more than any other mix in my cupboard. And I always have a mason jar full of ranch in my fridge. I'm basically a 6-year-old.)
Chorizo Seasoning (Used in my knock off recipe of Chipotle's Pork-Chicken Chorizo and Best Chicken Fajitas)
Homemade Greek Seasoning (I love this in my Creamy Greek Shrimp & Cucumber Noodles & easy One-Pan Greek Chicken & Potatoes! It makes a FABULOUS marinade, too.)
Thai Spice Blend (SO SO good in this Paleo Thai Shrimp & Vegetable Skillet dish and these Thai Roasted Sweet Potatoes with Coconut & Lime.
You can find more homemade spice blends in the Baking Mixes & Spice Blends section of my Recipe Index!
Perry's Plate Homemade Taco Seasoning
Making homemade taco seasoning is easy and you probably already have the ingredients in your cupboard. You'll love the secret ingredient in this version!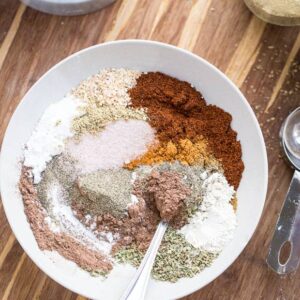 Ingredients:
To make enough to season roughly 1 pound of ground meat:
1 Tablespoon chili powder
1 1/2 teaspoons tapioca or arrowroot flour/starch
1 teaspoon ground cumin
1 teaspoon dried oregano
1 teaspoon unsweetened cocoa powder
1 teaspoon sea salt
1/2 teaspoon garlic powder
1/2 teaspoon onion powder
1/2 teaspoon black pepper
1/8 teaspoon cayenne pepper
1/8 teaspoon ground coriander
To make about 1 cup of seasoning:
1/4 cup chili powder
2 Tablespoons tapioca or arrowroot flour/starch
4 teaspoons ground cumin
4 teaspoons dried oregano
4 teaspoons unsweetened cocoa powder
4 teaspoons sea salt
2 teaspoons garlic powder
2 teaspoons onion powder
2 teaspoons black pepper
1/2 teaspoon cayenne pepper
1/2 teaspoon ground coriander
Directions:
Combine all well and store in an airtight container.
Use 2 Tablespoons of seasoning plus about 1/3-1/2 c water to season about 1 pound of ground meat for tacos. (Depending on how strong and saucy you like it.)
Nat's Notes:
If you'd like it spicier double the amount of cayenne pepper.
Feel free to leave out the tapioca/arrowroot. I like it because it thickens the sauce in my taco meat when I add a little water. It's not necessary though, but if you leave it out, keep in mind that it'll be more concentrated.
SaveSave