This homemade taco seasoning recipe has a pretty devoted fan base. One of my friends says she uses it like its her religion. Another couple of friends have given it away as neighbor gifts for Christmas. Everyone who tries it loves it as much as I do! It really makes the best taco meat!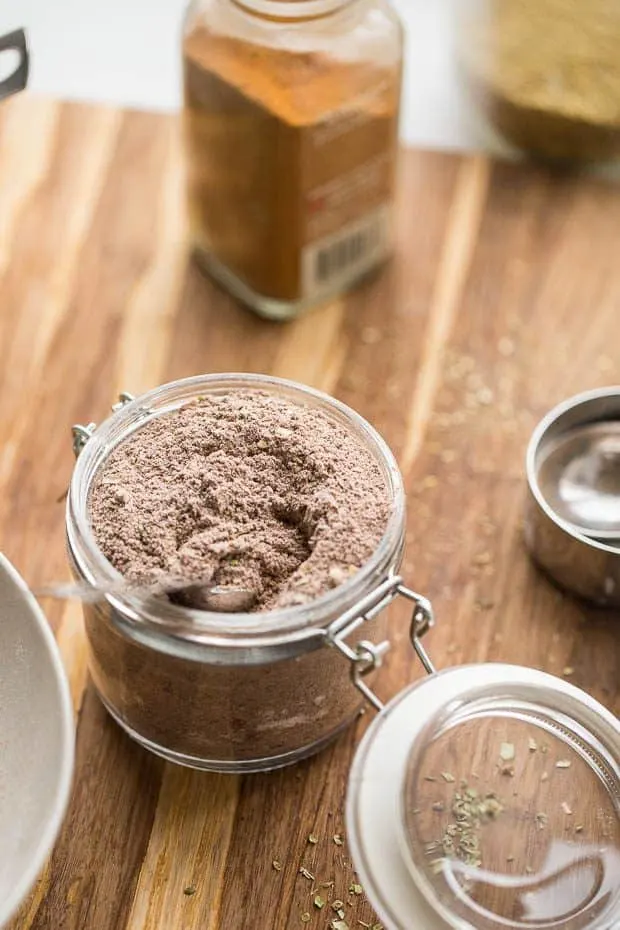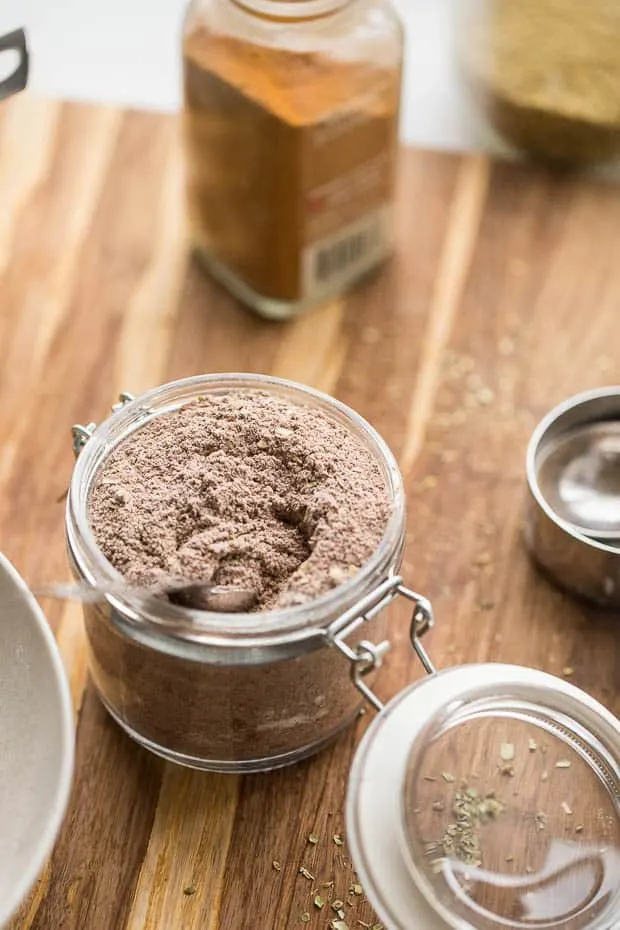 Making your own taco seasoning!
I distinctly remember the moment (about a decade ago) when it occurred to me that taco seasoning mix at the grocery store contained (gasp) a lot of the spices I had in my cupboard, and
I COULD MAKE MY OWN TACO SEASONING.
Mind. Blown.
This was an exciting revelation to me. After looking at the ingredients of a store-bought packet of taco seasoning and noticing spice combinations of mexican/southwestern dishes that I make, I came up with my own seasoning. Taco Tuesday was about to get even more exciting.
I like the homemade version because it is a sugar free taco seasoning recipe and has a lower salt content than most store-bought brands, no fillers, and no MSG. Most of the time those things are first ingredients on the taco packets. (Some brands don't have this anyway. Nice job!)
So, it's perfect if you're into clean eating or trying to make some gluten free taco meat. It's dairy free, too, but most taco seasoning is. I think. Who knows, these days?
Oh, and it's cheaper this way. I made a big mason jar of it for a lot less than spending $1+ per packet. Gotta love frugality.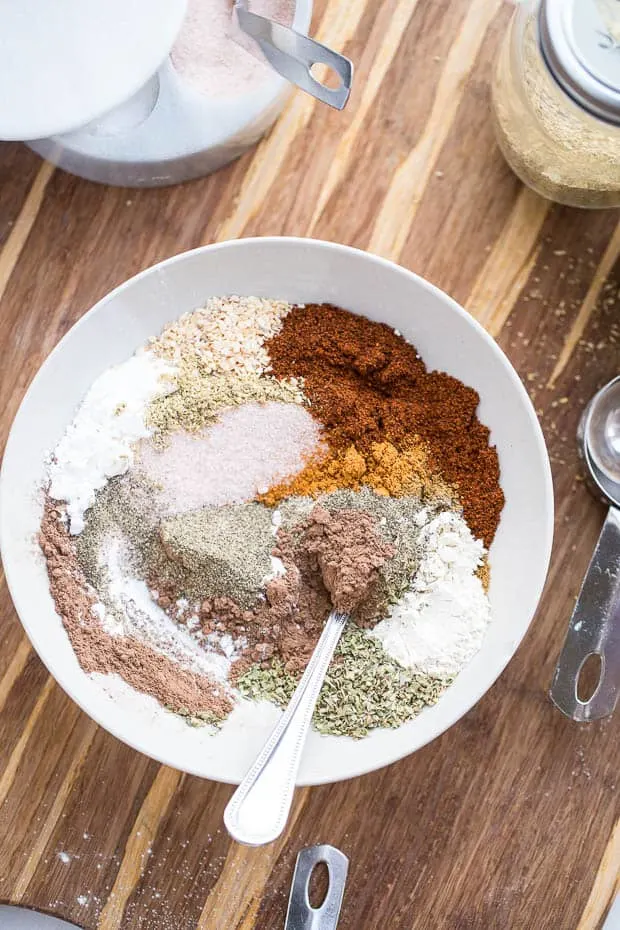 What's in taco seasoning? + My Secret Ingredient
If you scan the list of ingredients and think, "What the. . . cocoa?!" I'm not crazy, I promise — cocoa is no stranger to Mexican cooking (think mole). It makes the flavors richer, but it doesn't make your tacos taste like chocolate, I promise.
Most taco seasoning has familiar, common spices you're likely to find in your spice cabinet, too, like chili powder, onion powder, garlic powder, black pepper, sea salt, and a little cayenne pepper. I think the addition of cocoa powder adds something special, though.
You can use this blend in any recipe that calls for taco seasoning, and it turns out just as good, if not better, than a taco seasoning packet.
Most of the time I layer it right into a mason jar, take a photo of it, and post it on Instagram with the hashtag #spiceblendsandart.
Ways to customize your Homemade Taco Seasoning
Adjust the thickener: Taco seasoning packets usually have some kind of thickener, like flour. You can make it gluten free really easily by using corn starch or potato starch. And make it paleo or Whole30 compliant by using arrowroot or tapioca flour. It makes this blend more potent that way, so use less seasoning if you go that route.
Vary the seasonings: I played around adding smoked paprika in this, but I liked it better without. If you want a blend that's smokier, next time try my Smoky Chipotle Taco Seasoning or my Chorizo Seasoning. You could also play around with different types of chili powders. Have you ever tried ancho chili powder? It's pretty amazing.
Make it spicier: By all means add some crushed red pepper flakes or more cayenne powder to give this more kick. Ground chipotle powder is super good, too. If you overdo it, there's always sour cream to save the day, friend.
Make a lot. Or make a little: When it comes to homemade spice blends, my favorite way is fill a mason jar with a big batch. But if you just want to give it a try, I included a scaled down version in the recipe card below to season one pound of ground beef or whatever meat you plan to use.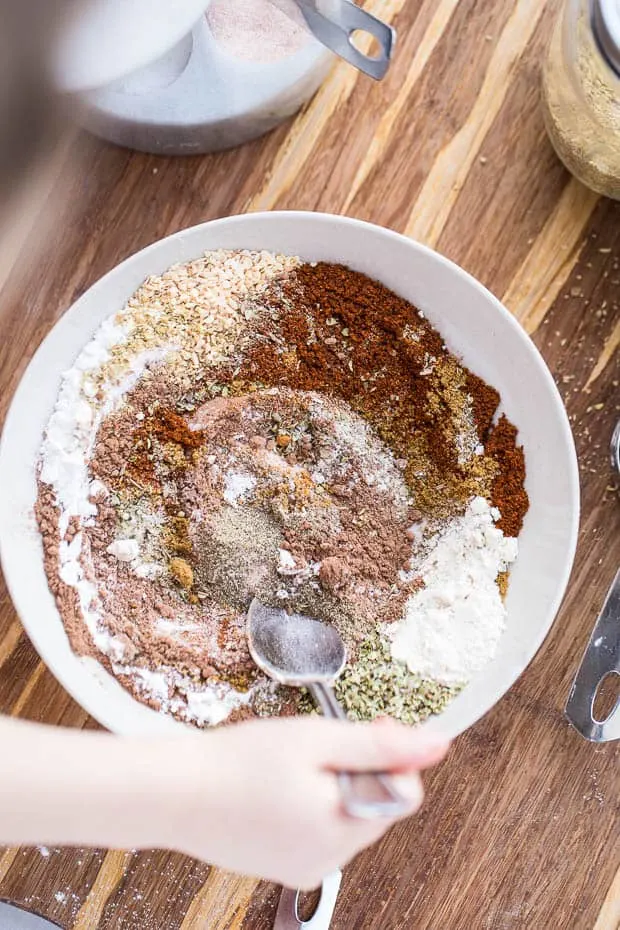 How to make Keto Taco Seasoning
Or just omitting the thickener entirely and making it truly keto diet friendly.
To calculate net carbs, consult an online calculator. I imagine it would be pretty low carb count (or even 0) if you omitted the thickener to create a low carb taco seasoning or a keto taco seasoning mix.
To finish off your keto tacos, try using my crispy keto taco shells! (recipe link) Although these hard taco shells are easy to make, I don't recommend making a low-carb taco bar for a crowd like this. They're great with beef tacos or any other taco meat you plan to make.
Taco Seasoning Recipe without Chili Powder
If you're looking for a chili powder-free taco seasoning recipe, try my Nightshade-Free Taco Seasoning!
There are three nightshade-free seasoning blends in this post — taco seasoning, curry powder, and a zesty Italian blend.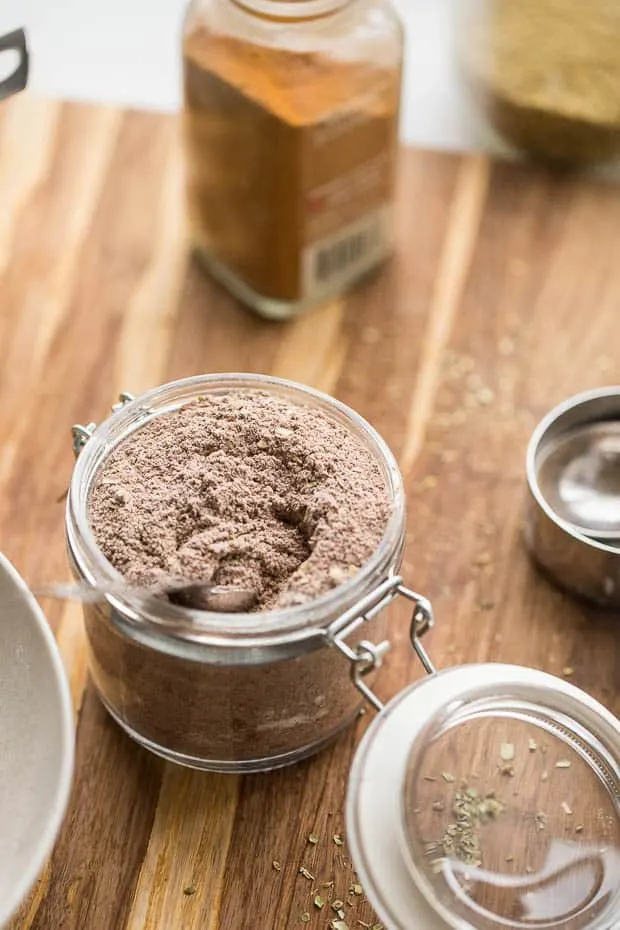 How to Cook Taco Meat with Taco Seasoning
Use 2-3 Tablespoons of seasoning per pound of meat — ground beef, ground chicken, and ground turkey all work well. Ground pork tends to be greasier, so if you use that, mix some ground turkey or chicken with it to lighten it up.
After the meat has browned, add the taco seasoning and some water. Some recipes call for a whole cup of water, but I like to use less. The thickener makes it a little saucy. You could also use tomato sauce for a richer, saucier homemade taco meat.
I like to make a double batch of ground meat for tacos (no matter what type) because it's a GREAT thing to have on hand for quick lunches or breakfast scrambles. I use those large batch leftovers for an easy taco salad lunch.
How to Store Homemade Taco Seasoning
I use lidded mason jars or small glass spice jars. Just store it in a dry place at room temperature with your other seasonings. It'll keep for a long time, but like any ground spices, the flavors will start to weaken after several months.
Making my own homemade taco seasoning inspired me to create more of my own spice blends! Here are a few of my favorite recipes for seasoning blends — some of these would also be great for taco night: 16 Favorite Homemade Spice Blends.
Taco Night Side Dish Ideas on Perry's Plate
Need some Taco night sides? Here are some of our favorites!
Instant Pot Mexican Style Black Beans are delicious alongside tacos and freeze easily, so go ahead and make a big batch!
Instant Pot Cilantro Lime Rice goes beautifully with those black beans!
Southwest Cabbage Slaw is a staple around here. I make this ALLL the time. It also keeps in the fridge for several days for easy leftover taco night lunches.
The Best Guacamole is my go-to guac recipe. It can be varied slightly according to what you have on hand, too.
Easy Homemade Pico de Gallo finishes off any taco salad nicely. Just have extra tortilla chips on hand because it goes quickly!
---
If you make this recipe, be sure to post it to social media and tag me at @perrysplate or #perrysplate so I can send you some love!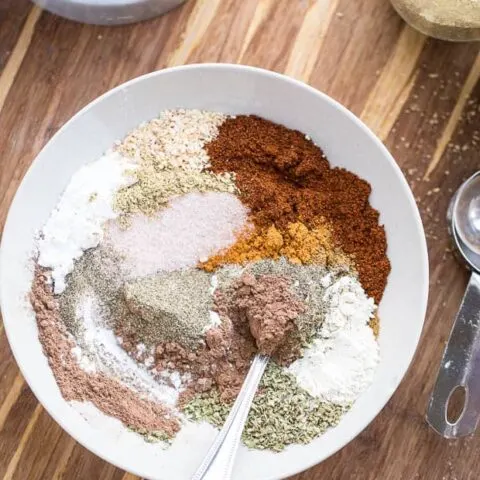 Perry's Plate Homemade Taco Seasoning
Making homemade taco seasoning is easy and you probably already have the ingredients in your cupboard. You'll love the secret ingredient in this version!
Ingredients
To make enough to season roughly 1 pound of ground meat:
1 Tablespoon chili powder
1 1/2 teaspoons tapioca or arrowroot flour/starch
1 teaspoon ground cumin
1 teaspoon dried oregano
1 teaspoon unsweetened cocoa powder
1 teaspoon sea salt
1/2 teaspoon garlic powder
1/2 teaspoon onion powder
1/2 teaspoon black pepper
1/8 teaspoon cayenne pepper
1/8 teaspoon ground coriander
To make about 1 cup of seasoning:
1/4 cup chili powder
2 Tablespoons tapioca or arrowroot flour/starch
4 teaspoons ground cumin
4 teaspoons dried oregano
4 teaspoons unsweetened cocoa powder
4 teaspoons sea salt
2 teaspoons garlic powder
2 teaspoons onion powder
2 teaspoons black pepper
1/2 teaspoon cayenne pepper
1/2 teaspoon ground coriander
Instructions
Combine all well and store in an airtight container.
Use 2 Tablespoons of seasoning plus about 1/3-1/2 c water to season about 1 pound of ground meat for tacos. (Depending on how strong and saucy you like it.)
Notes
Nat's Notes:
If you'd like it spicier double the amount of cayenne pepper.
Feel free to leave out the tapioca/arrowroot. I like it because it thickens the sauce in my taco meat when I add a little water. It's not necessary though, but if you leave it out, keep in mind that it'll be more concentrated.
This post may contain affiliate links. Any purchases made by using these links won't cost you any extra and helps keep my content free. These links may be Amazon links as I am part of the Amazon Associate Program.