Grilled pineapple adds a punch of sweetness to basic fresh salsa and goes great with tacos, lettuce wraps, salads, or simply grilled meat!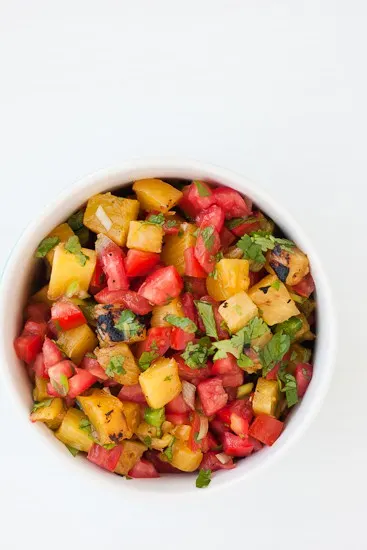 I've been on a grilled pineapple kick since the weather has warmed up, and we've eaten it so many different ways! I can't wait to show you!
One day I threw some grilled pineapple bits into pico de gallo and took it to a girls' night. I didn't come home with much, which was a very good sign.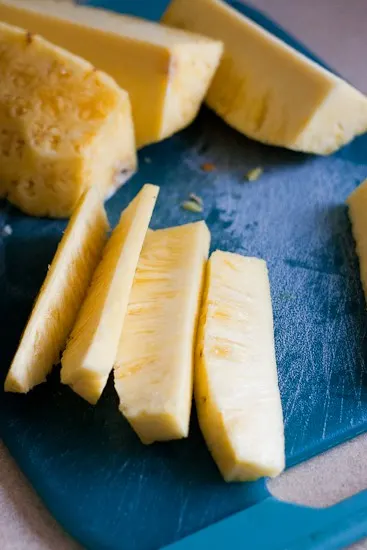 I hear when you go to Hawaii you get sores in your mouth from eating so much pineapple. We're determined to make it to Hawaii one of these days, but I'm nervous about gorging myself on pineapple. And then not wanting to eat it when I get home because it won't taste as good.
Are my fears even rational? Any Hawaii-goers still enjoy pineapple since they've returned?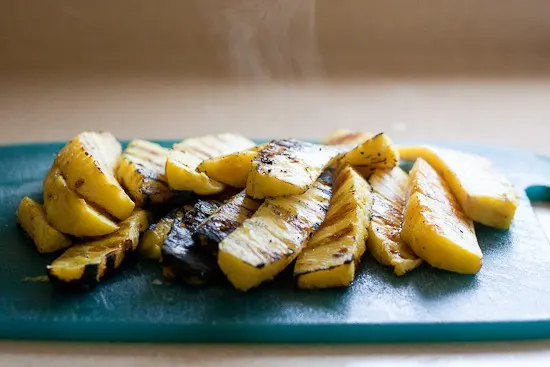 I might have a hard time staying away from grilled pineapple, though. I mean look at that steaming pile of awesomeness.
The recipe leaves about a half a pineapple for you to do whatever you want with. You could throw the rest on the grill and make some grilled pineapple sundaes for dessert! Or make some Grilled Malibu Chicken later in the week. (<–Yes, do this.)
I LOVE, LOVE it in this salsa, though. It would be fantastic on tacos (like Tropical Fish Tacos) or lettuce wraps, salads, or even heaped on top of some Perfect, Versatile Grilled Lemon Chicken. You could even grill the pineapple and the chicken at the same time! (Score.)
Or with chips. Corn chips are such a weakness of mine. I could probably eat my weight in corn chips with a bowl of this and some Fresh Guacamole. Once in a while I'll get a bag of the organic blue corn chips from Trader Joe's. Those are my favorite.
A girl's gotta have her corn chips some times.
---
If you make one of my recipes, be sure to post it on social media and tag me at @perrysplate or #perrysplate so I can send you some love!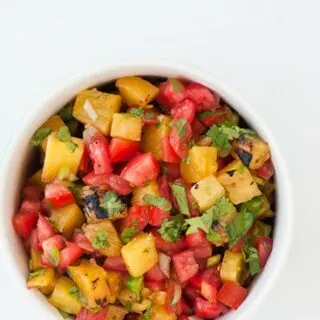 Grilled Pineapple Salsa
Ingredients
1 pineapple
6 roma tomatoes, seeded, cored, and diced
1 green onion, sliced thinly
1/4 cup chopped fresh cilantro
1 lime
1 jalapeno pepper, seeded and minced
Salt, to taste
Instructions
Preheat your BBQ grill (or grill pan) to medium-high heat.
Chop both ends off the pineapple and discard. Place the pineapple on one end and run your knife down the sides to remove the skin. Slice into quarters from the top, then run your knife down the center of each piece to remove the tough core. Slice two of the sections into 4 long strips each and set aside. (Wrap up the remaining pineapple and chill if you aren't using it right then.)
Lay the 8 strips of pineapple on the grill. Cook until grill marks form on both sides and pineapple has softened. This will take about 10-12 minutes. Remove from grill, dice them up, and place in a medium-sized bowl.
Add the tomato, green onion, cilantro, juice from 1/2 the lime, the jalapeno, and a generous pinch of salt. Taste, and adjust the lime juice and the salt to your liking.
Serve or store in the fridge in an airtight container for 2-3 days.
Notes
Nat's Notes:

1. If you like it spicy, don't discard the jalapeno seeds.

2. If the salsa is sweeter than you like, add an extra tomato or two.


This post may contain affiliate links. Any purchases made by using these links won't cost you any extra and helps keep my content free. These links may be Amazon links as I am part of the Amazon Associate Program.