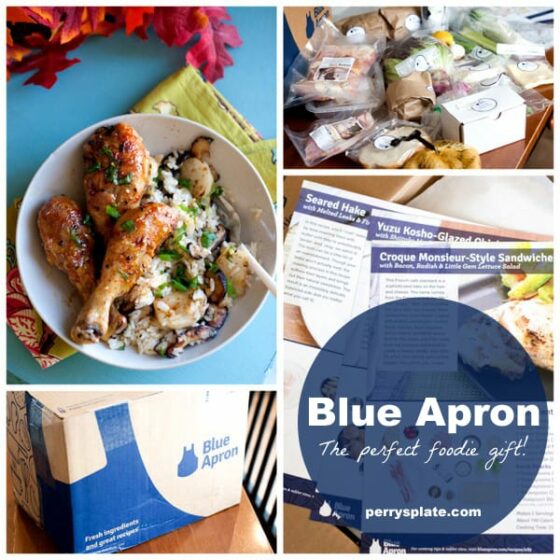 Guys! I'm super excited to tell you about Blue Apron! I had the opportunity to test them out recently, and I fell in love.
(Psst… Blue Apron is offering $20 off your first order! Details at the end of the post.)
Never heard of Blue Apron? Here's how it works…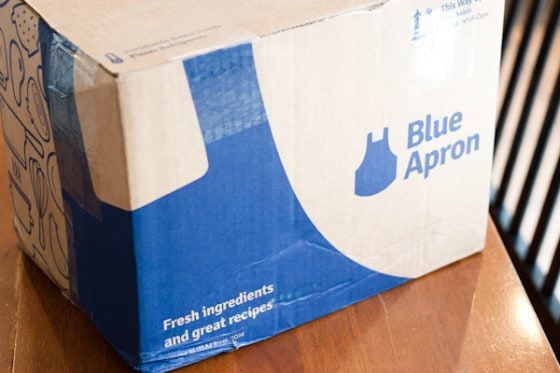 After registering online and letting them know your preferences, you'll start getting boxes like this delivered right to your door every week.
I love boxes delivered to my door.
I love personalized (ahem, not ads) mail in general. It makes me super happy.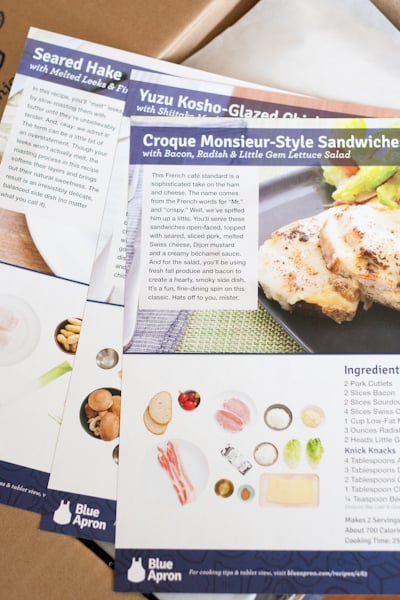 In the box you'll find three large recipe cards with step-by-step instructions on the back for preparing each recipe.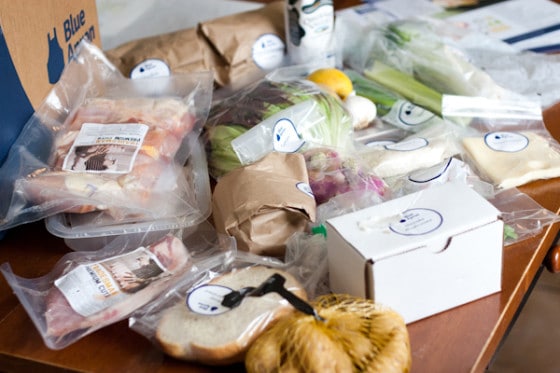 And you'll find EVERYTHING you need to make all of those recipes. Like, everything — meat, vegetables, dairy, seasonings… everything. OK, I used my own salt, pepper, and cooking oil, but besides that you don't need anything else! The recipes also use seasonal produce and fairly well-sourced animal products. (If you choose that option. There are vegetarian options as well.)
There are new recipes each week, too!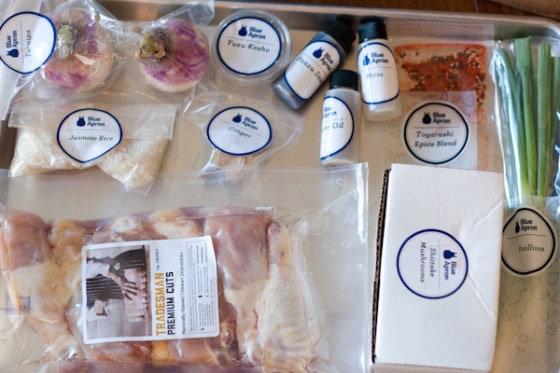 This is everything I needed to make the Yuzu Koshu-Glazed Drumsticks and the Shiitake Mushroom, Turnip, and Rice Salad. Everything is pre-portioned, too. I loved those little bottles of sesame oil, mirin, and ponzu sauce. They made my insides jump around from the cuteness.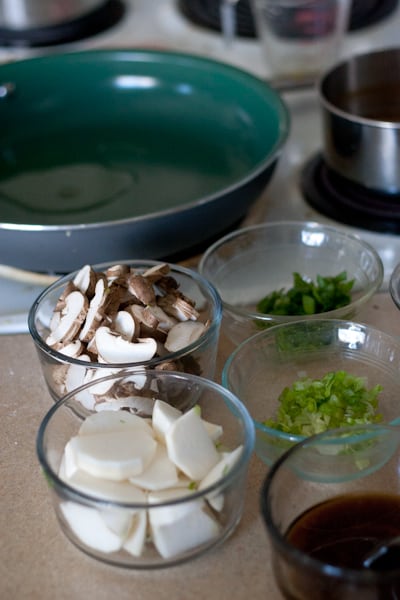 The week I tried this out happened to be the week of Thanksgiving. At first I felt overwhelmed because we were hosting dinner at our house and I had enough on my plate as it is, but when I pulled out these meals (the day before Thanksgiving and a couple days over the weekend) it was so nice to not have to wonder what I was going to make or wonder if I had what I needed. Everything was sitting there, waiting to be prepped. It was actually really nice!
You do have to do the work as far as prepping the vegetables, but having everything delivered to your door and planned out for you kind of makes up for it. Plus, it really wasn't that much chopping.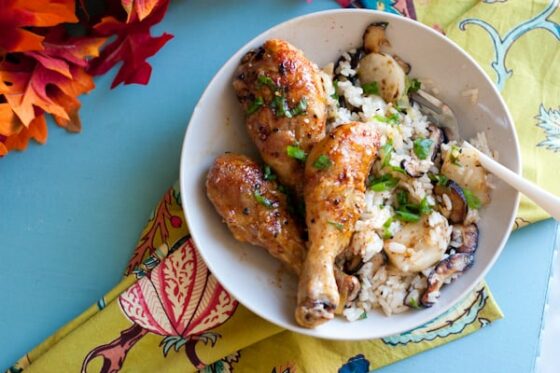 Then you end up with this.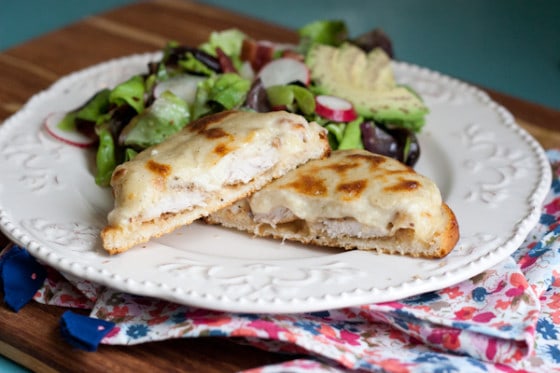 Or this — Croque Monsiuer-Style Sandwiches with Bacon, Radish and Little Gem Lettuce Salad.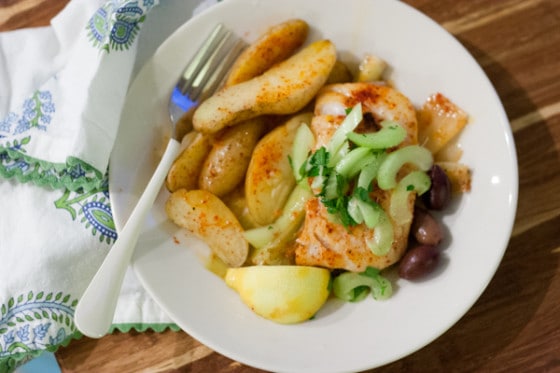 Or this — Seared Hake with Melted Leeks and Fingerling Potatoes.
I only made some very minor adjustments (like reducing the amount of dijon in the vinaigrette that went on the salad or um… not using the kalamata olives because no one under our roof will touch those, including me. ). All three dishes were really good. Like, REALLY GOOD. They were creative, flavorful, and light. I love not feeling like I need a nap after I eat. The sandwiches were a bit rich, but we split the two among the five of us and it was a perfect light lunch.
I also like that I didn't have leftover bits of produce or meat after preparing the recipe. Sometimes those bits get used and sometimes they don't. I can see it reducing waste in the kitchen as well.
This would be a great gift idea for someone who loves to cook or even someone who really wants to learn to cook. It takes away the less desirable parts of preparing meals (planning and shopping) and leaves you with the fun part — cooking! Oh, and eating. Eating is fun, too. And because the recipes are so well-written it'll give you confidence in the kitchen!
Blue Apron would be great right after I have the baby. My husband would be in great shape, not having to plan meals or shop. He's also good at following a recipe. It would also be good for a week or so if we happened to move and were settling into a new house. I can't tell you how many pizzas and take-out we ate the last time I moved. This would such a healthier option!
I tell you, though. If our family was smaller or we didn't have children and both worked full-time, I'd definitely use this a couple weeks per month.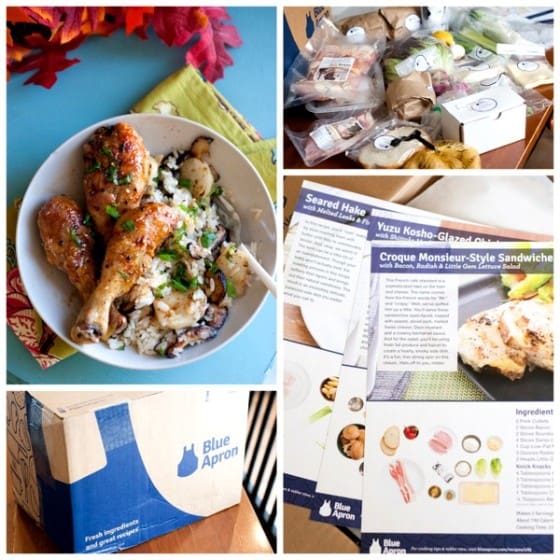 I'm anticipating some questions about dietary preferences, so I'll attempt to answer those. The only preference they offer currently is whether or not you'd like meat and what types of meat. You can improvise somewhat to make these gluten and dairy-free, though. In fact, two out of the three meals I received were both gluten and dairy free already, and one was even grain-free, which I was happy about.
I'm a big fan of Blue Apron! If you click over to Blue Apron's website, you can find more information about how to get started or how to send this to someone as a gift. They don't require any contracts, commitment or registration/delivery fees — just the price of each box. And if you don't want a box every week, then you can skip! No biggie.
Blue Apron is offering $20 off your first order! Click here to take advantage of the offer!
And here's that tasty drumstick recipe that kind of blew my mind. There are a few ingredients that might be unfamiliar. They were unfamiliar to me as I'm not very familiar with Japanese cuisine. This link to the recipe online explains what those ingredients are and I'm sure you can find them in an Asian market or online.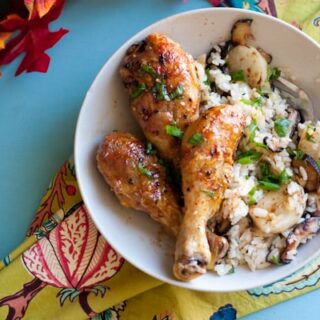 Yuzu Kosho-Glazed Chicken Drumsticks
Additional Time:
45 minutes
Ingredients
2-3 Tablespoons heat-safe cooking oil
6 chicken drumsticks
1/2 cup jasmine rice
4 ounces shiitake mushrooms
6 ounces turnips
2 scallions
1 1-inch piece of ginger
2 Tablespoons mirin
2 Tablespoons ponzu sauce
1 Tablespoon sesame oil
1 teaspoon yuzu kosho
1 teaspoon togarashi-sesame spice blend
salt and pepper, as needed
Instructions
Preheat oven to 450 degrees F. Place the drumsticks on a sheet pan and drizzle with olive oil. Top with all but a pinch of the togarashi-sesame spice blend and season with salt and pepper; toss to thoroughly coat. Arrange the seasoned chicken drumsticks in a single, even layer and roast for 30-32 minutes, or until browned and cooked through (juices should run clear).

While the chicken roasts, remove and discard the stems of the mushrooms; thinly slice the caps. Trim off and discard the roots of the scallions; thinly slice the scallions, separating the white bottoms and green tops. Peel the turnips; cut them lengthwise into wedges. Peel and mince the ginger. In a small bowl, whisk together the mirin, ponzu sauce, sesame oil, and as much of the yuzu koshu as you'd like, depending on how spicy you'd like the dish.

While the chicken continues to roast, in a small pot, heat 2 teaspoons of oil on medium until hot. Add half the ginger and cook, stirring occasionally, 1-2 minutes, or until fragrant. Add the rice and 1 cup of water; bring the mixture to a boil. Once boiling, cover and reduce the heat to low. Simmer 14-16 minutes, or until the water is absorbed and the rice is tender. Remove from heat and fluff the finished rice with a fork.

While the chicken roasts and the rice cooks, in a medium pan (preferably nonstick), heat 2 teaspoons of oil on high until hot. Add the mushrooms and turnips and season with salt and pepper. Cook, stirring occasionally 8-10 minutes, or until browned. Add the remaining ginger and white parts of the scallions; cook 2-3 minutes, or until fragrant. Tranfer to a large bowl and set aside to cool. Wipe out the pan.

Add 2 Tablespoons of the yuzu kosho mixure to the bowl of cooked mushrooms and turnips. Add the cooked rice and toss to thoroughly coat; season with salt and pepper to taste.

Heat the same pan used to cook the mushrooms and turnips on medium-high until hot. Add the roasted drumsticks and remaining yuzu kosho mixture; toss to coat. Cook, tossing occasionally, 1-2 minutes, or until the drumsticks are completely coated. Divide the chicken and mushroom-turnip-rice salad between two dishes. Garnish with the green parts of the scallions and remaining togarashi-sesame spice blend. Enjoy!
You can also check out what other bloggers had to say about Blue Apron over on the Kitchen Daily website —
just click here.
Disclosure: Compensation for this post was provided by Blue Apron via AOL Media. The opinions expressed herein are those of the author and are not indicative of the opinions or positions of Blue Apron or AOL.