Make your own Blueberry Muffin Larabars at home! (Psst… they're better than the store-bought ones!)
Aaaaand…. another homemade Larabar for you! This time blueberry muffin larabars.
These might be my favorite out of all of them. Do I say that every time?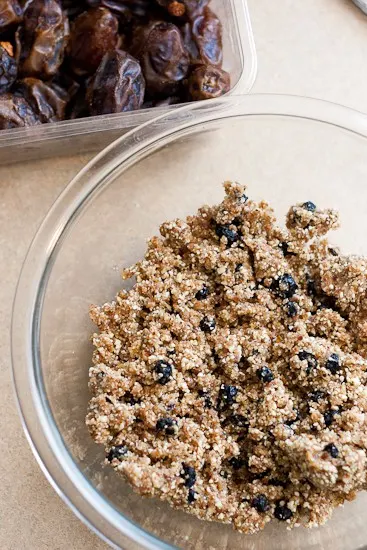 Maybe not bars though, but bites. You probably don't care though, right?
I'm not sure if it was the walnuts or the blueberries, but they stuck together better when I rolled them into balls. And it was easier than rolling them out on a pan.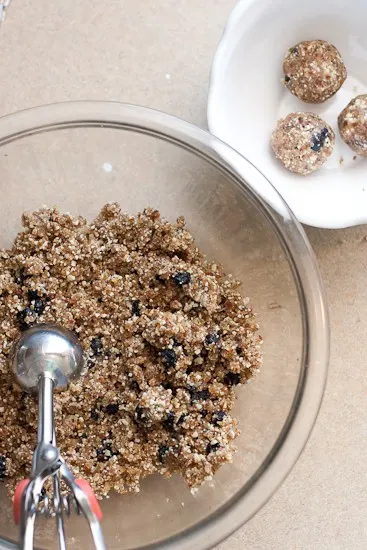 My almost-2-year-old can scarf at least four of these in one sitting. She asks for more, but seriously… eating a wad of nuts and dates isn't like putting a handful of popcorn in your mouth. These are substantial. And they stick with you. Although she keeps asking for more "kah-kees" (cookies) I don't want her to get a tummy ache.
She probably wouldn't though because she's a beast. Have I mentioned how she likes to climb on the bathroom counter and rummage through the medicine cabinet? Luckily we don't actually keep medicine in our cabinet, but she does have a lot of fun with toothpaste and chapstick. And the mirror.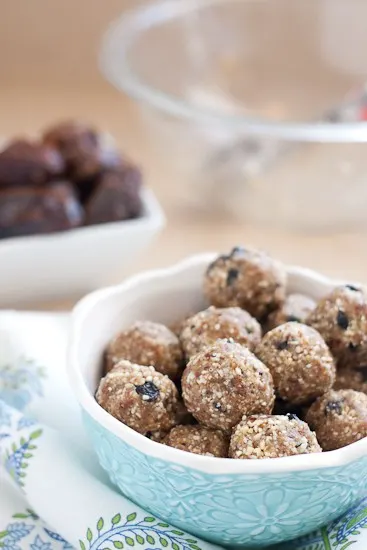 Here are the other "kah-kee" recipes on my site!
Homemade Strawberry Cream Larabars
Homemade Chocolate-Hazelnut Larabars
Homemade Chocolate Chip Cookie Dough Larabars
---
If you make one of my recipes, be sure to post it on social media and tag me at @perrysplate or #perrysplate so I can send you some love!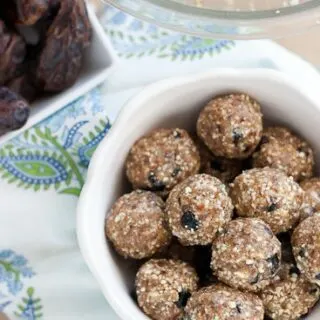 Homemade Blueberry Muffin Larabars
Making these blueberry muffin larabar knock-offs at home is much less expensive and tastier! You could also use freeze-dried blueberries in these, too!
Ingredients
1 scant cup raw walnuts
1 cup raw cashews
1 drop lemon essential oil (or 1 teaspoon lemon zest or 1/4 teaspoon lemon extract)
1/2 teaspoon vanilla extract
12 medjool dates, pitted and ripped in half
1/3 cup dried blueberries
Instructions
Pulse walnuts and cashews in the work bowl of a food processor until finely chopped. Add the lemon oil, vanilla extract, and dates. Pulse until dates are minced and mixture is thoroughly combined. Add blueberries and pulse a couple of times to blend.
Pour mixture into a bowl and roll into 1-inch balls. Alternately, you could press/roll mixture out in a plastic wrap-lined baking sheet to 1/2-inch thickness and slice into bars.
These will keep in an airtight container at room temperature for about a week. (Ours never last that long!)
This post may contain affiliate links. Any purchases made by using these links won't cost you any extra and helps keep my content free. These links may be Amazon links as I am part of the Amazon Associate Program.