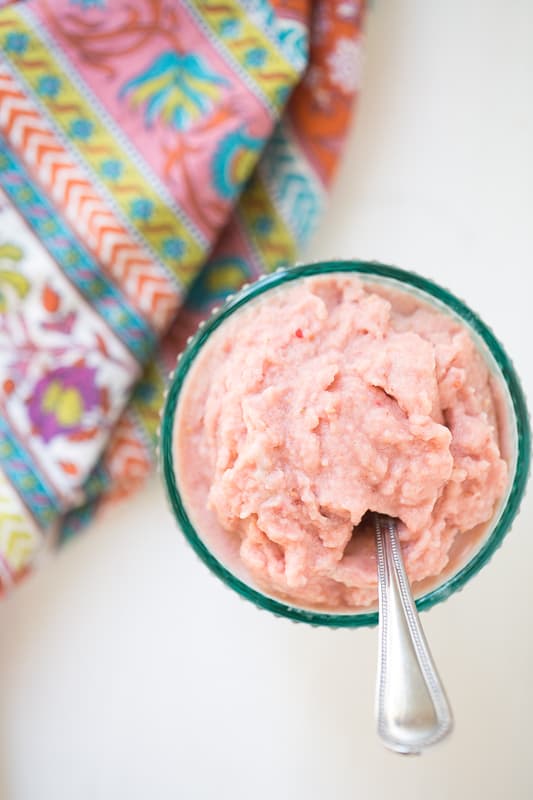 Making a quick, healthy frozen treat in the blender is one of the best ways to keep your face out of the ice cream container at 10:30 PM.
Well, most of the time.
Sometimes you need the real thing. You know what I'm talking about — those days when ALLLL the things pile up.
Like when your 1-year-old decides to be a pooping machine and you changed five of those diapers in one day. (Three before 10 AM.)
And when every word that comes out of your mouth must be negotiated, argued with, whined at or contradicted by your children.
And when you have trails of ants coming out of stupid places in your house (the bathroom!!).
And when your sweet husband is harassed and shamed by a totally irrational and entitled patient from work and you (who has never punched anyone) want to punch that person in the face.
Plus, the lady in red. She is always around on days like this to make them even more pleasant.
I would hope we wouldn't judge each other for burying our faces in a pint of Ben & Jerry's on days like that.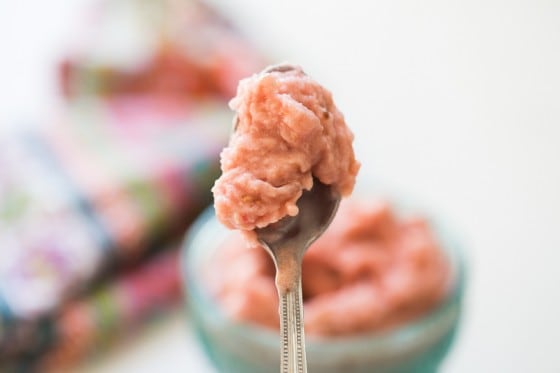 You know what though? This raspberry sorbet did it for me. I was feeling all out of sorts and after eating a bowl of this I felt better. Not having actual ice cream in the house does help, too, but I wasn't searching for my keys to run out and buy some. I was content.
Know what the secret is? Freeze-dried raspberries. It's the secret of getting a big punch of flavor without the extra moisture. You can use any kind of freeze-dried fruit you like, but I recommend using berries for this for the best flavor.
More Healthy Frozen Dessert Recipes
If you like this, check out the other frozen (and dairy-free!) blender treat recipes I've got!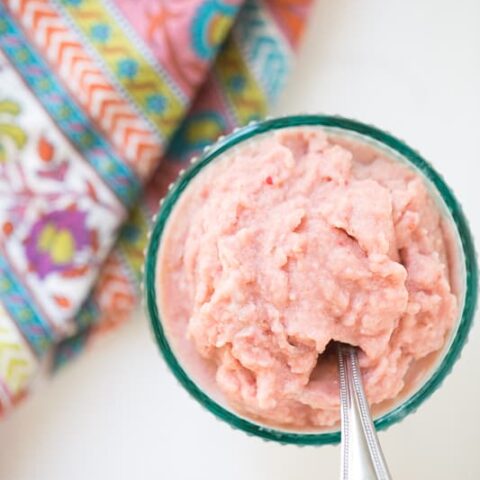 Raspberry Sorbet (In the Blender)
I love using freeze-dried raspberries when I want a big punch of raspberry flavor without all of the moisture from the berries. Feel free to substitute strawberries or blueberries if you prefer.
Ingredients
1/2 of an avocado or 1/3 cup coconut cream
3/4 cup almond or coconut milk
1 cup freeze-dried raspberries
4 medjool dates, pitted and ripped in half
2 teaspoons freshly squeezed lemon juice
1 teaspoon of vanilla extract
A few drops of vanilla Stevia (optional, if needed)
about 3 cups of ice cubes
Instructions
Put all of the ingredients (except the ice) into a high-powered blender (like a Blendtec or a Vitamix) and blend until smooth.
Add ice until it reaches the 4 cup mark on the side of the pitcher.
Blend again. (Use the ice cream setting if using a Blendtec.) If the mixture is too thick to blend, scrape down the sides and add 1/4 cup of almond milk. Blend again until smooth.