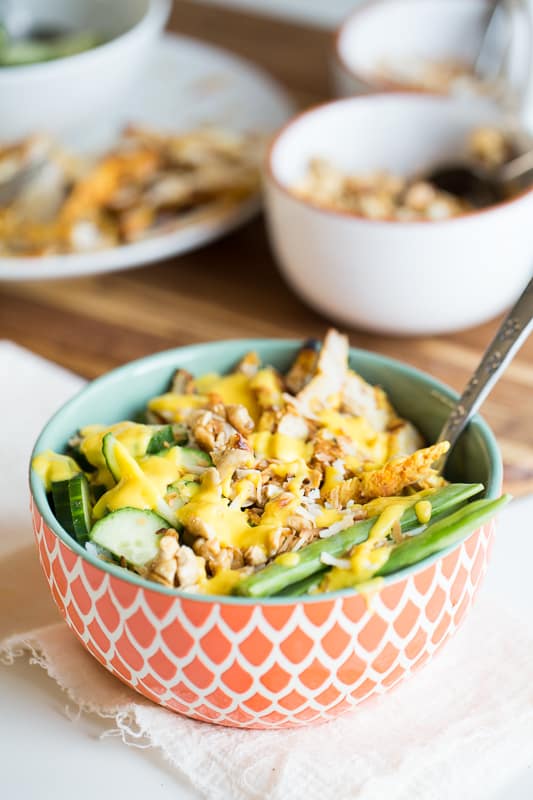 I'll tell you about this salad in a second, but can I just say how much I love this mermaid bowl?! Target clearance shelf got me bad with this one.
It's the perfect size for a salad, too. Bigger than a cereal bowl, but smaller than a serving bowl. Although, with this salad, I may use a serving bowl next time.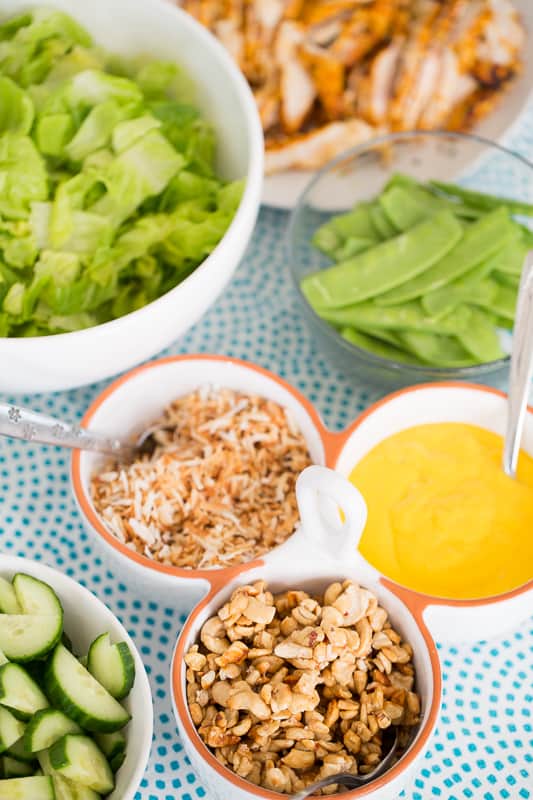 We like to have salad bar nights at our house. Most of the time it's in order to clean out the fridge, but once in a while I like to be intentional about it.
A while back I posted a recipe for Thai Spice Blend, and I love to make Thai grilled chicken and fish with it. It's great on roasted sweet potatoes, too. I thought it would be great in a Thai-inspired salad since I've had a hankering for salads lately.
Big salads with a lot components are my favorite. I love mixing textures, temperatures, and having salty, sweet, and spicy bits throughout. It does take a little more time to prep, but most of the time we have leftover toppings and greens for lunches later in the week.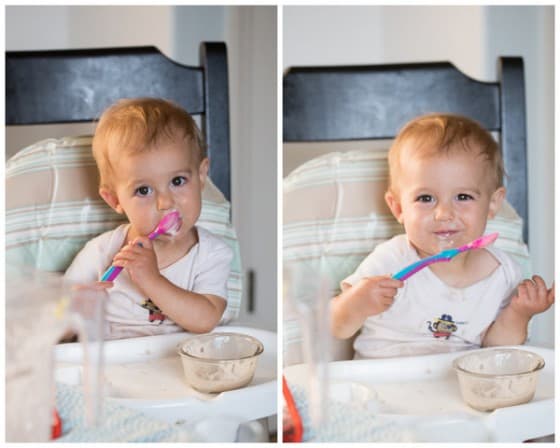 Speaking of prep work, I've got a little guy on the move lately that makes it kind of hard to do any kind of work, much less prep work. Naptimes are golden, but you can only do so much in 2-3 hours.
I was trying to get some photos taken while the light was good, and he was ALLLL up in my business. I put him in his chair with a bowl of banana blender ice cream and a spoon, you know, because at 16 months he insists on using a spoon and feeding himself. The boy is as stubborn as his mother. He is seriously more prep work and clean up than anything else I've ever made.
But his eyes and impish smile and the way he walks like a little T-Rex with his elbows tucked in at his sides turn me into a puddle of melted butter so I don't mind.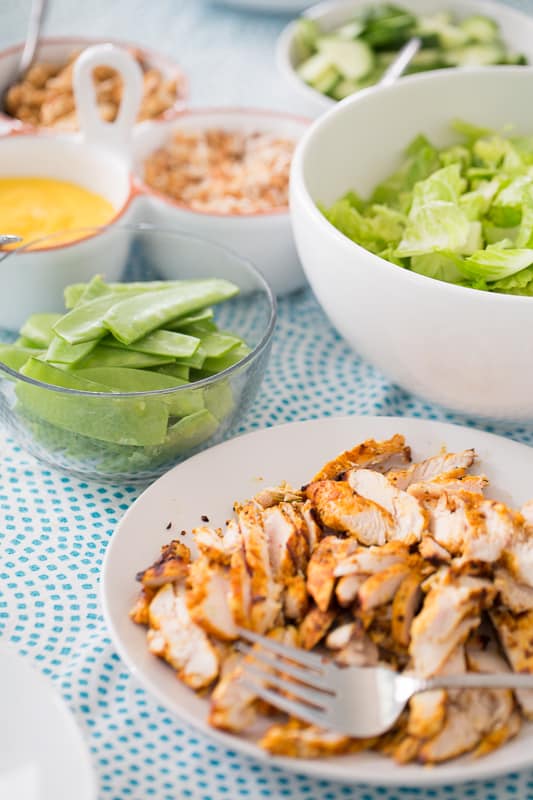 The moral of this post is….
Sometimes the best things require a lot of prep work, like big Thai Grilled Chicken Salads, babies, and painting my bathroom (which is next on my list — I just need to buy 40 rolls of blue tape).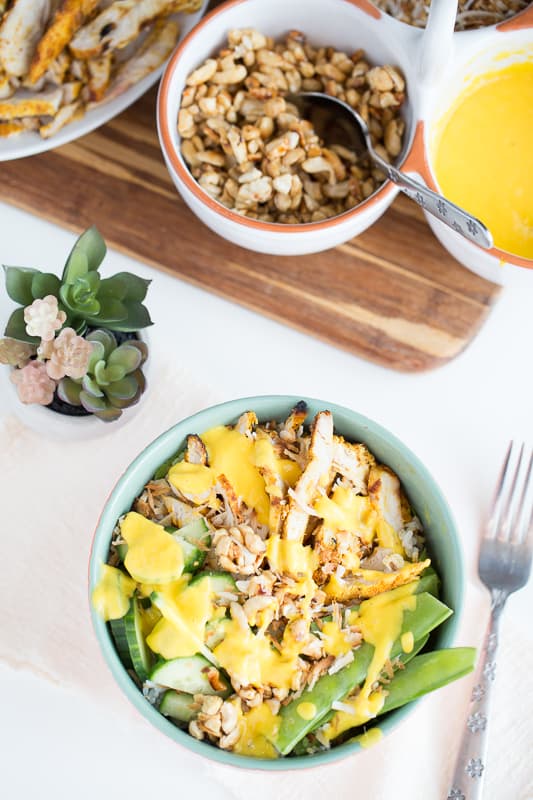 And don't forget about the dressing. That bowl of sunshine is the icing on the cake… salad. Ew. You know what I mean.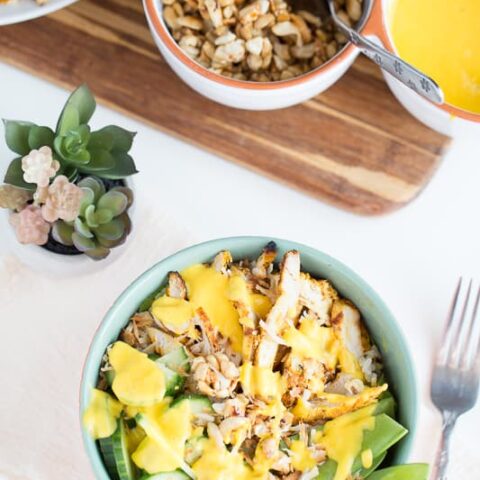 Thai Grilled Chicken Bowls with Mango-Lime Dressing
Let's be real here. The hero of this meal is the mango-lime dressing. It's super fabulous with all the garnishes, but that dressing. I can't get over how deliciously sweet and tart it turned out to be!
Ingredients
For the chicken:
1 1/2-2 pounds uncooked chicken breasts or thighs
1 teaspoon sea salt
2 Tablespoons avocado oil or other heat-safe oil
1 Tablespoon Thai Spice Blend, homemade or store bought
Juice from 1 lime (about 2 Tablespoons)
2 teaspoons fish sauce
For the cashews:
2 Tablespoons honey
Pinch of crushed red pepper flakes
1 1/2 cups raw cashews
Pinch of sea salt, to taste
For the dressing:
1 mango, peeled, pitted, and chopped or 1 1/2 cups frozen mango, thawed
Juice from 1 lime (about 2 Tablespoons)
1-inch piece of fresh ginger, chopped
1/4-1 teaspoon sriracha or sambal oelek (Asian chili paste), to taste
3 Tablespoons avocado or light olive oil
Pinch of sea salt
1 Tablespoon honey, if needed (depending on how sweet the mango is)
For the salad:
1 1/2 cup unsweetened coconut flakes
8 ounces of snow peas, trimmed
1 english cucumber, diced
Enough chopped Romaine lettuce or cooked jasmine rice for 6 people
Instructions
Slice the chicken in half horizontally if the breasts are really thick, to create two thinner breasts. Put them in a shallow bowl or a large zip-top bag. Sprinkle the chicken evenly with 1 teaspoon of salt.
In a small bowl, combine the avocado oil, Thai spice, lime juice, and fish sauce. Pour the marinade over the chicken, toss the chicken around to coat it evenly, and chill for at least 2 hours or up to 24.
Meanwhile, prepare the other salad components. To make the sweet & spicy cashews, put the honey and pepper flakes in a medium skillet over medium heat. When the honey is warm, add the cashews and reduce heat to medium-low. Cook the cashews, stirring often, until they are lightly golden brown, 5-7 minutes. Remove the cashews from the skillet and spread them out evenly on a rimmed baking sheet to cool them off. Sprinkle with a little sea salt.
To make the dressing, put all of the ingredients into a blender or food processor except the honey. Blend, and taste, adding another pinch or two of salt or the honey, if necessary. Chill until ready to use.
Preheat the grill to medium-high heat. Grill the chicken, flipping once, for 6-10 minutes, depending on the thickness of the chicken, until cooked through and the juices are running clear.
Transfer the chicken to a cutting board and let it rest for 10 minutes. Slice thinly.
Put a handful of salad greens or a few spoonfuls of cooked rice in the bottom of each bowl. Top with sliced chicken, cucumbers, snow peas, cashews, coconut flakes, and a drizzle of dressing.
Notes
Nat's Notes:

1. You can prepare all of the salad components (the cashews, dressing, and vegetable prep) a day or two ahead of time.

2. To make these bowls even more amazing, replace some of the water used to cook the rice with coconut cream or coconut milk.


SaveSave