Homemade Thai Spice Blend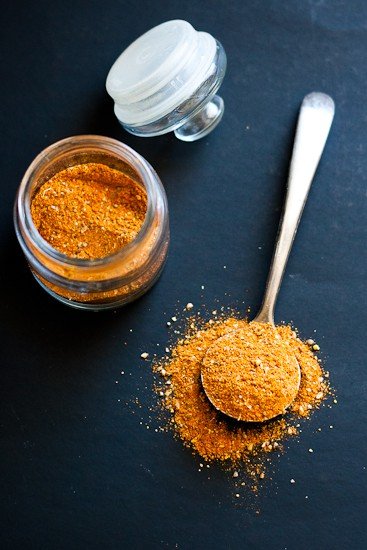 Don't tell my kids, but this Thai spice blend might become my new go-to blend. My "taco seasoning". I used it on my Thai Roasted Sweet Potatoes with Coconut and Lime and my Thai Shrimp and Veggie Skillet and both were so, SO good.
The girls are still warming up to it (read=they hate everything I put it on), but I have high hopes. It's so good that I'm willing to subject myself to dinnertime whining in order to win them over.
Or Steve and I will have a lot of Thai dinner dates. That's not such a bad idea, either.
I got the idea for this blend from a Thai blend made by Spicely, an organic spice company. Maybe you've noticed them in the spice aisle of nicer grocery stores? Their spices come in cute little green boxes. I got a sampler pack from my mom's cousin… who happens to own Spicely. (I know, right? Awesome little gift that was!)
I used Spicely's Thai spice blend on some roasted sweet potatoes I made for a small catering job last year (that post coming soon!) and I decided to make my own blend.
I used it yesterday on some grilled fish and those same sweet potatoes I mentioned up there. Then I paired it with a green salad and the Thai Peanut (almond) Sauce from the Thai Chicken Lettuce Wraps post.
Definitely one of the best paleo meals we've had in a long time!
Here it is in its Instagrammed glory…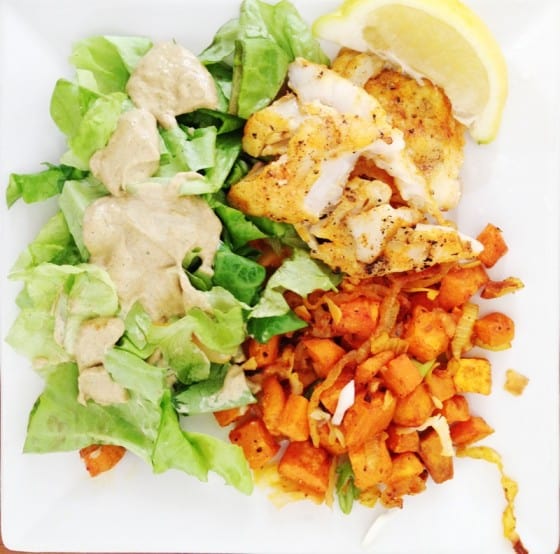 By the way, do you follow Perry's Plate on Instagram? If not, do! I try to post all of our paleo dinners to give you some ideas. And other stuff, too.
One more thing… What makes this Thai spice blend stand out from others that I saw online is fenugreek. Have you ever used fenugreek? I see it pop up in ethnic recipes here and there, but I had never purchased any until now. It has a sweet, maple-y smell and flavor and really makes this blend taste…. authentically Thai. (According to someone who has never been to Thailand and has probably never had truly authentic Thai food. Just humor me, OK? It's good.)
If you can find fenugreek, please use it! If your grocery store doesn't carry it, try a natural/fancy-pants grocery store like Whole Foods. Or an ethnic grocery store if you happen to have on nearby.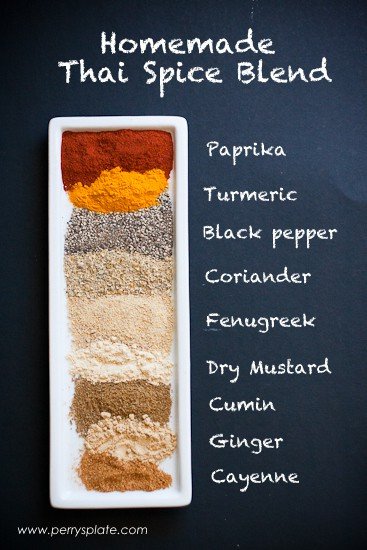 If you like to make your own spice blends, here are a few more I've got on the site!
Perry's Plate Taco Seasoning – Definitely the most popular and has been known to be given away as gifts
Freshly Ground Curry Powder – I can't bring myself to buy regular curry powder after making this. There's just no comparison.
Middle Eastern Spice Blend – SO GOOD in a chicken/vegetable marinade and made into skewers.
Dry Buttermilk Ranch Dressing Mix – I omit the dried buttermilk powder these days to make it paleo. It also makes it more concentrated.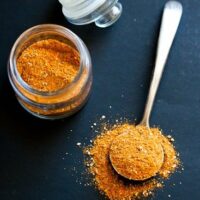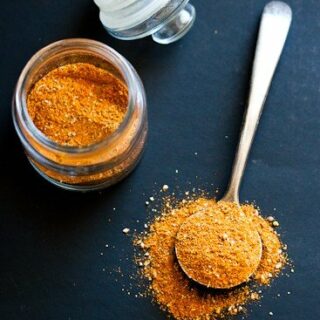 Homemade Thai Spice Blend
Yield: 3 Tablespoons
Additional Time: 5 minutes
Total Time: 5 minutes
If you can absolutely help it -- don't leave out the fenugreek. It might be tricky to find, but it has a sweet, maple-like taste and gives this spice blend its exoticness.
Ingredients
2 teaspoons paprika
1 teaspoon turmeric
1 teaspoon coarsely ground black pepper
1 teaspoon ground coriander
1 teaspoon ground fenugreek
1/2 teaspoon dry mustard
1/2 teaspoon ground cumin
1/2 teaspoon ground ginger
1/8-1/4 teaspoon cayenne powder (to taste)
Instructions
Combine well and store in an airtight container.
Note: I use 1/8 teaspoon of cayenne because I have small children who freak out over spicy food. Use more if you'd like it spicier!