Homemade Thai Seasoning Blend Recipe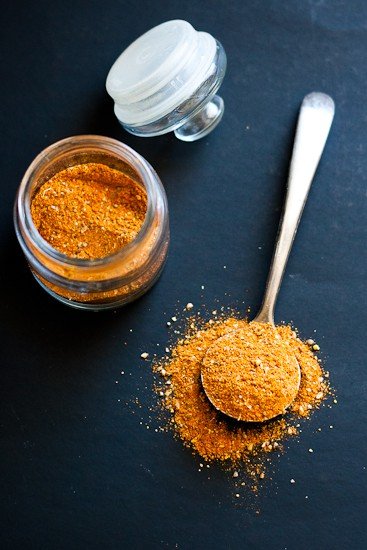 Don't tell my kids, but this homemade Thai seasoning might become my new go-to blend. My "taco seasoning". I used it on my Thai Roasted Sweet Potatoes with Coconut and Lime and my Thai Shrimp and Veggie Skillet and both were so, SO good.
The girls are still warming up to it (read=they hate everything I put it on), but I have high hopes. It's so good that I'm willing to subject myself to dinnertime whining in order to win them over.
Don't get me wrong — I love southwest & Mexican flavors, but sometimes I want a little something with an Asian seasoning profile. Doesn't matter where in Asia, either. Haha. I just love all of the exotic flavors that come from that part of the world.
Or Steve and I will have a lot of Thai dinner dates. That's not such a bad idea, either.
I got the idea for this blend from a Thai blend made by Spicely, an organic spice company. Maybe you've noticed them in the spice aisle of nicer grocery stores? Their spices come in cute little green boxes. I got a sampler pack from my mom's cousin… who happens to own Spicely. (I know, right? Awesome little gift that was!)
So, I hacked their blend to make my own!
This blend is heavenly in anything using coconut milk. I have yet to use it as a dry rub, but I have a feeling it would be fantastic on some pork chops or grilled fish.
Recipes Using Thai Seasoning
You can use Thai seasoning on roasted vegetables, as a rub for grilled chicken or steak, or in marinades. Here are a few recipes with Thai seasoning, if you're needing more inspiration…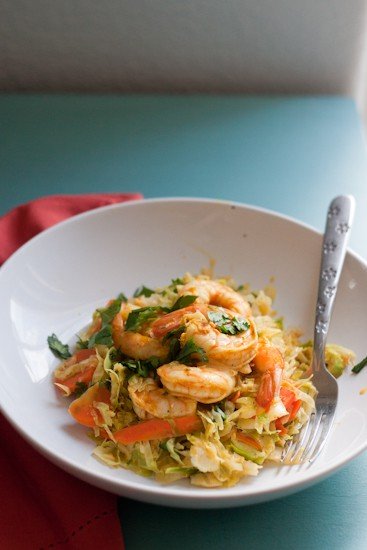 This Paleo Thai Shrimp and Vegetable Skillet is a light, fresh meal that comes together really quickly — like a stir fry. It's also low-carb & Whole30 compliant and great for summer.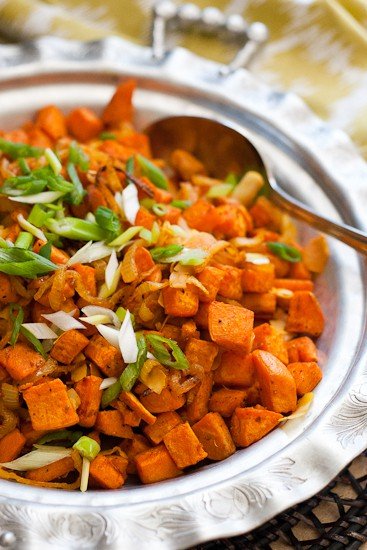 This Thai Roasted Sweet Potatoes with Coconut and Lime was surprisingly tasty. I never thought to pair sweet potatoes with Thai seasoning, but it's really magical.
Especially with toasted coconut flakes all over the top. Mmm.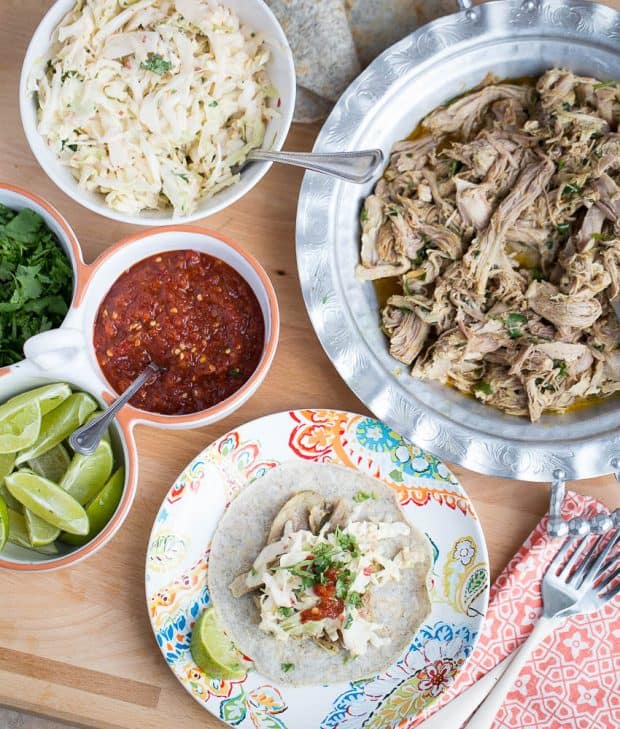 I loved this Thai seasoning so much that I included it in the spice blend section of my first cookbook — The Big Book of Paleo Slow Cooking and used it in two recipes:
Thai Pulled Pork Tacos with Creamy Chili Slaw (pictured above) — This might be my favorite recipe in the whole book. That's saying a lot for someone who was never a fan of pork before. This recipe made me a believer.
Thai-Spiced Seafood Soup with Zoodles — This one is a creamy, coconut curry-like soup with chunks of flaky cod and shrimp. And lots of zoodles. I'm a huge fan of this one.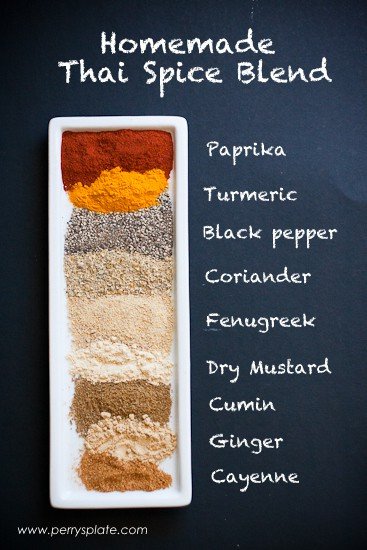 Is There a Fenugreek Substitute?
As your eyes run down that list of spices you're probably thinking "Ugh. I don't have fenugreek. Is there a fenugreek substitute?"
Short answer: Sort of. You could replace fenugreek with some garam masala (a blend commonly used in Indian dishes), yellow mustard seeds and brown sugar or just leave it out.
Long answer: Fenugreek really makes this Thai seasoning blend stand out. Have you ever used fenugreek? I see it pop up in ethnic recipes here and there, but I had never purchased any until now. Fenugreek tastes like a cross between celery leaves and maple syrup. (I know. It sounds weird) It's hard to duplicate.
It really makes this blend taste…. authentically Thai. (According to someone who has never been to Thailand and has probably never had truly authentic Thai food. Just humor me, OK? It's good.)
If you can find fenugreek, please use it! If your grocery store doesn't carry it, try a natural/fancy-pants grocery store like Whole Foods. Or an ethnic grocery store that carries Asian spices, if you happen to have on nearby.
More Homemade Seasoning Blends
If you like to make your own spice blends, here are a few more I've got on the site!
Perry's Plate Taco Seasoning – Definitely the most popular and has been known to be given away as gifts
Freshly Ground Curry Powder – I can't bring myself to buy regular curry powder after making this. There's just no comparison.
Middle Eastern Spice Blend – SO GOOD in a chicken/vegetable marinade and made into skewers.
Dry Buttermilk Ranch Dressing Mix – I omit the dried buttermilk powder these days to make it paleo. It also makes it more concentrated.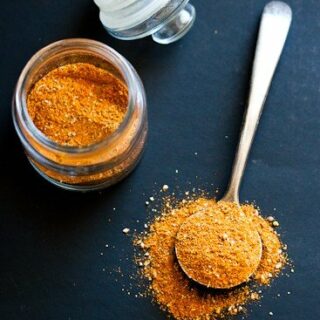 Homemade Thai Seasoning
Yield: 3 Tablespoons

Additional Time: 5 minutes

Total Time: 5 minutes

If you can absolutely help it -- don't leave out the fenugreek. It might be tricky to find, but it has a sweet, maple-like taste and gives this spice blend its exoticness.
Ingredients
2 teaspoons paprika
1 teaspoon turmeric
1 teaspoon coarsely ground black pepper
1 teaspoon ground coriander
1 teaspoon ground fenugreek
1/2 teaspoon dry mustard
1/2 teaspoon ground cumin
1/2 teaspoon ground ginger
1/8-1/4 teaspoon cayenne powder (to taste)
Instructions
Combine well and store in an airtight container.

Note: I use 1/8 teaspoon of cayenne because I have small children who freak out over spicy food. Use more if you'd like it spicier!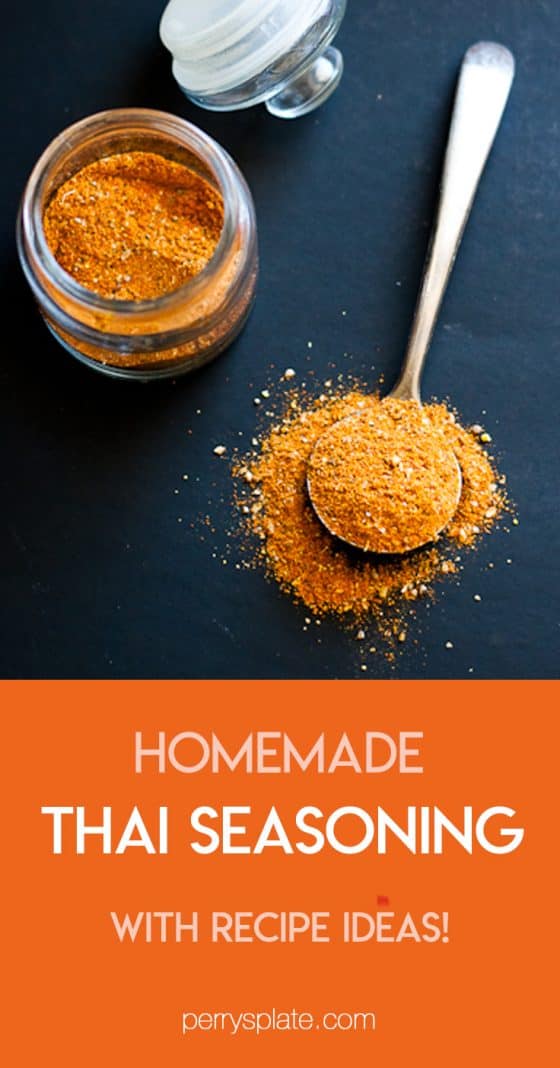 Disclosure: This post may contain Amazon affiliate links. Purchases made by using these links don't cost you any extra and helps to keep my content free.