These aren't your regular roasted sweet potatoes! They're smothered in Thai spice, mixed with some toasted coconut, and finished off with a squirt of lime.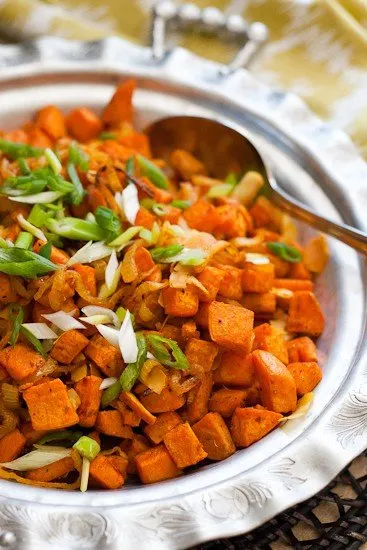 Know what? I thought I hated sweet potatoes for most of my life because they only place I saw them was on the Thanksgiving table covered in marshmallows.
And that totally grossed me out.
After I was more adept in the kitchen I made sweet potato fries a few times, and I think that was the gateway into completely embracing sweet potatoes. Now, I make them all the time with my favorite sweet potato fry seasoning. Turns out roasted sweet potatoes are pretty dang good.
(When you keep the marshmallows far, far away. Just put them in a s'more, mkay?)
One thing that surprised me was how well sweet potatoes play with spicy foods and seasonings. I use them in Tex-mex recipes all the times, and I love the sweet-spicy contrast.
In a Thai-inspired recipe, though? I wasn't sure. I don't even know if they eat sweet potatoes in Thailand.
So, the only logical way to know if it worked was to test it out on a bunch of strangers. *snicker*
Last year I catered the dinners for the monthly health classes my husband teaches at work. One month I planned to make Grilled Thai Chicken (along with a Thai Peanut [Almond] sauce that I could drink by the glassful) and needed a side dish. I threw these Thai roasted sweet potatoes together haphazardly and send it to Steve's office.
They ended up being the most popular thing I made that night!
Whew.
I had used a Thai spice blend from Spicely, and loved it so much I decided to make my own Homemade Thai Spice Blend. I'd recommend Spicely's or my recipe because they both contain fenugreek, which is a popular spice in Thailand and has a sweet, maple-y smell that goes FABULOUSLY with sweet potatoes.
And the coconut. And the lime. You can't leave those out.
Psst… if you've got picky eaters, try the super easy Sweet Potatoes and Leeks recipe from Sandi at Fearless Dining!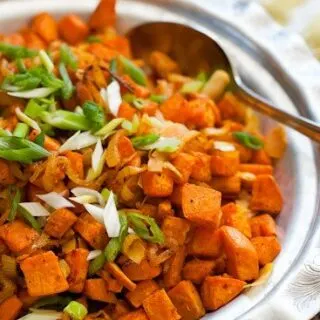 Thai Roasted Sweet Potatoes with Coconut and Lime
Additional Time:
10 minutes
Roasted sweet potatoes take on an unexpected flavor profile with my homemade Thai Spice Blend and some fresh lime and coconut.
Ingredients
3 large orange sweet potatoes
1/2 of a large yellow onion
2/3 cup unsweetened coconut shavings (or flakes)
2 Tablespoons coconut oil
1/2 teaspoon Kosher salt
2 green onions, thinly sliced
1/2 a lime
Instructions
Preheat oven to 425 degrees F.
Peel potatoes and dice into 1/2-inch cubes. Peel onion, cut in half, and slice thinly.
Divide the potatoes and onions between two large, rimmed baking sheets. Drizzle 1 Tablespoon of coconut oil on each pan and divided spice and salt between the pans as well. Using your hands, toss the vegetables around in the oil and spices until everything is coated and spread them out evenly on the baking sheet.
Roast for about 20 minutes. Divide coconut shavings between the pans, then toss the around in the mixture with a spatula.
Rotate pans and return them to the oven for another 10-15 minutes or until everything is golden brown.
Transfer to a serving platter. Sprinkle with sliced green onions and squeeze lime juice over the top.
Notes
Nat's Notes:
1. You can also use a combination of sweet potatoes and white potatoes.
2. I recommend using Spicely's Thai blend or making your own (recipe link in the post!)
Save
Save