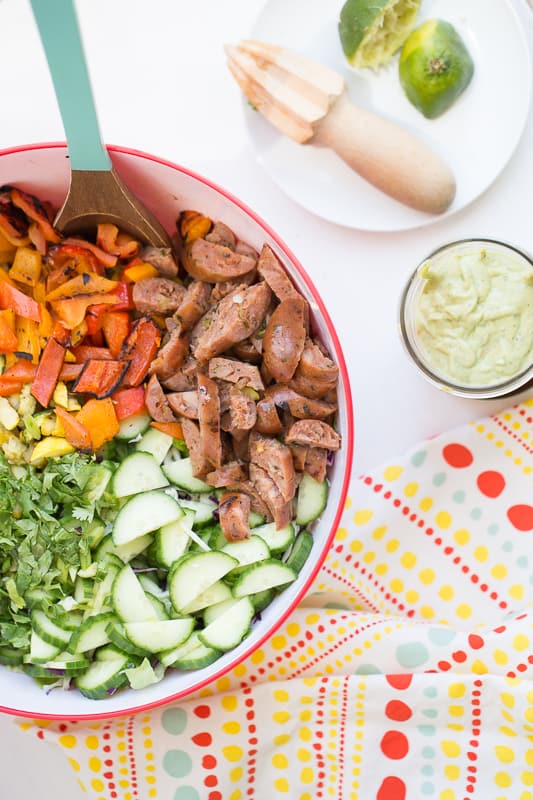 Sometimes I have anxiety over potlucks — particularly when I get an idea for something and I want to try it out on a bunch of people.
I'm not worried about their reaction. It's easy to remain anonymous if there are a lot of people there and big, long tables full of food.
I'm worried that if what I made turns out to be really good I won't get any if I'm stuck in a forever long line of people. Unless I'm assigned to bring a dessert, I make something that's pretty healthy. That way I'm guaranteed at least one option that isn't a grocery store potato salad or a bag of chips.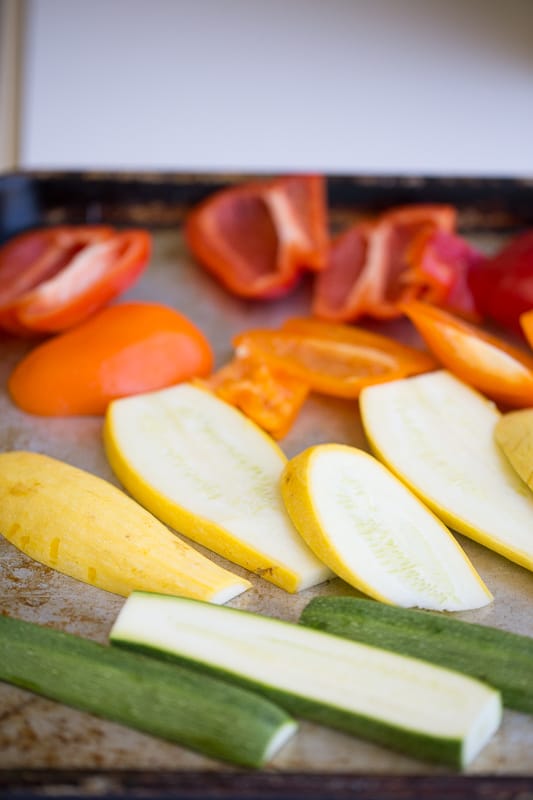 Or those fluffy jello salads with the marshmallows.
Confession: I love those — especially the orange one and the green, pistachio one. Don't judge.
Speaking of orange and green, I love the colors in this salad. Grilled vegetables are one of my favorite foods in the summertime, but my kids have strong opinions, so I have to resort to making things for potlucks if I want my fix.
If you don't like squash and peppers, grill something else — like eggplant, tomatoes, sweet potatoes, or kale. Yes, kale. Grilled kale is a great, crunchy addition to a salad!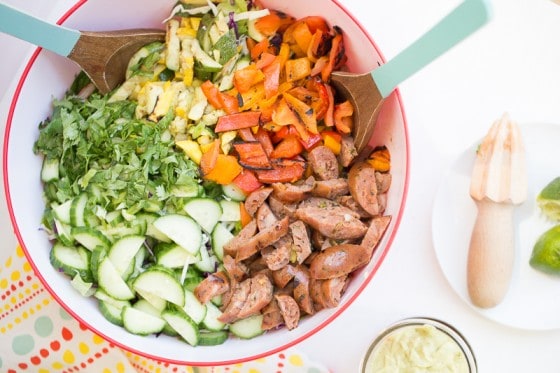 And that dressing? It's like guacamole and ranch had a baby.
If you've never tried my Paleo Ranch Dressing before, NOW is the perfect time to use it! I use my own Homemade Ranch Seasoning so I always have it in the cupboard to whip up dressing when I need it.
If you like this recipe you'd love my Grilled Vegetable & Rotisserie Chicken Salad!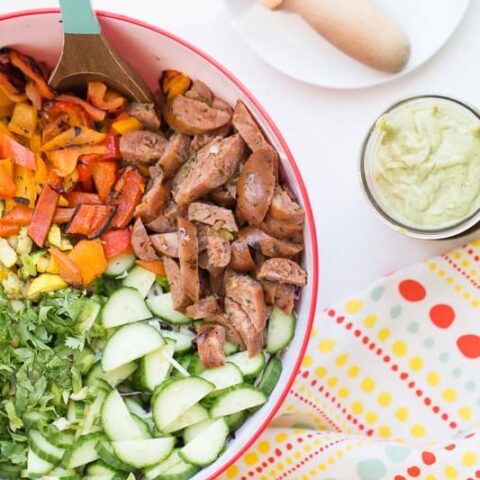 Grilled Vegetable Potluck Salad with Creamy Avocado Ranch
Ingredients
For the salad:
2 bell peppers, any color
2 medium zucchini or yellow squash
1 teaspoon ground cumin
1 teaspoon sea salt
2 Tablespoons avocado oil, or other heat-safe oil
3/4 pound of pre-cooked sausage links, preferably a tex-mex flavor
3 heads of baby romaine lettuce, trimmed and chopped
1 English cucumber, halved lengthwise and sliced thinly
2 green onions, sliced thinly
1/2 cup fresh chopped cilantro
For the dressing:
1/2 cup of paleo-friendly Ranch dressing (see note)
1 teaspoon ground cumin
1 1/2 avocados, peeled, pitted, and chopped
Juice from 1/2 of a lime (about 1 Tablespoon)
1/2 cup fresh chopped cilantro
1/2 teaspoon sea salt
Instructions
Preheat your grill to medium-high heat.
Cut the bell peppers into large pieces, discarding the stem and seeds. Slice the squash into long, 1/2-inch thick strips. Spread all of the vegetables out onto a rimmed baking sheet. Sprinkle with cumin and salt and drizzle with avocado oil. Using your hands, spread the oil and seasonings all over the vegetables.
Lay the vegetables on the grill along with the sausages. Grill until dark grill marks form, about 3-4 minutes, then flip. Cook until the vegetables are soft but not mushy and the sausages are heated through.
Transfer the vegetables and sausages to a cutting board and let them rest for a few minutes.
Make the dressing by combining all of the dressing ingredients into a food processor. Process until smooth. Taste, and add additional salt or lime juice, if necessary.
Chop the grilled vegetables and sausages into bite-sized pieces.
Put the salad greens into an extra large salad bowl. Top with the grilled vegetables, sausage, cucumbers, and green onions. Pour the dressing over the top and toss gently to coat everything. Sprinkle the rest of the cilantro over the top.
Serve.
Notes
Nat's Notes:

1. If you happen to have homemade Paleo Ranch handy, then good for you! If not, you can substitute 1/3 cup paleo-friendly mayonnaise + 3 Tablespoons almond or coconut milk + 1 1/2 teaspoons homemade dry Ranch seasoning or an all-purpose seasoning blend.

2. If you don't plan on eating this right away, store the dressing separately and add it to the salad immediately before serving. The dressing should keep for a couple of days, chilled.

3. I used Aidell's mango jalapeno sausage for this and it was fantastic. If you're looking for something Whole30 friendly, use Aidell's chicken apple sausage. You can also use grilled chicken, steak, or shrimp if you like! Or omit the meat entirely.