Chipotle Cashew Cheese Sauce + Paleo Nachos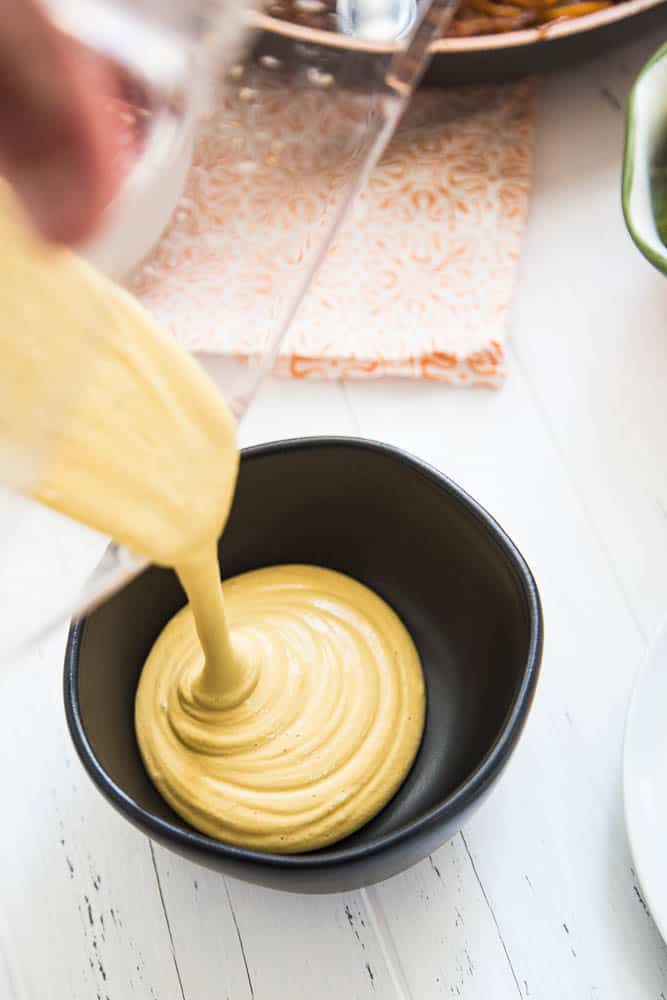 This is one of those recipes where I'm like, "NAT. WHY DID THIS TAKE YOU SO LONG?!" Cashew cheese sauce has been floating around the Internet for a few years, but I was always doubtful that it would be worth making. Or that it would taste good.
I'm a cheese snob and generally resistant to trends (food or otherwise) until I can mull them over and decide if they're something I want to try.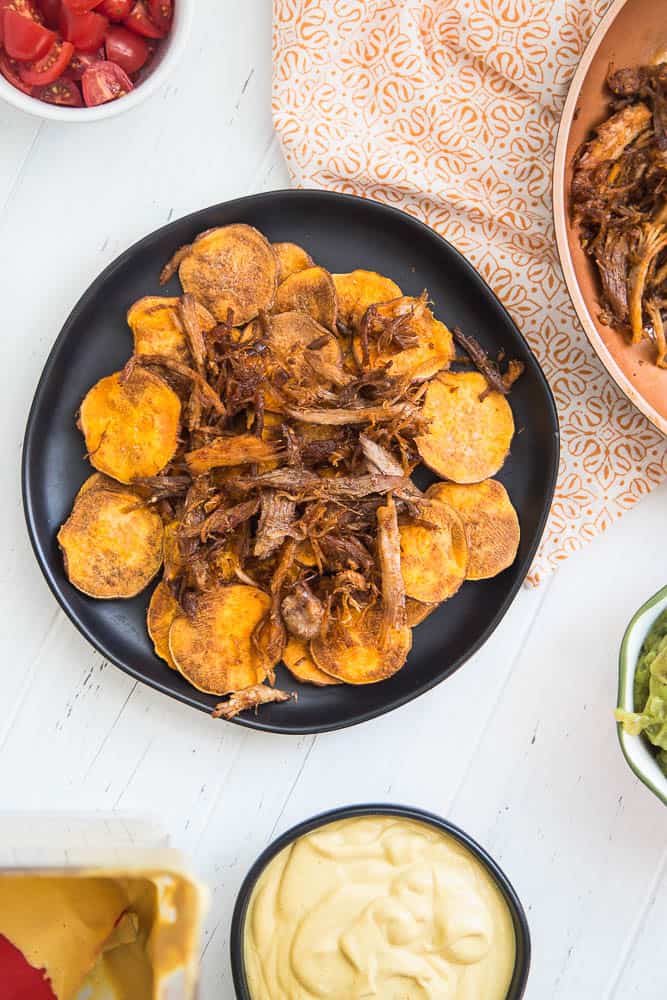 When I was working on my last cookbook, I wanted to add a dairy-free cashew cheese sauce to my basics chapter and incorporate it into a few of the recipes.
After the first few test runs, I was hooked. This stuff is so much better than I thought it would be! I included this chipotle version as well as a garlic Alfredo version in my book.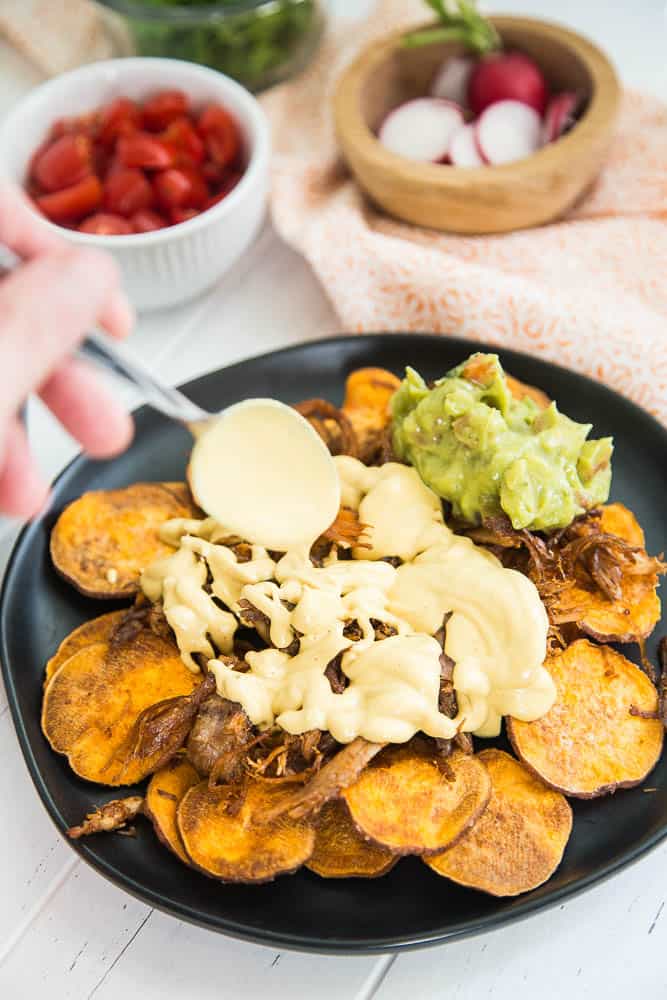 You can use this sauce in any tex-mex dish that uses cheese or as a veggie dip. Or drizzle it over chili. (Yum. I've done this!)
For these paleo nachos I used my Crispy Sweet Potato Chips, leftover shredded pork I pulled out of the freezer and heated up with some Chipotle Chorizo Seasoning, some Chipotle Cashew Cheese Sauce, and some fixings — guacamole I bought at Sprouts (their Hatch Chile Guac is super good), chopped tomatoes, sliced radishes and cilantro.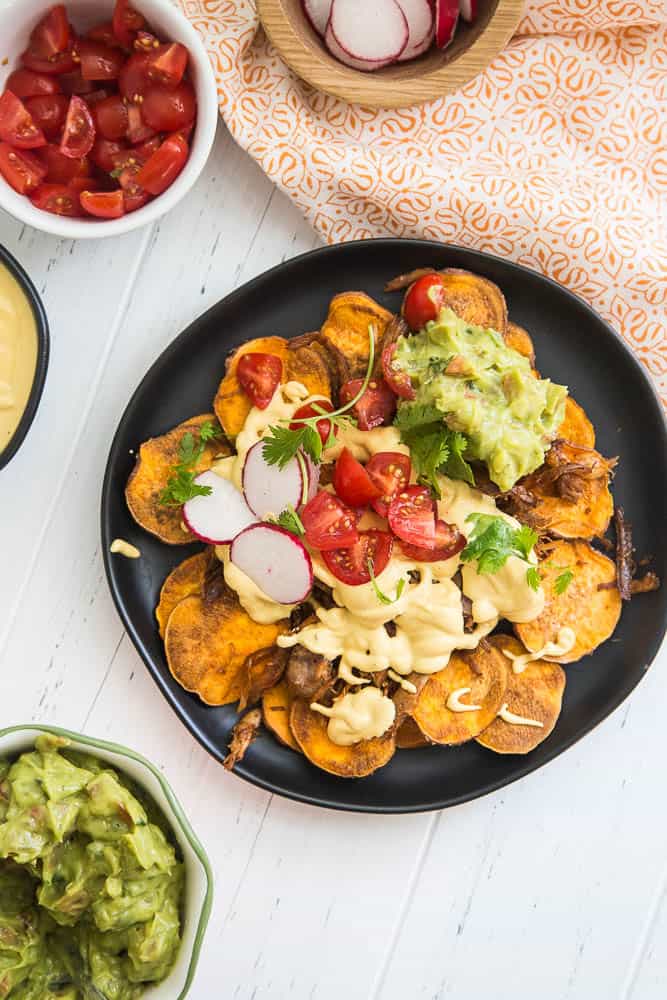 I'm thinking we'll have these nachos on Sunday for Father's Day. Nachos has become a Mother's Day tradition because it's something that's fast and easy and the kids can almost do by themselves. (And it doesn't stress Steve out.)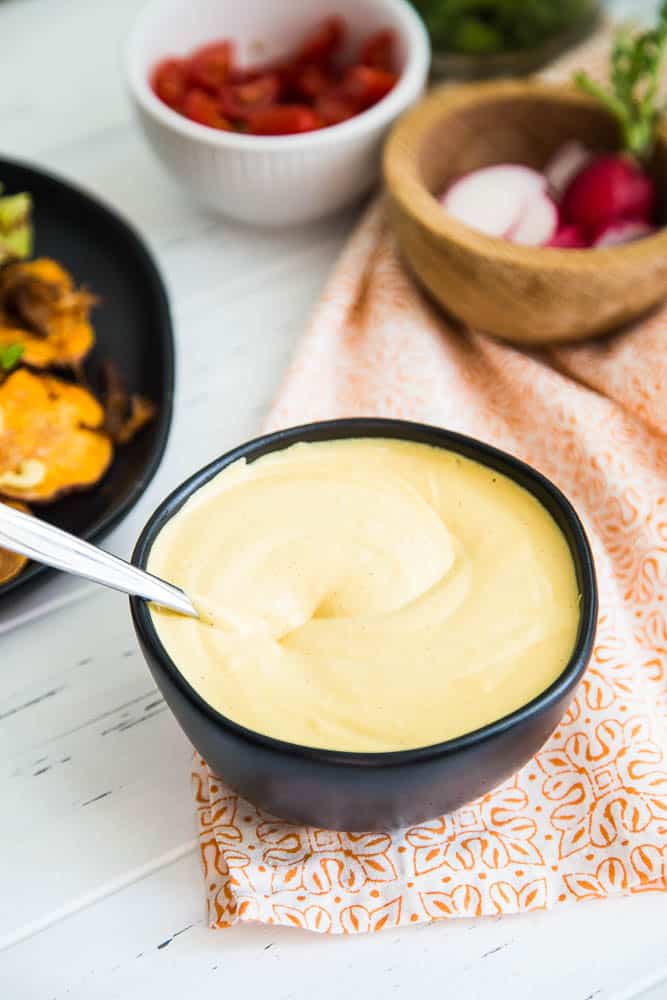 You can even make the cashew cheese sauce ahead of time and heat it up in a skillet over low heat. If it starts to get clumpy or the texture is funny, just buzz it up again in the blender with a tablespoon of hot water to smooth it out.
Here's another great recipe for Vegan Queso by Wicked Spatula using chunky salsa!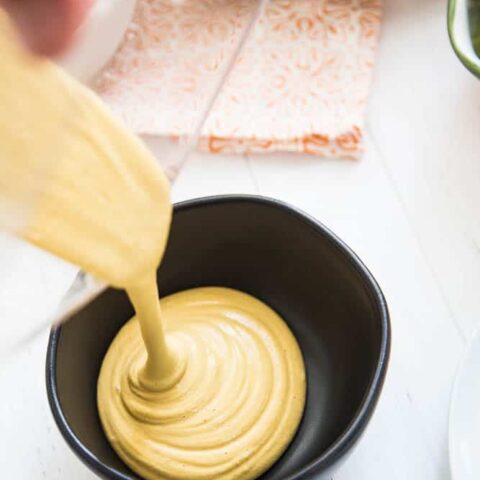 Chipotle Cashew Cheese Sauce
Yield: Makes about 1 1/2 cups

Prep Time: 1 hour 5 minutes

Total Time: 1 hour 5 minutes

This dairy-free cashew cheese sauce is a snap and makes some seriously delicious paleo nachos or a tasty tex-mex veggie dip!
Ingredients
1 cup of raw, unsalted cashews (whole or pieces)
3 tablespoons freshly squeezed lemon juice
3 tablespoons nutritional yeast
1 clove of garlic
1 teaspoon sea salt
1/8-1/2 dried chipotle chile powder or 1/2 of a chipotle pepper from a can of chipotle peppers in adobo sauce
1/8 teaspoon ground turmeric
Instructions
Put the cashews in a medium bowl and cover completely with steaming hot water. Let the cashews soak for at least an hour. Drain off the liquid.
Put the cashews in a blender or food processor along with 1/2 cup of fresh water and the ingredients listed above. Blend until smooth.
Notes
Nat's Notes:

If you've never used dried chipotle powder, it's about as spicy as cayenne, so keep that in mind when using it.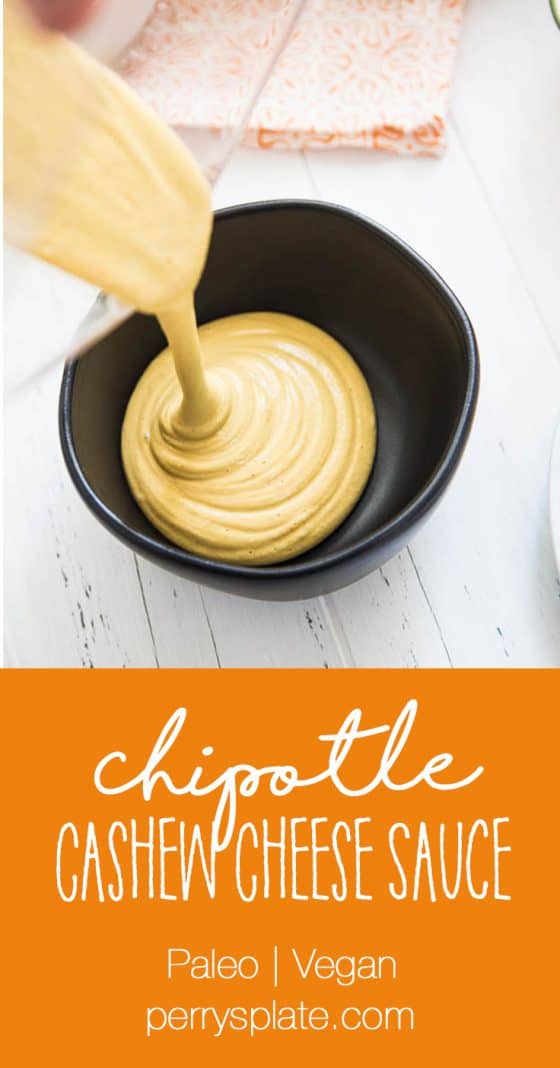 SaveSave