Gluten-Free Maple Crepes with Spiced Apples and Glazed Pecans
Maple is one of my favorite flavors ever. Combine it with apples and nuts, and I'm pretty much in heaven.
I don't think I'd ever get tired of crepes. We've had them twice in the last week. (!) My most favorite Gluten-Free Crepe Recipe is my go-to and it's versatile enough to switch out the flour for gluten-free blends or a mixture of grain flours. Or use different kinds of milk.
One of these days I'll nail down a grain-free crepe recipe that I like, but until then, it's this one every time.
By the way, these apples are fabulous with the little pinch of clove — which reminds me a little of snickerdoodles. And you MUST make the 5-Minute Maple-Ginger Glazed Pecans to go on top. And make some extra because you'll want to eat 45 of them.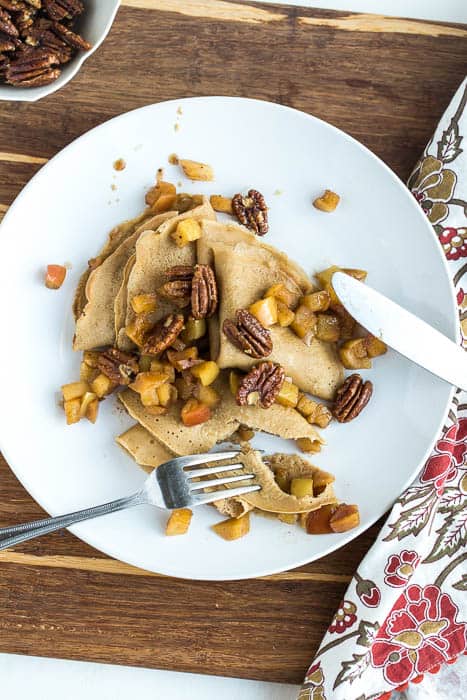 You can use a little extra maple syrup if you don't want to use maple extract. The extract gives it a stronger maple-y flavor which is hard to achieve with syrup without making them too sweet.
Gluten-Free Maple Crepes with Spiced Apples and Glazed Pecans
Yield: Serves 6
Total Time: About 40 minutes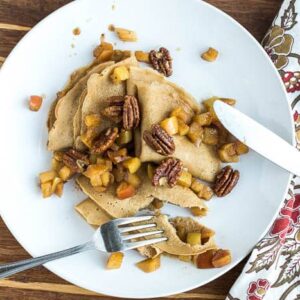 Ingredients:
For the crepes:
2 1/2 cups of almond or coconut milk
6 eggs
3 Tablespoons pure maple syrup
2 teaspoons maple flavoring
1 1/2 cups gluten-free flour blend
1 teaspoon sea salt
coconut oil, for cooking
For the apples:
4 tart baking apples, about 2-2 1/2 pounds
2 Tablespoons pure maple syrup
2 teaspoons of ghee or coconut oil
1 teaspoon cinnamon
1/4 teaspoon ground cloves
pinch of sea salt
One batch of 5-Minute Maple-Ginger Glazed Pecans
Directions:
Put the crepe ingredients (except the coconut oil) into a blender in the order listed. Blend until smooth. You can also whisk the ingredients together in a large mixing bowl. Let the crepe batter sit for 10 minutes or so while you prepare the apples. It'll also give the time for some of the bubbles in the batter to subside.
Cut the sides off of the apple and discard the core. Dice the apple, and put it in a large skillet. Add the rest of the apple ingredients, cover, and cook the mixture over medium heat, stirring occasionally, until the apples are tender but not mushy.
While the apples cook, heat an 8-inch nonstick pan over medium high heat. Brush the pan with coconut oil and pour in about 1/4 cup of crepe batter. Tilt and swirl the pan until the batter is spread evenly on the bottom. Cook the crepe for 1-2 minutes until it appears dry on top and the edges begin to turn golden brown. Run a heat-safe rubber spatula around the edges of the crepe and flip it. If it's ready to flip, then this should be easy. If the crepe scrunches or rips, then it's not quite there yet. Cook the crepe on the other side for about a minute, then transfer it to a plate. Repeat with the remaining batter and cover the stack of crepes with a paper towel to keep them warm.
Serve the crepes with the apples and the pecans.

SaveSave