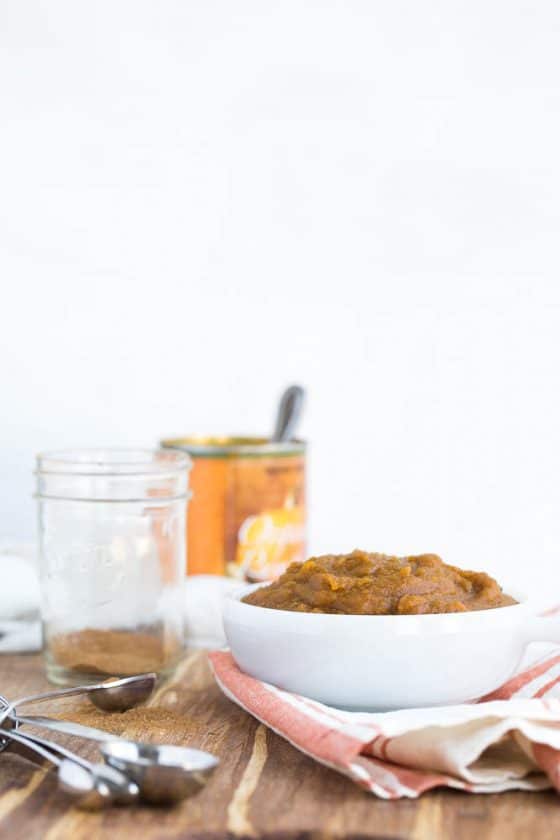 Guys, this pumpkin butter is like pumpkin pie in a bowl. It's SO GOOD.
I like fruit butters, but they're kind of rare around here. The last time I made some was when I made Ginger-Cardamom Pear Butter. Remember that? It was forever ago, but it was super good. I remember I ate a lot of pancakes while that was in the fridge. Maybe that's why I don't make fruit butters often — the vehicles needed to eat it usually aren't super healthy.
I suppose you could dip fruit in it, but dipping fruit in fruit is kind of weird. Maybe not?
Anyway, this pumpkin butter is super easy to throw together and keeps in the fridge for a week or two. You can even make a big batch and put it in cute little jars to give away to friends, teachers, neighbors, stylists, or whoever needs a little something sweet for the holidays.
(And bonus points because it's not a plate of cookies!)
If you're a from-scratch kind of cook like I am and want to use a fresh pie pumpkin to make pumpkin butter, check my How to Cook Pumpkin in an Instant Pot post for easy directions!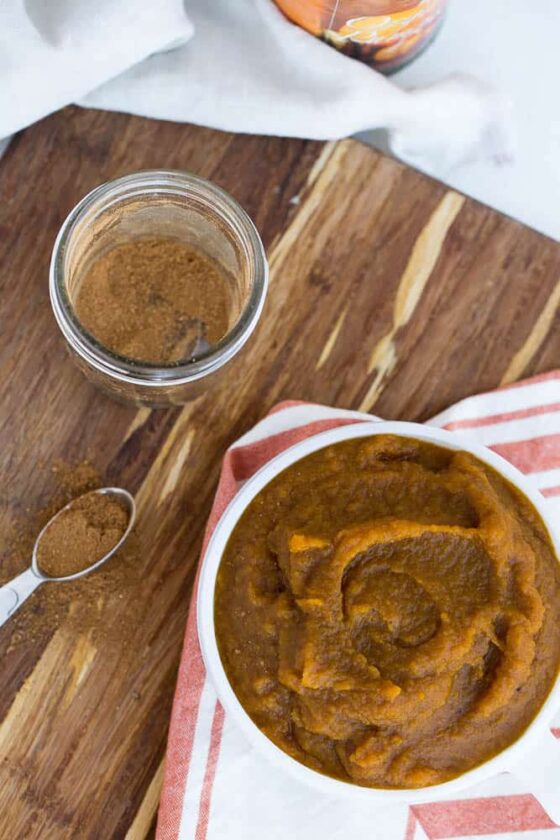 If you'd rather do an apple version, try the Apple Butter recipe from Gluten-Free on a Shoestring!
And if you need something to slather this on, I suggest these Paleo Pumpkin Muffins from Erin at Texanerin Baking!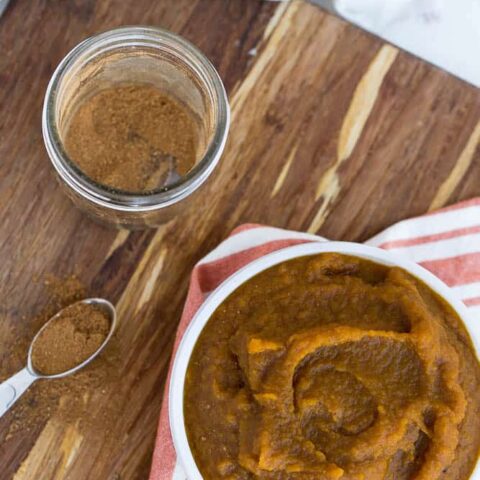 Paleo Pumpkin Butter
Yield:
Makes about 1 1/2 cups
This naturally sweetened pumpkin butter is great as a neighbor gift idea for the holidays!
Ingredients
15-ounce can of pumpkin puree
1 cup unsweetened applesauce (or 2/3 cup unsweetened apple cider)
1/3 cup pure maple syrup
1 Tablespoon lemon juice
2 teaspoons pumpkin pie spice
1 teaspoon vanilla extract
pinch of sea salt
Instructions
Put all of the ingredients into a medium saucepan.
Simmer over medium to medium-low heat for about 40 minutes, stirring occasionally, until thickened. If the mixture begins to splatter, tent the pan with a piece of aluminum foil so you don't end up scrubbing pumpkin butter off of everything.
Let it cool and then transfer the pumpkin butter to an airtight container and store chilled.
SaveSave
SaveSave