Freeze-dried raspberries give these fat bombs such a burst of berry flavor and sweetness! You'll love this creamy truffle-like combination.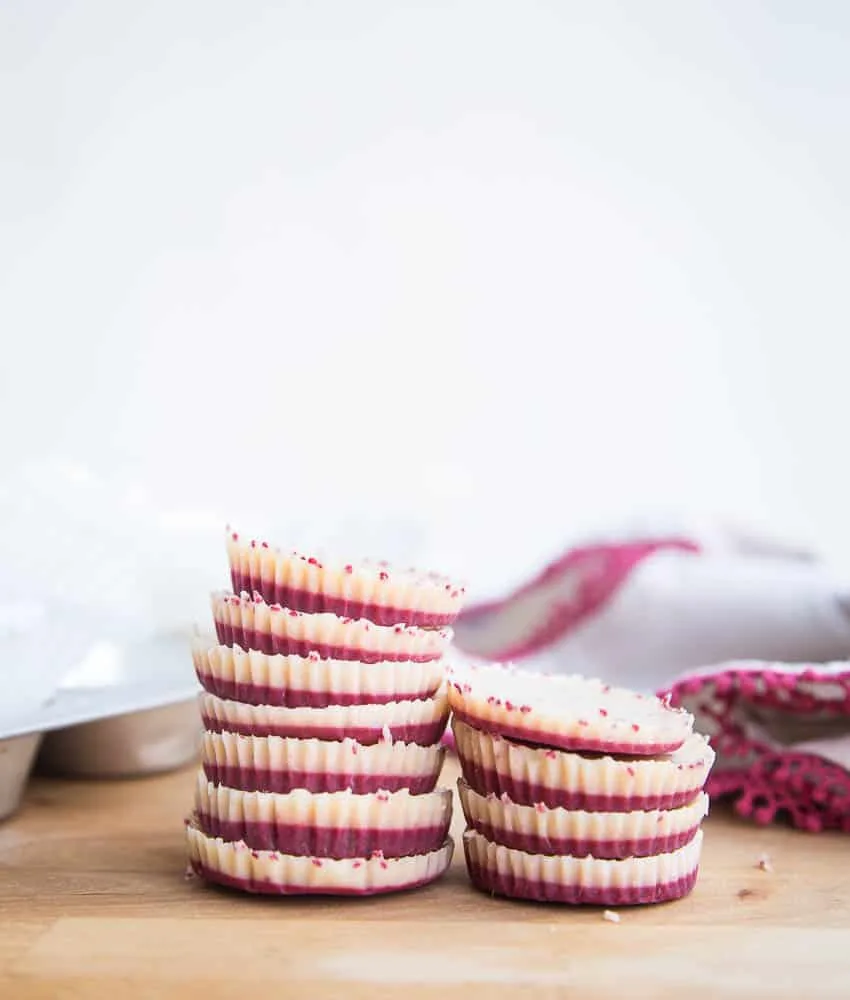 I have a confession: I've been leery of fat bombs for a long time.
Don't know what fat bombs are? They're little sugar free, keto friendly treats that are mostly made of healthy fats, like coconut oil, and are super popular in the low carb high fat camp. Or those that follow a ketogenic diet. I'm trying to boost the number of keto recipes I have on my site, and these were perfect for my collection!
Also, fat bombs are the perfect thing to soothe a relentless sweet tooth — which I happen to have.
I had a few hesitations before I made these — mostly stemming from my experience with oil pulling. (My hippie-dippie is really showing now.)
What's oil pulling? Rolling coconut oil around in your mouth for several minutes at a time. It's supposed to be excellent for your teeth/gum health among other things. I read about it online and in The Coconut Oil Miracle. (Excellent book, by the way!)
I had a hard time with it. And I may have accidentally swallowed some of it on one occasion. *gag* Eating straight coconut oil isn't my cup of tea, and I wondered if fat bombs would be a similar experience for me.
Nope. Not even close. Eating a fat bomb is closer to eating candy than oil pulling, I'm happy to announce.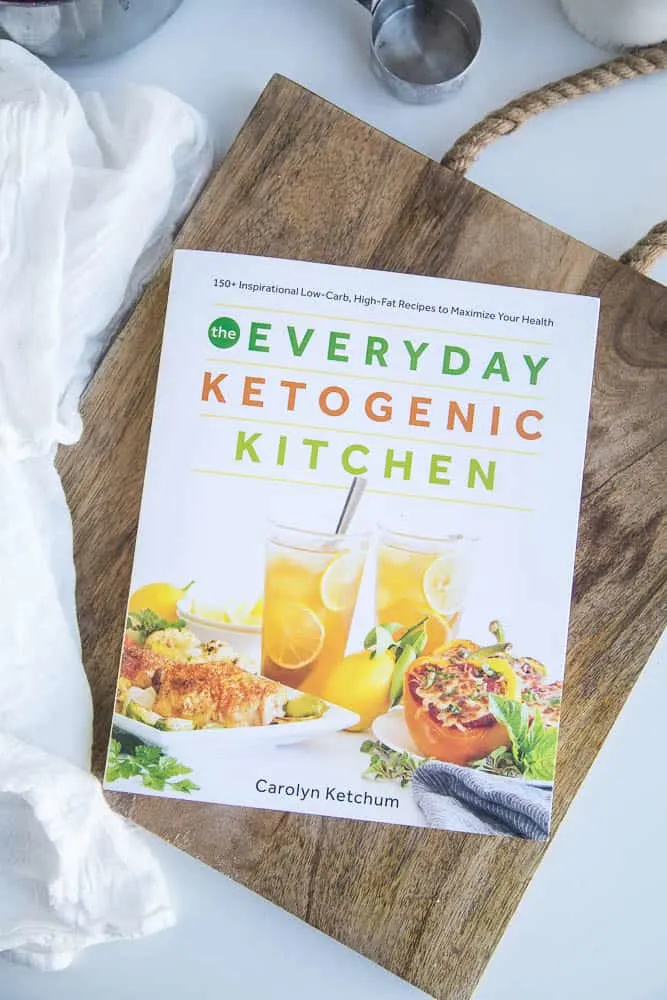 This recipe came from The Everyday Ketogenic Kitchen by Carolyn Ketchum who blogs all kinds of low-carb goodness over at All Day I Dream About Food. If you're wanting to explore a ketogenic (keto) diet, this book is a must-have.
I've been tinkering with keto the past few weeks, and I have some thoughts on it that I'll share later. Meanwhile….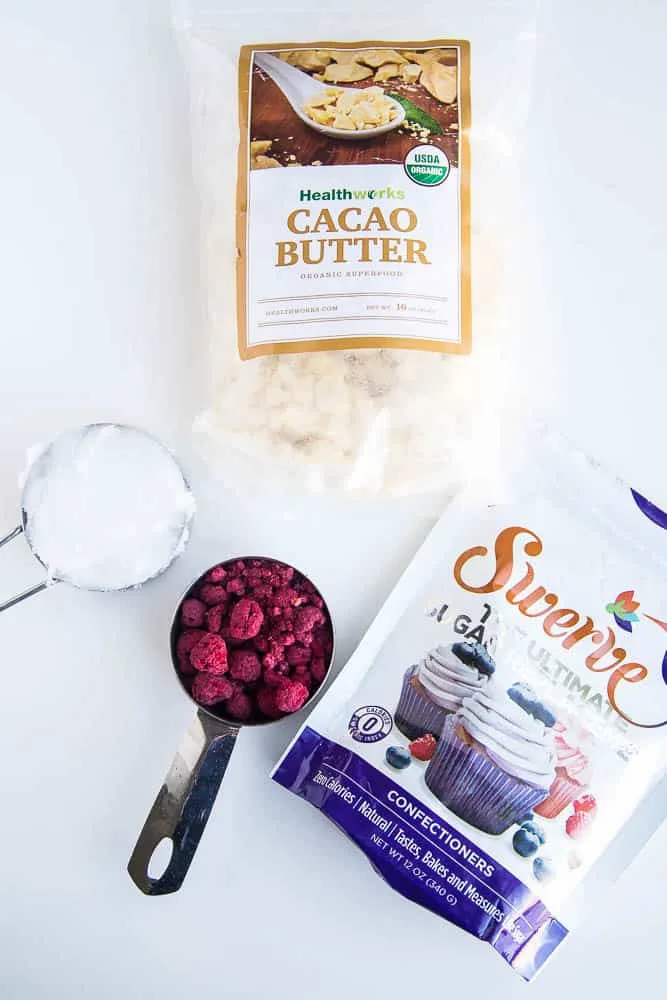 Ingredients for Fat Bombs
This recipe is easy and simple — only 4 ingredients. But… they might not be ingredients you have on hand all the time.
Coconut oil – You probably have this? I get the big tub at Costco.
Freeze-dried raspberries – I LOVE freeze-dried berries and get them at Target or Trader Joe's. I don't eat them straight, but I use them in recipes. Like, Strawberry Cream Nut Butter. (I like the strawberries, can you tell?) I also pulverize them and mix them with buttercream when I make macarons — out of this world delicious. But we're talking about low-carb stuff, so forget I mentioned macarons. Or buttercream.
Cacao Butter – This was a new one for me. I've seen it used here and there and was curious about trying it. It's an incredibly nutritious superfood — basically pure oil cold-pressed from cacao beans. It IS pricey, but you don't use much in this recipe. I got some cacao butter on Amazon, but I think you can find it at healthy grocery stores or hippie supplement shops. OR you can probably substitute more coconut oil instead. The fat bombs might not stay hard for long at room temperature or be as portable if you do that, though.
Sweetener – I admit, I was most curious about using erythritol and/or xylitol in sweets, so of course I headed to the dessert section of Carolyn's book. She recommended Swerve, so I ordered a package of confectioners Swerve on Amazon. (Can we have a moment of gratitude for Amazon? Amen.) I have mixed feelings about erythritol, but I felt like it was ok in this recipe. You could also use a monk fruit sweetener like Lakanto. As far as I know, Lakanto doesn't make a powdered sweetener. The granulated one would make these gritty, so I'd use their Liquid Monkfruit Sweetener Extract instead. You could also use liquid stevia, but I prefer the taste of one of the other options.
I did a little math (gasp) and estimated that a batch of these fat bombs costs roughly $6.50, and about 55-65 cents each, depending on how many you make. That's less than a Reese's pumpkin. And you'll feel a lot better after you eat one. Or even if you eat three. (Yep, did that. They're really that good.)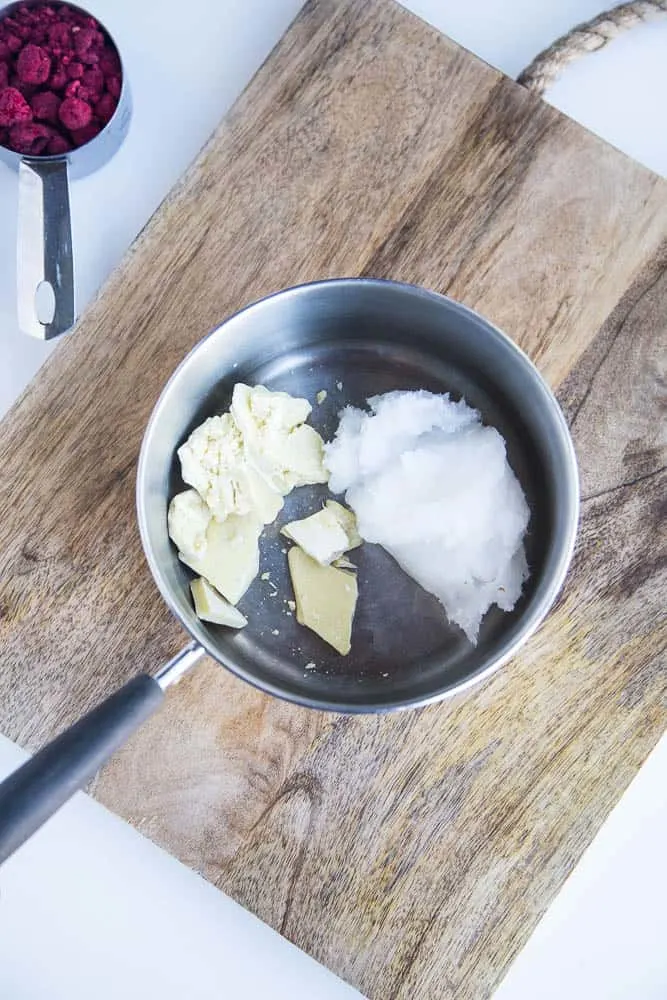 I'm just going to walk you through this real quickly. First, melt the cacao butter and coconut oil together. It goes more quickly if the cacao butter is chopped first.
Not like up there where I just threw the big nuggets in as is.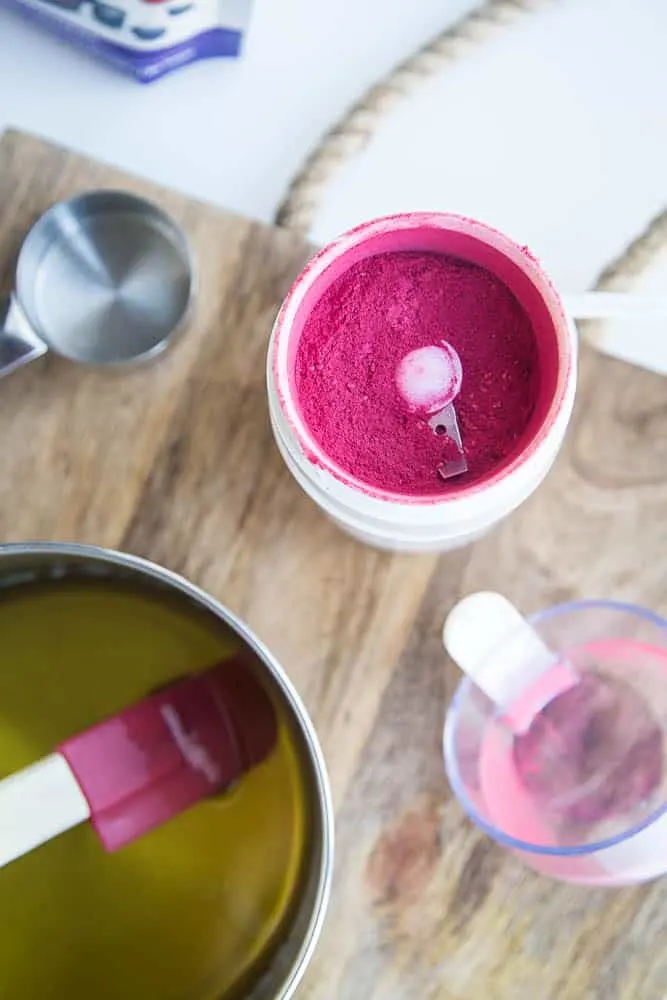 Then, pulverize the freeze-dried berries. You can use a food processor or a blender. I like to use a coffee grinder that I grind spices with, too. I don't actually use it for coffee.
If you grind coffee beans, it's recommended that you have a separate grinder for spices or your coffee will have some interesting added flavors.
I also like to strain out the raspberry seeds. Picking them out of my teeth is the worst. But I didn't do that this time either. Maybe someday I'll take my own advice. Heh.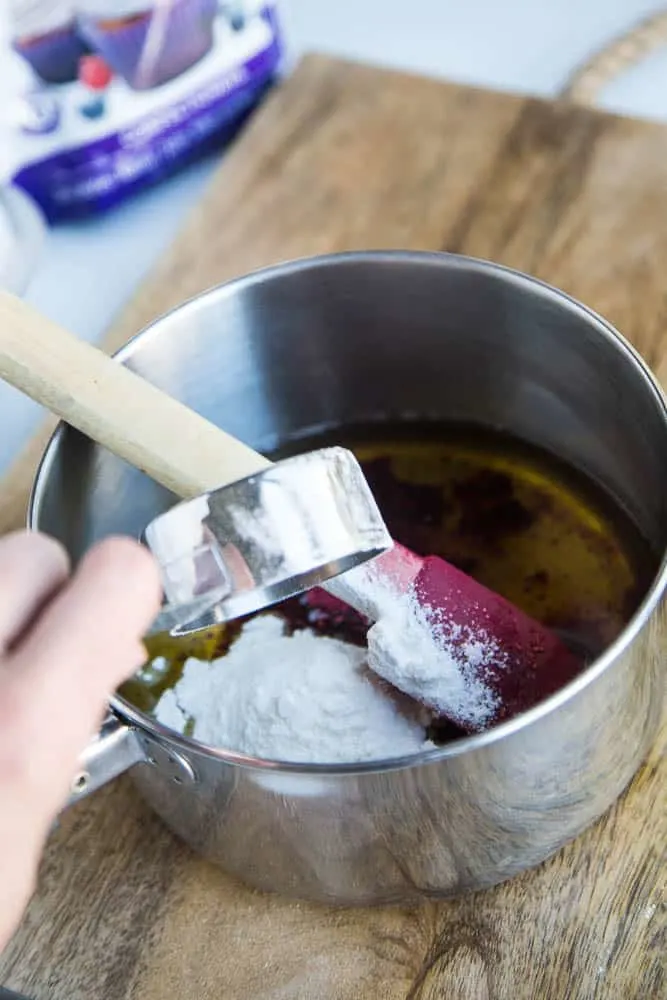 Add the pulverized berries and sweetener to the pot and stir it around until the sweetener has mostly dissolved.
If you use granulated sweetener instead you run the risk of it not dissolving well enough — especially since the liquid is mostly fat. Sugar doesn't dissolve well in fat. (Ever made homemade sugar scrub?) So use powdered or confectioners sweetener.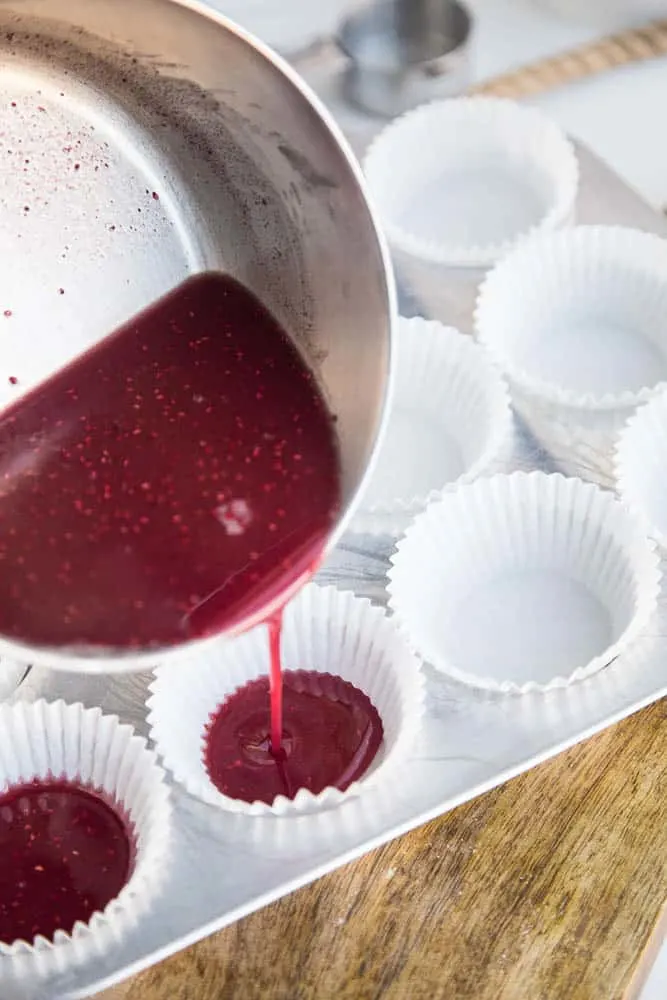 Divide it into silicone or paper-lined muffin tins.
You'll have to keep this well blended while you're dividing it into cups because the raspberry mixture (and any remaining sweetener) will sink to the bottom. You don't want all of the sweetener and raspberry flavor to just end up in the last few cups.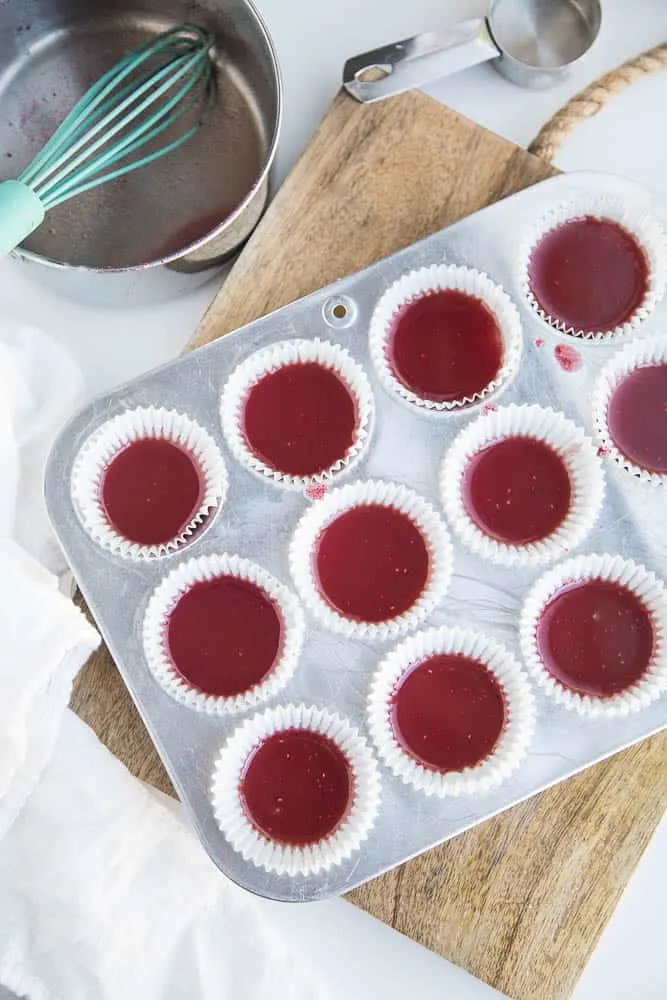 I made 12 fat bombs because I can't read directions.
And I like it when my muffin tin doesn't have any vacancies.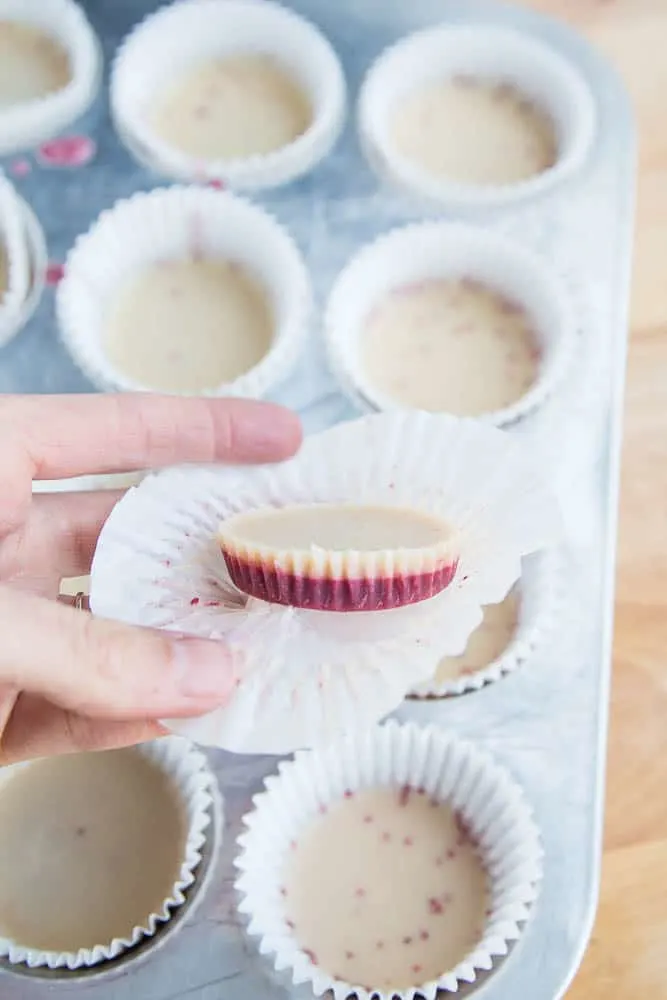 After an hour or so in the fridge they'll look like this. The raspberry powder will sink to the bottom creating a layered effect. Pretty, right?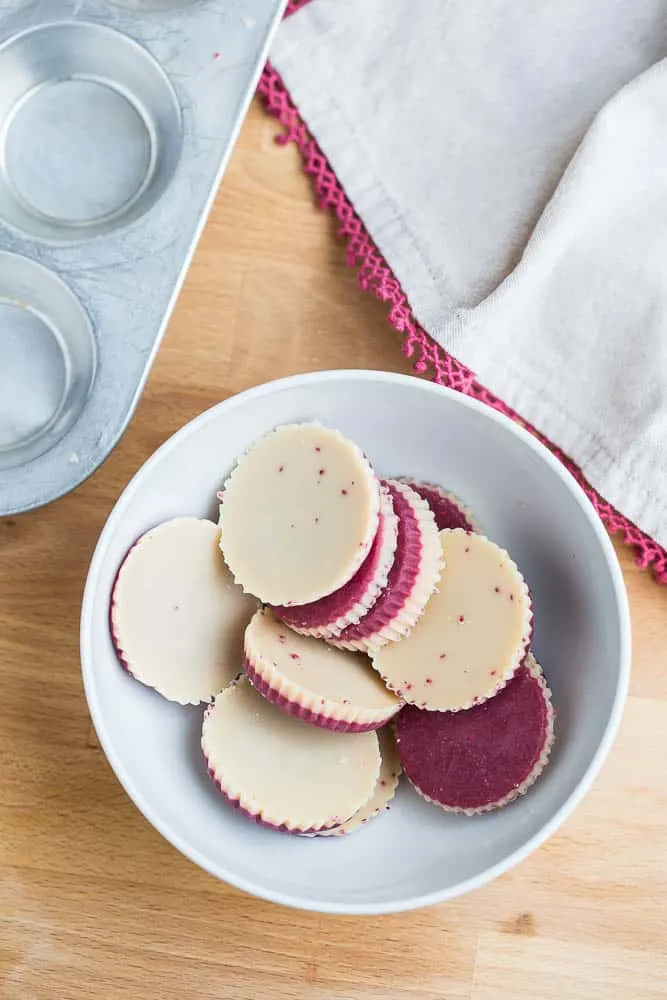 You can store these fat bombs in the fridge and, if you're feeling generous, let your kids have one. Mine went bonkers for these. My 2-year-old asked for them ALL DAY LONG. And I didn't mind giving him a few because I knew he was getting some good, healthy fats.
I can tell you I'm excited to have these when the kids come home with their trick or treat candy in a couple of weeks. Reese's are my biggest weakness, and I think these fat bombs might keep my face out of their trick or treat buckets. At least for a couple of days.
And if you have any friends with relentless sweet tooths (sweet teeth?) who follow a ketogenic diet, I promise they'll love you forever if you make them a batch of these.
Also, be sure to grab a copy of Carolyn's book, The Everyday Ketogenic Kitchen! I've tried several of her recipes, and we've loved every one of them. (Including the other fat bombs — the Salted Macadamia Chocolate. A DE-lish dark chocolate version.)
Have you tried my other keto fat bomb recipe? Chocolate Tahini Fat Bombs — They're like a fancy peanut butter cup sprinkled with sea salt. (Amazeballs.)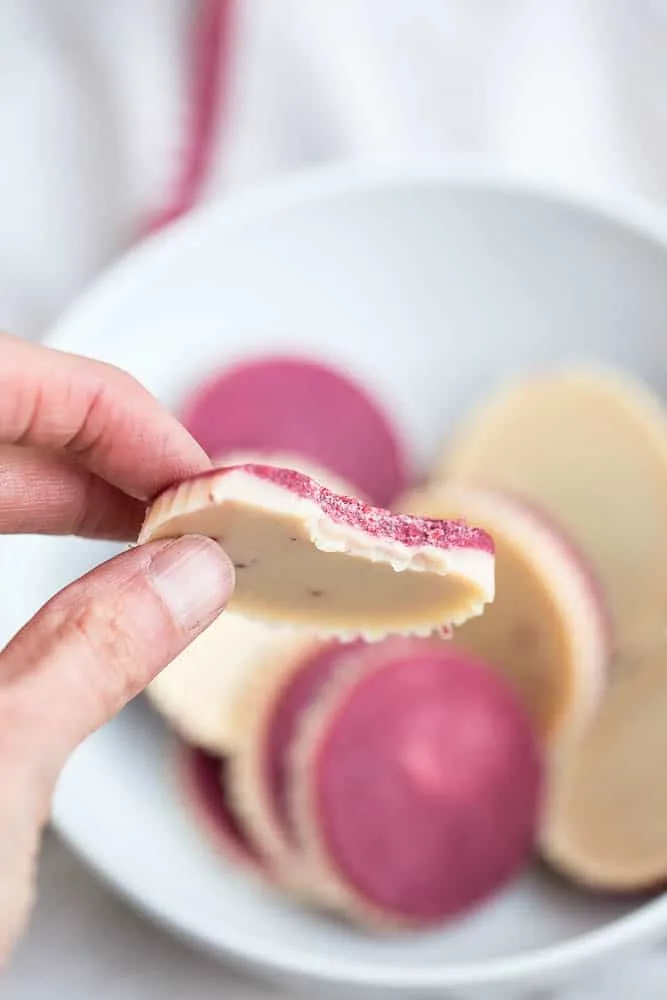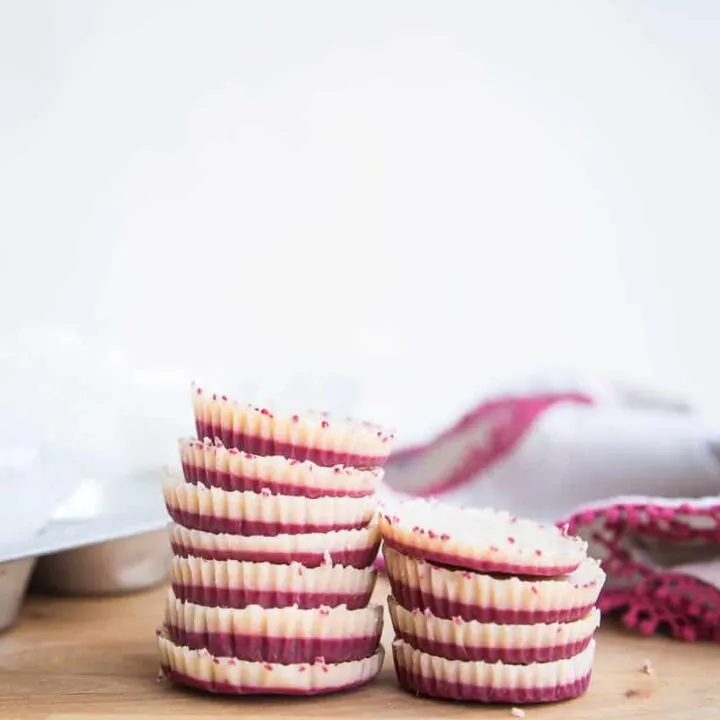 White Chocolate Raspberry Fat Bombs
Total Time:
1 hour
5 minutes
Freeze-dried raspberries give these fat bombs such a burst of berry flavor and sweetness! You'll love this creamy truffle-like combination.
Ingredients
1/2 cup coconut oil
2 ounces cacao butter
1/2 cup freeze-dried raspberries
1/4 cup powdered erythritol sweetener (like Swerve)
Instructions
Line a 12-cup muffin pan with paper liners. Or use a silicone muffin pan.
Heat the coconut oil and cacao butter in a small saucepan over low heat until completely melted. Remove the pan from the heat.
Grind the freeze-dried raspberries in a food processor, blender, or a coffee grinder.
Add the pulverized berries and sweetener to the saucepan. Stir until the sweetener is mostly dissolved.
Divide the mixture among the muffin cups. The raspberry powder will sink to the bottom -- no worries. Just keep the mixture stirred as you pour them into each mold so each one has some of the raspberry powder.
Chill for an hour or until firm. They'll keep in the refrigerator for several weeks. (My guess is that they won't last that long before they're all eaten.)
Notes
Nutrition Info for each cup:
Calories: 153, Fat: 16.6g, Protein: 0.2g, Net Carbs: 1.2g, Fiber: 0.4g, Erythritol: 6g
Recommended Products
As an Amazon Associate and member of other affiliate programs, I earn from qualifying purchases.
Disclosure: This post contains Amazon affiliate links. Purchases made by using these links provides Perry's Plate a few pennies and helps keep this content free.SaveSaveSaveSaveSaveSaveSaveSaveSaveSaveSaveSaveSaveSave