If you're looking for delicious, easy gluten free Thanksgiving recipes, you're in the right place. Two full gluten free Thanksgiving menus filled with familiar, traditional recipes with a healthy twist!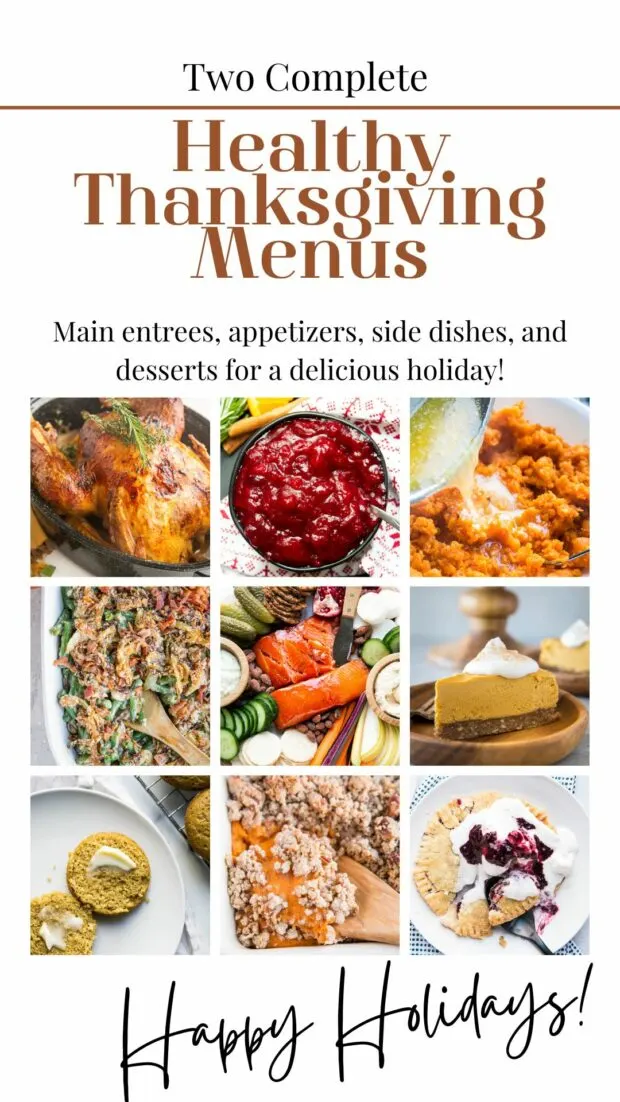 Hey friends!
Julia and I are back with delicious gluten free Thanksgiving recipes organized into two full menus!
You can take either of these menus and put on a fabulous dinner for the big day!
Or you can pick recipes from both and create your own menu.
Or just make the desserts.
However you'd like to use these menus is up to you, and we're happy to help!
xoxo,
Nat & Julia
---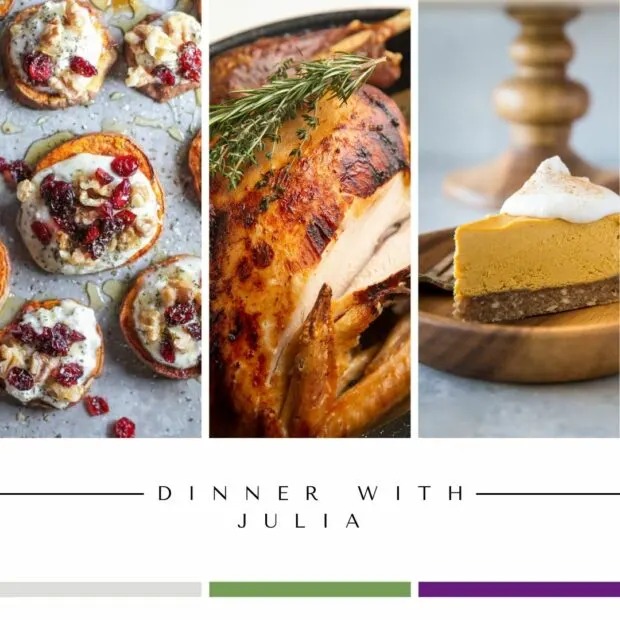 OK, let's start with Julia's! All of these recipes come from her site — The Roasted Root. Just click over to find the recipes in the individual posts.
Dinner with Julia
Swap out the ghee for grass-fed butter, avocado oil, or beef tallow.
Replace the coconut milk with heavy cream if you prefer.
Swap out any of the vegetables for your favorites.
Replace the almond flour with cassava flour or gluten-free all-purpose flour. Use kabocha squash instead of sweet potatoes if you'd like.
Use pure maple syrup instead of honey, pecans instead of walnuts, and/or add orange zest to the ricotta. Replace the dried cranberries with any dried fruit.
This recipe comes together quickly in your Instant Pot AND saves oven space and space on your stove top! You can sweeten it with honey or brown sugar instead of pure maple syrup if you'd like.
Make these using regular all-purpose flour if you aren't gluten-free. If you're grain-free, make Almond Flour Dinner Rolls.
Make the cobbler using pears instead of apples if you'd like! Swap the coconut oil for melted butter in the topping if you aren't dairy-free.
If you prefer pumpkin pie, make Julia's Healthy Pumpkin Pie.
---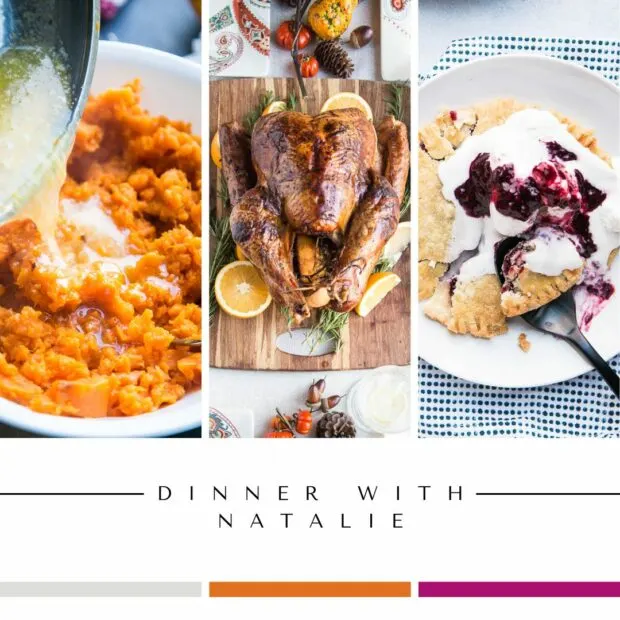 Time to come to my house! All of these recipes are on my site — just click over to find them and scroll down for the printable recipe cards.
Swap out the orange for lemon or use different fresh herbs. Make sure to allow time for the turkey to dry out completely in the fridge before roasting.
Orange chili might seem like a strange addition to sweet potatoes, but it's super delicious and goes so well with the turkey! If you don't want the potatoes to have any heat, just omit the chili flakes. If you'd rather go more traditional try my Instant Pot Mashed Potatoes or my Instant Pot Cauliflower Puree with Garlic & Rosemary.
Take advantage of the prepped items at the grocery store to whip this up quickly! It can be assembled a day ahead and refrigerated until you're ready.
My favorite way to make green beans! Just two ingredients and it doesn't take up any oven space. You're welcome.
A great "stuffing" alternative if you're looking for something grain-free. The bits of sausage and walnuts in this make it extra hearty & delicious.
Homemade cranberry sauce is the only way to go! This version includes my favorite wassail flavors — cider, cinnamon, orange, and vanilla.
Did you know that ground millet tastes amazingly like cornmeal? I love these muffins — they're naturally gluten-free and a great alternative if you're avoiding corn.
Drizzle this delicious honey butter on any kind of roll or cornbread muffin! You can make this several days in advance — just let it sit at room temperature for a couple of hours to loosen it up.
These little hand pies are so fun! It uses my Perfect Gluten Free Pie Crust with my Easy Berry Sauce. Top them with some ice cream for a tasty after dinner treat. You can also use that Berry Sauce to make a Mixed Berry pie instead of individual hand pies.
---
Have a great Thanksgiving!
If you make one of my recipes, be sure to post it on social media and tag me at @perrysplate or #perrysplate so I can send you some love!