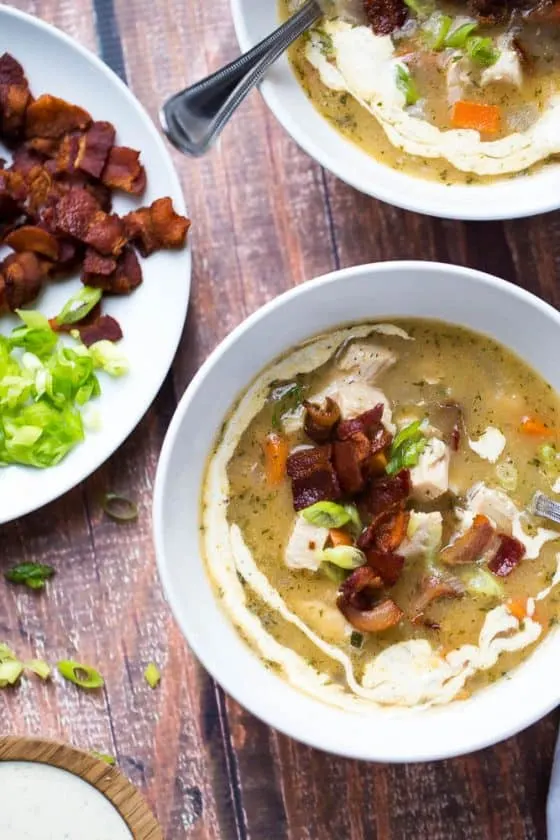 This might be a long shot, but does anyone have Thanksgiving leftovers in the fridge? Ok, maybe not in the fridge. (Ew.) Freezer, maybe?
You probably needed this recipe a couple of weeks ago, I'm guessing. I tend to get good ideas at the last minute, and I whipped up this soup at the very last minute my leftovers were viable. I decided against waiting until right after Thanksgiving next year to post it because you don't necessarily have to have leftovers to make it.
You're welcome!
If you have cooked turkey, mashed potatoes, and turkey stock, then you're good to go. (Please tell me you made my Easy Instant Pot Garlic Mashed Potatoes!)
If not, you can use leftover rotisserie chicken, fresh cubed potatoes, and chicken stock. Easy peasy.
Oh, and you'll need some of this…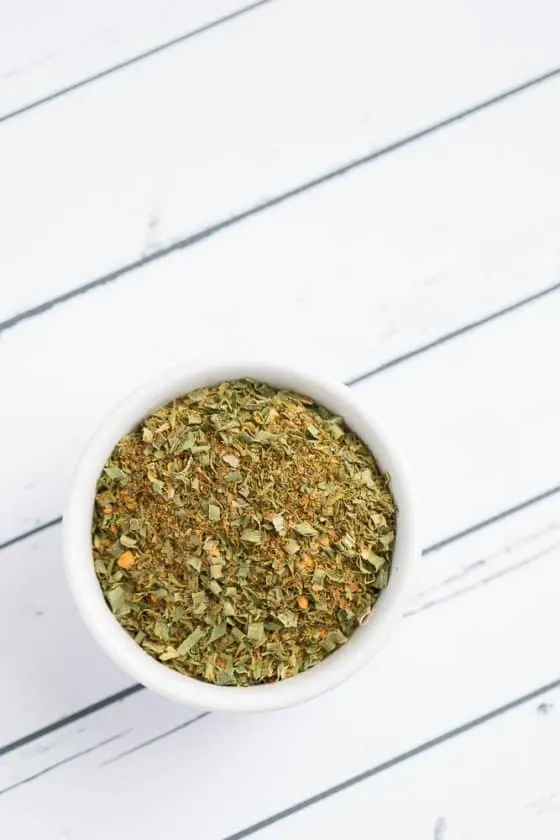 This is my Paleo Dry Ranch Seasoning. (Formerly known as the dry buttermilk ranch mix — I updated the post and made it paleo-friendly! Check it out!)
I love this stuff. You can whip up a jar of paleo ranch dressing so easily, and we all know that paleo ranch is one of the cornerstones of Whole30, right?
Speaking of Whole30, I'm going to do another round starting in January. Anyone else want to join? There's going to be a whole community of people doing it, so it'll be a a perfect time to do it if you've been thinking about giving it a go. Here are the Whole30 Rules if you're interested.
AND…. to make it even easier for you (and me!) I'm putting together some Whole30 meal plans to add to my December newsletter that will go out just after Christmas. You may want to subscribe to my newsletter if you haven't already –> Subscribe Here.
I also share subscriber-only recipes, so you don't want to miss out!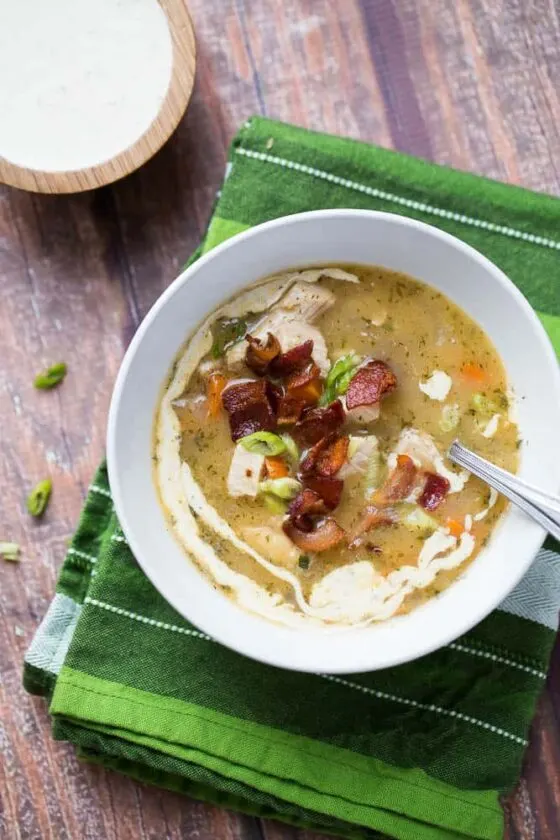 Did I mention this chowder is Whole30 compliant, too? Just watch the ingredients on that almond milk (or just use homemade or coconut milk). And if you can't find compliant bacon, just use Aidell's chicken-apple sausage. I love that stuff.
---
If you make one of my recipes, be sure to post it on social media and tag me at @perrysplate or #perrysplate so I can send you some love!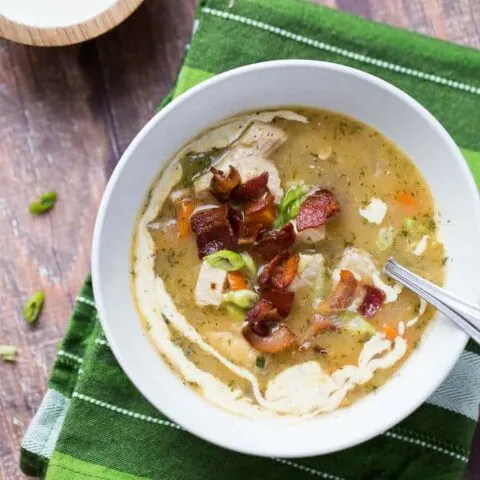 Paleo Turkey Bacon Ranch Chowder
Ingredients
10-12 slices of thick-cut, uncured bacon
1/2 cup diced yellow onion
1 cup diced carrots
1 1/2 Tablespoons paleo-friendly Dry Ranch Dressing Seasoning
1 1/2 cups leftover mashed potatoes (or 2 cups diced uncooked potatoes)
1 quart of turkey or chicken broth
2 Tablespoons tapioca or arrowroot flour/starch
1 cup almond or coconut milk
1/2 teaspoon sea salt
1 pound of cooked, diced turkey or chicken (about 3-4 cups)
2 Tablespoons fresh lemon juice
Thinly sliced green onions and prepared paleo-friendly ranch dressing, for serving
Instructions
Cut the bacon into 1-inch pieces and place them in a large soup pot. Cook over medium heat for about 15 minutes, stirring often, until crisp. Transfer the cooked bacon with a slotted spoon to a plate lined with a couple of paper towels to drain the excess grease. Pour out all but a couple of Tablespoons of bacon grease from the soup pot.
Return the pot to the stove and bring to medium-high heat. Add the onion and carrots to the pot and cook for 3-4 minutes until the onion is translucent.
Stir in the dry ranch dressing seasoning, mashed potatoes (or potato cubes), and broth. Whisk the tapioca flour into the milk until smooth. Pour the mixture into the pot with the rest of the soup. Whisk the mixture, breaking up the mashed potatoes until smooth. Add the salt. Bring to a low boil, then reduce the heat to medium-low and simmer for 10-12 minutes until the carrots (and potato cubes, if using) are tender.
If you used mashed potatoes, skip to step 5. If you used potato cubes, ladle 3-4 cups of the soup into a blender -- including as many potatoes as you can -- but you don't have to grab all of them. Blend until smooth and return the mixture to the pot. The soup should be slightly thickened and chowder-like.
Add the cooked turkey (or chicken) and lemon juice. Taste, adding more salt if necessary. Cook gently for another 5 minutes until the meat is heated through and tender.
Serve the soup with a sprinkle of cooked bacon, sliced green onions, and a drizzle of ranch dressing.
Notes
Nat's Notes:

I used mashed Yukon gold potatoes, but you can substitute another kind if you like. Using sweet potatoes would be good, but it will give the chowder a completely different, sweeter flavor.
This post may contain affiliate links. Any purchases made by using these links won't cost you any extra and helps keep my content free. These links may be Amazon links as I am part of the Amazon Associate Program.