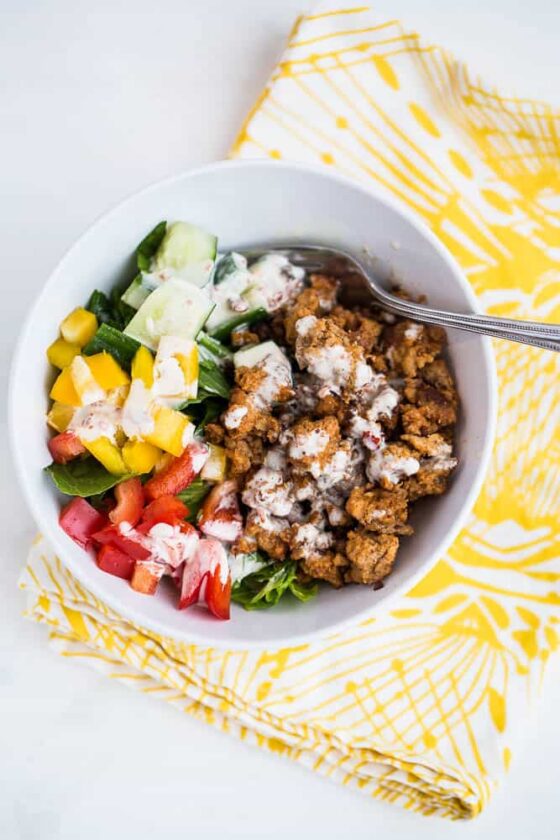 I've been dying to share this Chipotle chorizo knock off recipe with you! It's like, the easiest thing ever. (We all like easy, right?) And SOOO tasty.
One thing I love about Chipotle is that it's one of the few restaurants where you can order Whole30 compliant meals. Have you tried their new pork-chicken chorizo? Its GOOOOD.
I decided to whip up my own version of it — partly because I can't resist putting together a new spice blend.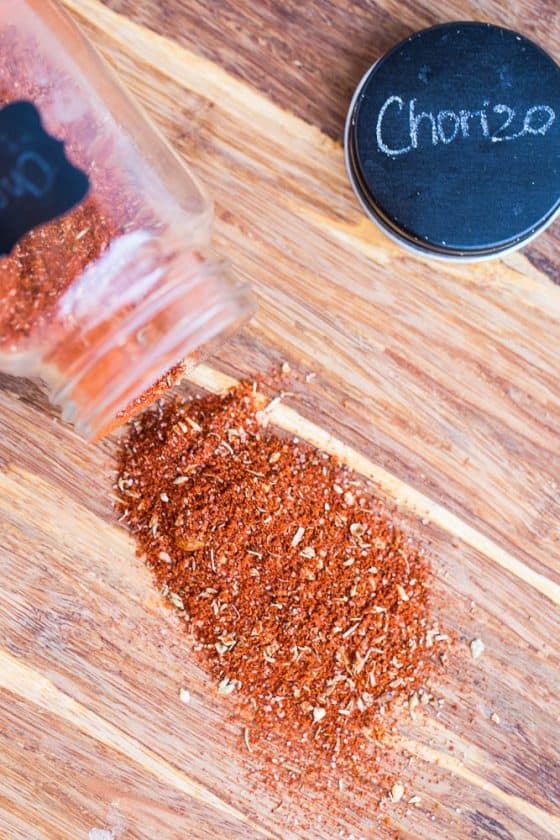 An unexpected surprise was how tasty and versatile the chorizo seasoning turned out to be! It's like a reimagined version of taco seasoning! linked to several recipes below in case you want to make a big batch and use it again.
Meet my newest friend, chorizo seasoning. It has three different kinds of paprika along with a bunch of other seasonings that give it a peppery, southwest punch.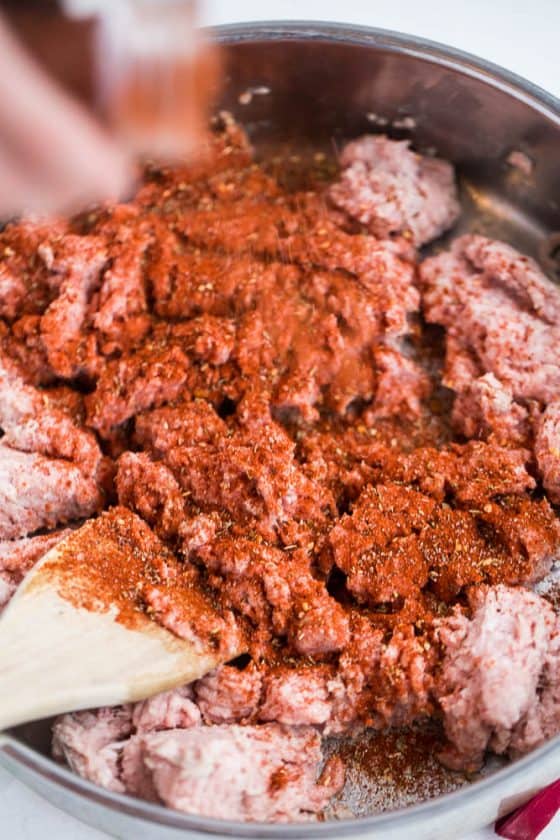 The addition of ground chicken lightens up the pork and makes it less greasy.
If you can't find ground chicken, just use ground turkey.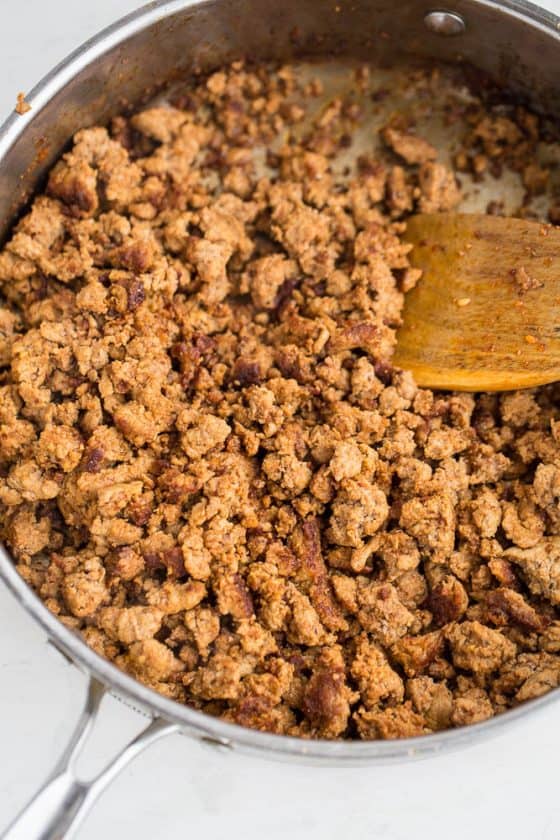 Keep a jar of that spice blend in your cabinet and you'll go from zero to chorizo in about 15 minutes.
This homemade chicken chorizo is paleo, Whole30 compliant, and perfect for meal prepping!
Make a big batch at the beginning of the week and use it for wraps, scrambles, omelets, clean-out-the-fridge bowls, and salads.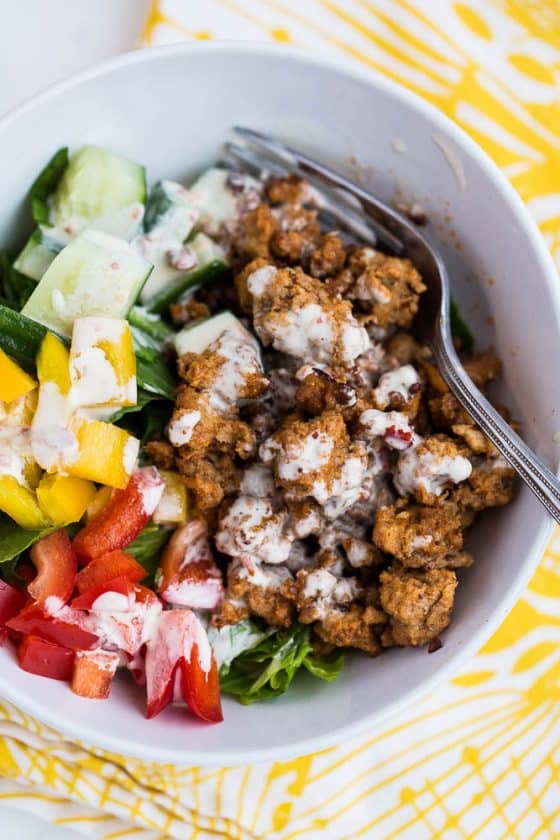 I could eat salads like this everyday. Especially with a big drizzle of Paleo Ranch Dressing.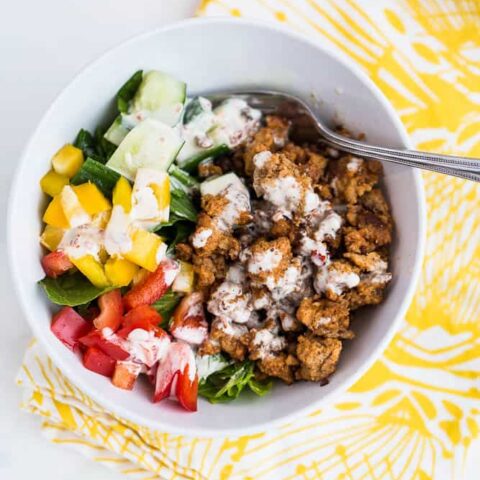 Chipotle Copycat Chorizo
Here's a super easy homemade version of Chipotle's newest pork-chicken chorizo! You can use ground chicken or ground turkey -- whichever is easier to find. I like to keep the seasoning in a little jar in my cupboard so I can whip this up fast! Make a big batch of this seasoned meat at the beginning of the week and use it in scrambles, hashes, salads, and wraps all week long
Ingredients
For the chorizo seasoning:
2 Tablespoons sweet paprika
1 Tablespoon hot paprika
1 Tablespoon smoked paprika
1 Tablespoon sea salt
2 teaspoons dried oregano
1/2-1 teaspoon dried chipotle powder (depending on how spicy you want it)
1 teaspoon freshly ground black pepper
1 teaspoon ground cumin
1 teaspoon granulated garlic
For making the chorizo:
1 pound ground pork
1 pound ground chicken or turkey
1 Tablespoon red wine vinegar
Instructions
Combine the ingredients for the chorizo seasoning in a small bowl.
Heat a large skillet over medium-high heat. Add the ground pork and chicken to the pan, breaking the meat into bite-sized pieces.
Add 3 Tablespoons of chorizo seasoning to the skillet. Work the spices gently into the meat and cook for 12-15 minutes until the meat has formed brown crusted spots on much of the meat.
Add the red wine vinegar to the skillet and toss to combine. Taste, and add a bit more salt if you think it's necessary.
Notes
Nat's Notes:

This chorizo is so versatile! Make a big batch at the beginning of the week and use it in scrambles, hashes, salads, and wraps all week long.