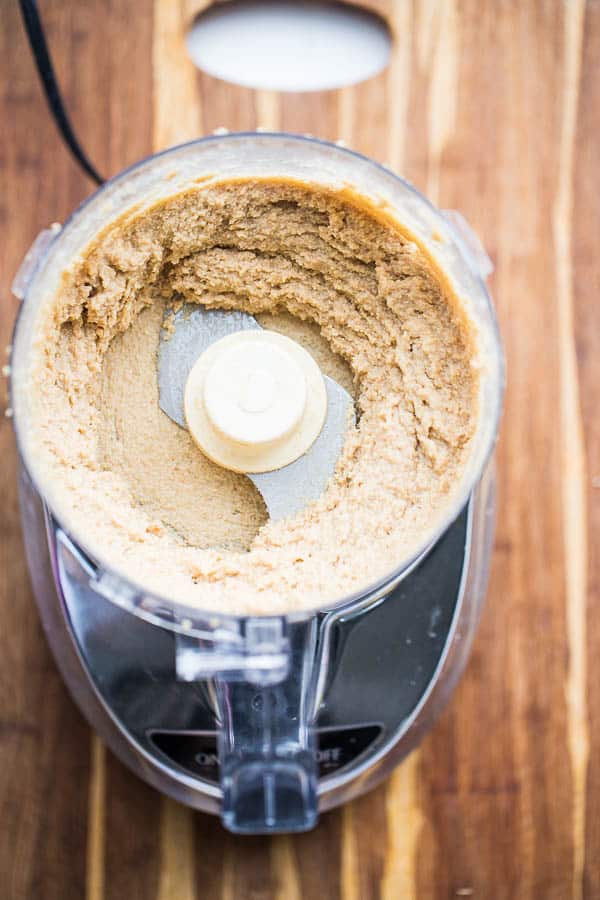 It's rare that I write a post while eating the food that I'm talking about.
Yet, here I am with a spoonful of this cashew butter in my mouth.
Have I ever told you how crazy I am about ginger? I love it. The only way it would be better is if it had a nice home in the tex-mex family of flavors. I don't think I'd eat anything else, really.
But guac + ginger? Erm, no thanks.
Coconut + ginger? Yes, please.
I have these Toasted Coconut Ginger Blondies that are from the ancient archives of 2010. They're super good. And desperately need a makeover. (I'll get on that)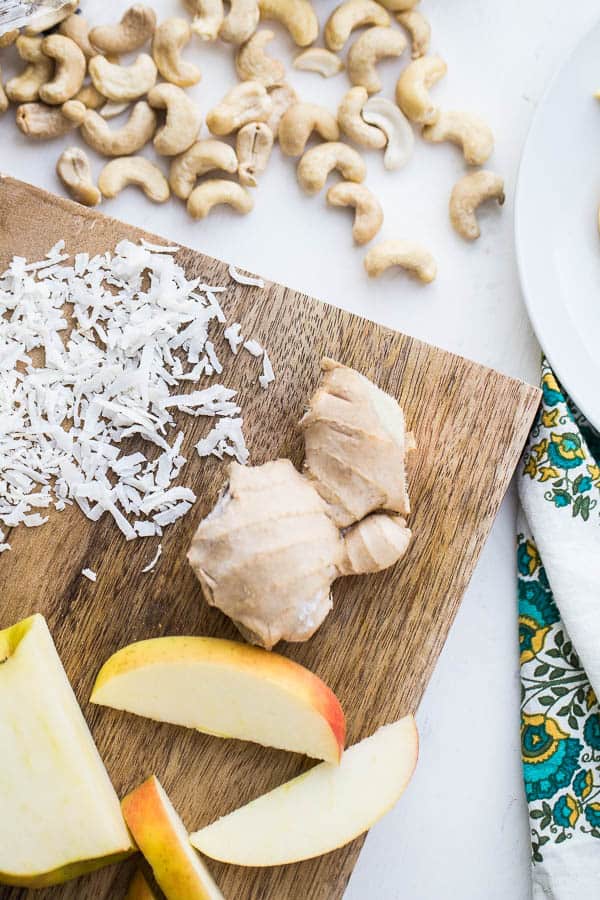 I'm relatively new to making nut butter, but I've learned that toasting the nuts a little makes a huge difference.
I made this without toasting the nuts and coconut and while it was decent (and surely wasn't wasted) I could tell a big difference.
It doesn't take long either. You could also bake them, but I tend to forget about things like this in the oven. Let's not talk about the burnt and neglected pans of nuts and coconut I've tossed in the garbage over the years.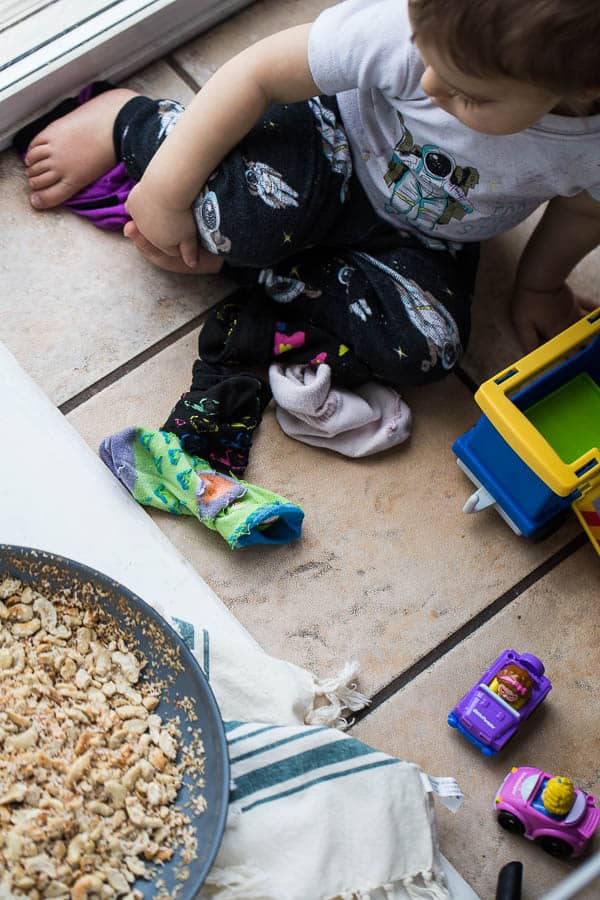 Oh, and by the way, I have a very curious helper these days. It's also been snowy here which is why I have a permanent pile of socks/gloves/hats/boots by the back door. Normally I love winter, but. Not. So. Much. Right. Now.
This guy though. It always makes me smile seeing photos like this. I have photos of all four of my kids putting their chunky hands into whatever I'm attempting to photograph. Or waiting patiently on the sidelines for the green light to sneak a taste.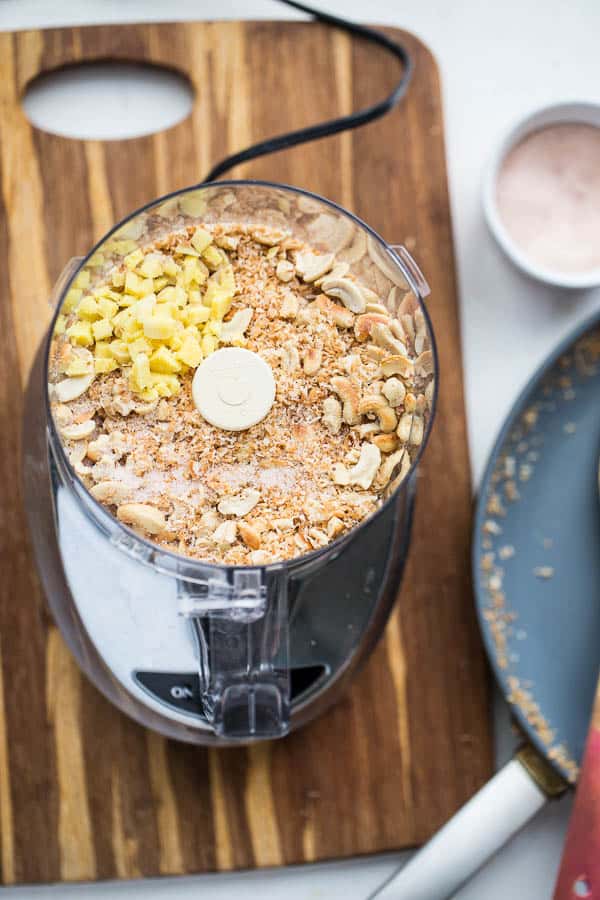 Luckily he wandered off and busied himself with his firetrucks so I could finish what I was doing.
Back to the recipe. There are only five ingredients in this — cashews, coconut, fresh ginger, sea salt, and a little coconut oil.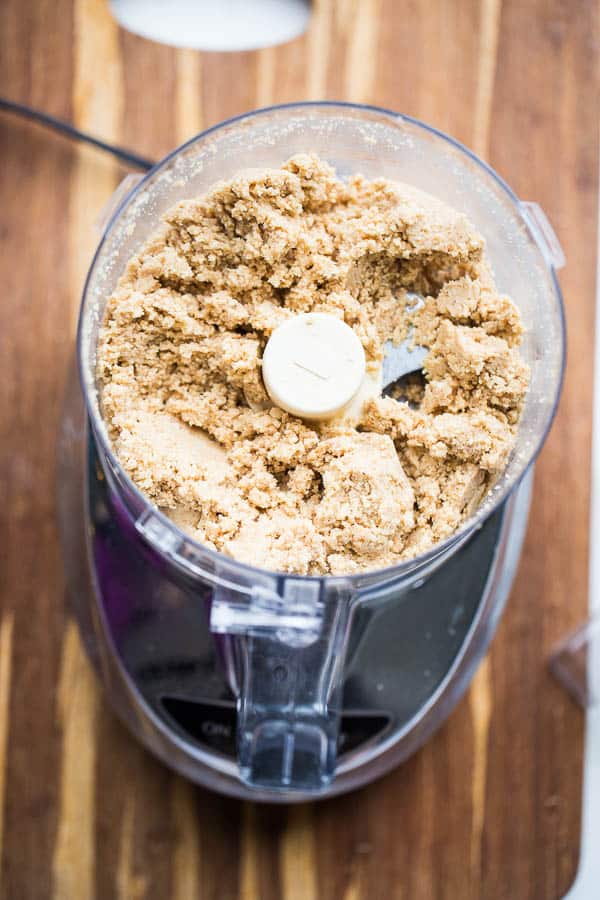 One thing I learned (and you veteran nut butter makers know this already) is that it takes a while to get the right consistency. It starts off all chunky and I was tempted to add some coconut oil at this point to help smooth it out. You don't need to. All you need is a good food processor.
I hear you can make this in a blender, too, but be prepared to scrape down the sides 234897293 more times. And I even tried my Twister jar on my Blendtec and it was still taking forever. Food processor for the win.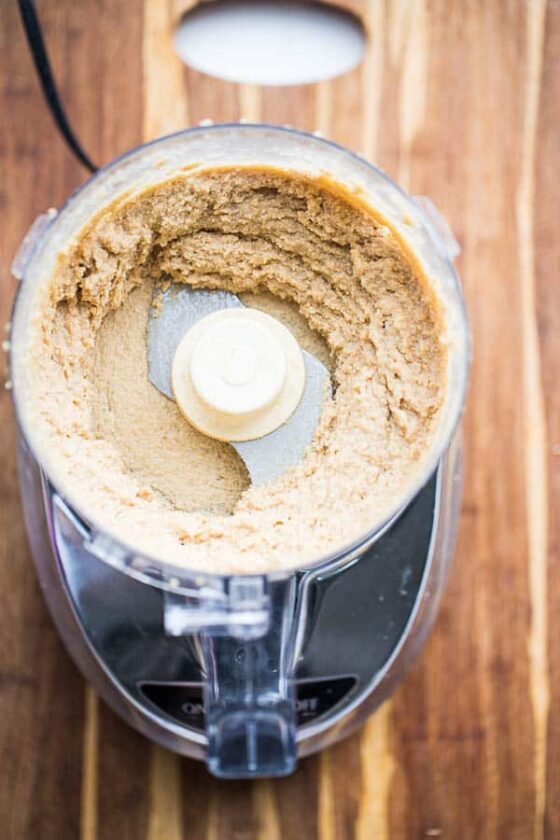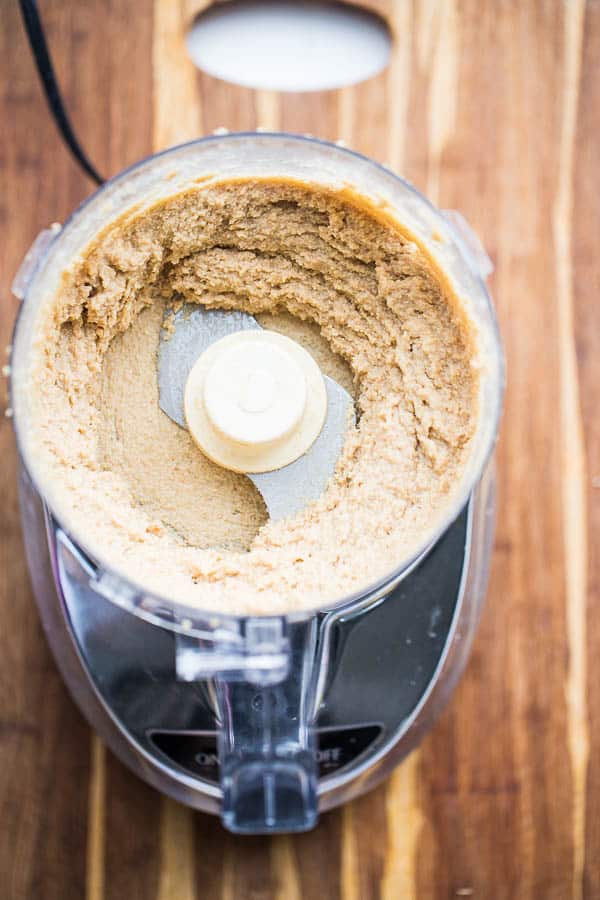 After a while the oils in the nuts will help it to break down and become spreadable. This isn't as smooth or runny as other nut butters I've seen online, but I hear that cashews make really thick nut butter. It's also a third coconut so that might be why, too.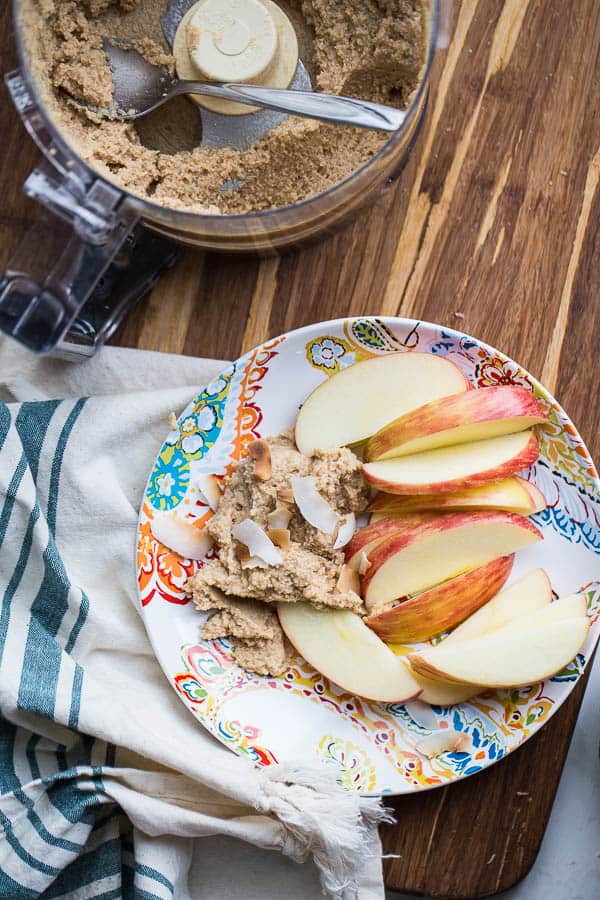 It actually feels a lot smoother in your mouth than it looks. It reminds me a little of hummus in texture. And it's heavenly with a cut up honeycrisp apple.
Just make sure you use a clean knife to cut your apple instead of the one you just used to cut garlic. #guilty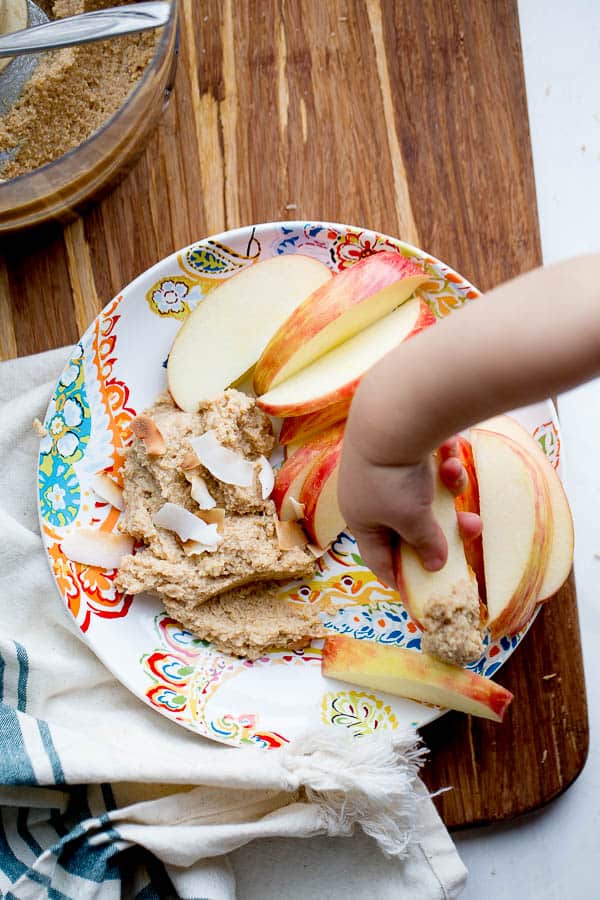 Little dude just couldn't contain himself at this point. His vocabulary list isn't extensive, but cashew butter is definitely on there. He loves this stuff.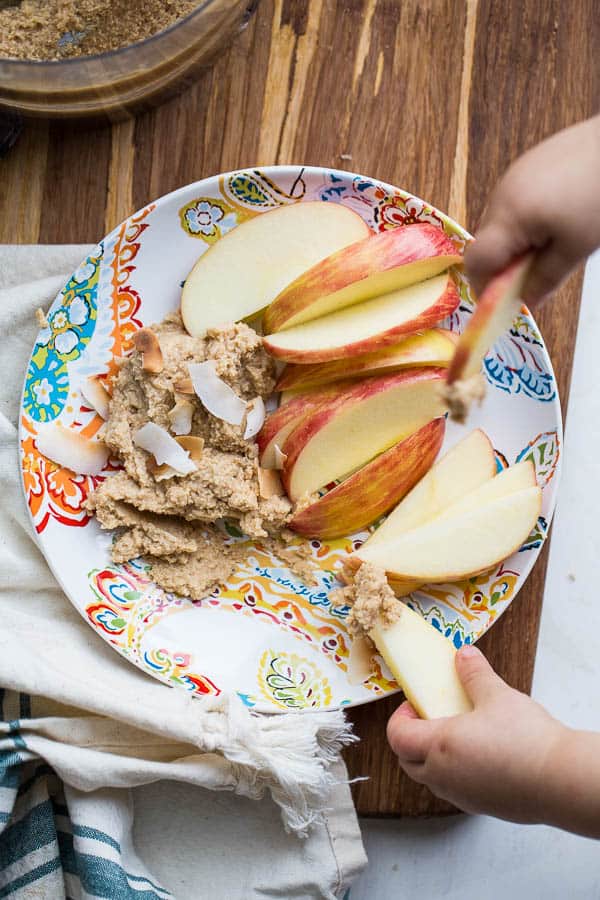 I'd go at it two-fisted, too, buddy.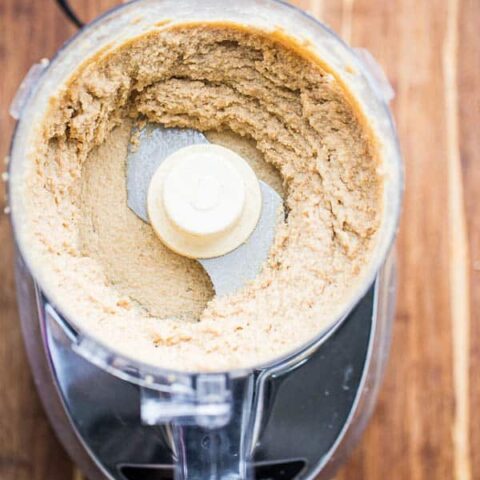 Coconut Ginger Cashew Butter
Additional Time:
15 minutes
This unique nut butter is so fabulous spread on apple slices. Or rolled into "truffle" type treats, as it's quite thick.
Ingredients
3 Tablespoons coconut oil, divided
2 cups raw, unsalted whole cashews or cashew pieces
1 cup unsweetened shredded coconut
3-inch knob of fresh ginger, minced or grated
1/4 teaspoon sea salt
Instructions
Place 1 Tablespoon of the coconut oil in a medium skillet and heat it to medium heat. Add the cashews to the skillet, and reduce heat to medium low. Toast the nuts, stirring often, until they just begin to turn golden brown. Add the coconut to the skillet and continue toasting for another 2-3 minutes until both the cashews and coconut are mostly golden brown. Remove from heat and set aside to cool completely.
Place the toasted cashews and coconut in the prep bowl of a food processor along with the ginger and salt. Pulse until the cashews are finely minced, then let the processor run until the cashew butter is relatively smooth, at least 6-8 minutes. Add the coconut oil a Tablespoon at a time until you reach the desired consistency.
Transfer the cashew butter to a lidded container. You can store it at room temperature for a couple of days, but any longer than that needs to be refrigerated. Because of the coconut oil, the cashew butter will firm up quite a bit in the fridge, but will soften as it sits at room temperature.