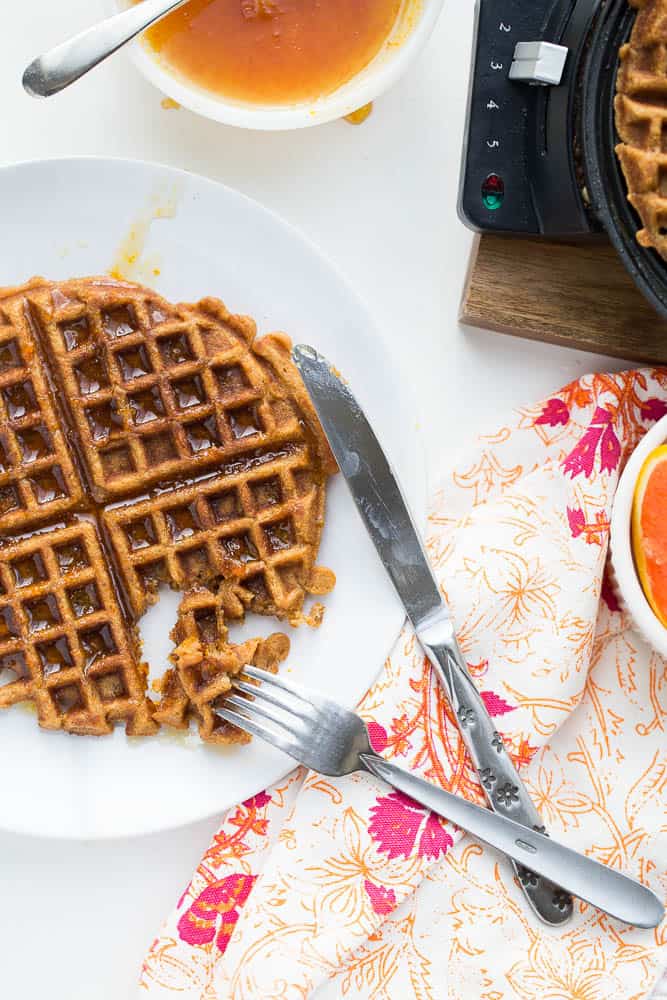 My firstborn turns 10 next week. She's such a gem — creative, responsible, smart. She's also a little OCD like her mother so we "get" each other in that way. She loves to bake, too, and has recently started experimenting with recipes from my cookbooks. It's fun to watch.
It's also fun to sit back on the couch and have her excitedly bring me bites of what she's making — like some magical stage of parenthood you arrive at after years of cleaning up bodily fluids and being mauled by toddler hands.
I'm still cleaning up bodily fluids (this week was particularly gruesome) and being mauled by toddler hands, but eating brownies I didn't make was a nice little perk.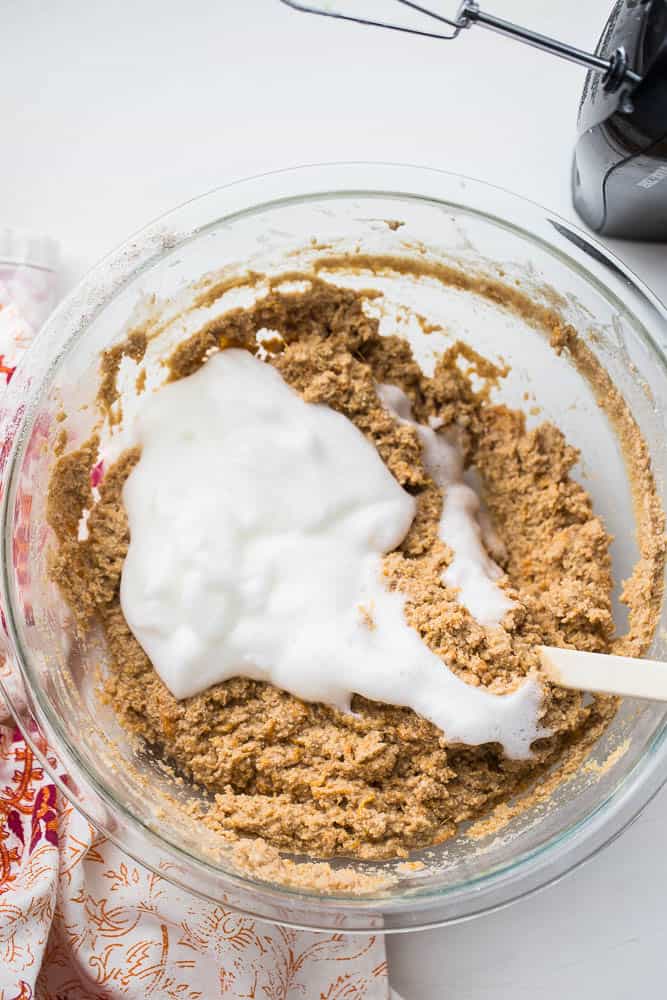 Sophie has been making crepes on her own since she was eight, but she really loves making waffles. I do whip the egg whites for her sometimes.
And by the way, I know whipping egg whites is kind of a pain, but it makes the waffles so much fluffier! Worth the extra 5 minutes and a dirty bowl.
She's a purist, though, and doesn't usually add things to them or change the flavor much. When I told her I wanted to make sweet potato waffles she made a face.
But, I made them anyway.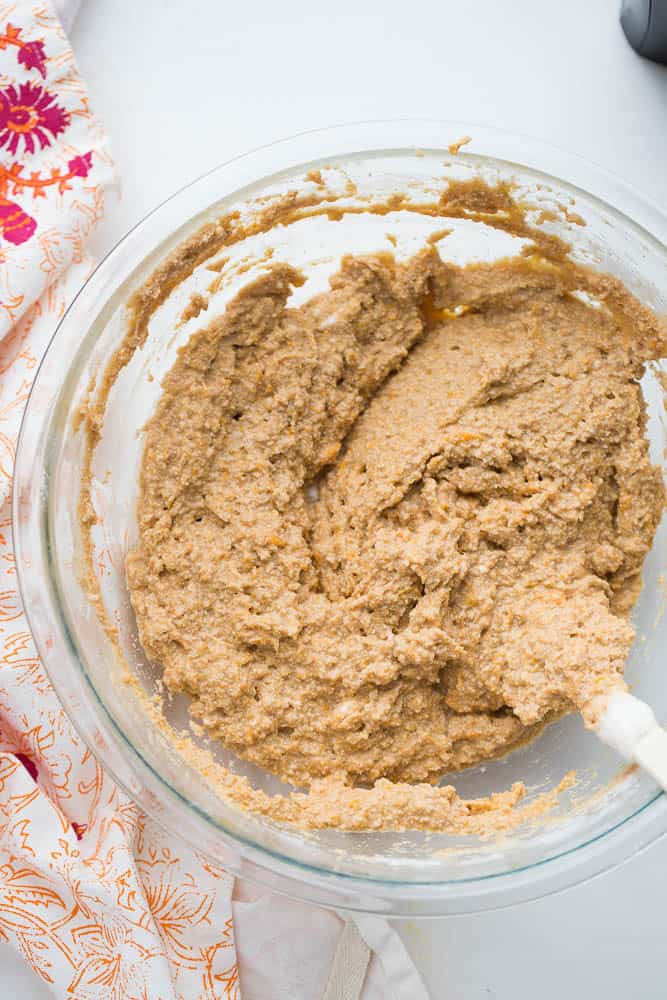 I have a sixth sense for knowing what my kids are going to like — even before they know it. I'm not always correct (especially with my 8-year-old — I have to assume she's going to hate everything because she usually does) but more often than not, that scrunched up face of disgust turns around really quickly and they're asking for seconds.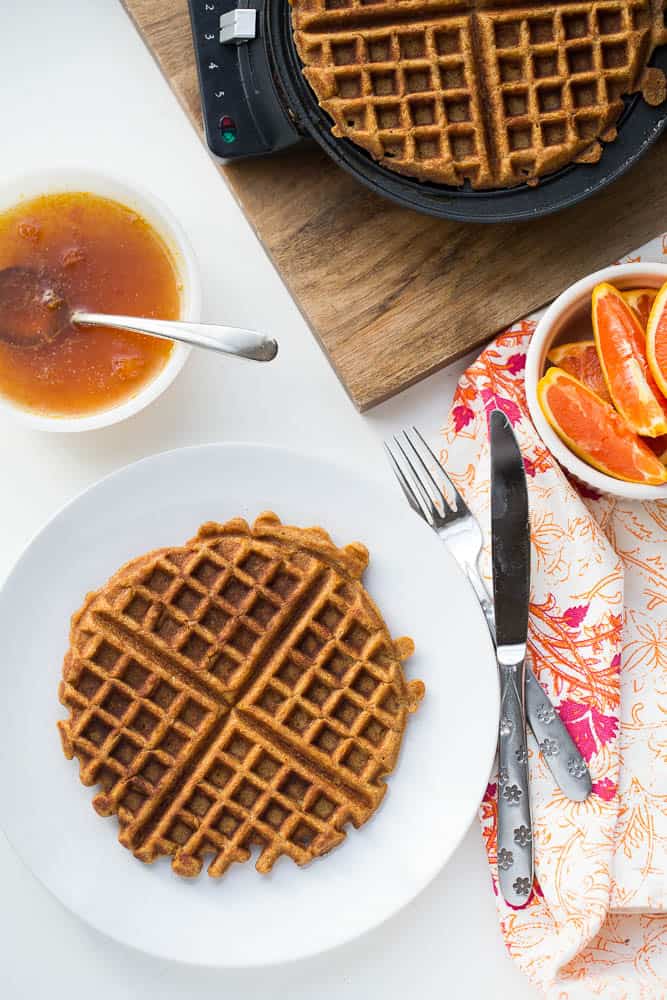 That syrup is what makes these waffles extra good. I'm not sure why it didn't occur to me before to simmer some orange juice and zest with maple syrup.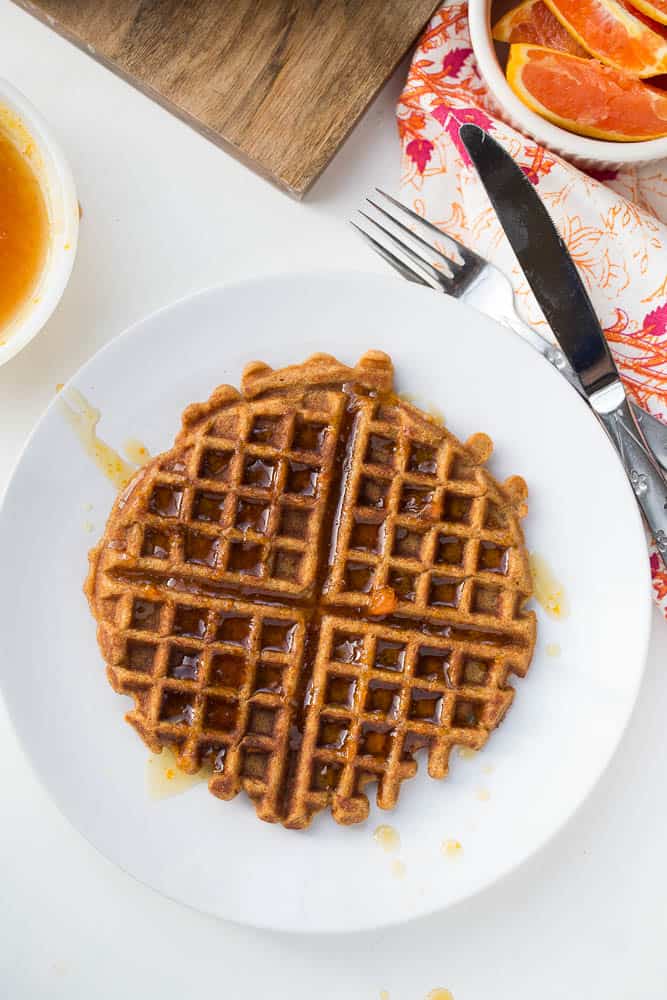 You HAVE to make the syrup with these. Seriously. Sweet potatoes and oranges are such a stellar combination.
We ate these for brinner twice in about two weeks and didn't have leftovers either time.
I also wanted to mention that I used cassava flour in these. Have you ever used it? I had heard so many good things about it — it's a grain-free, nut-free flour that you can use cup-for-cup for regular flour in most recipes. I grabbed some cassava flour on Amazon and gave it a whirl.
I tested it out in these waffles and — wow. They were tender and held together well. They weren't gummy or dense or grainy either. I'm sold.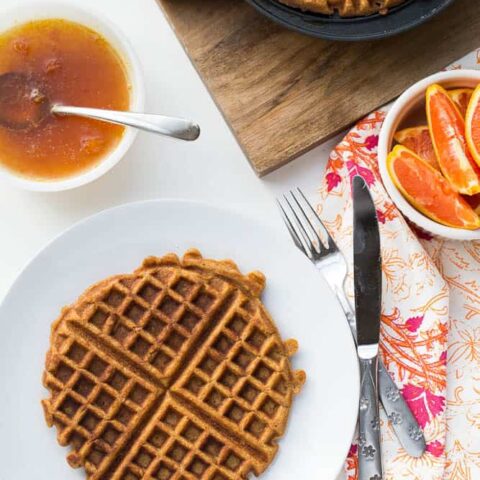 Paleo Sweet Potato Waffles with Orange-Maple Syrup
These grain-free waffles use cassava flour, which is a light, grain-free flour that you can use cup-for-cup in most non-yeasted baking recipes!
Ingredients
For the waffles
2 cups cassava flour
1 cup blanched almond flour
1/2 cup coconut sugar
2 teaspoons baking soda
2 teaspoons cinnamon
1 teaspoon sea salt
6 eggs
2 13-ounce cans of full-fat coconut milk
1/2 cup melted coconut oil
2 cups mashed sweet potatoes, warm or cold
For the syrup:
1 cup pure maple syrup
1 orange, zested and juiced
1/2 teaspoon freshly squeezed lemon juice
Pinch of sea salt
Instructions
Whisk together the flours, sugar, baking soda, cinnamon, and salt in a large mixing bowl.
Separate the eggs, putting the yolks into the bowl with the dry ingredients (don't stir yet) and the whites into a separate, smaller bowl.
Add the coconut milk and melted coconut oil to the dry ingredients and stir until just blended. Stir in the mashed potatoes.
Whip the egg whites with a hand-held mixer until soft peaks form.
Fold the egg whites into the batter, very gently as to not deflate the mixture.
Preheat the waffle iron and grease, as needed.
Cook the waffles in the waffle iron according to the manufacturers instructions.
Make the syrup by combining the syrup, orange zest & juice, lemon juice, and salt in a medium saucepan. Simmer for about 10-15 minutes until reduced a bit.
Notes
Nat's Note:

1. You can substitute canned pumpkin for the sweet potatoes if you like.

2. I'd recommend substituting 1 teaspoon of cinnamon for ground cardamom for a more interesting flavor!

SaveSave